I wrote this Eureka Solitaire Bivy Tent review as one in the series about top bivy tents available on the market. This is a very lightweight 3-season bivy shelter with several unique features. It includes two hoops at either end, as well as two entrance points. Read more below.
Key features and benefits
Great price.
Very lightweight.
Lots of floor surface.
Two entry points.
Tent and the fly are not separable.
Eureka Solitare 1 person tent – description
The Eureka Solitaire Tent is with quite a unique design in various ways. The fly and the tent body are sewn in so the fly cannot be removed. So formally this is still a double-wall design with the inner mesh tent and the fly. This is to some extent similar to what you have in Kelty Horizon 2 tent which is also presented in the site.
One of the several good features is the extra top entrance, which makes entering the tent far easier than the narrow and low front door. Entering the tent through this top entrance looks like getting into a big suitcase; this is just a lengthy zipper which you open and then step into the tent. Note however, that this top entrance can be used only when the fly is rolled up.
This top entrance reminds me a bit of what you have on the Catoma Badger 1 bivy tent, but the fly rolls back differently. You can follow the link to see more.
I know from my own very bad experience (described in my text about climbing Similaun in the Austrian Alps), that it may be very useful to have such a design with the fly permanently fixed to the tent. Namely, if you try to pitch an ordinary tent when it is already heavily raining, its inner fabric will become totally wet in no time. This is avoided if you have the fly fixed to the inner body, or if you have a single wall design (but the latter has some downsides as well).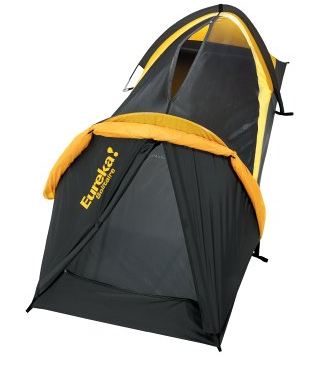 Sleeping under the stars
As mentioned above, the fly cannot be removed. To sleep under the stars, you can roll it up. For this, you release four bungee cords on the corners, undo the Velcro connection on the rear loop, and roll the fly towards the front poll where you fix it in place.
This is shown in the picture, and you can also see the top zipper, as well as the front door.
The weight
In most sources, you will see mentioned the trail weight 2 lb 10 oz (1.19 kg). This is misleading because this is the minimum trail weight which includes only the tent and fly, and the poles.
But this is a non-freestanding tent and it cannot be used without stakes, and there are 12 of them in total. So when you add the stakes and the corresponding stuff sacks, the total weight which you will be carrying is around 2 lb 19 oz (1.45 kg).
Mentioning the minimum weight may make sense if you want to avoid the tent's steel stakes which weigh some 8 ounces (227 g) or so, and you buy some lighter stakes. But then, one can also decide to buy more durable (and heavier) aluminum poles instead of the fragile fiberglass poles that come with the tent and which weigh 7.5 ounces (213 g).
In any case, bear in mind the full weight mentioned above. Even with this, the Solitaire tent is indeed in the category of very lightweight tools.

Internal organization and the size
The total floor size inside of the tent is 32 x 96 inches (81 x 244 cm). So this looks big and indeed it is, but you should know that this includes two very low areas on both ends, which are around 5 square feet (0.46 square meters) in total.
So this is both good and bad. This space could be understood as a sort of vestibules where you can store your gear, you can see the sketch of the tent and these vestibules in the picture below. Though the front one is just at the front entrance and due to this, it is far less useful for storage, unless you are using the top entrance to get into the tent. Note that these two vestibules also add to the total length of this shelter, which is 244 cm, good to know for very tall people.
I like this front vestibule also because of the following. It makes life easier when you are getting in the tent. Its floor serves as an entrance platform so you do not have to have hands or knees dirty when you crawl in the tent. You can also sit there and remove your boots before entering the tent.
The sleeping area inside (without the extensions of the two vestibules) is 16 square feet (1.49 square meters), which is still not bad. The peak height is 28 inches (71 cm) only, not so impressive, but this is typical for bivy shelters of this kind. So you definitely cannot sit in this tent. This is not so great if you are forced to spend much time in the tent.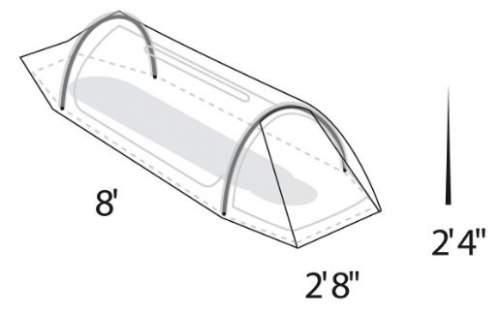 Poles
The tent currently available on Amazon comes with two fiberglass poles, shock-corded as usual, 6.3 mm diameter, so they pack to a really small size. This material is surely not as durable as aluminum, but with a bit of care, you should not have issues with them.
There are possibilities to replace them with aluminum poles, but this is an extra cost and it is up to you. I have seen some reports about aluminum poles available in some Amazon stores but cannot say more about it.
The fabric
The floor and the fabric are quite durable 75D 185T StormShield polyester taffeta (this is different from what you see elsewhere, but this information is from the brand itself), and the wall fabric is 40D no-see-um mesh. All seams are taped, the floor is bathtub-type so the seams are well above the ground.
The official waterproofness rating is 1200 mm. This may not look so impressive but this is completely enough. You may see the same number (for the fly) in the MSR Access 1 tent from their new 2017 series, which is formally a winter tent.
The front door on the fly is with a zipper protected by a storm flap and with Velcro tabs. The zipper is double-sided as usual so you can open it from any side. Behind this external fly door, you have the internal mesh door. Both of them can be rolled and fixed to the sides.
The stakes
The Eureka Solitaire includes 12 steel stakes which add more than 8 ounces to the total weight. Note that there are many options available on the market, so you might want to replace these with something far lighter. This makes sense if you are using this tent for extended tours and you want to shave the weight.
Setup 
You will need some 5 – 7 minutes to set the tent up. It is not freestanding so you will start by anchoring the corners to the ground. There are sleeves on the tent body to pass the poles, I like this design, no clips of any kind. So when you put the poles through the sleeves, you place them into the side grommets.
There are 3 guylines in total so you will have to use them to have the tent properly fixed. With this, the tent is up and ready to use.
Here is a short promotion video about the Eureka Solitaire tent, have a look:
About users – who is it for
In view of its features, the Solitaire bivy tent may be a great tool for entry-level hikers and mountaineers. In view of its price, this is a great option for occasional outdoor use. But this is not a tool for professionals; if you are one of them you know this already and do not need me to tell you this.
Although it is very lightweight, I would not recommend it as a backpacking tool for very long tours because it is not freestanding and does not provide much comfort.
Note, this is a 3-season tent, do not even think using it in winter conditions. Its roof is like a barrel, so it can accumulate snow and it could crash it. Also, this design is definitely not for strong winds, so I would not use it at high altitudes, in particular not above the tree line in the Alps where I normally go.
Specifications
Type: 3-season, solo shelter, non-freestanding.
Minimum weight: 2 lb 10 oz (1.19 kg). See here about the terminology.
True packed trail weight: 2 lb 19 oz (1.45 kg). This includes tent with the fly, poles, stakes, 3 stuff sacks.
Floor dimensions: 32 x 96 inches (81 x 244 cm).
Floor surface 21.3 sq ft (1.98 square meters).
Peak height: 28 in (71 cm).
Packed size: 4 x 17.5 inches (10 x 44 cm).
Materials:
– Floor: 75D 185T StormShield polyester taffeta.
– Fly: 75D 185T StormShield polyester taffeta.
– Mesh: 40D no-see-um.
– Poles: 6.3 mm fiberglass.
– Stakes: Steel Skewer.
Seam-taped.
Waterproofness rating: 1200 mm.
12 steel stakes.
Stake length: 7 in (17.8 cm).
Three stuff sacks, for poles, stakes, and for the complete package.
About Eureka Company
The story about this company is fascinating. It is very rare to see a company that started in the 19th century (one of them is Deuter, which I presented in my another text). Well, it appears that Eureka has started prior to 1895 in Binghamton, New York. In fact, the true name of the brand is Eureka!, but this is rarely used on the Internet.
In all these years they have been on the forefront in the tent industry. Did you know that their tents were used by Sir Edmund Hillary? Eureka's tents were used also by Eric Simonson's expedition when they found Mallory's remains on Mt Everest.
The first StormShield design was introduced by Eureka in its legendary Timberline tent in the 1970s. Their tents were used also in the American Women's Himalayan Expedition to Annapurna I in 1978. The same was in the case of the first Mt. Everest ascents by a Canadian and American woman in 1986 and 1988.
You can read more about the company in their site, so just follow this link.
Summary, rating, pros & cons
To conclude this Eureka Solitaire Bivy Tent review, obviously, it is a very affordable tent and this together with the weight is one of its best features. Even if you upgrade it to aluminum poles, and to some higher stakes, the total price is still far below most of its competitors, see some of them here.
In addition, this is indeed a double-walled roomy tent with a stargazing feature and dual entrance options. But bear in mind the objections I gave above, and the comments about possible users.
There is a huge number of customers' reports in many places on the Internet. The most frequent complaint is about the poles.
Do not be fooled by claims about great ventilation. Every tent with mesh has a great ventilation without the fly. The point is how it behaves with the fly. The fly in this tent has no vents, so do not plan this as your main tool in areas with a lot of rain. To improve the ventilation, you can roll back the front section of the fly so that you have the mesh window on the front. But this will not work in the case of rain.
You will notice that the fly is fixed through elasticized cords, this is far from good in the case of strong winds. I just wonder what they have had in mind with such a design. Also, the three guylines are not the best design in the case of strong winds.
The fact that the tent is not freestanding implies that you have to plan your camp places. You cannot pitch it on a frozen ground, on a rocky terrain, on concrete, or on a gravel and sand.
I mentioned in the key benefits lots of floor surface, and this is really so, the tent is roomy. But my general problem with all bivy tents is their height. You cannot sit inside so imagine how it may be if you are stuck somewhere in bad weather and have to wait for the sky to clear in order to continue your tour. So this is related to its weight which is indeed remarkable but bear in mind the lack of comfort; such bivy tents do not provide enough volume.
Here is the breakdown of my rating:
You might want to compare the Solitaire with this Winterial bivy tent and also with this Alps Mountaineering Mystique 1 tent. See also this list of impressive bivy tents. Note however that for more extensive use, and for long backpacking tours, there are much lighter and more comfortable tents available on the market.
Thank you for reading. Let me know what you think, there is a comment box below. I wish you a pleasant day.