---
This Winterial Single Person Tent review is about an ultra lightweight 3-season bivy tent, 1.31 kg only, suitable for hiking, backpacking, and hunting.
---
Key features and bonuses
Incredible price.
Very lightweight.
---
Description
There is some confusion in the description of this tent. If you go to Amazon, you will see two different versions sold in the same place and with almost the same price. The differences are:
The shape of the poles. In one version the poles are almost half-circles (see the picture below in the text).
The structure of the inner tent. In one version the tent body is all mesh while the other is shown in the picture above.
There are small differences in the size.
Internal pockets organization is different.
There are differences in price.
The number of stakes appears to be different, 6 in one version and 14 in another.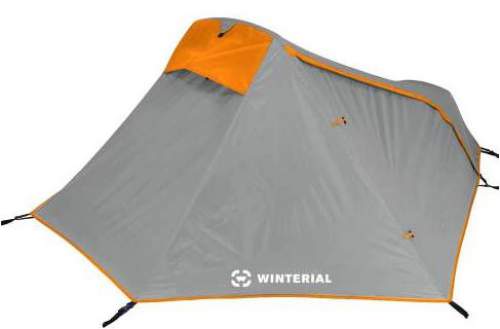 But here is what is common for both versions. The Winterial Single Person Tent is a 3-season tool, non-freestanding double wall tent. All terminology will be explained below, here to stress that the term 'double wall' implies that you have the tent body plus the rain fly which offers full coverage for the protection of elements.
As you see from the title, this is a bivy tent, and by this, I mean a rather low shelter, 2′ 4" (71 cm). So bear this in mind when you plan your outdoor adventure. If you expect to spend a lot of time in it due to bad weather situations, you will not feel so comfortable because you cannot sit inside. I have one tent of this type so can tell you this from my own experience.
But if this is only about setting it up and sleeping in it overnight and having good weather and sitting outside in your camp, this is a perfect tool. With 2.9 lb (1.31 kg) this shelter is in the category of ultra lightweight tools. To put this in the perspective, you might want to see this text with a huge comparison table with many great tools for solo adventures.
Surface to weight ratio
I like to give this parameter for tents reviewed here in the site because it gives how many square meters you have per kilogram. So for the Winterial Single Bivy Tent this parameter is approximately SW = 1.53 m²/kg. This is a great number, but again, if you want to see a champion in this regard, check the Big Agnes Fly Creek Platinum 1 tent with SW = 2.48 m²/kg.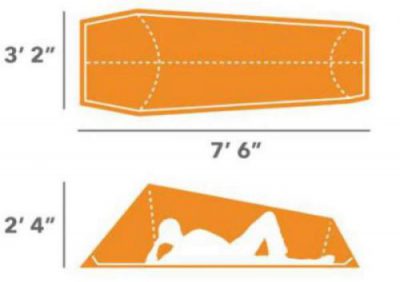 In fact, it would be appropriate to give the tent volume because this is equally important, however, most of the manufacturers do not provide such data (but see this MSR Access 1 tent).
So again, the SW parameter is big, but bear in mind the height of this tent; it is not the most comfortable option on the market. You cannot sit in it.
Materials
They do not give numbers regarding the durability of materials and waterproofness rating, this is very disappointing and unacceptable, to say the least.
The rain fly is with the zipper and with Velcro tabs which are there to keep the storm flap in place. All seams are taped for sure, so all these elements look good. The entrance door can be rolled up and fixed to the fly. Behind it, you have the mesh door of the same shape and with a zipper.
In one version, the whole inner tent is practically mesh and this is good for ventilation. It is supported with two looped poles of different size. So this is great if you sleep under the stars in a dry environment. But the fly in one version is without vents. This is not so in the version shown above, the vent is there and this is a great detail.
But the fly in one version is without vents. This is not so in the version shown above, the vent is there and this is a great detail.
In this video, you can see the version with the mesh body:
---
What is in the package
3 bundles of strong cords.
14 (or 6) heavy duty stakes.
Two shock-corded poles (the meaning of this is that the segments of a pole are interconnected and you cannot lose them).
Tent body, this includes the main tent structure (the floor, the walls, and the ceiling).
Rain fly.
A nice stuff sack.
The tent packs nicely in its carry sack, the package is cylindric in shape and can easily be attached to any backpack or carried on a motorbike.
---
Specifications
Weight 2.9 lb (1.31 kg).
Size for one version: 38 x 28 x 90 inches (96 x 71 x 229). The other version is with 40 x 30 x 92 size.
Packed size: 22  x 7  x 6 in (56 x 18 x 15 cm).
Floor area: around 2 square meters (this is not a precise number, they do not give it and the floor plan is not rectangular to calculate so easily, see the picture above).
Poles: 2, aluminum.
---
Pros & Cons
My short summary is as follows:
  Good

  Less good

Great price.
Very lightweight.
Large floor surface.

Not freestanding.
Quite low.
Lack of technical specifications.
The lack of clear specifications regarding the waterproofness and material strength is irritating and frankly speaking irresponsible.
Regarding non-freestanding feature, if you are not familiar with the terminology, this means the tent must be anchored to the ground in order to set it up. But this opens the issue of the ground; you cannot pitch this tent on the rock, on concrete, on frozen ground, on gravel, on sand.
This is simply because either of the following two: a) you cannot force the stakes in the ground, or b) they are useless even if you put them in the ground (in the case of sand or gravel). So you have to plan in advance where you will be camping. This can be an issue if you are at high altitudes above the tree line. This is my typical situation in the Alps and I have experienced it myself.
As mentioned above, it appears there are versions with and without vent on the fly. So make no mistake here, have one with the vent, this can make a lot of difference regarding the comfort in this tent.
Here is the breakdown of my rating:
Rating of Winterial Single Person Tent
Area -

8.8/10

Area/Weight ratio -

8.7/10

Packed size/Area ratio -

7.8/10

Reliability & protection -

8/10

Ease of use and features -

8.1/10

Price -

9.8/10
If you have experience with this tent, please give your rating here.
---
Who is it for
If you do some outdoor tours only occasionally, then spending too much makes no sense. The Winterial Single Person Tent will be a great choice. The same holds for the beginners and scouts. But for more intensive use, I would suggest a proper tent which offers more comfort, first of all a higher tent.
---
Comparison with competitors: Winterial 1 vs Catoma Badger 1 vs Snugpak Ionosphere 1
Here I give the comparison with two other tents with the same or nearly the same design, all are bivy type, so rather low and very lightweight. To see more please follow the links:
Winterial 1

Catoma Badger 1
Snugpak Ionosphere 1
Weight (kg)

1.31

1.33
1.52
Surface (sq m)

2

1.7
2.16
Height (cm)
71

*

68.5
70
Surface/weight ratio, sq m/kg

1.53

1.28
1.42
Freestanding

no

yes
no
Footprint included

no

no
no
Vestibule

yes

no
no
Type

double wall

hybrid
double wall
*This is 76 in one version.
In the moment of writing this text, the prices of the tents in the table are respectively $75, 234, 145. So the differences are huge. No doubt the price is the strongest feature of the Winterial Bivy Tent.
---
Summary
To summarize this Winterial Single Person Tent review, if you are looking for a tent of this type and if you are undecided what to choose, then the comparison table above should be your central point. If this is only about occasional use, I think the Winterial could be your first choice. Yet another option in the same style and the same price range is this Eureka Solitaire Bivy Tent, so have a look. Check also my text about best bivy tents, with many of them in the list.
But if this is about extended backpacking tours and intensive use, I would suggest you considering completely different tents, which offer more comfort and which are even lighter. So I would point again to my text about ultra-lightweight solo tents for backpacking.

If you need anything else, tents for 2 or more people, please visit this page with tens of tents described.
Thank you for reading. In the case of questions and comments, please use the comment box below. I wish you a nice day.


---