---
In this best bivy tent review, I present a list of incredible tools with great features, all very different in every possible sense. Just see the weight range, 0.8 – 7.9 kg, and the price range $75 – 430. See below what causes such big differences.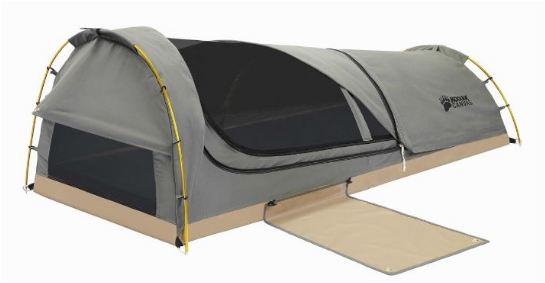 ---
What is the difference between a tent and a bivy tent
So how do I choose what to add to the list when it comes to the upper height limit? My criterion is not so exact, but it is simple: if you cannot sit in the shelter, this is what I consider a bivy tent, but there is more to that, see below.
At the same time, this same feature is the most serious objection against such tools. Just imagine getting stuck somewhere in bad weather and waiting for the clear sky to continue your tour, and this all in a shelter which is not high enough so that you sit inside. Yeah, this does not sound good, but this is the reality of bivy tents.
However, the bivy tents do have some many features as well, most of them are very lightweight (but see one exception below) and with an easy setup.
On the other hand, if you are using them in an area where you would not expect much rain, when you are in your camp you will spend most of the time sitting outside. In such an environment, the height of such a bivy is not important at all.
---
Bivy tent vs bivy bag or bivy shelter – what is the difference
This is a tough one. Here, this is about the lower height limit for the bivy tent. It is really hard to set a proper limit between the two. As you know, some bivy bags can be with poles, either one or two of them, so you have a shelter that looks like a bivy tent but it is much lower.
The bivy sacks (or bivy shelters as they are sometimes called, in particular, those that have a pole and a mesh above the head) usually provide far less space.
So back to the issue, I take everything above 60 cm height as a bivy tent. Those below are bivy bags or bivy shelters for me. If you disagree, I agree with you, there is nothing exact here. But, you will notice that bivy bags with poles are always far below this height, so after all, the distinction between the two groups is not so difficult.
Yet another distinction may be the absence of staking system in the case of bivy bags, but here again, this is not always so. Some of them do have stake loops, you can see them in the Outdoor Research Bivy Sacks described in the site
So, after such an introduction to the terminology, I would present my list.
---
The bivy tents ranked by weight
So here they are, ranked by weight. You may be surprised to see the last one in the list because it is so heavy. Well, I have never said this was only about backpacking tools. This is about tools for sleeping outdoors, and this may imply many things, like mountain climbing, mountaineering, hiking, backpacking, hunting, kayaking, biking, camping, and I do not think this is a complete list of activities.
*This is the surface-to-weight ratio.
Obviously, only the Kodiak bivy tent is a camping tool, suitable for places with a car or motorbike access. This is an exceptional tool and I simply could not avoid to add it here.
I use to give the surface-to-weight ratio (SW) which describes how many square meters you have per kilogram of weight. Obviously, the Nemo GoGo Elite is the champion here as well as in the absolute weight and packability.
Note that the Aqua Quest bivy is also good in both weight and SW ratio but this tool provides less volume than any other in the list.
---
1. Nemo GOGO Elite 1 person minimalist shelter
This shelter is described as an ultimate solution for bicycle or motorcycle touring, sea kayaking, etc. But why is this bivy in the list? Well, this is something really special, air supported technology.
There are no standard poles here. This is based on pressurized air as an integral part of the structure, essentially an inflatable tool which can fit in a Nalgene bottle, yeah you are reading correctly, see the picture below.
Here are just a few features:
Packaged weight: 1 lb 12 oz (800 g),
Floor: 108 x 41 in (274 x 104 cm), note this includes vestibule-like areas on either side.
Floor sleeping area: 19 sq ft (1.8 sq m).
Vestibule area: 5 sq ft (0.5 sq m).
Interior height: 27 in (69 cm).
Frame: 2 in (5 cm) diameter air beam.
Packed size: 4 x 6 in (10 x 15 cm).
Shell: 10D PeU Nylon Ripstop (1200mm).
Vestibule fabric: 10D PeU Nylon Ripstop (1200mm).
Floor fabric: 15D PeU Nylon Ripstop (1200mm).

---
2. Aqua Quest Bivy 1
This bivy tent is described in details in my separate review, so please follow the link to see more. Here, to stress just a few things about this shelter:
Easy setup.
Very spacious for the tool of this type.
Very good price.
Very lightweight.
Completely waterproof.
It packs nicely to 16 x 6 in (40 x 13 cm).
With the price of around $100, this is a real bargain.
This shelter looks more like a bivy shelter than a bivy tent, but you have 70 cm peak height here, and this is what qualifies it to be in this group. It has pegs and pole just like any other bivy tent.
---
3. Winterial Single Person Tent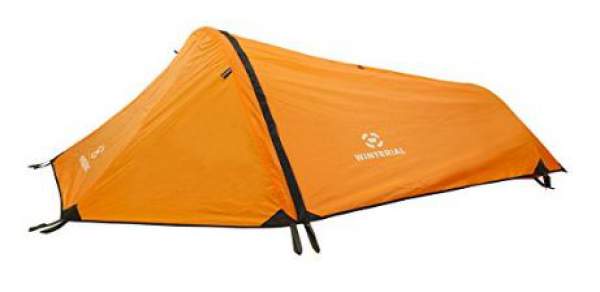 This is an ultra lightweight 3-season bivy tent, with many great features. It is described in detail in my separate review.
The most important features:
Great price, around $75 only. You will not find any other tool which would match this.
Very lightweight.
Large floor surface.
Great surface to weight ratio.
Completely waterproof.
Please follow the link to see more about this tool.
---
4. Catoma Badger 1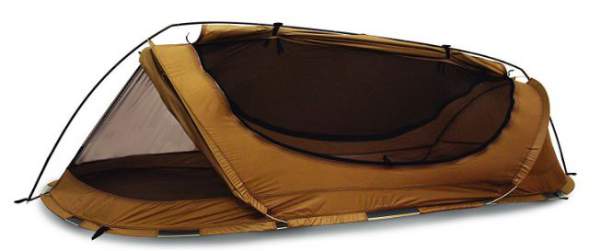 This is a military style bivy tent with great features. It is described in detail here.
Freestanding.
Instant setup.
Reliable.
Very lightweight.
The tent can be fixed on a cot so you have a tent-cot structure.
Two doors.
Durable materials.
This is a very expensive tool, but not the most expensive; the Nemo GOGO Elite is the champion.
---
5. Eureka Solitaire 1 bivy tent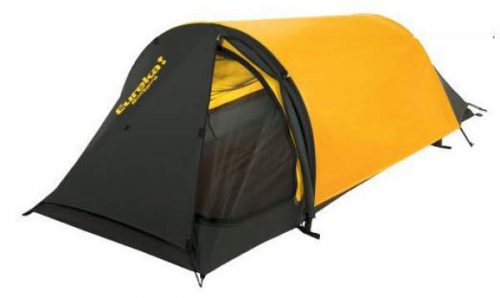 Here are some key features and benefits:
Great price, only around $85.
Very lightweight.
Lots of floor surface.
Two entry points, from the front and from the top.
Tent and the fly are not separable
Nice packed size.
Not free standing.
To see more please check my massive review.
---
6. Snugpack Ionosphere 1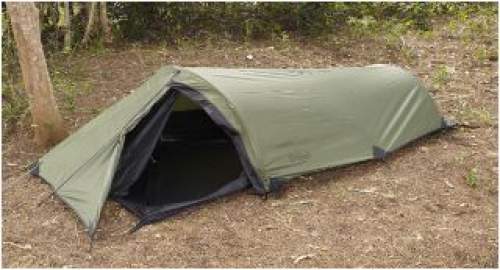 This is a very popular bivy tent, with great features and it provides more space than any other tool in the list. Key benefits and features:
Lots of space for you and equipment, all fits inside the tent, so you are sure nothing will be missing when you wake up.
Great surface to weight ratio.
Easy setup.
Very spacious.
Great value for the money, around $144 only.
See more in my separate review.
---
7. 

Kodiak 1-Person Canvas Swag Tent with Sleeping Pad
This is a truly heavy duty tool, by far the heaviest in the group and suitable only for camping at places with a car access. What makes it different from all other tools (apart from its weight) is that this is a complete sleeping system with a 2 inches (5.1 cm) mattress included plus a flannel cover. This all rolls up nicely, no need to pack anything separately. To see more please read the review.
Here are its most basic features and specifications:
Weight: 17.5 lb (7.94 kg).
Size (L x W x H): 80 x 35 x 27 in (203 x 89 x 68 cm).
Packed size (L x D): 35  x 12 in (89 x 30 cm).
Roof and wall material: 8.5 oz Hydra-Shield 100% cotton canvas.
Floor: 16 oz vinyl, polyester reinforced.
No-see-um screen mesh.
Mattress pad included: open-cell polyurethane foam.
Removable flannel cover included.
Poles: 3, aluminum.
Gear pockets.
Zip-open windows at head and foot for air flow.
Cinch straps for compression.
Carry bag.
See more about this system in the video:
---
Summary
So to conclude this best bivy tent review, all the items given here are available on the market in 2017, and many of them have been around for some time already so they have stood the test of time. Now, how to choose? Here are a few tips.
If you are a complete beginner or just do not want to spend much, or you need a bivy tent shelter for occasional use, I would warmly recommend either the Winterial or Solitaire. With prices of $75 and $85, respectively, they are by far the best options.
If you want something totally crazy, and incredibly lightweight and packable, ideal for ounce-counting backpackers, this is the Nemo GoGo Elite. But bear in mind its price, it is around $430 at the moment of writing this text.
If you do not care about the weight and need a tool for a comfortable sleeping outdoor and with a car access, the Kodiak Canvas tent is for you. Its current price $268 is really reasonable for what it offers. Remember again, this is a complete camping tool, no extra pad is needed here.
Other models are somewhere in between. Each of them has good and less good sides, please follow the links to read more.
Note that these all are 3-season tools, I would not consider using them in winter conditions. But if you really have to do so, then the Snugpak Ionosphere and the Catoma Badger could be your first choices. The Eureka Solitaire is with fiberglass poles so do not think about it for snow use. All of them are available in the Amazon links below.
Thank you for reading. I love to hear from you, so let me know what you think, there is a comment box below. I wish you a pleasant day.


---