---
The Outdoor Research Men's Interstellar Jacket is an extremely breathable, waterproof, and air-permeable lightweight hard shell jacket. This is a very versatile and packable piece that stows into its own pocket.

---
Key features & benefits
This is AscentShell material.
Extremely breathable and completely waterproof.
Air-permeable.
Very versatile jacket.
Stretchy fabric.
Very light jacket – probably the lightest hardshell currently on the market.
---
What type of jacket is this
The Interstellar is a 3-layer hard shell waterproof and extremely breathable jacket for all seasons. So you have an external shell fabric, 20D 100% mechanical stretch ripstop nylon, that protects the membrane from the outside. This layer is with a Durable Water Repellant (DWR) treatment.
The second layer is the AscentShell membrane, more below, which is fully waterproof and breathable. The inner layer is a polyester 12D backer that protects the membrane from the inside, and its aids moisture management.
They describe this jacket as a piece that pioneers a new generation of multi-sport versatile active shells and they are probably right. The jacket is streamlined and with a trimmer fit, but if you are concerned about this, remember that this is a movement-mirroring stretch fabric designed for very aerobic activities so you have a full freedom of movement. It is also with Dynamic Reach underarm panels.
The material used here is similar to their Realm jacket that is also available on the market. The Interstellar is with one chest pocket instead of two that are available in the Realm jacket, and this new jacket has two hand pockets, and it is a bit heavier.
---
Who is it for
This is such a lightweight jacket for the hard shell type, and so incredibly packable and stretchy, that it is hard to find any activity where you would not want to use it. It will serve you well for winter sports, for mountaineering, backpacking, and in any highly aerobic activities where you need weather protection.
I have seen users suggesting it for the following activities: freezing conditions, above treeline, trail running, wet weather, fitness, Northwest hiking, casual wear, so you see, an (inter)stellar jacket indeed.

---
Overview of features
The hood
The hood is helmet-compatible, with cord locks on the sides and on the back. With this you can adjust it to any size you need, with or without the helmet. The brim is with a wire. See how it looks, perhaps a bit small for bulky foam helmets but I guess it should work fine with Petzl Elios and similar: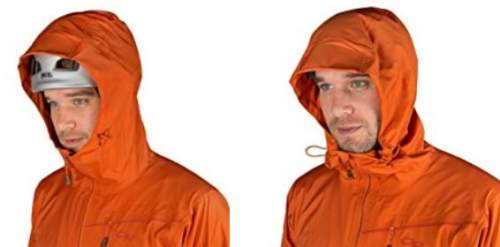 The pockets
There are three of them and all are outside, two hand pockets plus a chest pocket; all with waterproof zippers. The hand pockets are positioned relatively high so that you can use them even when your pack's hip belt is on, or with your climbing harness. But if you compare it with the Marmot Spire jacket, you will realize that the pockets in the Interstellar are a bit too low to be fully used with a harness.
Note that the jacket packs into its left-hand pocket, and you also have a clip to attach it to the pack or your harness. The chest pocket has yet another small mesh pocket inside where you can put your cell phone, though it looks very small for such a purpose.
Other features
The zippers are YKK AquaGuard waterproof so you have the best of the best here. Note that the front zip is by the design exposed from outside, but you have the inner storm flap.
The hem is with an elastic drawcord. One nice feature is the cuffs design where you have both elastic and Velcro tabs, so you can fit them perfectly even over your gloves.
Note that the jacket has no vents, for most activities you would not need them with such a breathability but it would be far better with such an addition. But you have mesh in its pockets so you can unzip them when needed and have some extra ventilation that way.
The jacket is available in 5 great colors. See how they describe it in this video:
---
What is AscentShell
This is an electrospun laminate membrane, thinner and more stretchy than any other hardshell material. They also claim it is with the highest breathability. You can visualize it as a cotton candy on a microscopic level; those are polyurethane fibers that are electrically charged and then randomly laid to create a waterproof barrier but remaining air-permeable.
Note that this sort of material is hard to make, so this should explain the relatively high price of the jacket (but this is still one of the most affordable hardshell pieces on the market). There are currently no many manufacturers of this membrane in the world, this one used here is the OR proprietary stuff.
The important feature here is also the air-permeability, which helps in drying the vapor that naturally goes out through the membrane, so you dry faster and feel more comfortable. This material is softer, stretchier, and quieter than the Gore-Tex Pro. I love to see numbers, but after searching I could not find exact values for its breathability and waterproofness rating. See what they say about this material in this short video:
---
Specifications
AscentShell 3L.
Weight: 11.6 oz (329 g) for size L.
Center back length: 29 in (73.7 cm).
Waterproof, windproof, breathable.
Material:
– Shell: 20D 100% mechanical stretch ripstop nylon.
– 100% polyester 12D backer.
YKK AquaGuard zippers.
Colors: 5.
Sizes: S, M, L, XL, XXL.
---
OR Interstellar jacket vs Competitors
I thought it would be best to show the Interstellar with some true top-notch jackets, so here it is side by side with the Arcteryx and Marmot jackets. Only some basic features are given so please follow the links to read my full reviews. The Arcteryx jacket is not a hard shell, but I give it here to realize that the Interstellar is almost the same weight although a hard shell type. On the other hand, see the Marmot's jacket weight; but it has far more features than others.
---
Final thoughts & rating
So as you realize, for a hardshell jacket, the Outdoor Research Men's Interstellar Jacket is really lightweight. You will hardly find another piece on the market that would match its fantastic mobility and breathability. Although it looks expensive, this is a true hardshell jacket and from such a perspective its price looks far more acceptable. Though with 20D external fabric it is surely not the most durable, so bear this in mind if you need something stronger; perhaps check some of these Arc'teryx jackets.
The Outdoor Research is showing a confidence in the breathability of this jacket by making it without pit zips although this is a piece for highly aerobic activities. Such zips would add weight. The jacket is great as it is, but they could make it even better.
The price depends on the seller, but this is an expensive product. However, it is far more affordable than other hardshell jackets on the market. See how I rate it:
See also its cousin the OR Optimizer jacket which is Gore-Tex. Note that they also have the Interstellar jacket for women with the same features.
Thank you for reading. If you still need to see more jackets of this type, please visit my page with clothing or check this list with waterproof shell jackets for men. Check this Mountain Hardwear Stretch Ozonic Jacket which is also a fully stretchy piece.
Please use the comment box below in case of questions or comments. Have a nice day.