---
Here you have a collection of great Arc'teryx jackets for men currently available on the market, and the list includes both rain shell and softshell jackets, Alpha, Beta, Gama, and Atom type. 
---
My list of Arc'teryx men's jackets
So here is my list and the jackets are ordered alphabetically:
When you see the pictures, if you are not familiar with these jackets, they may look the same or very similar to each other. But the words Alpha, Beta, Atom, and Gamma which you see in the names of the jackets have an important meaning, and these terms are described below in the text. Here just to stress that some of the jackets in the list are waterproof shell items and some are softshell jackets. The meaning of the letters SL, AR, and LT is also explained below.
---
1. Arc'teryx Alpha SL Jacket For Men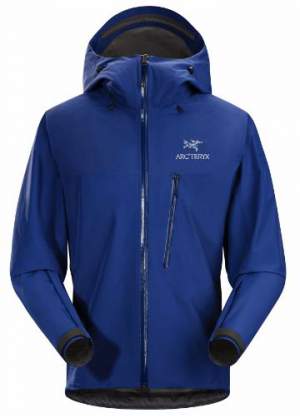 The name of this jacket should already tell you a lot. So Alpha implies this is an item built for climbers and alpinists. The letters SL tell you that this is a super light version.
So this is a 2-layer GORE-TEX PackLite membrane combined with a 40D ripstop fabric, a lightweight item with only 10.8 ounces (305 g) of the average weight.
Here you have only one chest pocket. On the cuffs, you have velcro tabs. The hood is helmet-compatible and fully adjustable, with three adjustment points. You also have a nicely designed brim.
Being from the Alpha series, this determines the position of the (only) pocket, the presence of a drop hem, and high durability-to-weight ratio. It comes with a stuff sack so you can attach it to the climbing harness.
This jacket is far more expensive than its competitors, but being the SL model, the price is still reasonable for an Arc'teryx item. It is available in 8 different colors. Please see more in my review.

Here are a few details in this short video:
---
2. Arc'teryx Men's Alpha SV Jacket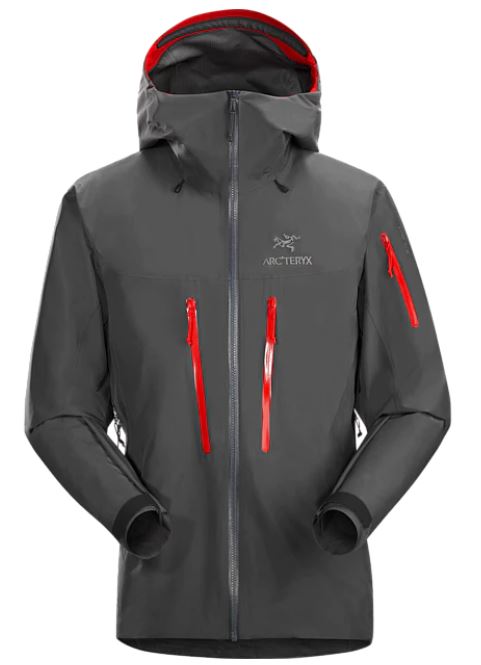 I guess it would be appropriate to explain the letters SV first. The meaning is supposed to be 'severe', in other words, this is a jacket built for severe weather conditions. So what you have here is a hardwearing GORE-TEX Pro hardshell for extended use in severe alpine conditions. This is an item designed for climbing and alpine activities.
The word Alpha means lightweight, minimalist climbing and alpinist products that protect from alpine environments.
This is a fully waterproof, windproof and breathable jacket that offers full protection from elements. You now have a stronger and lighter, exceptionally durable N100p-X 3L GORE-TEX Pro fabric that significantly increases abrasion resistance.
On the front you have WaterTight zippers with RS sliders. The StormHood is fully featured and helmet compatible. You also have pit zips here, and an articulated construction. This jacket is built in XS, S, M, L, XL, and XXL sizes. The average weight is 490 g (1 lb 1.3 oz), the fit is regular, and the center back length is 78 cm (30.75 in).

Please see a bit more in this short video:
---
3. Arc'teryx Atom LT Hoody For Men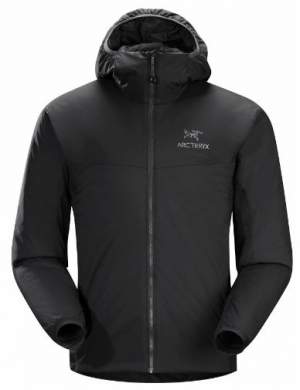 This Atom LT hoody is designed as a mid-layer, and you have a synthetic Coreloft 60 insulation which is not particularly bulky but it delivers a lightweight warmth. So the jacket is 12.7 ounces (360 g). The Coreloft is polyester fibers material that dries quickly and it retains the warmth even when/if it gets wet.
On the sides you have stretchy fleece panels, this is Polartec Power Stretch, with an excellent breathability and the ability to recover its original shape after being stretched. This is a performance-fit fabric capable of handling the pressure of even the most demanding physical activities.
The body fabric of the jacket is Tyono 20 with a great air-permeability and a DWR finish. So this all is a very soft yet durable construction and the jacket retains its loft very quickly after you get it out from the pack.
The fit is slim and as such it is best used over a base layer, and in combination with any of the shell jackets here in the list, you will be equipped for all seasons. The design includes a drop tail. The helmet-compatible hood is attached and with the same insulation as the rest of the jacket, and you have a drawcord with a toggle on the back.
You have elastic on the sleeves, and on the hem you have a drawcord on one side. The jacket is equipped with two zippered hand pockets plus one secret inner zippered pocket on the chest.
This is a very popular jacket and they build it in more than 20 color combinations. The average rating on Amazon is incredibly high 4.6/5 based on more than 250 customers' reports.

A bit more in this video from the brand:
---
4. Arc'teryx Men's Atom SL Hoody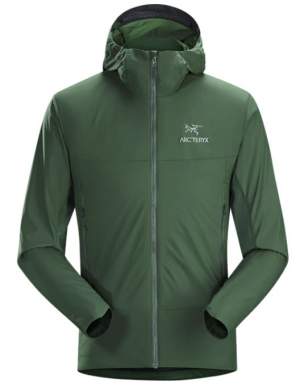 If you know the notation which this brand uses, you can conclude already from the name that this is an insulated (the Atom word is used for this) but very lightweight (hence SL) piece that can be used as a mid-layer and separately as an outer jacket for a mild weather. Note that it weighs only 9.2 ounces (261 g) and it packs very nicely.
It is great to have in situations where the temperature changes during the day or on the trail, when you have a warmer situation in the sunlight and colder in the shade, this is what you frequently have at higher altitudes. If you have been in the Alps you will know. You will use it for early starts in Alpine conditions and in any other cooler environment as a hiker, skier, climber, and a backpacker.
The insulation is synthetic Coreloft Compact 40 gram per square meter insulation, very efficient and not bulky. It will retain its insulation properties even if it gets wet and this is what makes it better than down. The shell material is Tyono 20 100% nylon and you have side panels which are built from Torrent 190 with 84% polyester, and 16% elastane. Center back length is 74 cm (29.1 inches).
The design is minimalist but you still have a few useful features and these include two large zippered pockets, a drawcord on the hem, and a non-insulated adjustable hood. The front zipper is with an inner storm flap and with their No Slip Zip system; this implies a few extra bumps on the top which will keep it closed.
The fit is trim and with a drop back hem. You have gusseted underarms and articulated elbows. Note that the jacket is available in at least 10 different and nice colors.

Please see more in this short video by Arc'teryx:
---
5. Arc'teryx Beta AR Jacket For Men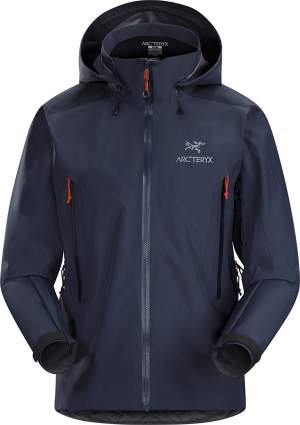 This jacket is made of a 3-layer GORE-TEX Pro fabric, more precisely N80p-X 3L GORE-TEX Pro. It looks thin but this is a laminated abrasion-resistant material. So you have the outer fabric which is 40D ripstop nylon in the bigger part of the jacket and 80D in the areas where this is needed, like on elbows and on shoulders. The second layer is the membrane, and the third layer is a protective inner fabric.
The letters AR stand for "all around". So the jacket is well suited for a variety of outdoor activities as well as for casual use. You have a gusseted fit under the arms so the jacket does not ride above the waist when you move the arms up. The jacket is equipped with long pit zips for extra ventilation, and you have WaterTight zippers here.
The seams are welded, and this means you have the best possible process applied here. You can see more about this in my separate text. This is a tool for a 4-season use.
The hood is helmet-compatible and fully adjustable. You have two drawcords on the back, and two drawcords are on the sides, a nice brim is on the front, and the collar is designed high and you can keep it around the neck when the hood is not up.
The hem is with dual drawcords to close the gap and preserve the warmth. You have two hand pockets with long watertight zippers, plus one inner zippered pocket. The front zipper is YKK #5 WaterTight Vislon laminated zipper with an enhanced water resistance.

The jacket has received more than 90 reviews and comments from Amazon customers and the average rating is very high 4.6/5. You have it available in more than 10 great colors.
Please see more here:
---
6. Arc'teryx Beta SL Jacket For Men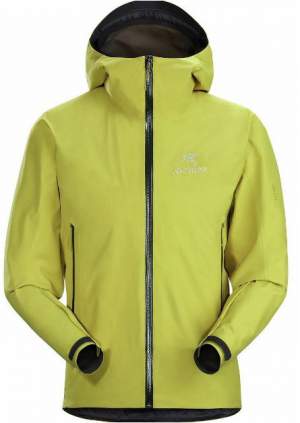 Here you have a 40D nylon ripstop as the outer layer and the GORE-TEX Paclite membrane. The letter SL mean 'super light' and this means a very lightweight and super packable jacket. There are no many seams here but those that you have are taped.
This jacket is designed to be just a shell when you need it, so it is perfect for hikers and backpackers, as well as for climbers. It weighs only 11 ounces (312 g).
The hood is low profile and with a drawstring on the back. When it is not on, it remains flat and you will not notice its presence. You have two hand pockets with laminated WaterTight zippers.

There are at least 7 colors to choose. The average rating on Amazon for this jacket is 4.3/5, and it is almost half the price of the Beta AR jacket above.
Here is a very short video by the brand, please have a look:
---
7. Arc'teryx Beta SL Hybrid Jacket For Men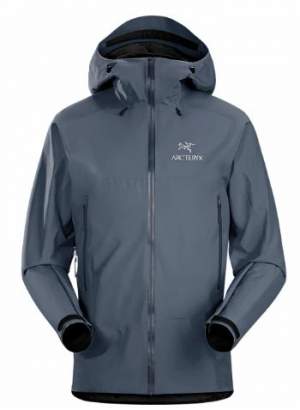 You already know the meaning of the letters SL in the name. But what is Hybrid?
So the main body is indeed the super light 2-layer GORE-TEX Paclite. But high-wear sections are 3-layer GORE-TEX with their C-KNIT backer for an increased durability. As you realize, this jacket combines an excellent packability and the usual Arc'teryx' durability, and this is the meaning of the word hybrid.
If you are not familiar with the terminology, the GORE C-KNIT backer is a specific third layer, an extremely thin and dense circular knit which makes a laminate here. This construction is 10% lighter than the usual 3-layer GORE-TEX and it is some 15% more breathable, while less bulky. When you inspect your jacket, you will see it inside the jacket on the shoulder zone and under the arms.
You have a slim fit here, yet the jacket is with gussets under the armpits, and you can still add a piece of a fine fleece underneath it. The jacket is a bit heavier than the SL model above, so you have 12.3 oz (349 g). This is due to the hybrid construction.
The jacket is with water-resistant zippers and with taped seams, and you also have pit zips. The hood is with three adjustment elements and it is also helmet-compatible.

There are two hand pockets with watertight zippers, dual drawcords are on the hem and you have Velcro on the cuffs. Note that there are 7 different colors available on Amazon at the moment of writing this text, please check the link.
Please see a bit more in this short video:
---
8. Arc'teryx Gamma LT Hoody for men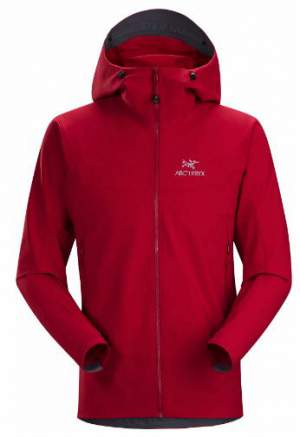 This is a soft shell jacket with the outer fabric built as a combination of nylon (56%), polyester (34%), and elastane (10%). This results in a durable and lightweight versatile piece for a variety of aerobic activities in a cold environment. This external fabric is called Wee Burly Double Weave, and it is a great balance of weight and abrasion-resistance, and it also has some DWR features. This is what they call the Arc'teryx Nu water repellent treatment.
The letter LT mean lightweight, and the presence of the elastane tells you that this is a very comfortable regular fit jacket for un-inhibiting movements. Being a soft shell, you can use it with any of the rain shell jackets here in the list or any other that you have at home, so it is not rainproof by itself, but it is quite windproof.
The hood is helmet-compatible and with a cinch cord. You have two zippered hand pockets plus one internal laminated zippered pocket. On the hem, you have drawcords on both sides, and on the cuffs you have elastics.
The main front zip is a water-resistant Vislon No Slip type and you have a wind flap. The meaning of the No Slip is that on the top it has integrated a few bumps on the zipper, so that it will not open by itself. But when you pass this area it opens very smoothly. So if you discover it in your jacket, do not think this is malfunction – this is a feature added on purpose.

A few details more in this video by Arc'teryx:
---
Why is Arc'teryx so expensive
If you are in search for an Arc'teryx jacket, you have noticed how expensive they can be. Though SL models are far more affordable than the others. So here are some reasons nicely explained, have a look:
---
Arc'teryx men's jackets – naming guide
Here are a few words about the terminology you have above. When you know the meaning of some terms, you immediately know already from the name what kind of item it is.
What is Arc'teryx Alpha
These are pieces constructed with the focus on climbing and alpinism. This implies several important details:
The highest possible durability-to-weight ratio.
Pockets designed to be accessible while wearing a pack or harness.
Harness compatible length and waistline.
Design with articulation for overhead motions.
Helmet compatible hoods.
Drop hem design.
What is Arc'teryx Beta
These are items for all around use, some of them have AR in the name which describes exactly this. You have seen some above. The most important features are:
Moderate articulation.
Standard fit which allows for layering.
Moderate length.
Normal hand pockets.
Interior pocket(s).
Helmet-compatible hood.
What is Arc'tryx Gamma
These are softshells jackets. This implies the following:
Very breathable items.
Items with stretch properties.
A variety of thermal insulation so they can be used also as water-resistant outer jackets.
Highly abrasion-resistant items.
What is Arc'tryx Atom
These are insulated mid-layer items. Typically, they are built from hydrophobic synthetic material that preserves their insulation properties even when it gets wet. The surface fabric is normally with a water-repellent finish.
---
What are Arc'tryx letters AR, SL, LT
I already mentioned them above in the description of some of the jackets, but if you missed here is the meaning:
AR means 'all around'. Such items are designed with high performance and protection properties, yet with all around versatility for a variety of activities.
SL means 'super light'. So here you have the lightest items, typically 2-layer type for high weather protection and a great packability, though less durable.
LT means 'light weight'. This implies that the durability is not sacrificed, so you have a top performance material, but it is more streamlined and minimalist by design, and some unessential features are omitted. These items are far more durable than the SL items.
There is much more, of course, so you can see SV which means 'severe weather', MX which means 'mixed weather' items, SK for winter sports, FL with the meaning 'fast and light' minimalist items designed for variable weather situations, etc.
---
Final thoughts
So I hope you find this list with Arc'teryx jackets for men useful. These are hand-picked models, and the list will be extended in time, so bookmark it and check from time to time.
There are many more jackets of various types described in my page with clothing and under the Category clothing so please have a look. Note that rain shell jackets will have little meaning if you are without waterproof shoes and boots, so check my page with footwear.
Thank you for reading. In the case of comments or questions, please use the comment box below. Have a nice day.
---