---
Masca valley Tenerife is a spectacular area in the western part of Tenerife, Canary islands. It is named after a tiny Masca village which is at around 600 meters above the sea level. This is a popular touristic spot and many people take part in Masca walk, a 4.5 kilometers descent through Masca gorge, from the village to the sea.
[Beethoven Moonlight Sonata Opus 27 No. 2 -1st Movement]
The majority of visitors perform the Masca walk in one direction only, by descending to the sea and then taking a boat to Los Gigantes. In May 2015, the boat ticket was 8 Euro. You may make payment online.
When you get out of the gorge and continue walking toward the sea, first what you will see are two 'offices' waiting for you at each side of the path. These are just two small table desks and two people from two agencies who take care about boat-taxi. So you will check your registration there and receive the ticket. If you still have enough time before the boat comes, you will have a chance to enjoy the beautiful beach with black volcanic sand and perfect water of the Atlantic ocean, see the pictures below.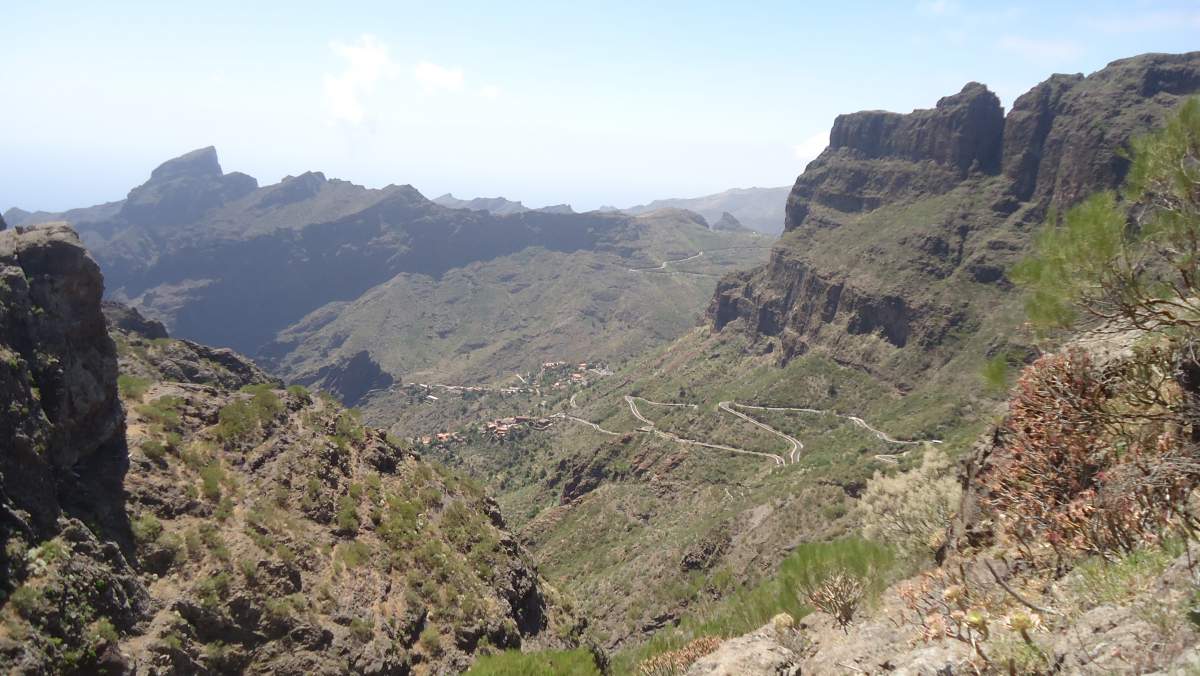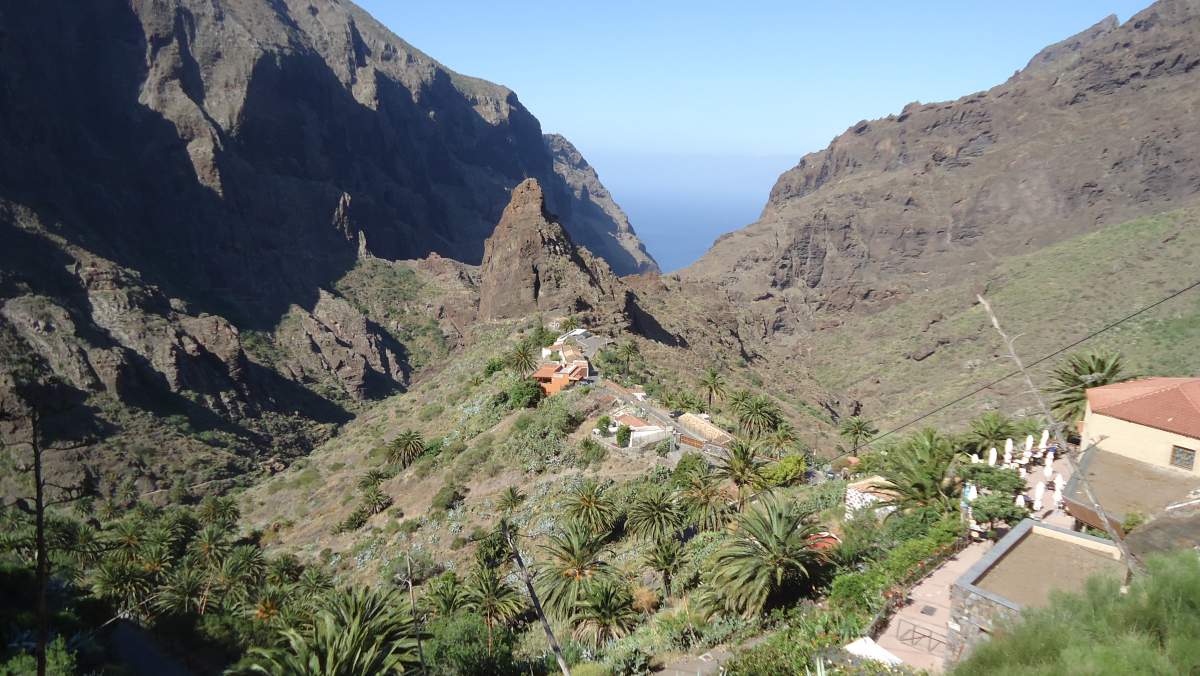 You may do it the other way around, by boat from Los Gigantes to the beginning of the Masca valley and then climb up through the gorge to Masca village. For this, you may arrange a taxi to wait for you at the upper end of the route. I have been told that the taxi service for this is around 10 Euro to/from Los Gigantes.
The descent is not easy, but it is much harder if you decide to do the Masca walk in both directions. This is 600 meters altitude difference. As for the timing in any of the two variants, well, it depends on your physical conditions; you may think about anything between 5 and 7 hours  (and I mean in both directions). But it is doable in a much shorter time, see below in the text.
The landscape is volcanic, vertical cliffs around at many places, sometimes hundreds of meters high. At one point you will see a great stone arch above you, and you will have short passages through at least one natural rock tunnel. You will be passing water streams a few times, so the path may be slippery at such places, and in the case of rain in general. Have strong hiking shoes, you will need them for such a rough volcanic terrain. Having walking poles is an advantage.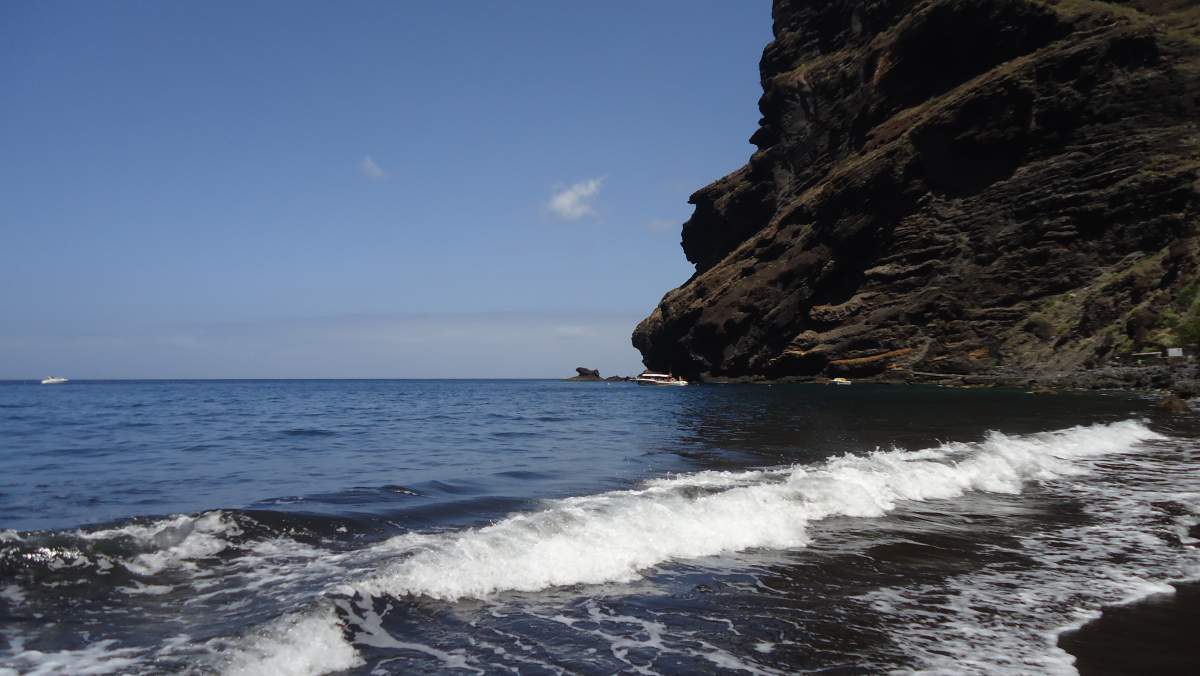 My Masca valley walk
I did the Masca gorge walk together with my friend Mitsuo Kono. We descended from the village in 2 hours and 20 minutes. It was a bit chilly and windy, which was quite good in such an environment. It was a morning tour and most of the time we were in the shadow of the walls around.  Mitsuo then took the boat to Los Gigantes and I went back the same way.
As a kind of test, I pushed myself to the limits, so I was back in Masca in 1 hour and 45 minutes. There were probably around 150 people in the gorge on the way back, sometimes in huge groups with guides. I was carrying 3 liters of water for both directions, and I used it all.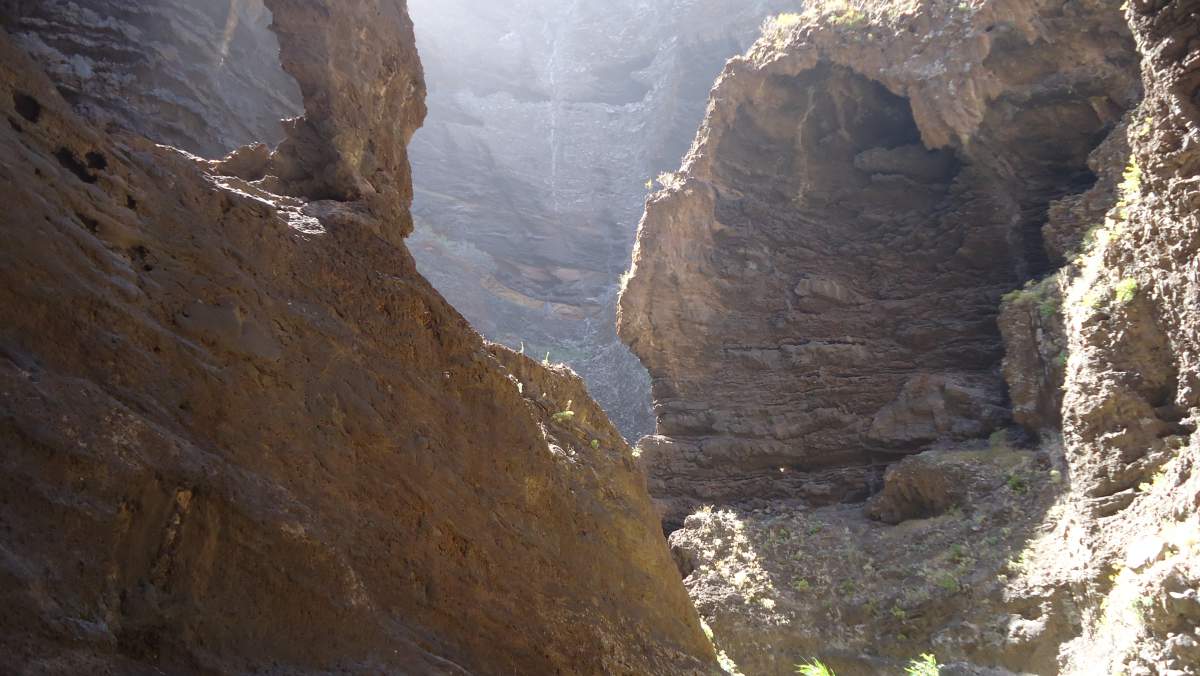 Equipment
You do not need any special equipment to do this route. Here is a short summary:
Access roads to Masca and transport
Roads on Tenerife are generally good. Though this particular part of the island is not connected by the highway which goes around the bigger part of the island. Masca is on the road from Buenavista to Santiago to Teide, but much better access is by the road from Icod de los Vinos to Santiago, or from the south direction to Santiago. The part from Masca to Santiago is particularly attractive mountain road, with an excellent asphalt surface, but full of curves and you will have to be focused.
Bus transport:
The other lines of interest with a possible connection with the above-given line, or to get to Santiago del Teide from where you may have a taxi:
Boat transport:
From Los Gigantes to Masca: 9:30, 11:30, 13:30, 14:30
From Masca to Los Gigantes: 13:30, 15:30, 16:30
---
I hope you have enjoyed reading about Masca valley. Please leave your comments in the box below. Some more hiking on Tenerife island you may find here:
If you plan to go there, just to know that you can do your accommodation reservation through Booking.com. I have used their services many times in the past and can fully recommend them.
---
Here are two great YouTube videos on Masca Valley:
---