---
This Kelty Redwing 30 Tactical Pack Review is about a pack from the new 2018 Kelty's series of durable and strong packs built in the military style.
---
What is this about
What you have here is the smallest pack from a brand new series Kelty announced last year and just launched these days (January 2018).
Those who know the Redwing series might like to see what this new series offers. So you have Redwing 30 Tactical, Redwing 44 Tactical, and Redwing 50 Tactical packs, that partly correspond to the Kelty Redwing 30, Redwing 44, and Redwing 50.

---
What is the difference between the Kelty Redwing 30 Tactical and Kelty Redwing 32 
The Redwing 32 pack is described in my separate text, so please follow this link to see more. Here I give the summary of the most important differences:
| | | |
| --- | --- | --- |
|   | Redwing 30 Tactical | Redwing 32 |
|  Volume, L | 30 | 32 |
|  Weight | 2 lb 12 oz (1.25 kg) | 2 lb (0.9 kg) |
|  Dimensions, in | 22 x 12 x 11 | 22 x 14 x 11 |
|  Attachment loops | 3 | 2 |
|  Front daisy chain | exposed | hidden |
|  Side zippered pockets | no | yes |
|  Pass through pockets | no | yes |
|  Front stash pocket | no | yes |
|  Fabric | 500D kodra* | 420D poly |
|  Colors | 4 | 3 |
|  Frame | central stay | no |
*If you are not familiar, the kodra is a fabric very similar to cordura, so this is a very durable material. Cordura was originally made by DuPont in the US, while the kodra is a Korean product. So the Redwing 30 Tactical is made of a stronger material. Just to know, this is a nylon fabric.
But this is not all, here are some more:
The buckles on the Tactical 30 pack are much stronger.
Back panel padding is very different.
Shoulder straps are different; military style in the Tactical 30 pack.
Tactical 30 has attachment points on the bottom, you do not have in the Redwing 32.
From all this you realize that the Tactical 30 is a trimmed version of the Redwing 32, many features are missing.
---
Main features
This is a panel loading backpack with a huge zipper which opens the pack like a suitcase, see the picture below. Inside you have a padded sleeve which they seem to have designed for a computer, though to me the word 'tactical' somehow does not go with it.
Suspension system
The suspension is strong here, unusual to see in such a small pack. It is supported by a central stay on the back. Dual padded sections are on the back, and the lumbar zone is generously padded, see the picture below.
The shoulder straps are well padded and the same is with the hip belt. You have a sliding sternum strap, so it is adjustable to any position.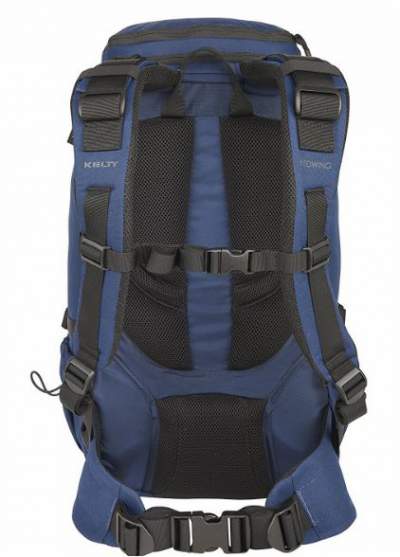 Pockets
You have a small zippered pocket on the top. On the front, there is one much larger zippered pocket with lots of organization features inside.
The side pockets are pre-shaped and they are not stretchy. You have drawcords there instead. But these pockets are not deep enough for a water bottle; to fix it you would have to use the strap which is above it.
And this is all, no more pockets here. The Redwing 32 is a far better option if you love pockets.
Attachment elements
On the sides, you have very useful compression straps shown in the picture below. They can be used to fix the items stored in the side pockets or to cinch the pack.
On the bottom front section, you have 3 large attachment loops. There are no bungee tie-offs higher on the pack so these loops are not so practical for poles, but you can fix them with the upper side straps.
The daisy chain with a handle is along the center on the front, so this is similar to what you could see in the old version of the Redwing 32 which you can see here.
There are attachment elements on the bottom as well, and some are also on the shoulder harness.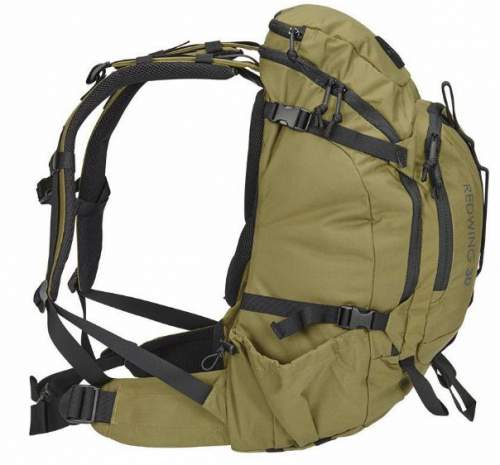 ---
Good and less good features & rating
Here is my short summary:

Durable & quality materials.
Good suspension system.
Quality workmanship.

Not adjustable harness.
Not so great side pockets.
It is hard to understand the purpose of the two side pockets, they are too wide and too short for any water bottle. Even if you use the drawcord which is there, you will not be able to fix a bottle in the pocket. Perhaps somebody will have some idea about the purpose of such a design.
The price & rating
As of the moment of writing this text, the Amazon price for this pack is around $120. So it is more expensive than the Kelty Redwing 32 pack. See  how I rate it:
My rating breakdown of the Kelty Redwing 30 Tactical Pack
Volume/Weight ratio -

8.3/10

Features & bonuses -

7.5/10

Comfort -

8/10

Price -

8/10
---
Specifications
Weight: 2 lb 12 oz (1.25 kg).
Volume: 30 L.
Dimensions: 22 x 12 x 11 in (56 x 30 x 28 cm).
Fabric: 500D kodra.
Frame: aluminum.
# 8 zippers.
3 tool loops.
Colors: 4.
---
Kelty Redwing 30 Tactical vs Competitors
Here is the Redwing 30 Tactical side by side with two packs from other brands, built in the similar style. But you realize that features may be very different, so choose what may be most suitable for you. The prices for the three packs are, respectively, $120, 60, 150, so it makes sense checking carefully.
Kelty Redwing
Tactical 30
---
Final thoughts
So in the conclusion of this Kelty Redwing 30 Tactical Pack review, I would stress nice colors of this tactical series, and the quality of the workmanship. The pack lacks some features which are available in the 'ordinary' Redwing 32, and even more in the other packs shown in the comparison table. But it is not without some great features and it really looks good. You might want to see its bigger brother with more features, the Kelty Redwing 44 tactical pack.

If you need something different, please check in my page with packs below 35 liters, you will find the top-notch tools reviewed. Check also this Mountainsmith Mayhem 30 Pack with a unique and ultra-strong Spectra Fiber fabric.
Thank you for reading. So what do you think of this pack and the new series? Please use the comment box below. Have a nice day.

---