---
If you are looking for backpacks with an external frame and still undecided about which way to go, this is the text for you. I present a list of very different models, including packs for youth, for hunting, and for backpacking. So, plenty of options, keep reading.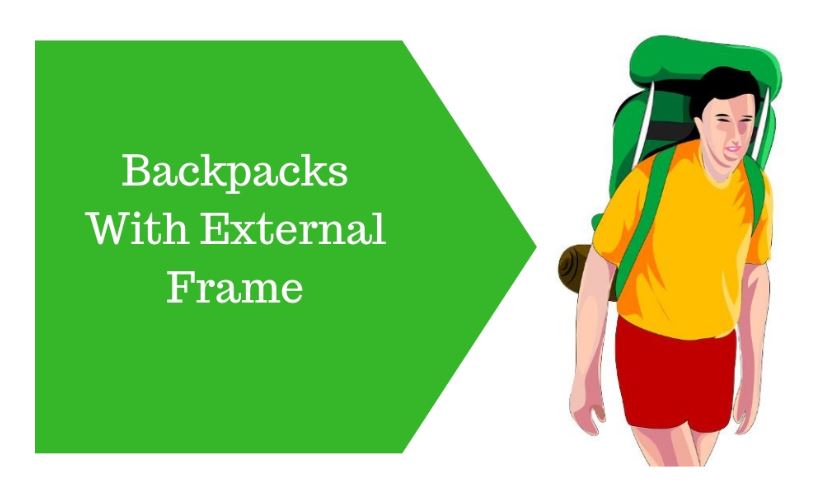 Nowadays, external frame backpacks are not as popular as they used to be, but there are still people asking about them, I have seen several such cases recently in a group on Facebook.
I myself have started mountaineering 30 years ago, and in my first bigger mountain climb, I was using an external frame pack. I still have it and I keep it for nostalgic reasons. Those first packs were not so comfortable, but the situation has changed a lot, and for the better of course.
In general, the external frame packs are better for exceptionally heavy loads. They offer much more options for attachments of equipment because the frame is accessible everywhere, and you can attach things wherever you wish. The actual storage area is behind the frame, so ventilation is generally very good.
The downside of this is that, in principle, the load is farther from the body, which is not so great for stability. But the frame distributes the weight better than what you have in internal frame packs. Therefore, it is no surprise that such external frame packs are usually with a much bigger load-hauling capacity than the internal frame packs.
---
My list of the best external frame backpacks currently on the market
My list includes the following packs, given in alphabetical order:
Several of the packs in the list are presented in my detailed separate reviews, so please follow the links to find out more.
I do not give any rating and comparison here because the packs are all very different by features and by size, so this would be pointless. The numbers are just for the navigation.
---
1. Alps Mountaineering Bryce External Frame Backpack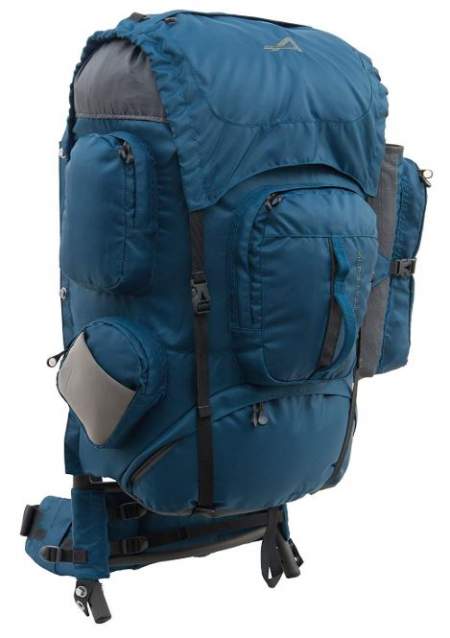 The pack has been on the market for many years already, so all is known about it. If you want to see numbers here are a few:
Volume: 3600 in³ (59 L).
Weight: 4 lb 13 oz (2.18 kg). So it is in the group of lighter packs here in the list.
Torso range: 15 – 20 in (38 – 51 cm).
Waist belt range: 28 – 40 in (71 – 102 cm).
This is a backpack with a separate sleeping bag compartment and with the usual top-loading access. Many pockets are on its three sides, as well as attachment elements. The shoulder straps are padded and you have multiple positions for them to adjust the pack for your best fit. The hip belt is also well-padded, very wide and pleasant, and you have vented lumbar support.
The fabric is a lightweight polyester and the suspension elements are with Lycra. The frame is telescoping, the zippers are #10 and #8, strong and robust, built to last.

---
2. ALPS Mountaineering Red Rock External Frame Pack 34
This Red Rock is one of the three external frame packs which this brand has developed so far, and it is designed for younger people, teenagers, or women. This is also a great tool for scouts.
The pack is a typical top-loading type and with a hold-open bar, and the official capacity is 2050 in³ (34 liters). This does not look so much but see its frame which extends far below the pack's main compartment. So clearly, here you can attach all that you need for an overnight tour.
The weight is 3 lb 11 oz (1.67 kg) and the torso range is 13 – 18 inches (33 – 46 cm). The waist belt range is 20 – 40 inches (51 – 101 cm).
The pack's fabric is polyester and you have suspension components covered by Lycra. The sternum strap is adjustable and removable and the frame is telescopic.
I find the pockets exceptionally functional here. You have them 6 as follows. One zippered pocket is on the top lid. On the left, you have them two, one large zippered and one without a zipper where you can store a water bottle. On the right side, you have two zippered plus one smaller stretch without a zipper attached to one of the mentioned two.
Several attachment elements are on the pack and these include loops on the lid and a daisy chain on the front. This is a very affordable backpack, please follow the link to see more.

Please see it also in this short video:
---
3. ALPS Mountaineering Zion External Frame Pack 64
This is a top-loading pack but you might want to know that you also have the bottom compartment here. This pack weighs 4.94 lb (2.24 kg) which is quite normal for its size. In fact, it is lighter than the Kelty Trekker pack that is with the same 64 liters (3900 in³) capacity.
Here you have a telescoping external frame that fits torso sizes in the range of 17 – 24 inches (43 – 61 cm). The waist belt is for the range 28 – 40 inches (71 – 101 cm).
The organization of pockets is very similar to the Red Rock pack above, but you have an additional front pocket which you can see in the picture. It is with a handle and an attachment loop.
The shoulder straps and the hip belt are well-padded and covered by Lycra. Other features include lash points on the lid, an ice axe loop, adjustable sternum strap with an emergency whistle, a hydration sleeve and a port, multiple shoulder strap positions, a spindrift collar with a drawcord, and a few more.
This is also a very affordable backpack, suitable for entry-level outdoor adventurers and for those who need such a pack for occasional use.

---
4. Alps Outdoorz Commander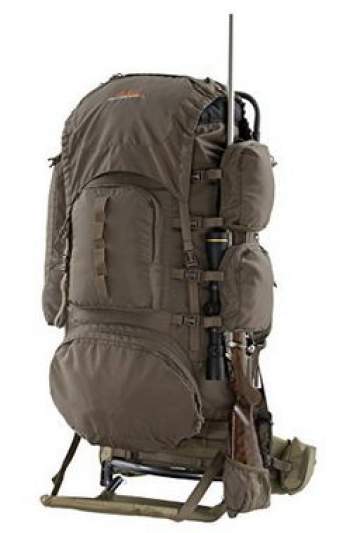 The Commander could be placed in the group of external frame hunting packs, and indeed it is ideal for this purpose. But this is an enormously versatile pack that has its place among external frame backpacking packs as well.
In fact, you have several tools here and they include a removable pack, a freighter frame, and some extras. I have seen some users claiming of carrying up to 150 lb (68 kg) with it.
Good:
This is a load-hauling tool with 5250 cubic inches (86 liters) of volume, plus what you can store on the shelf.
Very versatile and multi-purpose tool.
Many attachment points.
Specific rifle holder.
Extra lashing system to use the frame without the pack.
Great organization features.
Durable and sturdy construction.
Less good:
All its features are presented in my separate review.

---
5. Kelty Sanitas 34 Backpack for Kids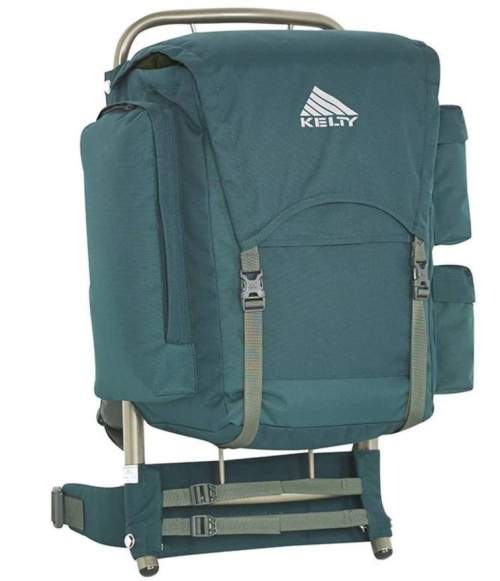 This Kelty Sanitas 34 Backpack for Kids is an external frame pack built in the classic style. You have an adjustable torso size and adjustable shoulder harness width so several kids of different ages can use it. The torso fit range is 9 – 14 in (23 – 36 cm).
The back side of the pack is nicely ventilated. The frame is aluminum and the fabric is very durable 600D polyester with ripstop polyester used for reinforcement. The volume is 2050 cubic inches (34 L) and the pack weighs 3 lb 8 oz (1.6 kg).

---
6. Kelty Tioga external frame backpack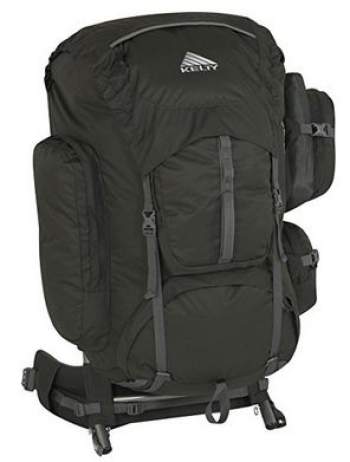 Tioga is a huge pack with 5500 cubic inches (90 liters) of storage capacity. It comes with several external lashing points, and as with any external frame pack, you can attach things at various points directly to the frame.
Being an external frame pack, it has many bars in the frame but it is not so heavy; with 5 lb 9 oz (2.52 kg) it is in the range of many packs with an internal frame. The pack is top-loading, you have an expandable collar that gives extra volume when you need it. The pack is hydration compatible and for this purpose, you have an internal sleeve.
Good:
Adjustable torso length.
Great support.
Very durable and reliable tool.
Nicely built, stood the test of time.
Great design.
Side zippered pockets.
Less good:
There is a detailed review of this pack in this site, so please see it here.

---
7. Kelty Trekker External Frame Pack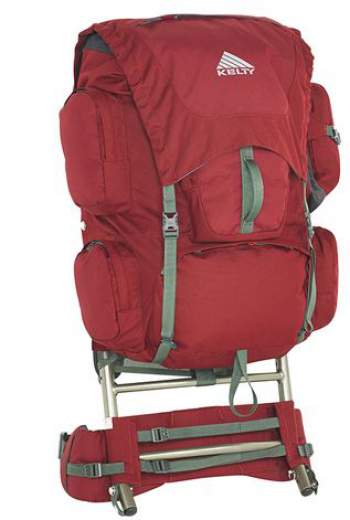 At Kelty's site, they write that they wanted to keep the tradition alive with this pack. I would say they managed completely, I love everything in this pack. It has good ventilation and you have a lot of options to tie down your gear.
With 3950 cubic inches (65 liters) of volume and such a sturdy frame, this pack is ideal for carrying heavy loads, for backpackers, and for any other outdoor activity.

Specifications
Weight: 5 lb 5 oz (2.4 kg).
Volume: 3950 cub in (65 L).
Dimensions: 29 x 22.5 x 13 in (74 x 57 x 33 cm).
Adjustable suspension.
Torso fit: 16 – 22 in (41 – 56 cm).
Materials:
– Body fabric: 600D Polyester.
– Reinforcement fabric: 600D Polyester Small Ripstop.
– Frame: aluminum.
Dual-density foam hip belt.
Padded shoulder straps.
Load lifter straps.
Belt stabilizer straps.
Hydration compatible, internal reservoir sleeve.
Zippered side pockets.
Large front pocket.
Sleeping bag compartment.
Sternum strap.
Ice axe loop.
Daisy chain.
Good:
Nice design.
Very durable construction and fabric.
Great organization features.
Less good:
This pack has stood the test of the time, it has been on the market for many years ago. So do not be surprised to see that this video is rather old, but it shows some essential features of this great pack:
---
8. Kelty Yukon 48 external frame pack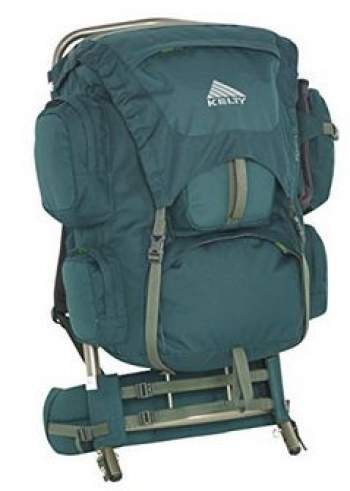 Yukon 48 pack is designed as a pack for growing youth, and this is obvious from its most important features which include:
Adjustment of torso length.
Adjustment of torso width.
So this is a pack designed to grow as a teenager grows. You will notice that its design is very similar to the Trekker model above. The weight is 5 lb 1 oz (2.3 kg).
With its volume of 48 liters, and in view of the crucial adjustability features mentioned above, this pack fits the gap between packs for kids and packs for adults. It comes with no less than 6 pockets and one drop pocket, so this is a design which youngsters love.
Good:
Nice design.
Very durable construction and fabric.
Great organization features.
Less good:
There is no rain cover.
It might be heavy for teenagers.
All its features are presented in detail in my separate post so please have a look here.

---
9. Outdoor Products Dragonfly External Frame Backpack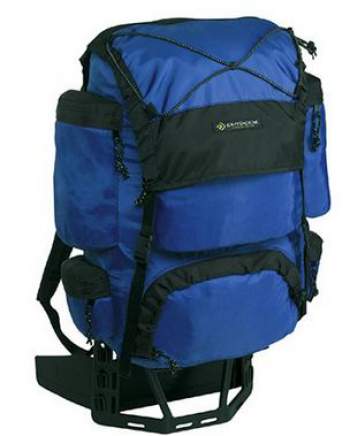 This pack is described as most suited for entry-level pre-teen backpackers, so this is for the age group younger than the Yukon model above. From the specifications below you realize that it is considerably lighter although the volume is only slightly smaller, it is 45 liters in this pack.
The pack is a top-loading type, and with dual side pockets where you can store 32-ounce-size water bottles. The shoulder straps are padded and the suspension system is with a mesh, which is good for ventilation.

Good:
Great price. Only around $50 at the moment of writing this text. But note, there is a new much more expensive model available on Amazon.
Great organization features.
Less good:
There is no rain cover.
Plastic frame.
Not adjustable torso length.
No internal sleeve for a water bladder.
Specifications
Weight: 3 lb 10 oz (1.64 kg).
Volume: 2780 cubic inches (45 liters).
Size (L x W x D): 24 x 14 x 8 inches (61 x 36 x 20 cm).
Torso range: 15 – 18 inches (38 – 46 cm).
Top-loading main compartment.
Bottom compartment.
Dual side zipper pockets.
Bungee compression system.
Mesh back panel for support and ventilation.
7 pockets.
Frame: Enduroflex, in fact, a sort of plastic.
Fabric: Nylon.
---
10. Vargo ExoTi 50 Backpack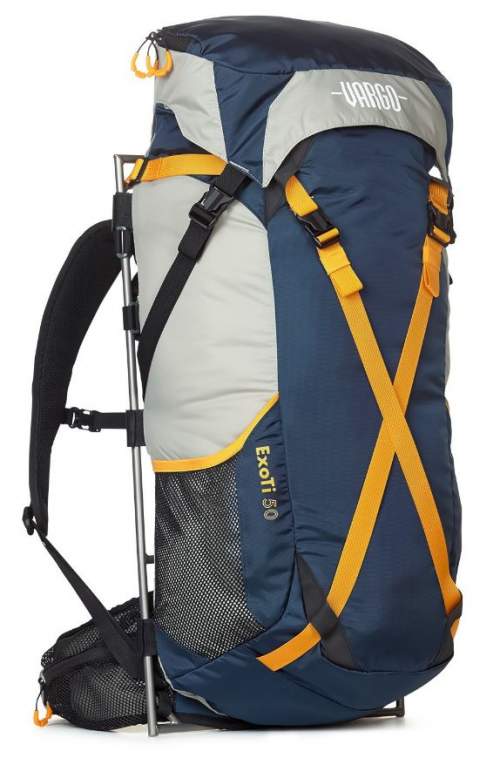 This Vargo ExoTi 50 is a very specific pack in the group here. You have a titanium external frame and it is so low profile that the pack looks almost like an internal frame backpack. Such a frame is also behind its incredible weight – this is an ultra-lightweight backpack, far lighter than many internal frame packs, it weighs only 2 lb 11 oz (1.21 kg) which means that you have the volume/weight ratio of 41 liters/kg. So have a look at the other packs here in the list and compare to realize how extraordinary this weight is.
This is a top-loading type so you do not have a bottom compartment here. The torso length is adjustable and this is based on a sliding system behind the frame. The lumbar padding is simply massive. Note that the lid is removable and the pack is without a rain cover.
You have 5 pockets in total and there are several attachment elements on the pack, plus the frame of course so you can fix things as you wish. Note that the pack is rather expensive, please follow the link to see more.

---
Is there any difference in external frame packs for men and women?
The answer is – there could be in principle, similar to what you have in internal frame packs. As you know, there you have a different shape of the hip belt, the harness for women is narrower, the torso length is shorter, etc.
However, the industry of the external frame packs is not so developed simply because they are not as popular as the internal frame packs. So you do not have such a variety here. But, as you have seen above, you still have the following:
The frame of the external frame packs can be telescopic to accommodate the difference in the torso length between men and women.
The shoulder straps in some of them can be fixed to the frame at several different positions so you can have a narrower setup for women.
Other than that, simply rearrange the load, it is important that heavier items are close (but above) your gravity center. And the gravity center for women is slightly different (lower) with respect to the overall body size, as compared to the case with men when it is a bit higher.
---
Are external frame packs more difficult to adjust than internal frame packs?
The short answer is yes. If you have ever tried some of Kelty's packs with what they call the Perfect Fit on-the-go adjustment, then you know that there are no such features in any of the internal frame packs. Repositioning of the harness in these packs is best done when they are empty. But there are exceptions, you have seen the Vargo ExoTi 50 pack above.
---
Summary
In the conclusion of this text about backpacks with an external frame, two of the models are four youth and others are for adults. If you need a pack for your kid for occasional use, you do not want to spend much, and the Outdoor Products Dragonfly might be good enough. The Kelty Yukon is a much more expensive option, yet in view of its quality and features, this pack as well is with a good price tag.
The Kelty's Tioga and Trekker are classic and evergreen tools. Nothing can go wrong if you have one of these. These are reliable packs that have been used by many, and they have stood the test of time.
The Alps OutdoorZ Commander is a story for itself, and this is why I have reviewed it separately in a post. This pack comes with an incredible amount of features. The current price of some $130 is a true bargain.
So, thank you for reading, I hope the text has been useful. Please share it with others. In the case of questions or comments, please use the comment box below. I wish you a pleasant day.
---