---
Kelty Tioga external frame backpack is a reliable and huge load hauling tool with 90 liters capacity, suitable for extended backpacking and hiking tours, and for hunting.
---
Key benefits
Fully adjustable suspension.
Great support for maintained trails.
Very reliable tool.
---
Best price & place to buy
The best place regarding the price and shipping conditions is usually Amazon.com.
---
Description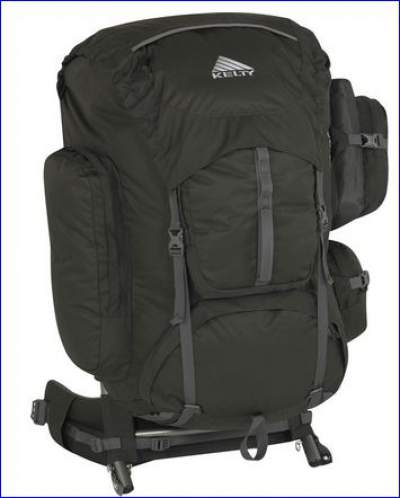 Kelty Tioga 5500 classic external frame pack is a huge capacity tool. Just see these numbers, 5500 cubic inches (90 liters) of storage capacity in its compartments and pockets. The pack also has a number of external lashing points, and the frame itself serves the same purpose.
In spite of such a huge volume and the large frame with so many horizontal bars, it is in fact not so heavy, you have 5 lb 9 oz (2.52 kg).
So you realize, it is lighter than many internal frame packs, like High Sierra Long Trail 90, Thule Guidepost 90, or Gregory Whitney 95. It is of the same weight as Kelty Red Cloud 90 internal frame pack.
Clearly, Kelty has done a great job in constructing this Tioga 5500 external frame backpack. Its volume-to-weight (VW) ratio is around 36 (in units liters/kg). Now compare this with Gregory Whitney's VW=32, Thule Guidepost's VW=30, and High Sierra's VW=29.
With its aluminum external frame it reminds me a bit of my own first pack I used in my early days. So indeed this is a very classic design but with a modern touch and with quality new materials used in its construction.
The pack is top loading, with a lid and collar underneath it, which represents the access point to the main compartment. The expandable collar with the cinch cord offers extra volume if you need it. The pack is hydration compatible, you have an internal sleeve for this purpose.
The bottom section is with a zippered sleeping bag compartment. The divider between them is removable.
There are several lashing points, like dual daisy chains of the top lid, on the bottom, and on the front pocket, and the whole frame can certainly be used for such a purpose.
---
Pockets
You have 5 zippered external pockets plus two drop pockets. See how they are distributed.
One large zippered pocket is on the front, you can see it has a carry handle on it, plus a short daisy chain. Another very large zippered pocket is on the top lid. Its zipper is practically in the middle of the lid but the pocket expands all over it.
The side pockets' design is asymmetric. On the right, the huge upper drop pocket is for a water bottle (or even two) and it has yet another zippered pocket attached to it from the side. There is a compression strap over this whole structure. The lower pocket on the same side is also zippered and with a compression strap.
The upper side compression strap can be used to fix the bottle(s), but the lower one looks strange, and unnecessary. Though they can be used together to attach some pieces of equipment, like a pad or tent, but in that case, the pockets must be kept empty.
On the left side, you have a very deep zippered pocket, and it is accompanied with a drop pocket of the same depth so you can store trekking poles or tent poles there. There are no compression straps on this side.
In the picture below you can see how these side pockets look like.

---
Suspension system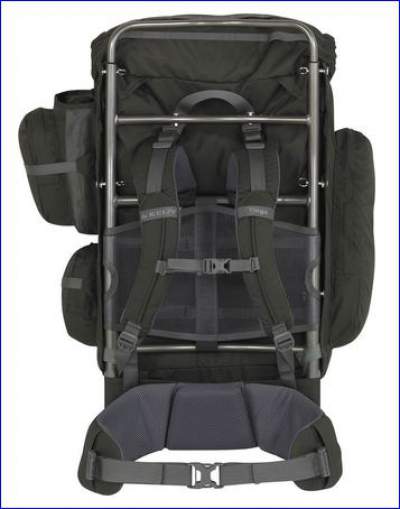 As the name suggests, this is a pack with an external aluminum frame, see the picture. Such packs are great for weight distribution, but less good if you are on an uneven and rough terrain and you have to do some scrambling.
The shoulder straps and hip belt are generously padded, quite appropriately for such a huge pack. The hip belt is with dual-density foam, and on its sides, you have stabilizer straps.
The frame is adjustable in the torso range 16 – 22 inches (41 – 56 cm). The shoulder straps are with load lifters which can give a few centimeters more to this adjustability range. The sternum strap is adjustable.
The ventilation is good due to a tensioned mesh on the back, which spreads between the side bars. Very similar is the construction you can see in the Yukon 48 external frame pack for teenagers.
---
In this video you can see most of the features mentioned here, so have a look:
Pros & cons
Here is my list of pros and cons:
  Pros
 Cons

Nicely built, stood the test of time.
Durable fabric.
Zippered side pockets.

No hip belt pockets.
No rain cover.
It is hard to understand why they did not add any pocket on such a large waist belt. Also, a rain cover would be a huge plus here.
The general problem with all packs of this type is: what if you have a really small load or you want to compress the load in order to make it more stable on your back? These packs do not have compression straps to cinch the pack down.
On Amazon, this pack has received an incredibly high average rate, 4.9/5, with 87%  of users rating it 5.0/5.
---
Specifications
Weight: 5 lb 9 oz (2.52 kg).
Capacity: 5500 cubic inches (90 liters).
Purpose: backpacking, hiking, hunting.
Size: 31 x 23 x 16 in (79 x 58 x 41 cm).
Torso fit: 16 – 22 in (41 – 56 cm).
Adjustable harness.
Adjustable sternum strap.
Hydration compatible.
Top loading.
Sleeping bag compartment.
Top lid pocket.
Side zippered pockets.
External frame; aluminum.
Ventilating waist belt and harness.
HDPE-reinforced waist belt.
Warranty: lifetime.
---
Why would you want an external frame pack
External frame packs were popular 30 years ago, but presently people predominantly use internal frame packs. The packs with an internal frame are more compact, and they are more suitable for movement on an uneven terrain. This is because of their various features, like pivoting hip belts and harness, compression straps. Normally you do not have such features in packs with external frames.
But for maintained and even terrain, packs with an external frame can be more suitable as they distribute the weight better, and they offer the possibility for attaching tons of stuff on the outside. So in general, they are better for extremely heavy loads.
On a more personal level, for people like me these packs have sentimental value as they bring back some memories from early days of mountaineering. In those days we only used packs of this type. In fact, I still have one of a different brand which you would not know (from the former Yugoslavia, ever heard of it?), purchased in 1986, but I do not use it any longer. It was far less comfortable than this Tioga 5500 pack.
---
Conclusion
To conclude this text, Kelty Tioga external frame backpack has stood the test of the time and one can hardly find any true objection to it. This is a reliable tool, and if you love this style nothing can go wrong with this pack. I can certainly recommend it, this is a very reliable heavy-duty backpacking tool. Still need something else? See this Alps OutdoorZ Commander pack.
I wish to stress that there is yet another very similar pack for youth presented in this site, Yukon 48 pack, so have a look if you plan to buy something similar for your teenager or any person with a bit smaller frame. More options are available in this post about external frame packs.

If you find this text useful, please share it with others. Thank you for reading and have a nice day.


---