---
Kelty Yukon 48 external frame pack has been around for many years now. The version presented here is the latest from 2016. This is a pack for growing youth, with an adjustable harness.
Key benefits
Torso length adjustment.
Torso width adjustment.
Designed to grow with youth, to be used for a long period of time.
Kelty Yukon backpack – description
This pack is designed for growing teens as well as for adults with a smaller frame. So it fits a gap between packs for juniors and packs for adults.
As mentioned above, this is the latest version, but I do not see any significant differences as compared to the previous versions, except the new color you have now.
This is a top-loading tool with an enormously large top opening which is in fact rigid, with an aluminum pole that goes around its perimeter. The top lid is with two buckles on the front, and you have a daisy chain on the top of it; this is very useful to attach some gear because it is a really large flat surface which you have there on the top.
The pack contains two main compartments. The upper is large and rectangular in shape, and it contains a sleeve for a water bladder.
The lower section is a large zippered sleeping bag compartment. The divider between the two compartments is with toggles and it can be removed.
The suspension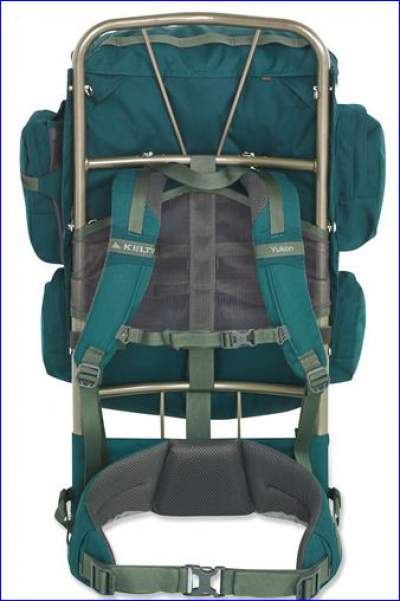 As you realize from the pictures, this is a pack with an external frame that allows for length adjustability both in the harness and in the frame itself.  The frame is with rings that allow you to extend it or to make it shorter.
The harness can be adjusted in the range 13 – 19 inches (33 – 48 cm). The shoulder straps are nicely padded and covered with a breathable mesh. The usual sternum strap is there, adjustable both vertically and horizontally.
The hip belt is rather wide and also nicely padded, and the same is with the lumbar zone. The front structure is with a buckle and with wide pull-forward straps.
There is also a possibility to attach the harness to the frame into 3 different positions, so you can adjust it to the torso (shoulders) width. Clearly, this is useful for a growing person, or as a tool to be used interchangeably by different persons, both male and female, members of a family or members of a team.
Ventilation is very good with this pack, you do not have the usual padding in the back. Instead, there is a tensioned mesh attached to the side bars, between your back and the pack.
Pockets
You have 6 zippered pockets plus one drop pocket.
One zippered pocket is on the front, I would say rather small for my taste.  You will notice a carry handle on its body, unusual to have it there because it put too much stress on the pocket's zipper if you really carry the bag that way. One small zippered pocket is on the lid.
The sides of the pack are asymmetric. On the left side, you have two zippered pockets one above another. On the right side, the upper section is with a drop-pocket for a 32-ounce water bottle and a compression strap over it,  and it also has a smaller zippered pocket attached on it. The lower pocket is the same as the one on the other side of the pack.
Here is a  nice video which shows all these features, please have a look:
Pros & cons
Here is my summary:
 Pros
 Cons

Nicely built.
Durable fabric.
So many zippered side pockets, great for organization.

No bottom straps.
No hip belt pockets.
No rain cover.
Only one color.
Heavy.
I would like to see some more attachment points on this pack, in particular on the bottom section below the bottom compartment, it looks like a waste of space as it is. I do not understand the purpose of the external frame in such a configuration.
There is one attachment loop on the bottom, but it is not clear how you would attach an axe or trekking poles on it, there are no cords higher up in the front to fix these items.
Both the carry handle and the front pocket are partly covered with the top lid, see the picture, this makes no much sense to me.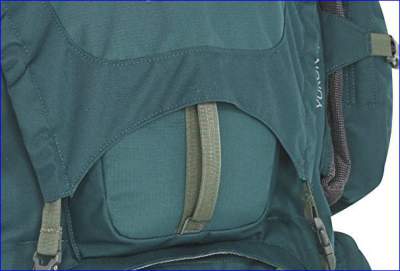 Specifications
Weight: 5 lbs 1 oz (2.3 kg).
Volume: 2900 cubic inches (48 liters).
Dimensions: 22.5 x 23 x 11 in (57 x 58 x 28 cm).
Frame:  external.
Adjustable suspension.
Torso fit: 13 – 19 in (33 – 48 cm).
Main body fabric: 600 D polyester.
Reinforcement fabric: 600 D polyester small ripstop.
Frame: aluminum.
Hydration compatible – reservoir sleeve.
Top loading.
Spindrift collar.
Color: ponderosa pine.
Front pocket.
4 zippered side pockets.
Lash tabs.
Key fob.
Dual density foam hip belt.
Padded shoulder straps.
Load lifter straps.
Belt stabilizer straps.
Sternum strap.
Ice axe loop.
Daisy chain.
Sleeping bag compartment.
Summary
To conclude this text about the Kelty Yukon 48 external frame pack, I must say I am not particularly impressed. I would expect more from Kelty. This new version appears to be different only with respect to color. The previous version is still available here, you can compare them.
The pack is heavy, so I wonder if this is really the best choice for a teenager. There are other packs built for growing youth, I would point out the following form the similar size range: Gregory Wander 50, Osprey Ace 50, Mountainsmith Youth Pursuit, and Deuter Fox 40. They are far less heavy and some are far less expensive as well.
But Kelty Yukon 48 is a quality pack, it is surely designed to grow with teenagers and it will serve this purpose. Note that there also exists a very similar pack for adults, Kelty Tioga 5500 external frame pack with 90 liters capacity.
Thank you for reading, it will be great to have some comments from you, there is a comment box below. Have a nice day.