---
Vargo ExoTi 50 Backpack is an ultra-lightweight pack with a titanium external frame, an adjustable and ventilated harness, and a massive lumbar padding.  
---
Key features & benefits
External frame type.
Titanium structure.
Ultra-lightweight.
Ventilated back panel.
Removable lid.
Adjustable torso length.
Massive lumbar padding.
Very strong & sturdy construction.
---
What this is about
First to stress again that this is an external frame backpack and of a particular type with a titanium alloy rectangular construction with short reinforcement bars in each of the four corners, so this is an incredibly sturdy structure. This is a new item on the market and quite unique, with excellent features so I have included it in my list of external frame backpacks.
The pack is a top-loading type with a removable lid which is completely the same as in any internal frame pack. In fact, the pack looks like an ordinary internal frame pack but it is indeed different, you have a rectangular frame outside and this is always the best system for the weight distribution and load transfer to the hip belt. I have started my mountaineering activity more than three decades ago with an external frame pack and I am glad to see that they are re-appearing on the market again.
This is a hydration compatible backpack with an internal hydration sleeve. There is no bottom compartment here, so the whole interior is a single space with the top access. This is definitely an ultra-lightweight pack that is quite unique for such a type and this is one of the reasons that they call it a hybrid between the two major types. So it weighs only 2 lb 11 oz (1.21 kg) which means you have 41 liters/kg, and this is truly remarkable when you see its massive lumbar padding and the metal frame.
Yet another feature which makes it similar to modern internal frame packs is its lower center of gravity, you realize this when you compare it with other external frame packs.
---
The construction & materials
The suspension system
This is the most important part here. So the frame is a full rectangle that goes along the perimeter and the pack is attached to it with straps and buckles on the top and with Velcro tabs on the sides. You have a full torso adjustability in the range 16 – 22 inches (40 – 55 cm). This is a continuous system so you can have an exact fit. The complete upper panel which is like a mesh structure, can move up and down because it is attached by a strap behind the frame.
The shoulder harness is a U-shaped cut and you have load lifter straps as well. It is with a sternum strap on the front with a rail adjustment type (i.e., sliders) so you can move it up and down continuously.

The lumbar padding is simply massive so it moves the pack from the body and you have a good ventilation everywhere on the back.
The hip hins are not particularly long but this depends on your body side of course. This implies that the belt pockets are also positioned quite far on the sides. The padding on the hip belt is not particularly massive but it is probably just enough.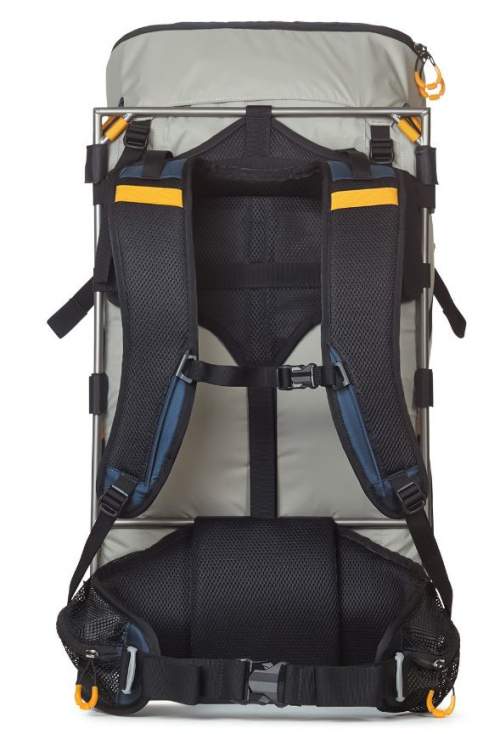 Pockets
You have 5 of them here. Two zippered mesh pockets are on the hip belt, on the sides you have the usual stretch mesh pockets, and one zippered pocket is on the lid, you will notice it is with a dual zipper pull.
I would point out the pulls on all zippers on the pockets (visible in the picture above), they are really nicely designed and you can handle them even with gloves.
Attachment elements & compression straps
There are two X-shaped yellow straps are on the front and they attach at the bottom and on the top. They are here to cinch the pack and stabilize the internal load. But you can also put a pad here or something similar, though the span is too big and whatever you put here will be rather loose and it can be lost. I think that the pack would be better with a pair of horizontal straps across its front area.
On each of the two sides, there is one upper strap, but those are connected with the lid's buckles, so when you unbuckle the lid, the stuff attached on the side will not be fixed. I am not particularly impressed with this system.
There are a couple of webbing loops on the bottom. On the other hand, there is the frame everywhere around so you can attach anything to the pack with some extra cords, there are no limits here. This is the true advantage of an external frame pack.
Here is a short video by Vargo about their ExoTi Backpack, please have a look:
---
Why is it so lightweight?
Whenever I see that a pack is ultra-light I try to figure out what is missing. So I already mentioned above, there is no bottom compartment (which normally has a zipper, plus an internal divider which in some packs may also have a zipper), so this all would add weight. There is no rain cover (which also in some great packs comes in a separate zippered pocket, which adds weight).
Also, there are only 5 pockets here and 4 of them are mesh. There is no much padding on the hip belt, there is no back padding but you do not need it here. So this explains why it is so light.
---
Specifications
Gender: unisex.
Type: external frame backpack.
Weight: 2 lb 11 oz (1.21 kg).
Volume: 3051 cubic inches (50 L).
Torso lengths: 16 – 22 in (40 – 55 cm).
Hipbelt fit: 24 – 60 in (61 – 152 cm).
Load capacity: 40+ lb (18+ kg).
Frame: titanium.
---
Vargo ExoTi 50 Backpack vs Competitors
In the table below I give two packs from other brands, both external frame type, so that you can see what can be expected if you search a bit for such a type. They are different in size, but just compare the Volume/Weight ratios which are, respectively, 41, 21, and 29 liters/kg. Now you realize how truly lightweight this ExoTi 50 pack is, this is why such comparison tables are important. Please follow the links to see more.
---
Final thoughts, rating, pros & cons
So I hope you realize how unusual and unique this Vargo ExoTi 50 Backpack is. If this is about carrying the load, such an external frame pack should work better than any internal frame pack. The frame which you have here is far superior to those in the internal frame packs, and this is its main feature.
This pack has no as many bells and whistles as some of those popular backpacking packs, but it is ultra-lightweight, so bear this in mind as its second-best feature.
The price is high, I am sure it is worth the money, but the question is if you can afford it. See below how I rate this pack:
If you need some more options, check this list with external frame packs and also these backpacking packs for men; I have added this pack as well to both of these lists.
Thank you for reading. Please share your experience if you are familiar with this pack, there is a comment box below. I wish you a nice day.