---
This Kelty Sanitas 34 Backpack for Kids is an external frame pack built in the classic style, with adjustable torso size and adjustable shoulder harness.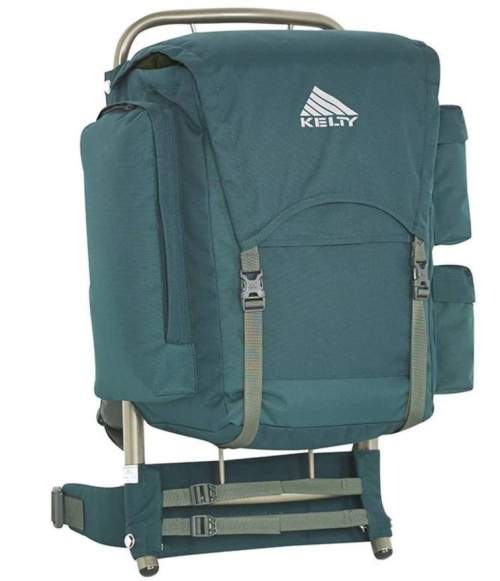 ---
Key features & benefits
External frame pack.
Adjustable torso length.
Adjustable shoulder harness width.
Great price.
---
What this is about
More than 35 years ago my first mountaineering pack that I ordered was of this type, an external frame pack. It was an unknown brand and the pack was not of such great quality but it worked great. So this Kelty Sanitas 34 follows the same logic and design.
This pack has been on the market for 5 years already and I hope it will remain available, I love such designs. There are several reasons why such packs are great. As you realize from the pictures, the frame is everywhere around so you can attach stuff wherever you want. It sits quite high and above the center of your body weight so there is no disbalance as in the cases where the pack is far from the body and it pulls the body backward.
Suspension
The suspension here is all about its frame, so you have a durable and thick aluminum tubing shown in the picture below. There are pins in the frame and you can take them out and adjust the torso length. The adjustability range is 9-14 inches (23 – 36 cm).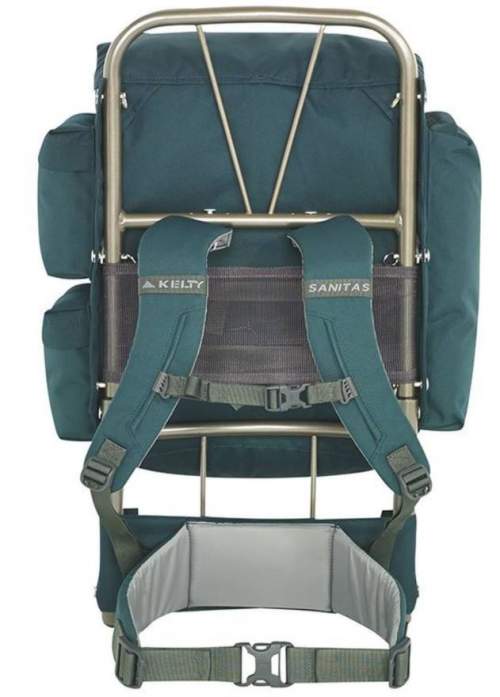 The shoulder straps attach directly to the frame, and here you have three points for each of the straps, see the picture below. With this you can find a reasonably good fit for a growing kid, this will change the width of the shoulder harness. This is useful also if several kids from the family use the same pack, they can be of different age and you can still adjust it to fit.

Note that there are no load lifter straps, I have seen some people complaining about this. But this is simply not a part of the design in such external frame packs. It is designed to be close to the body.
The back-side picture above shows also the mesh that you have on the frame, this is all the material there, so this is a ventilated design, more ventilation you cannot expect in a pack.
The shoulder straps are well added and they are also with adjustable sternum straps. The hip belt shown below is with enough padding for such a small pack, and it is with a pull-forward system on the front. No hip belt pockets here, so much wasted space, pity.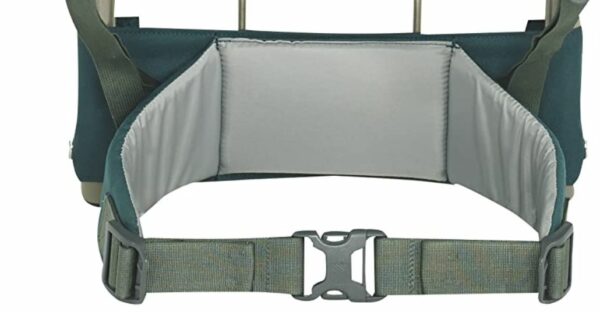 Other features
This is a top-loading pack with a massive lid. The top opening is huge and there is an aluminum bar on the perimeter so getting stuff in and out is always easy, there are no drawstrings here. Inside you have a large hydration sleeve, there are ports on both sides so you can pass the pipe where you want.
Pockets: One small pocket with a Velcro flap is on the front, this is for small and thin items. There is one large zippered pocket on the left side, and two smaller zippered pockets on the right side. These are very useful storage elements, good for the organization of your gear.
A large space is under the main compartment where you can attach a sleeping bag or anything similar. As mentioned above, attaching gear to this pack is always easy, just use some spare cords and this is done.
As for materials, the frame is aluminum and the fabric is very durable 600D polyester with ripstop polyester used for reinforcement. For padding, they use dual-density foam.
---
Who is it for
This pack is officially for kids and for this you have features to change the torso length. But it can be used also by any person with s smaller body size.
Regarding the capacity, this will depend on the type of tour. If the kid is on an organized tour where water and some other things are provided or shared, this can be good enough for weekends or even a bit longer tours. Note again that this is not just about putting stuff inside, a lot of it can be attached from outside.
Regarding the price, this is simply a bargain, a great value for the money. 

---
Specifications
Volume: 2050 in³ (34 L).
Weight: 3 lb 8 oz (1.6 kg).
Torso fit range: 9 – 14 in (23 – 36 cm).
Dimensions: 20 x 18 x 8.5 in (51 x 46 x 22 cm).
Optimal carry weight: up to 40 lb (18 kg).
---
Final thoughts, rating, pros & cons
On Kelty's site, they write that the point of this Kelty Sanitas 34 Backpack for Kids is to keep the tradition alive. You have seen all its features, the pack looks cool, it is ventilated, with easy access to the main compartment, and it is very affordable. Fully recommended. I have included it in my list of best backpacks with an external frame and in best hiking backpacks for kids and youth. 
Please see how I rate this pack, it scores nicely in all rating criteria:
For more options please check under the category Packs for Kids & Youth. Thank you for reading, let me know if you have questions or comments, there is a comment box below. I wish you a nice day.