---
If you want to know what a ventilated pack is, keep reading, here you will find described some basic types with examples of packs from the best-known brands.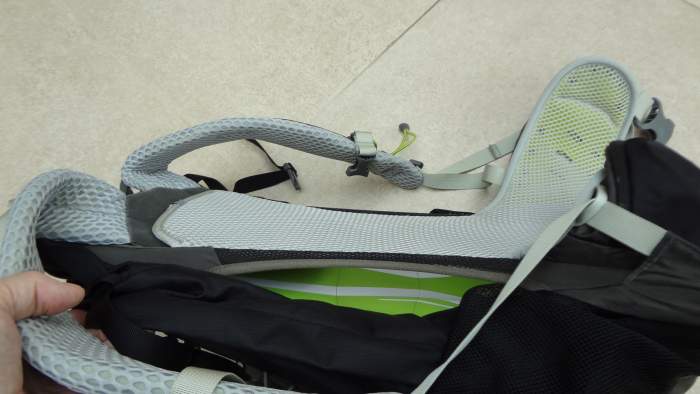 There is a variety of designs of ventilated backpacks among hiking, backpacking, and mountaineering packs. The idea is always the same, to allow air circulation and escape of warm air and vapor so that your back can cool a bit. Here are the most typical designs that you will find around:
1. You can have a padded back panel with air circulation channels. This can be a main vertical channel that acts as a chimney and allows warm air and vapor to escape vertically. One typical example of this type is shown below, this is the design used in many of Deuter's Aircontact packs. In some packs, this is accompanied by some transverse channels with the same purpose.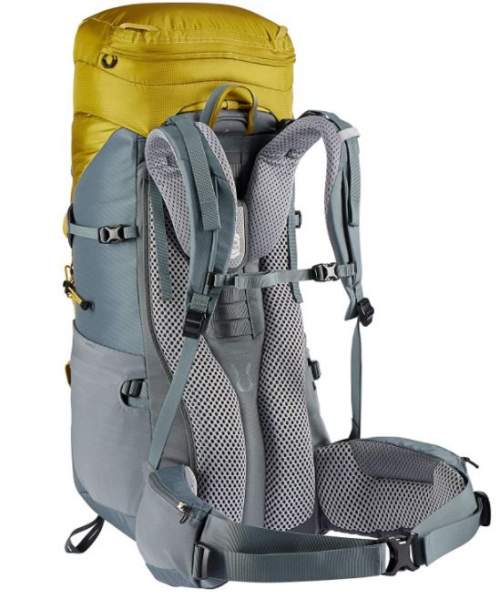 The thick cushion on the sides is very breathable and it is designed to let warm air go away as you walk and as the foam inside of it is compressed and decompressed because of your body movement.
I have tried this and realized that somehow it does not work with my body shape, those padding zones are simply too thick for me. We are all built differently, and this is why it is important that you try a pack before you buy it.
2. Some packs have a back panel with cut-outs, covered with a very breathable mesh. So this is a more or less flat back surface. A perfect example of this type you have in Osprey's Kestrel and Kyte packs series.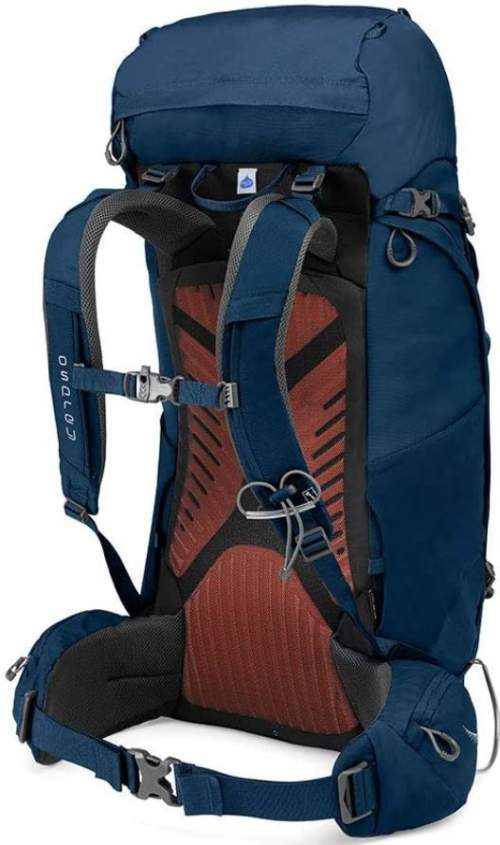 You will always sweat under heavy packs, but the reality of this particular design is that ventilation is next to none. The reason is that you have clothing that effectively closes the gaps and prevents the air and vapor from getting out. However, this flat back panel usually fits nicely to the back of the user. Below is a zoomed view of the mentioned mesh that covers the cut-outs, this is an example from Kelty's Coyote series:
In the mentioned first two designs, the idea behind the construction is that the pack is close to the body. This should be better for load stability, and it is probably the best design for extremely heavy loads.
3. There are packs with a curved back area and with a tensioned trampoline-style mesh that is in contact with the body, and you have a huge gap between the mesh and the body of the pack.
This design has been invented by Deuter and introduced for the first time several decades ago in their Deuter Futura packs. I bought my first pack with such a back panel in 2003. 
I assume this was a patented design, and for many years I have not seen anything similar. But in the past few years, this type of ventilated back panel has been introduced in many packs of Osprey and Gregory. As far as I remember, there is no Kelty pack with this design.
The picture below is a side view of a pack from the Deuter Futura Pro series which shows the mentioned gap between the tensioned mesh and the pack: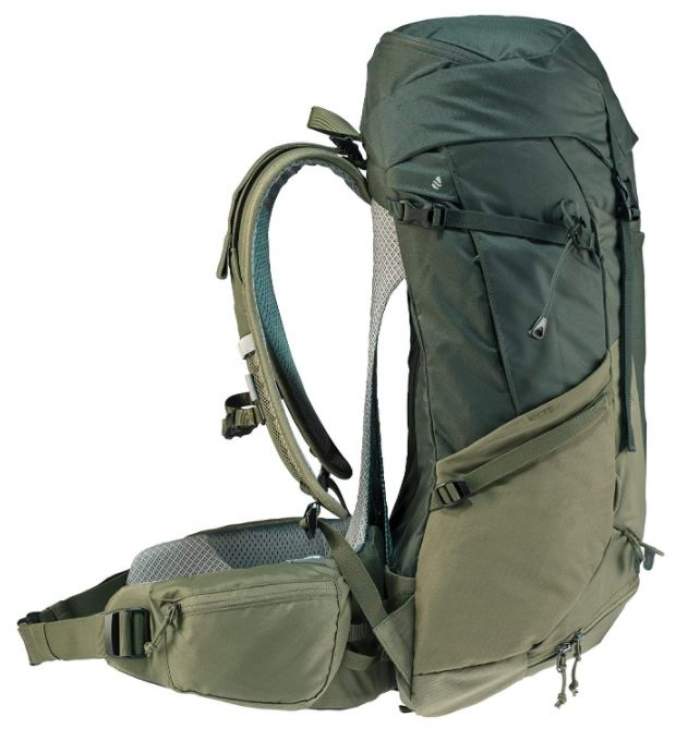 The same design is in all Deuter Futura packs, you can see it here in my Deuter Futura Vario 50 + 10 pack: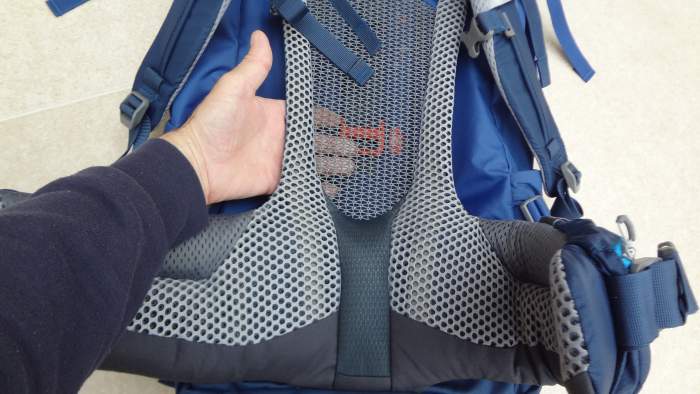 Here it is also in my Osprey Stratos 24 pack, with respect to ventilation this is very similar to what you have in Deuter Futura packs. They call this system AirSpeed: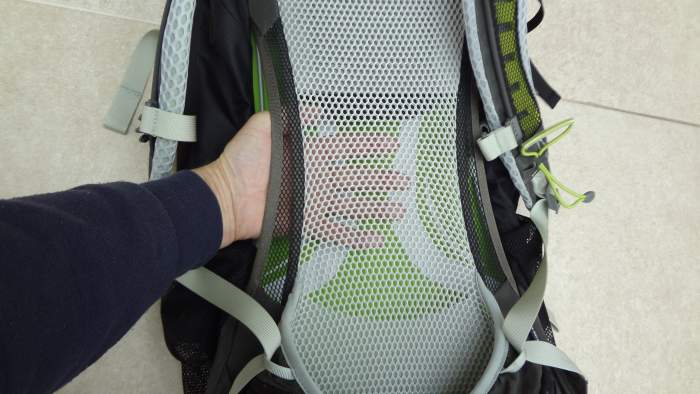 When Osprey started with this, they brought it to absolute perfection. To realize this, it is enough to see the back panel of the packs from their Exos & Eja series.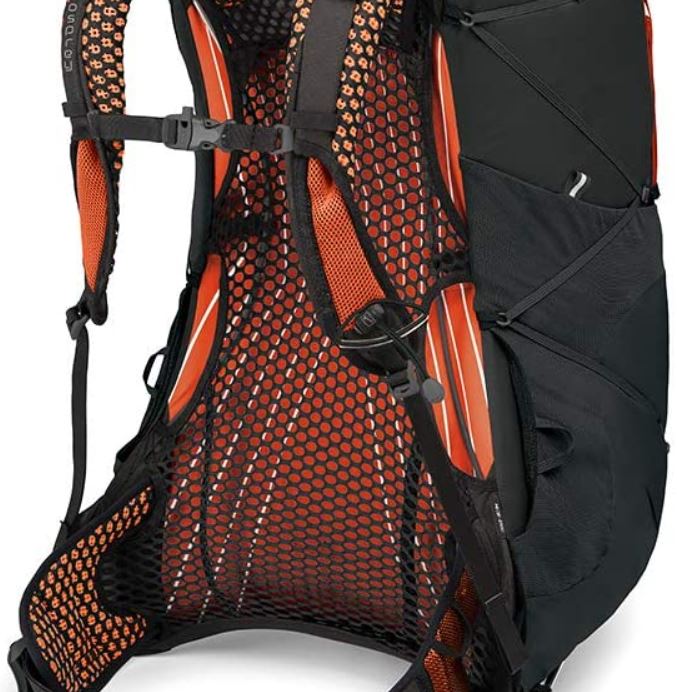 I guess, a pack cannot possibly be more breathable and more ventilated. But see also Gregory Katmai & Kalmia packs. The system similar to this type 3 discussed here, you will find also in Gregory Zulu packs.
So it seems to me that the original inventor of this design, that is the Deuter brand, is losing the race in this. They have launched a new Deuter Futura Air Trek series but this is exactly the same suspension as it was in the Futura Vario packs version from several years ago. 
But you know what, violin shape as it is now, was established 3 centuries ago by Italian masters. It was perfection achieved at that time and it appears that there can be no further improvement. The same holds for sharks, as far as I know (but I may be wrong), they have been around for quite some time, perfectly built for the environment without any changes. 
Perhaps Deuter thinks along this line, or they are just not employing the right designers. Pity for a company that was established in 1898, yes, you are reading correctly.
In any case, see my Deuter Futura Vario 50 + 10 pack on the summit of Spik in the Slovenian Alps, this was just a couple of weeks before writing this text. This is an excellent piece of engineering, and I can tell you I did not sweat al all on that incredibly steep route. I cannot imagine a more comfortable pack.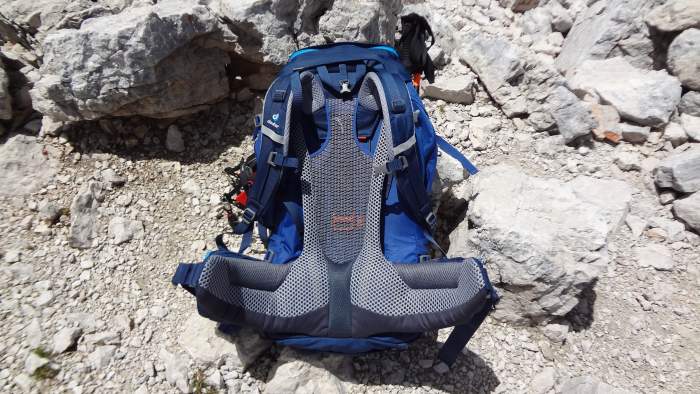 In any case, from my decades-long experience with backpacks, I am sure that there is no better ventilation than what you have in this type 3, regardless of its variations. 
So these are the main types of ventilated back panels in modern packs. There are also some very specific designs that are not mentioned above. The best known is the so-called anti-gravity (AG) design that was introduced by Osprey. This is also a type of tensioned mesh, but the tension is created only when you spread the hip belt fins and put the pack on your back.
But due to reasons unknown to me, they are now abandoning this concept in many of their packs. If you know why this is so, please share your thoughts. It seems that too many people were complaining about squeaking noise that the mesh produces when you walk.
You might want to see also my text about hydration packs. Thank you for reading. There is a comment box below, so let me know if you think I have missed mentioning something important.