---
The Mr. Heater Buddy FLEX Portable Radiant Cooker is a single-burner with an integrated electric ignition, and it fuels via their Buddy FLEX Radiant Heater.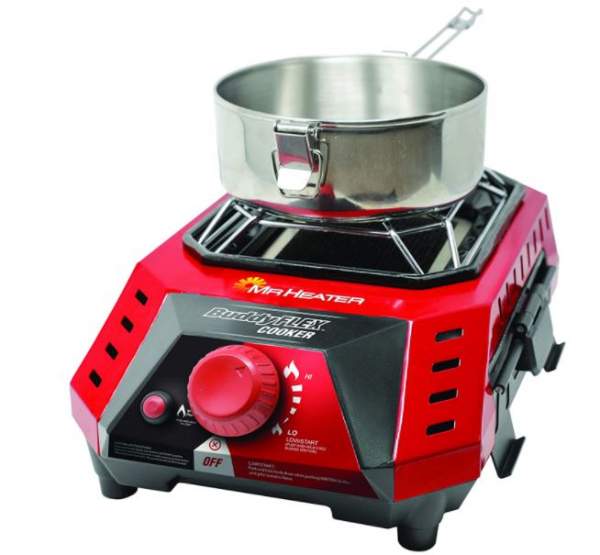 ---
Key features & benefits
5000-8000 BTU.
Integrated electronic ignition.
Propane fuel.
Fuels via Buddy FLEX Radiant Heater.
Emergency Low Oxygen safety system.
Apex 50° Tip-Switch.
Thermal Shut Down system.
---
What this is about
This cooker is on Amazon under the name Mr. Heater MH8CFLEX 8,000 BTU Buddy Flex Cooker, but on Sportsmans Guide site it is under the name shown in the title.  
So this is a cooker designed to hook it up to the Buddy FLEX Portable Radiant Heater that is sold separately. On one hand this is cool because they are designed to be carried together. There is a latch system that allows you to attach the Cooker to the Buddy Flex when it is not in use, see how this looks: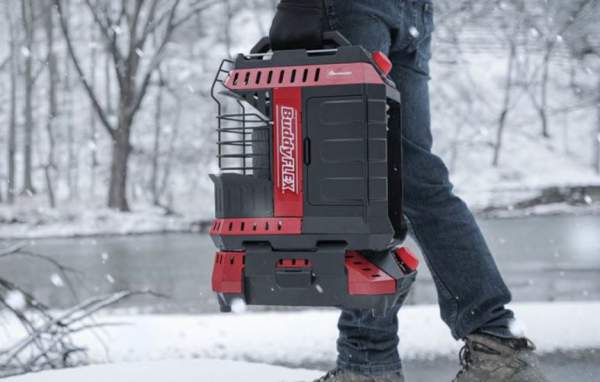 It is easy to attach and detach the two items:
Here you can see them more clearly shown together, the Cooker is on the bottom. They offer an accessory carry bag that can be ordered separately and used for both items.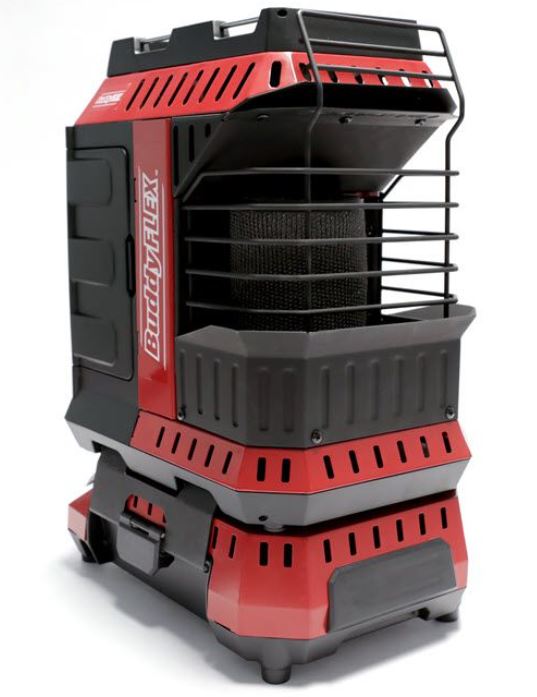 But note that it cannot be used on its own, you have to have both products with you. It is indeed cool and useful to have such two great products, so you can heat the tent and cook as well, but it would still be better that the Cooker can be used independently.
The heater must be on 'accessory' when you use the Cooker. There is a 28 inches quick-connect patented hose included in the package. In fact, it is attached under the FLEX Portable Radiant Cooker where you have an integrated hose storage, so you simply unclip it and attach to the Buddy FLEX Heater. This is how they look when working: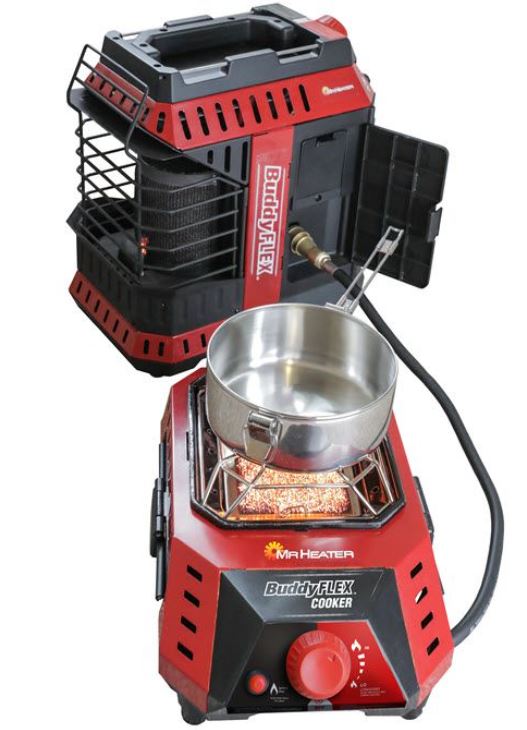 The mentioned hose attaches to the Heater easily: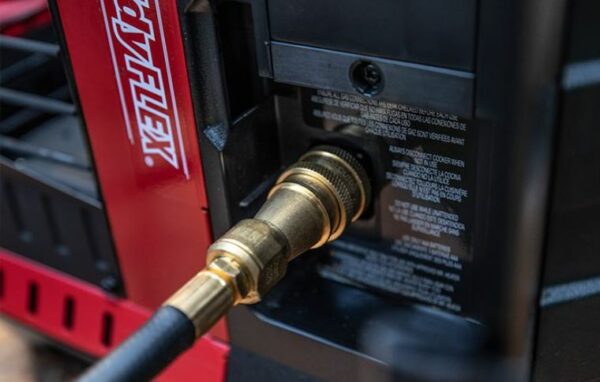 Cooking power 
You have 6000-8000 BTU cooking power here. You can compare this with some other cookers that are presented here in the site. So for example, this Gas ONE Propane or Butane Stove GS-3400P also has 8000 BTU power, and the Jetboil Genesis Basecamp Camping Cooking System has two burners with 10000 BTU combined power.
Cooking control, ignition & safety
The picture below shows the ignition button and the cooking control button, note that you have a battery compartment on the bottom to place a AAA battery (included) for the electronic ignition.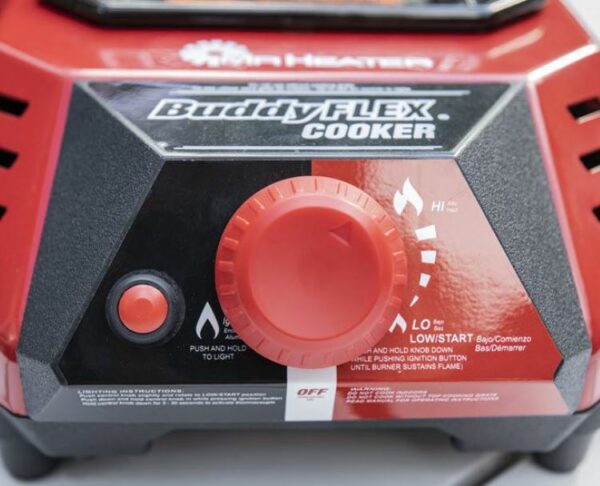 When the system is attached, you get to the Buddy FLEX Heater and set its knob on Accessory mode. So the two items do not work simultaneously.
The Cooker is with a fiber mesh burner that easily burns off cooking residue to ensure optimum performance. A heavy-duty cooking grate supports up to 10 inches cooking pan and up to 5 lb weight.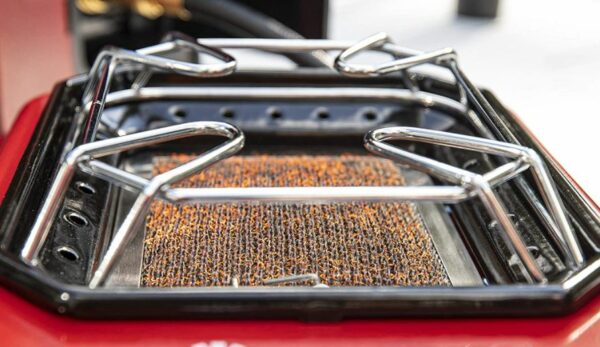 The picture below summarizes several safety features that you have in this Cooker. As you realize, this is a tool that can be used indoor as well.

Please see more in this short video:
---
Who is it for
Regarding the power, officially it is up to 8000 BTU so this is good enough for such a stove.  Being a single-burner, I see it best suited for solo use or for couples.
Because of its use with the heater, this is a great product for all situations where/when you need to heat the tent and to cook as well. So if you are a fisherman or hunter in a cold environment, this is something you will want to have. But this is also a great item for camping.
Regarding the weight and size, you will see the numbers below, this is a car camping item, so it is not designed for the trail. But it is indeed portable. You can transport it even on a bicycle. However, carrying the Cooker alone makes no sense, it must be together with the Heater. 
Regarding the price, it may look steep but this is a quality product and the brand behind it is globally known, so you know what you are buying.

---
Specifications
Type: propane cooker.
Weight: 6.17 lb (2.8 kg).
Dimensions (L x W x H): 16.5 x 10.98 x 7.52 in (42 x 28 x 19 cm).
Warranty: 1-year limited.
Fuel: propane.
---
Final thoughts & rating
In summary, this Mr. Heater Buddy FLEX Portable Radiant Cooker is well-built and a quality product. The fact that it must be used with their Heater has both good and bad sides. But as a set, they are indeed excellent.
When you cook, the Heater will not work but the Cooker will produce plenty of heating to heat the tent. When you are finished with cooking, simply turn the knob on the Heater and it will work while the Cooker will cool down. You can heat the tent with the Cooker attached on the bottom of the Heater.
Below you can see how I rate this Cooker against my usual rating criteria so that you can easily compare it with other items of this type:
BEST PLACEs TO BUY
For more options, please check under the category Camp Stuff. Bookmark this site and come again, this will keep you informed because I add texts here regularly. Let me know if you have questions or comments, there is a comment box below. Have a nice day.