---
The Campy Gear Hunky 2 in 1 Portable Propane Heater & Stove with Hose and Pot is a versatile product for indoor and outdoor use, with a low oxygen sensor and a tip over switch, and 18000 BTU output.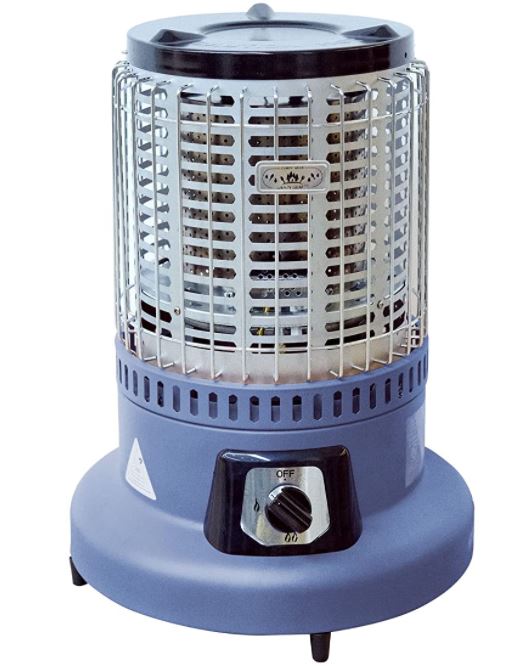 ---
Key features & benefits
2-in-1 Heater and cooker.
Output 18000 BTU.
360 Degree radiation heating.
Low oxygen sensor.
Tip-over switch.
Pan included.
---
What this Campy Gear Hunky is about
This brand has a series of products of this type, and here you have the largest among them. The phrase 2-in-1 in the name means that you have both a cooker and a heater in one device. This is indicated in the picture below. As of the moment of writing this text, such a design is unique to this brand.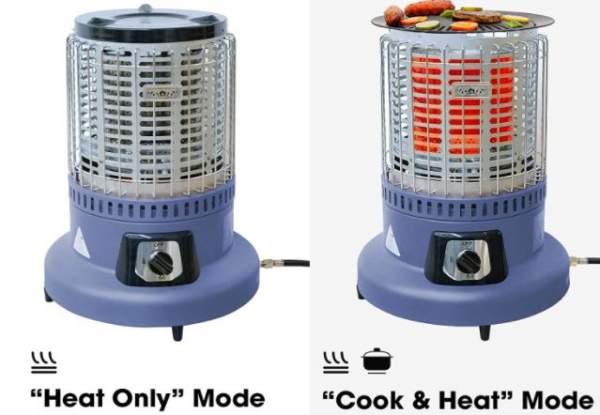 In the heat mode, the stove heats full angle, and the picture below shows the temperature dependence on the distance. The stove works on propane which is a sort of LPG, so fuel is widely available.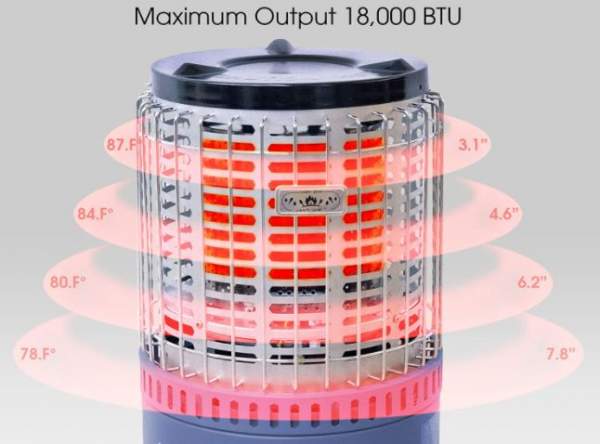 Safety features
The stove comes with an auto shut off system that activates if it is tilted more than 45 degrees. This is indicated in the picture below.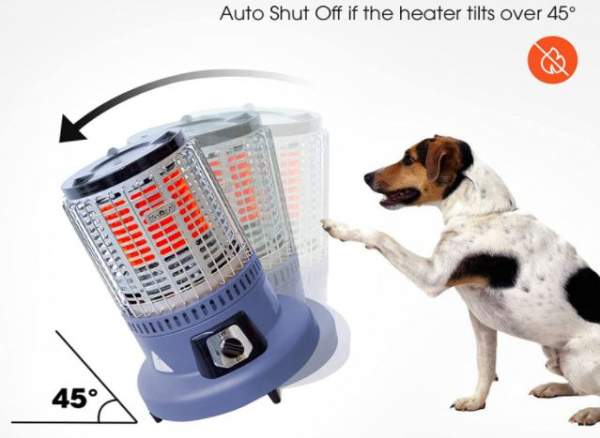 Oxygen depletion sensor
If you notice that it shuts off during indoor use, it's not because it is defective product. Most likely this is activated by its oxygen depletion sensor when the oxygen concentration decreases to a certain degree.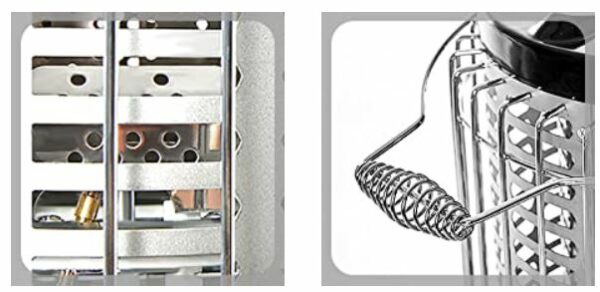 Note also that you have a double fence around the heater to ensure safety, you can see it in the pictures here.
Bonuses
As the title suggests, it comes with the regulator attached to a 1.5 meters long hose. So just hook it up to the propane tank and it is ready. You also get a bonus pan with it.
Output
This is the most powerful of their stoves, its maximum output is 18000 BTU. To get some idea about this number, you can compare it with this Mr. Heater Buddy FLEX Portable Radiant Heater with its 11000 BTU, or with the Flame King 20000 BTU Dual Tank Propane Heater. So this is a great output and it is nicely ranked among its competitors.
---
Who is it for
Regarding the power they write it works perfectly for 5-6 people. It is far from clear what they mean by that except for the statement "allowing everyone to be warm and comfortable sitting outside. This heater is designed to keep you warm even in open spaces."
Frankly speaking, I would not try to heat open space from my pocket. This aside, as a cooker, this is a single-burner stove and it is very powerful. They write it is good both for indoor and outdoor uses.
How much space can it heat? I guess this will depend on the type of your indoor space and its overall volume, it is difficult to say.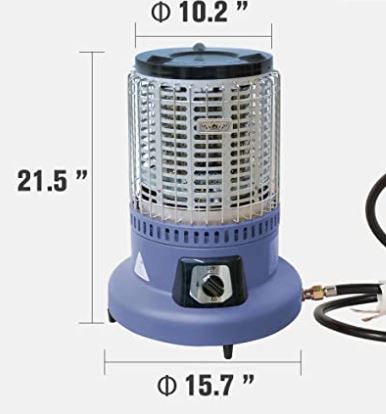 Its heater surface is an elongated cylinder, it radiates the heat everywhere around and it should heat your space very effectively. As a cooker, the top diameter is a bit modest, and with such a height, using large pots could be problematic as it might become unstable. Make sure that the surface underneath it is solid.
Regarding the weight & size, with its 13.45 lb (6.1 kg), it is much lighter than the mentioned Flame King 20000 BTU Dual Tank Propane Heater, and you have two products on one.
The dimensions are shown in the picture above. So you realize it is quite tall and a bit bulky. You can take it with you and use in your fishing tent or in your deer blind. The picture below gives you some idea about its actual size.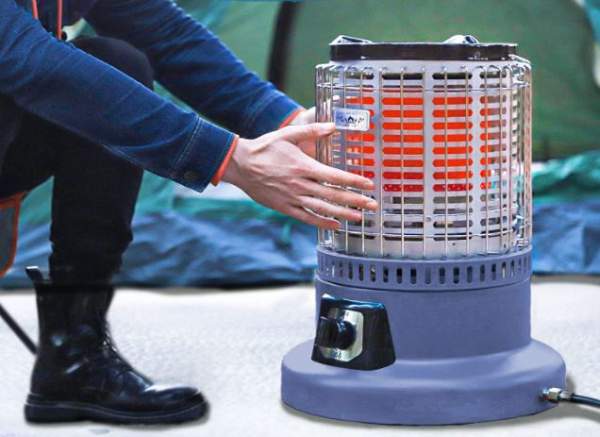 Regarding the price, it may look steep. But you have two items in one. As usual, it is best to compare. So I mentioned the Mr. Heater Buddy FLEX Portable Radiant Heater which you can combine with the stove from the same brand, the Mr. Heater Buddy FLEX Portable Radiant Cooker. Their combined price is higher and they are bulkier and heavier when used together.

---
Specifications
Type: radiant heater & cooker.
Weight: 13.45 lb (6.1 kg).
Dimensions (H x D): 21.5 x 15.7/10.2 in (55 x 40/26 cm).
Fuel: propane.
---
Final thoughts & rating
So this Campy Gear Hunky 2 in 1 Portable Propane Heater & Stove with Hose and Pot is very functional and versatile, and with features that are currently unique to this brand only. I see it better as a heater, but it is definitely good as a cooker as well. You can use it for various outdoor activities, and they claim it is safe for indoor use as well.
Below you can see how I rate it against my usual rating criteria so that you can easily compare it with other items of this type:
BEST PLACE TO BUY
For more options, please check under the category Camp Stuff. Bookmark this site and come again, this will keep you informed because I add texts here regularly. Let me know if you have questions or comments, there is a comment box below. Have a nice day.