---
The Flame King 20000 BTU Dual Tank Propane Heater comes with a thermostat dial, auto ignition, and several safety features, so this is a very easy to use and economical indoor and outdoor heater.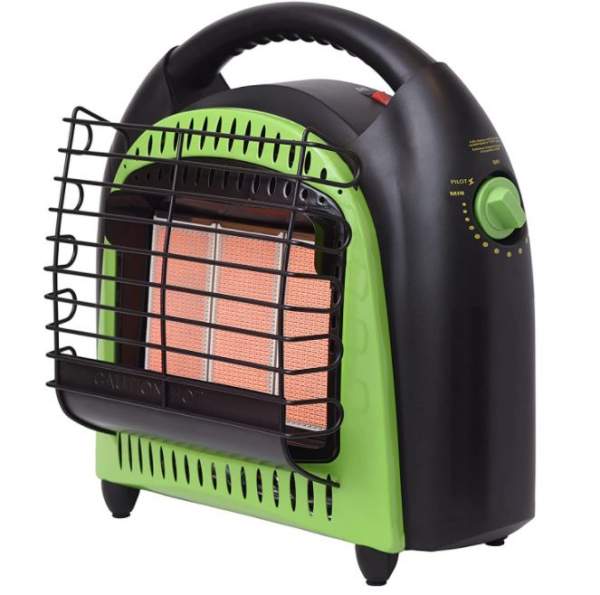 ---
Key features & benefits
20000 BTU output.
Integrated safety features.
Auto ignition.
Thermostat dial.
Built-in fan.
Flameless heating.
---
What is in the name
It is best to start from the back side of this heater, and below you can see the two tanks in their integrated container. This explains the part of its name. The total power which this heater can develop is impressive 20000 BTU.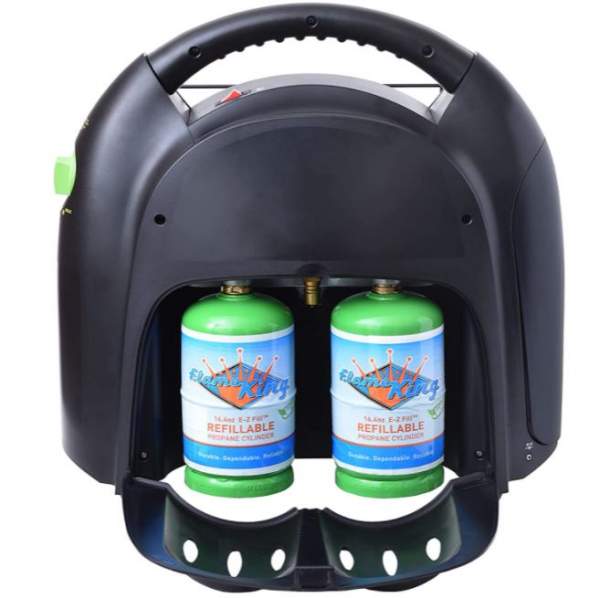 It works up to 1 hour on a single propane bottle, and up to 2 hours on two 1 lb propane bottles. Note that the bottles are not included. You can have and use only one tank of course. The picture above also shows the quick-connect port in between the two bottles. This allows you to use an external tank as well.
Below you can see how it looks when the back cover is in place. Observe how ergonomic the handle on the top is. The body of the heater is mostly plastic, except for the green and black parts on the front and the front grate.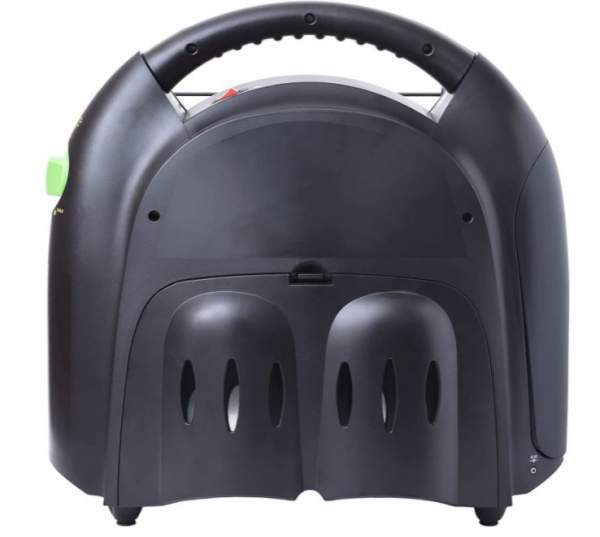 The heater has a door on the left side where you can place 4 D batteries (not included), but there is also an auxiliary power connection port on the back so you can use it for the fan if you have power available. I like the fact that battery access is very easy. This power is for the built-in fan which helps in dispersing the heat in the room. Note that the fan is very quiet.
Safety features
They claim that each of their heaters undergoes rigorous safety, performance and quality testing, and this before leaving the factory. This all should ensure that you are getting a quality product that will keep you and your family warm yet safe. You have a full set of features here and this includes:
Built in Safety Fuel Shutoff.
Safety Tilt Shutoff.
Exterior Grate Guard.
Thermostat dial – what is this?
The picture below shows that you can have an output from 5000 to 20000 BTU. This corresponds to certain temperature that you will achieve in your shelter.
But what is cool in this design is that you can dial any position in the mentioned BTU range, and this means you can set any corresponding temperature. There is an opening on the bottom where you will be able to see a thermostat rod that plays a role in all this.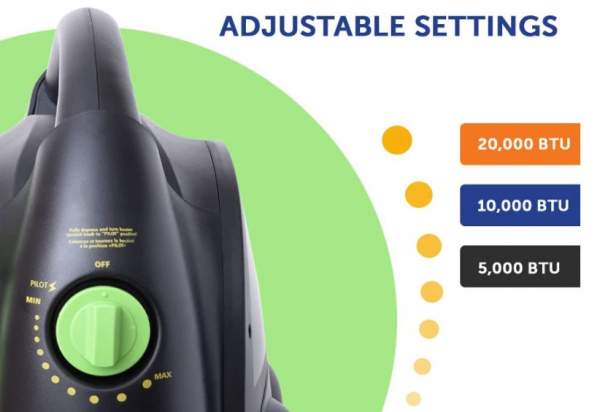 In practical terms, this means that when it detects that the temperature has dropped, it will turn on automatically and start heating again. When the desired temperature is reached, it switches off. So this is both economical and comfortable, and this sets the heater apart from its competitors.
---
Who is it for
Regarding the best use & power, this heater is safe for indoor use in places like porches, cabins, fishing huts, trailers, tent trailers, tents, truck caps and vans. It may also be used for emergency indoor heating. The picture below shows it being used in a fishing tent.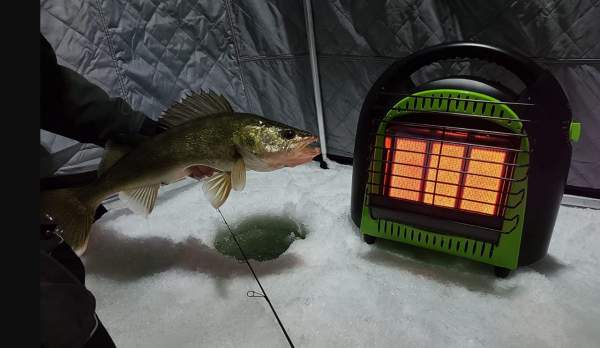 They do not suggest any number regarding the area which can be heated with such a heater. But its output is almost twice the output of the Mr. Heater Buddy FLEX Portable Radiant Heater which is supposed to heat up to 25 square meters, so you get some idea.
Regarding the weight and dimensions, the heater is quite heavy with its 20.8 lb (9.4 kg), but its dimensions are moderate (numbers are given below) and completely comparable to its major competitors with such a power. In any case, I see it as an item used at places with a car access.
Regarding the price, it is comparable to its closest competitors, so this is a fair price for such a quality product. But there are differences from seller to seller, you will have links below to check from your side.

---
Specifications
Type: propane heater.
Weight: 20.8 lb (9.4 kg).
Dimensions (L x W x H): 18 x 12 x 18 in (46 x 30 x 46 cm).
Output: 20000 BTU.
---
Final thoughts & rating
So this Flame King 20000 BTU Dual Tank Propane Heater looks really cool and it is equipped with some truly useful features. I would say that its integrated thermostat sets it apart more than any other of its features. Fully recommended.
Below you can see how I rate this heater against my usual rating criteria so that you can easily compare it with other items of this type:
BEST PLACEs TO BUY
For more options, please check under the category Camp Stuff. Bookmark this site and come again, this will keep you informed because I add texts here regularly. Let me know if you have questions or comments, there is a comment box below. Have a nice day.