---
Mr. Heater Buddy FLEX Portable Radiant Heater is a feature-rich patented construction with an electric ignition system and multiple safety features that make it suitable for indoor and outdoor use.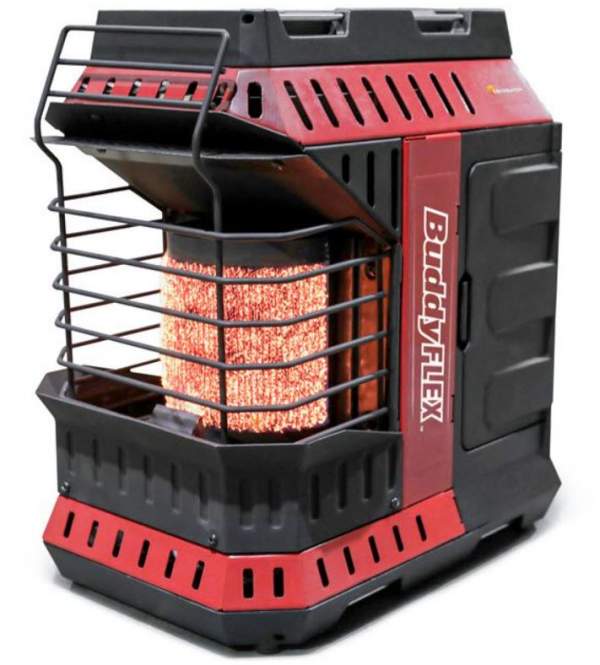 ---
Key features & benefits
Indoor safe propane heater.
11000 BTU capacity.
Patented design.
It can be attached to the Mr. Heater Buddy FLEX Portable Radiant Cooker.
Electronic ignition.
Multiple safety features.
---
What is in the name
So here you have a 11000 BTU high performance omni-directional heater with a mesh burner that provides a high intensity radiant heat in a full 180° spread.
It offers an integrated gas powered accessory controls, an electric ignition button (visible in the picture below), and a quick connect accessory rail system.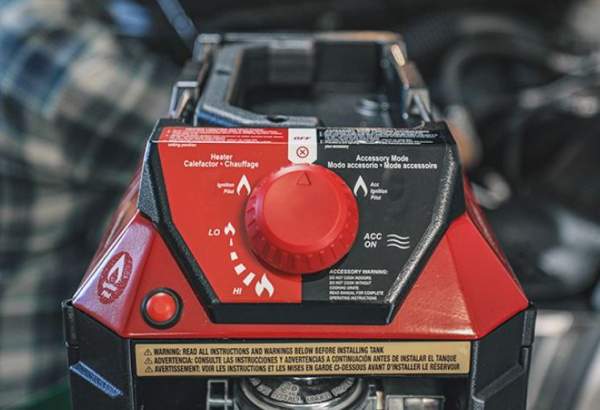 The heater is indoor safe and it comes with a number of patented or patent-pending features that include:
Integrated Heater and Accessory Controls (patent pending).
Quick Connect Accessory Rail system (patent pending).
Patented Thermal Shut-down System (TSSTM).
Integrated storage compartments.
Emergency Low Oxygen Safety System (ELO2TM).
Apex 50° Tip-Switch (A50°TM).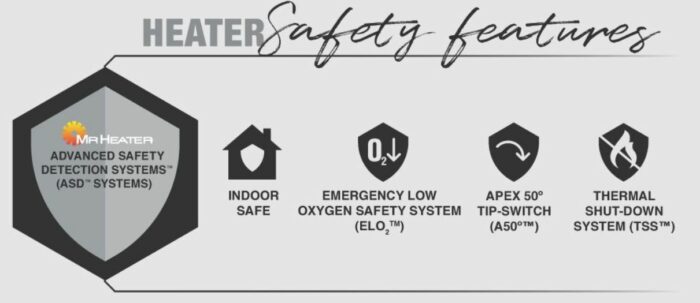 You also have a wind barrier and a pilot pilot shield for maximum protection when using outdoors.
On the body of the Heater you also have side accessory doors. One of them features a battery compartment and a gas accessory quick connect port. The other includes a multi-purpose storage compartment for gloves, documents, power cords or fishing tackle box.
Compatible with Buddy FLEX Cooker
This heater has a connection for yet another great product of this brand, the Buddy FLEX Cooker that they sold separately. Note that the Cooker must be used with the Heater, but the Heater can be used on its own. The picture below shows how they look when attached to each other for transportation: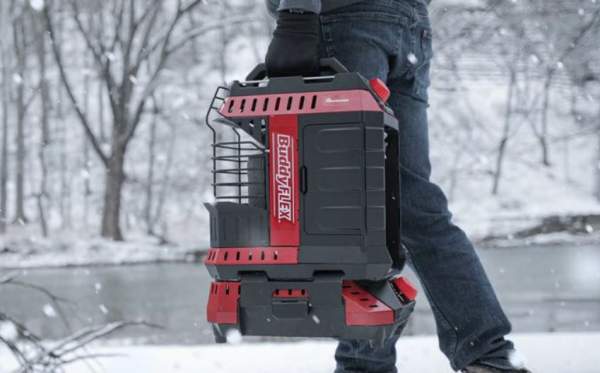 When the Cooker is on, then the Heater is on Accessory mode so it does not heat. Here you can see them in work.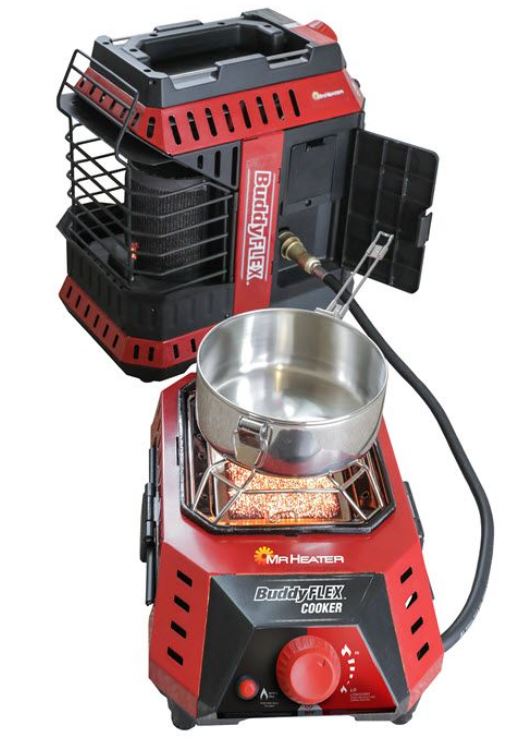 Accessory carry bag
They offer a carry bag that can be ordered separately. It is nicely designed with multiple pockets from outside, and it is deep so that both the Heater and the Cooker fit inside easily.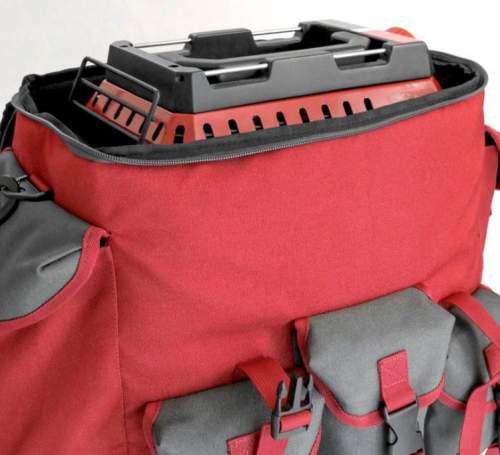 Please see more in this short video:
---
Who is it for
Regarding the best use & power, in specifications the manufacturer writes it is for up to 275 ft² (25 m²) of area. I would say that this strongly depends on what kind of closed space you use this heater in. So it is best to test and see how it works for you.
With the tank capacity of 1 lb, its run time at Max BTU is 2 hours and and Min BTU it is 3.5 hours, so you get some idea of what to expect.
Regarding the weight and dimensions, the heater is quite heavy with its 11.02 lb (5 kg). It may also look bulky, you will see the numbers below, but this is an item for places with a car access so this is not so important.
I see it as a great product for hunters and fishermen, for heating tents in basecamps, and for family camping as well.
Regarding the price, it is in the range of its closest competitors, a fair price for such a quality product.

---
Specifications
Type: propane heater.
Weight: 11.02 lb (5 kg).
Dimensions (L x W x H): 15.35 x 10.95 x 16.54 in (39 x 28 x 42 cm).
Output: 11000 BTU.
Heating area: 275 ft² (25 m²).
Fuel consumption/Burn rate: 0.121 Gal/Hr.
Maximum elevation use: 9000 ft (2740 m).
---
Final thoughts & rating
In summary, this Mr. Heater Buddy FLEX Portable Radiant Heater is beautifully designed and with a number of unique and patented features. It is versatile and suitable for tailgates, fishing trips, and many other outdoor activities. It easily hooks up to their Buddy FLEX Portable Radiant Cooker. Fully recommended.
Below you can see how I rate this heater against my usual rating criteria so that you can easily compare it with other items of this type:
BEST PLACEs TO BUY
For more options, please check under the category Camp Stuff. If this heater is not strong enough for you, check this Flame King 20000 BTU Dual Tank Propane Heater.
Bookmark this site and come again, this will keep you informed because I add texts here regularly. Let me know if you have questions or comments, there is a comment box below. Have a nice day.