---
Kelty has launched a new version of its celebrated Redwing packs so here you have Kelty Redwing 50 pack for men and for women. Keep reading.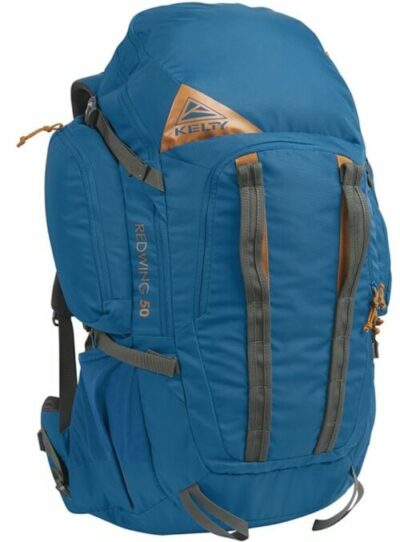 ---
Key features & benefits
Lightweight pack.
Adjustable torso length.
Many pockets.
Perimeter steel frame.
Good price.
---
What this is about
If you are familiar with Kelty as a brand, then you surely know that their Redwing backpacks series has been around for many years already. I have many of them presented here in the site, from both standard and tactical lines of these packs. This text is about those that I describe as 'standard' Redwing packs.
They have now launched a completely new version of these packs and you have them as Kelty Redwing 36 Pack for Men and Women, Kelty Redwing 22, and these Redwing 50 packs presented here. So this is at least the third generation of the packs from their famous Redwing series.
Note that the previous packs from the Redwing group are all available on the market and you have them many around. It is easy to get confused also because of the Redwing Tactical packs that are on the market and they may look similar, see this Kelty Redwing 50 Tactical Pack and you will realize this.
So they have 5 new packs in total. These two 50-liters packs for men and women are slightly different by numbers and colors, but there are some small differences in the design as usual for men's and women's versions.
So Redwing 50 backpack is again a panel-loading type pack with a long inverted-U shaped zipper that goes over the top and half-way down the front on both sides. The pack is hydration compatible with a large sleeve inside the main compartment.
Note that there is no bottom compartment, the front zipper opens the pack enough so you basically do not need an extra bottom entry point.
Redwing 50 pack for men vs Redwing 50 pack for women
There is no difference in functionality and features. On Amazon, these two packs are presented with the same weight and dimensions. However, on the Kelty's site the numbers are slightly different, but nothing substantial really:
Men's Redwing 50 backpack:
– Weight: 3 lb 4 oz (1.47 kg).
– Dimensions (L x W x D): 27 x 18 x 10 in (68 x 45 x 25 cm).
Women's Redwing 50 bacpack:
– Weight: 3 lb 1 oz (1.39 kg).
– Dimensions (L x W x D): 27 x 17 x 10 in (68 x 43 x 25 cm).
The colors are also different.
As you realize, these are lightweight packs with the Volume/Weight ratio around 34-36 liters/kg and I can tell you this is an excellent number.
---
Overview of features
Suspension
You have a perimeter steel frame instead of a central aluminum stay that is in the previous version. In addition to this, now you have what they call the FIT-Pro torso adjustment system based on Velcro. So this is nothing like the Perfect Fit system that is in the previous version. You also have an HDPE panel for additional rigidity and stability.
The back panel is also totally different, the padding is different and you have some ventilation elements. This is what they call the AMP-Flow ventilated back panel. Frankly speaking, do not expect much ventilation with this design. See how it looks: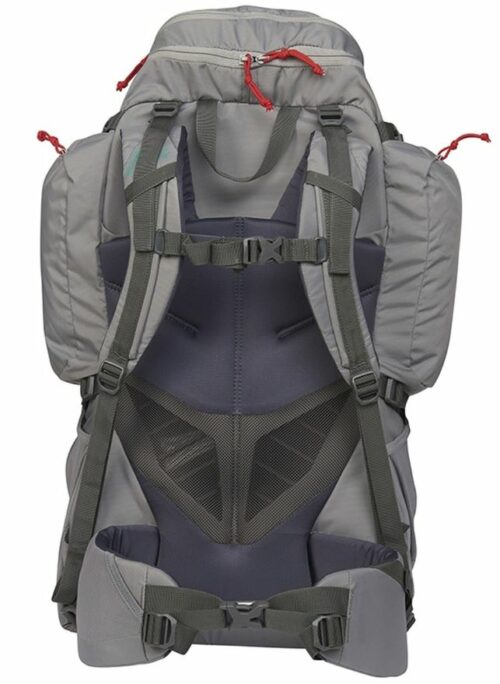 So you still have a very wide and pleasant hip belt equipped with dual V-shaped front straps for perfect hugging of the hips when you cinch the belt.
The pack is with a sliding adjustable sternum strap, and the top stabilizers (load lifters) are in place.
Pockets
The pockets collection is almost perfect and it includes:
One top zippered pocket with a key clip.
One front zippered pocket with internal organization.
One stretch hip belt pocket. So this is a new feature, and I wonder why not two of them.
Dual side mesh pockets.
Dual upper zippered side pockets (they call them wing pockets), see the picture below.
Pass-through pockets that run behind those side wing pockets. Here you can pass some elongated items and have them stored in the lover mesh pockets, see the picture: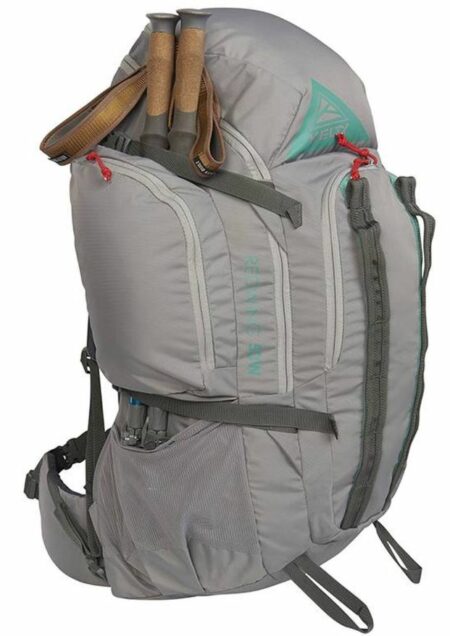 So this makes 9 pockets plus the inner organization pockets, quite a collection. The pictures below show some of the pockets mentioned above.
Attachment elements and straps
There are many elements in this department too and they include:
Dual side compression straps, so 4 in total.
Dual bottom loops for poles or anything similar.
Dual daisy chains on the front.
Dual carry loops on the front.
One large carry loop on the top.
One hip belt stabilizer strap on the left side. One wonders why not two.
Please see a bit more in this short video:
---
Old and new Redwing 50 pack versions – which is better
It is best to go through some of the features and compare them. Please check our separate text about the previous Redwing 50 pack.
You have a spring steel perimeter frame in the new version, as compared to a single aluminum stay in the old version. So this is an improvement.
Velcro-based torso adjustment in the new Redwing as compared to Perfect Fit in the old version. I cannot imagine how anything can be better than the old Perfect Fit system. This cannot be an improvement.
The new back panel is (a bit) ventilated and it looks very modern. But the old version's padding looks great to me. I am a bit undecided here.
There are two daisy chains in the new version with 2 handles. This is useful but I like more the previous hideaway design with one daisy chain and one handle. But the new version is better if you want to attach some larger items on the front. In any case, these dual daily chains should be the easiest way to recognize the new pack in the crowd.
They have removed the front stash pocket in the new version. This cannot be an improvement. I would rather have the previous stash pocket instead of the two daisy chains.
They have added a stretch zipperless hip belt pocket (why not two?). Because of this, you have only one hip belt stabilizer strap on the opposite side of the hip belt. This design makes no much sense to me.
The new Redwing 50 backpack is a bit lighter, it weighs 3 lb 4 oz (1.47 kg) as compared to 3 lbs 11 oz (1.67 kg) in the old version.
Officially, the new pack is smaller, you have 3051 in³ (50 L) volume, as compared to 3100 in³ (51 L). Not a big deal, I know.
The dimensions are different:
– New Redwing 50 pack dimensions (L x W x D): 27 x 18 x 10 inches (68 x 45 x 25 cm).
– Old Redwing 50 pack dimensions (L x W x D): 26 x 16 x 12 inches (66 x 41 x 30 cm).
The person in the video says 'we have made it even better'. I am no so sure about this. What do you think?
---
Final thoughts, rating, pros & cons
So to conclude this new 2020 Kelty Redwing 50 Pack for Men and Women review by stressing that the pack is substantially changed with respect to its design and functionality. You have seen the comparison above and no need to repeat the things here.
This is still a great pack, but is it better or not than the previous version? The time will show. I have confidence in Kelty as a brand that has been around for longer than half a century already. You have two separate packs here, for men and for women, and I have added it to my list of best backpacking packs for women, but this is also a great pack for travel. It has plenty of features that I would love to have in an ideal hiking pack.
Please see how I rate this pack and my pros and cons:
If you need more options in this size range, please check in the category Mid-Size Packs here in the site. In particular check this ultralight Gregory Facet 45 pack for women.
We add new texts on a regular basis, so bookmark this site and check occasionally. There is a subscription form below for our weekly newsletter, so subscribe and stay informed. Have a nice day.