The Guide Gear Fleece Lined Double Sleeping Bag is large enough for two people, very pleasant and comfortable, suitable for 3-season camping, and very affordable.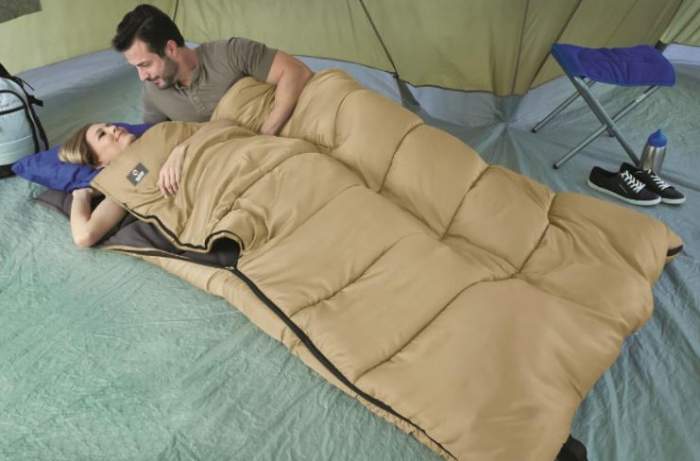 ---
Key features & benefits
Double-wide sleeping bag.
Fleece inner liner.
Machine washable.
Incredible price.
---
What this is about
If you follow the situation in the outdoor industry, you surely know that there are no many fleece sleeping bags on the market. This is even more so when you try to search for a double-wide sleeping bag.
So, as of the moment of writing this text, this is the only two person fleece sleeping bag around. The Guide Gear brand has launched a complete series of fleece sleeping bags, there are several of them for solo use. This particular bag is on Amazon under the name Guide Gear Canvas Hunter 20-Degree Double Sleeping Bag, so just to know that this is the same as the bag with the name used in the title.
How it is built
As you realize from the picture below, this is a classic rectangular sleeping bag. The best feature here is probably its inner liner, so this is a toasty warm fleece lining. I would say this is the best option for added comfort and warmth, it is better than flannel simply because the fleece is a synthetic material that performs great in wet and damp conditions.
The shell is a very durable 210T ripstop polyester with a DWR treatment. The insulation is also synthetic, this is a siliconized fiber, and you have 6 pounds (2.7 kg) of it.
With such materials you have an official rating of 20 F (-7 C). Note also that you have a full-length double-sided non-locking #8 zipper.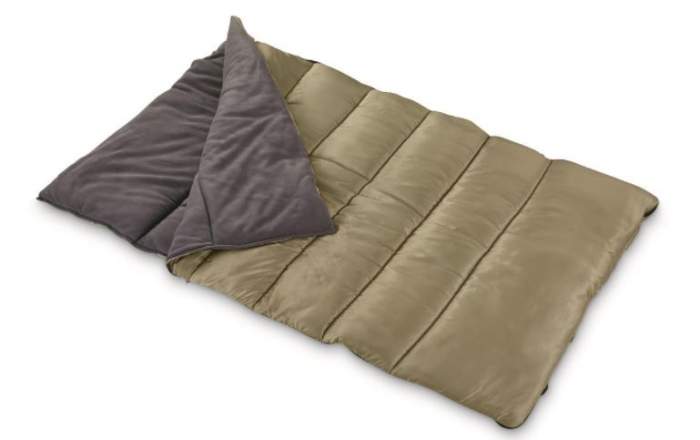 The bag comes with compression straps to keep it small when folded, the picture below shows how it looks when rolled up. There is no carry bag here.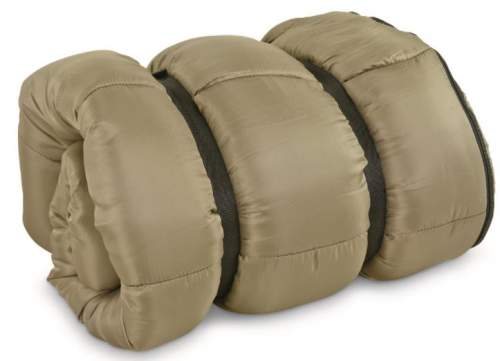 ---
Who is it for
Regarding the best use & climate, you have already seen its temperature rating. In view of this, the bag can be described as a 3-season type. But note that there is no hood, so you might want to test it in controlled conditions to feel how it can work for you. We are all different and feeling of cold is quite personal.
Regarding the size, you have a bag that measures 80 x 50 inches (203 x 127 cm). So this is wide enough for two adults, but you can surely use it also as a solo sleeping bag and you will have plenty of room to toss and turn. I have added it to my list of best double sleeping bags for adults.
Regarding the weight, this bag is moderately heavy for its size, the weight is 10.6 lb (4.8 kg). The packed size is (L x D) 15.5 x 18.5 inches (39 x 47 cm), so this is not something to carry in the pack, this is a car camping sleeping bag, or you can transport it also on a motorbike.
Regarding the price, it is simply incredible for such a great sleeping bag, a great value for the money.
---
Specifications
Type: rectangular synthetic sleeping bag.
Weight: 10.6 lb (4.8 kg).
Dimensions (L x W): 80 x 50 in (203 x 127 cm).
Thickness: 4 in (10.2 cm).
Packed size (L x D): 15.5 x 18.5 in (39 x 47 cm).
---
Final thoughts & rating
So this Guide Gear Fleece Lined Double Sleeping Bag 20°F is incredibly pleasant with its fleece liner, and I really like its neutral colors. This is a durable and reliable sleeping bag with a great brand behind it.
It is warm enough to be used in three seasons, and its price is simply extraordinary. Bear in mind this is a bag for two people and it is less expensive than many solo sleeping bags of this type. Fully recommended for both solo use and use with your partner.
Below you can see how I rate it against my usual rating criteria so that you can easily compare it with other items of this type:
BEST PLACEs TO BUY
For more options, please check under the category Sleeping Bags. Check The North Face Eco Trail Bed Double 20 Sleeping Bag which is built in a similar style and also this Browning Rambler Series Canvas Sleeping Bag that is a cotton canvas bag.
Bookmark this site and come again, this will keep you informed because I add texts here regularly. Let me know if you have questions or comments, there is a comment box below. Have a nice day.