---
Etekcity water filter is a 3-stage filtering tool and quite unique among filters presently available on the market. This is the only straw-type water filter with 0.01-micron pores.
Key benefits
Very good price.
Backwash device included.
Extension tube included.
Foldable water bag included.
Hydration reservoir compatible.
---
Where to buy
The best place regarding the price and shipping conditions is usually Amazon.com.
---
Description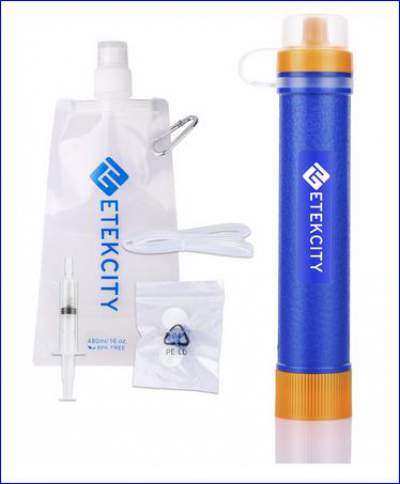 Etekcity filter is a straw-type, 6.25 inches long, with only 60 g weight, and built of very durable ABS plastic. It is suitable for any outdoor use or for emergency situations.
Its design makes it compatible with standard threaded bottles and hydration reservoirs. Due to such a compact and lightweight design, it fits in any survival kit and hiking backpack.
This is a 3-stage filtration system with: pre-filter, carbon filter, and ultra-fine hollow fiber filter.
Etekcity filter is hydration reservoir compatible. This means that you can carry the water in your water bladder and you can attach it directly to the purifier and drink. For this, you would just remove the bite valve and attach the bladder hose to the nozzle which is on the bottom section on the filter (it is visible in the picture below).
The included backwash device allows you to effortlessly clean the straw while on the field. No complicated setup necessary. All the pieces of this filter you can see in this picture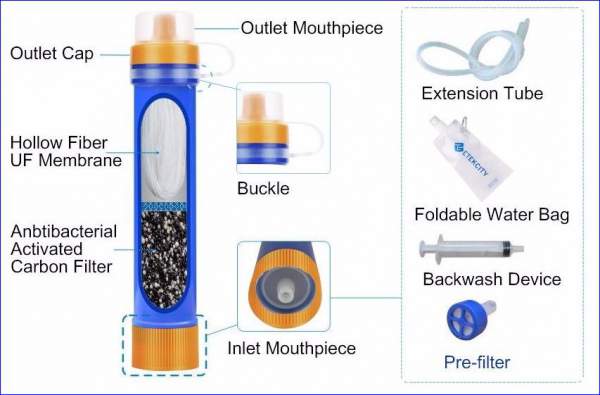 ---
What does this filter remove
With pores of 0.01 micron, Etekcity water filter is supposed to be a true purifier. These pores are so small that they should definitely be able to remove even viruses.
On the Etekcity site, they write: "filters 99.9999% of colibacillus, legionella, heavy metal ions, remained chlorine, VOC, organic and insect contaminant." Note VOC stands for volatile organic compounds.

Now, let's see this statement more closely:
♦ The smallest bacteria are above o.2 microns. For example, Giardia and cryptosporidium are 10 microns and 4-6 microns, respectively. Escherichia coli is in the range 0.25 – 1 micron diameter. So the statement about the bacteria should be correct.
♦ Viruses are in the size range from 0.02 to 0.4 microns, and the smallest known virus is the Porcine circovirus type 1 with 0.017 microns. So the Etekcity tool is supposed to remove them all.
But viruses are not mentioned at all. Wouldn't it be normal to expect this written if the pores are truly 0.01 microns? I am confused, to say the least.
In the same time, there is the claim that it removes heavy metals. This statement should be taken with a grain of salt. The activated carbon filter should be able to partly remove some chemicals like chlorine and pesticides, but again, this can only be partly.
So, unless I see some documents with independent testing, I am not convinced that this tool, or any purifier on the market, can remove heavy metals and chemicals. Though there is a claim about such testing, see in the specifications below.
---
What is in the package
Personal Water Purifier with 2 filters inside.
Foldable water bag.
Extension tube.
External pre-filter.
Backwash devise.
User manual.
---
Extension tube
One detail that all straw-type filters lack is the extension tube. It is strange that they did not think about it. Imagine you have to drink from a water source, you have to come very close, go to your knees and come with your face completely to the water surface.
So your knees,  perhaps even your shoes, and your another hand will become wet (and presumably contaminated).  This simple extension tube saves you from a lot of trouble. It allows you to get to the water from further and from inaccessible distances or depth. This is a great addition to this tool.
---
Pre-filter
This is the first element in the filtration process. Its main role is to remove particulates and dirt from water. In this way, you protect the other two filters and keep them clean. This will extend their lifetime, and also it will be easier for you to clean them later by back-flushing water through them.
It is very easy to use and to remove this pre-filter. You will not need it in some alpine water stream with clear water.
---
Backwash device
You have this syringe included in the package, you can see it in the pictures above. It will keep the filter clean and clog-free with simple pressure pump operation.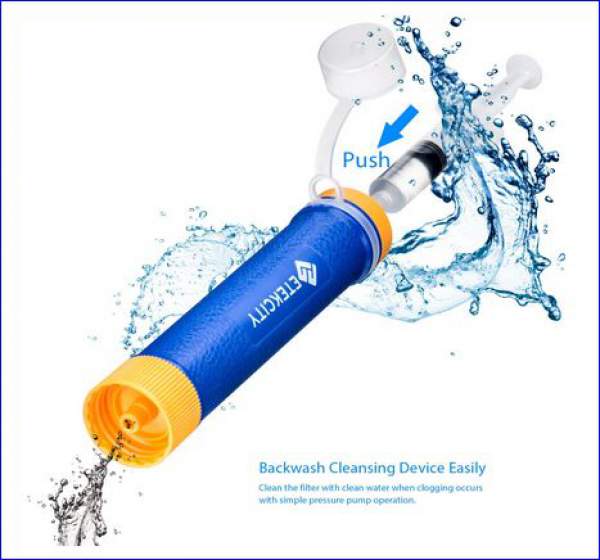 ---
Foldable water bag  
This is yet another good feature of this filtration system, a foldable water pouch to store up to 16 oz (480 ml) of water. It is BPA free and equipped with a carabiner to attach to your backpack and to carry filtered (or non-filtered) water while on-the-go. A useful piece indeed.
---
Versatility & flexibility
The Etekcity filter is indeed versatile and this is seen from the following:
You can use it and drink water from a source. Many straw-type tools on the market are designed for that.
But you can also attach it to a bottle. Not all tools have this feature.
You can attach it to its own water bag. With this, you can drink directly, or you can store the filtered water in a separate clean vessel.
As mentioned above, you can attach it to the water bladder in the pack.
Here is a promotion video from Etekcity, please have a look:
---
Pros & Cons
Here is my summary of pros and cons:
  Pros
  Cons

Great price.
Easy to use.
Easy to clean.
Ultra lightweight & portable.
Very versatile.
Can be attached to a water bottle.
Back-washing tool.
Extension tube – very useful item.

No attachment elements.
No statement about viruses.
I particularly like the fact that the tool comes with the extension hose. This simple addition changes a lot.
Because it can be attached to standard water bottles, and it also has its own water bag, this means you can filter water to use in preparing meals. You can compare this with some top rated water filters which really lack this feature, like LifeStraw Personal Water Filter and LifeStraw Steel filter. So this is definitely a plus point with this tool, which I like a lot.
As you know, all filters clog sooner or later. So having a possibility to back-flush is great, the syringe included in the set is really a useful item. It may considerably prolong the lifetime of this filter. However, the syringe is surprisingly small and backwashing may be very ineffective. Strange that they did not make it bigger.
The Etekcity water filter has received a very good rating on Amazon, with a high average rate based on hundreds of customers' reports. I have seen some complaints that it is hard to suck water through it. Most likely the filter was dry. It must be wet to work properly.
---
Specifications
Length: 6.5 inches (16.5 cm).
Weight: 60 g.
Capacity: 1500 L (400 gallons) of water, or 1 year from the first use.
3-stages filtration.
Safety testing: tested by the TÜV SÜD Institute.
Complies with FDA Food Contact test in accordance with 21 CFR 180.22.
Carbon filter.
Hollow fiber membrane 0.01 microns eliminates 99.9999% of colibacillus, legionella.
Hydration reservoir compatible.
Surpasses EPA standards for water filters.
The pouch complies with the FDA's Food Contact test.
Versatile: for backpacking, camping, hiking, scouting, emergency preparedness kit, and survival bags to keep in the car.
Warranty: 2 years.
---
Conclusion
To summarize this text about the Etekcity water filter, this is truly a versatile tool that comes with several pieces that add to its versatility. These are the water pouch, the extension tube, and the external pre-filter. The backwash syringe only adds to the value of this tool. The Etekcity filter can be attached to a normal water bottle, so you can filter water to use for cooking as well.
These features make it similar to the Sawyer Mini water filter, but there is a big difference here: the pores in the Etekcity filter are 10 times smaller. On the other hand, these same features make it superior to the LifeStraw filter which indeed cannot be attached to a water bottle and cannot provide water for cooking.

I hope you find this text useful. If this is so, please share it with others. Note that there is a comment box below for comments and questions, I shall be happy to reply. Thank you and have a nice day.