---
The answer to the question in the title, what is LifeStraw Steel Water Filter, may look trivial to you if you are familiar with the LifeStraw, the most popular water filter in the past decade. So yes, this is about the steel version of the top-ranked tool, lightweight and durable with a very modern design.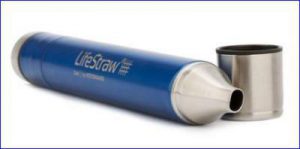 But there is more to that, both about the tool itself and about the company. So regardless if this is a new topic to you or you are a bit familiar with it, I warmly suggest reading the text below.
Why would you use this tool – key benefits
Very good price.
Reliable top-ranked tool.
Beautiful modern design.
Handy & and easy to use and to maintain.
But there is more, something quite extraordinary, see below if you care.
Description
The LifeStraw water filter has been around for more than a decade. They have made a big step now and put their great tool into a steel body. So I am sure you will agree that what you can see in pictures here is a rarely beautiful and elegant small tool. It is easy to carry regardless if you are on an outdoor adventure, or on a trip, or on vacations in some exotic place.
What is inside
This is a tool with a 2-stage filtration system. You have a replaceable activated carbon filter that improves the taste and removes some of the chemicals and pesticides (but not all). Its lifetime is 100 liters.
The next is an advanced technology, a hollow-fiber micro filter that removes from water everything with the diameter above 0.2 microns. This means practically all bacteria of interest to you. Its lifetime is 1000 liters (264 gallons).
In practical terms, if you filter 2-3 liters of water per day, and you use this filter 3 months per year (most likely it will be far less), you will use this microfiber tool for some 4-5 years. I would say this is great in view of what you pay for it.
As you realize, there are no batteries or chemicals involved in the functioning of this tool. The design so elegant, and the internal structure is so simple and efficient.
How to use
To have the tool working properly, the filters inside should be wet. So put the tool into the water and give it a few seconds for the water to get into the filters.
When you use it for the first time, normally both filtration systems are completely dry. So it is recommended to hold the tool vertically halfway up in the water, for some 30 seconds, to let membranes get wet.
If you still experience difficulty in sucking the water, blow it up to force out the air which may be trapped in the fibers.
You can use it directly in the water source, as the photo above shows, or from a bottle.
What the LifeStraw Steel filter removes
In the specifications, they claim that the LifeStraw Steel removes 99.9999% of waterborne bacteria, including E. coli, and 99.9% of waterborne protozoa, including Giardia and also Cryptosporidium.
These data are most likely reliable because the smallest bacteria are above o.2 microns. For example:
Of course, viruses are far smaller and this tool is not designed to deal with them. But viruses normally do not survive in water for a longer period of time (note, there are exceptions), and in most situations, you will not deal with them.
This tool is designed to work with freshwater only, so do not expect it to remove salt from the seawater. According to specifications, it can reduce the amount of some chemicals like chlorine, pesticides, and fertilizers. You can read more about the tool in this pdf file, it is written in several languages.
The list of tested bacteria and parasites removed by the LifeStraw

Here is a complete list of micro-organisms that are shown to be removed by this filter. All testing was confirmed by independent laboratory measurements at the University of Arizona Tucson, USA. The complete documentation about the testing is available here.
 Bacteria
 Parasites

Brucella melitensis.
Campylobacter jejuni.
Pasteurella tularensis.
Pseudomonas aeruginosa
Shigella.
Staphylococcus Aureus.
Vibrio Cholera.
Vibrio parahaemolyticus.
Yersinia enterocolitica.
Yersinia pestis.
Enteropathogenic E. coli.
Haemophilus influenzae.
Klebsielia pneumoniae.
Legionella pneumophia.
Mycobacterium Tuberculosis.
Mycoplasma pneumoniae.
Pseudomonas pseudomallei.
Salmonella hirschefeldii.
Salmonella typhimurium.
Salmonella typhosa.
Shigella dysenteriae.
Streptococcus pneumoniae.
Streptococcus pyogenes.

Ascario lumbricoides.
Cryptosporidium.
Entamoeba.
Giardia Lamblia.
Naegleria gruberi.
Schistosoma mansoni.
Taenis saginata.
Specifications
Weight: 160 g (5.6 oz).
Size (L x D): 9 inches (21 cm) x 1 inch (3 cm).
Lifetime for the microfiber filter: 1000 liters (264 gallons).
Lifetime for the carbon filter: 100 liters.
Removes 99.9999 bacteria and protozoa.
Sturdy and durable design with a durable stainless steel body.
Replaceable activated carbon capsule.
Meets US EPA drinking water standards.
BPA free.
It contains no chemicals.
Food grade stainless steel meets US Food and Drug Administration regulations and standards.
No electrical power & batteries needed.
No aftertaste.
It does not use iodine or iodinated resin chemicals.
Pros & cons
Here is how I see this item, in short:
 Pros

 

Cons

Easy to use.
Very lightweight.
Reasonable price.
Great design.
Versatile.
Carbon filter easily replaceable.
Filters can be cleaned.
Inexpensive spare filter.

No slit or any similar element to attach it to the pack.
The top cap can be lost.
My lists of cons are usually much longer, but not this time. I am rather impressed with everything related to this item. You will realize this fully if you go on through the text.
What else you need to know
The LifeStraw Steel filter is not designed to work at freezing temperatures, so you should be very careful if you plan to use it at high altitudes or in winter conditions. It can be damaged and you will not be able to see the damages with naked eyes. There are tools that are tested and can work at such temperatures, check MSR Guardian Purifier described in this site, but this is not the case with the LifeStraw Steel filter.
To clean the tool after the use, it is recommended to blow a breath of air back to purge the remaining water in the filter. You can also suck water and then blow it back through the filter. If you store it for a longer period of time, leave the caps off so that the tool fully dries inside.
Regarding the replacement, only the carbon capsule can be changed. They recommend to change it every 3 months to ensure that the first stage of filtration is working well.
What is new in the new version of this most popular water filter
Obviously, the first thing to notice is the body; it is steel in this new model.
Weight: due to the steel, the new version is 3 times heavier. But it is still ultra-lightweight.
Two-stage filtration system in the new model. There is no carbon filter in the original model.
The steel version is for some 0.5 cm shorter.
Overall design and color. The steel version looks really cool.
No attachment elements in the steel version, contrary to the original version.
The filtration features regarding the bacteria and protozoa are essentially the same. These tools are great in both versions.
More about the original version of the LifeStraw filter you can read here.
Summary
So to summarize this text, I hope you now have a clear picture of what LifeStraw Steel water filter is. It is important to understand its purpose and its limits. The company behind this product behaves really responsibly and clearly describes the limits of the tool. So this is not a tool that removes everything from water, but you will be safe from all sorts of dangerous bacteria which you can find in the water. I fully recommend this filter.
If you want to be absolutely sure about what you drink, read my another text about ways to purify water.
On the other hand, if you want a reliable tool that is able to remove even viruses, I warmly suggest you see my other texts about the MSR Guardian Purifier and the Survivor filter PRO.
Viruses are removed also by some other LifeStraw tools like LifeStraw Family 1.0 Water Purifier, LifeStraw Mission Water Purifier, and LifeStraw Community filter. You will see below the Community tool used in schools in Kenya.
Below is something which you do not have to read, but I warmly suggest having a look. I have never seen something similar with any product reviewed in this site. I must say I am both impressed and touched with what this company is doing. Have a look and judge yourself.
Follow the Liters: program of providing drinkable water for kids in the undeveloped world

This is a program started a few years ago. For each sold LifeStraw the company puts aside a part of the income and uses it to provide water for children in third world countries, in Kenya and India. They claim that one sold LifeStraw provides water for one child in these countries for an entire school year.
You can see more about this program in this video, please have a look:
The principle of the program is presented in this picture: you buy the filter, a part of the money is spent on the program, and you can follow this on the Internet:
Now you can think this is just propaganda, but all that they are doing is public and you can follow it on the Google and on the Google maps.
So what to say more, I do not know about you, but when I see this, it restores my faith in humanity.
For many of us having a clean water is assumed as granted. The sad fact is: this is far from true for a big part of the world.
Thank you for reading, I wish you a pleasant day and safe water to drink.