---
There was a sad news yesterday about four climbers on the Mt Everest that were found dead in their two tents at Camp Four which is at 8000 meters (26246 feet) of altitude. According to the report, it appears they died due to suffocation because they were using stoves in the tents to keep warm.
 Cooking in a tent is dangerous, and here are a few lines about it.

This is the carbon monoxide poisoning caused by using stoves in the closed space without a proper ventilation. No doubt they knew the danger but obviously, it was too cold over there and they could not resist. The carbon monoxide is odorless and tasteless, and a highly toxic gas. It is also initially non-irritating and this is what makes it so dangerous as it cannot be detected.
Carbon monoxide (CO) develops when the fuel fails to fully combust due to a lack of oxygen. As you can imagine, such a lack of oxygen is a reality at high altitudes. In the scale shown in my another text, you can see that at 3000 meters above the sea level you only have 71% of the normal amount of oxygen, and on the summit of Mt Everest, this number is only 33%.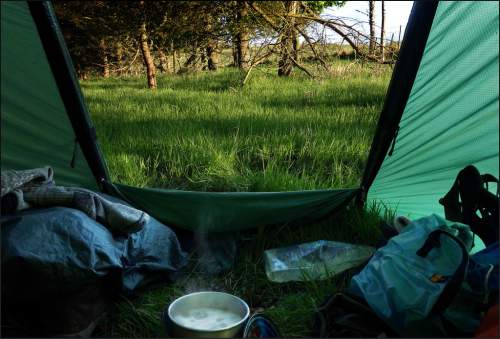 This gas is also heavier than air and it accumulates close to the ground in a tent. So imagine, you are in real danger when you are in your bed on the ground and the stove is working. Here are some symptoms which are expected:
Dizziness.
Headaches.
Vomiting.
Chest pain.
Now, when you are at high altitudes, you will feel at least some of these symptoms even without any carbon monoxide. The first two in the list I feel almost every time in my tours in the Alps or on the Mt Teide. So this is an extra danger because you will not be aware of the presence of the CO gas, you might think the symptoms are due to altitude only.
Safety rules are clear and here are some of them:
Try not to cook on a stove in a tent. This is because of the following:

the CO gas may develop,
the canvas can be damaged if not destroyed in a fire.

Never use a stove for heating. This appears to be the case in the tragedy mentioned above.
---
So can you cook in a tent?
The answer is easy: you have to. We all know that sticking strictly to the mentioned rules is not so easy in practice. There are many situations when you have to use the stove in the tent. If you have ever been in a true mountain, you will know that. You cannot cook outside in a strong wind, in rain, or in terribly low temperatures.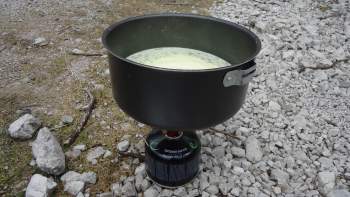 I must admit, I myself have been using the stove both in the tent and in the car. Though I try to use it under the vestibule if possible, and when used in the car, I try to allow some air flow from outside, or simply use the stove as short as possible.
One option is to use the stove for cooking under the vestibule. But a vestibule is a relatively small area, and its roof is always very low. Bear in mind that a canister and a stove together are some 18 – 20 cm of height (my own MSR Pocket Rocket 2 with its canister is 18 cm high).
Then you add a pot on it and you realize you need at least 30 – 35 cm of height; see the image taken a few days ago on my tour in the Slovenian Alps, I was sleeping in the car and cooking outside when it was possible. So the flame can damage either the roof of the vestibule or the wall of the tent.
As you realize, I am speaking about damaging the tent, not about destroying it totally. This is because nowadays tents are built from materials that will rather melt than burn.
So just be sensible and do what you have to do in order to hydrate (i.e., to melt some snow) or to have a warm meal. Thinking about safety rules is pointless if you are facing a danger of dehydration. But bear in mind that the CO gas develops all the time and that you cannot feel it. You do not want to become a news.
---
P.S. After publishing this text, I have found yet another with the claims that the initial report about 4 dead climbers was wrong. It all sounds strange to me. Six trained Sherpas could not make such a mistake. Their report was specific, about two tents, each with two bodies, and one of them was a woman. But we are supposed to believe now that they all had some sort of hallucination in thin air. Right now it is not clear what the situation is, I can only hope that nobody died.
But this does not change the point of this text, this is not about journalism and possibly fake news. Be careful in any case.
---