---
The Coleman Dunnock Cold Weather Adult Sleeping Bag is long and wide, built from a pleasant cotton and flannel fabric and with a synthetic insulation.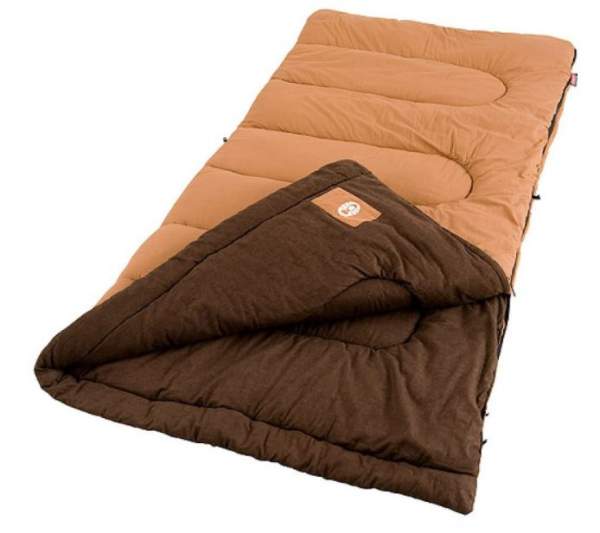 ---
Key features & benefits
Rectangular sleeping bag.
Cotton fabric.
Synthetic insulation.
Very long & wide.
Snag-free zipper.
Very good price.
---
What this is about
This is one of the sleeping bags of Coleman with the longest existence on the market, namely it has been around for more than a decade already. The bag is rectangular and without a hood, they have quite a number of bags with this shape, you can see the Coleman Heritage Big and Tall Sleeping Bag as one great example.
It comes with the usual set of features that make their bags so great. One of them is is their two-way no-snag patented zipper with the ZipPlow element that plows fabric away from the zipper. You can unzip the bottom for extra ventilation on warmer nights.
You can also unzip the bag completely and use it as a blanket or a quilt. It can be zipped with yet another bag of this type and create a double wide bag for couples. And yes, here you have an inner pocket for your smartphone.
Several of their bags of this shape have what they call the Roll Control and Wrap 'N' Roll design that makes folding quick and easy. This includes toggles on the sides, so when you fold the bag in half width, you can roll it easier.
Materials & temperature rating
This is a cotton bag, you have a cotton cover and cotton flannel liner. This is why I have added it to my list of best cotton sleeping bags for adults. These are pleasant materials but make sure it does not get wet. The insulation is synthetic, and it is with what they call the Fiberlock Construction that prevents insulation from shifting.
You also have what they call the Thermolock System, but this is just a baffle along the zipper to reduce heat loss through it. This bag is also machine washable. The official temperature rating of this bag is 20 – 40 F (-7 to 4 C).
---
Who is it for
Regarding the best use & climate, they have several of their bags with the words Cold Weather in the name, and they are usually inappropriate for the bags. I already mentioned the official temperature rating of this sleeping bag, so you realize that 20 – 40 F (-7 to 4 C) is not the range that is attributed to cold weather bags.
It is a very good 3-season sleeping bag but not really a cold weather sleeping bag. Note that there is no hood here. What I want to say is that you should check some of these sleeping bags if you need something for a real cold weather camping.
Regarding the size, this bag is known also under the name Coleman Dunnock Big and Tall Cold Weather Sleeping Bag, and this is because of its great dimensions. So just to know, it measures 81 x 39 inches (206 x 99 cm), and they write it is officially for users of up to 6 ft 4 in (193 cm). With such a width, it deserves to be added to my list of extra wide sleeping bags.
Regarding the weight, you have 7.9 lb (3.6 kg), and its packed size is (L x D) 20 x 11 inches (51 x 28 cm). So it is both heavy and bulky for such a temperature rating. In any case, this is a car camping sleeping bag.
Regarding the price, it is simply excellent, a great value for the money. So you realize why it is so popular.

---
Specifications
Type: rectangular.
Weight: 7.9 lb (3.6 kg).
Dimensions (L x W): 81 x 39 in (206 x 99 cm).
Thickness: 4 in (10.2 cm).
Temperature rating: 20 – 40 F (- 7 to 4 C).
Packed size (L x D): 20 x 11 in (51 x 28 cm).
Warranty: 5-year limited warranty.
---
Final thoughts & rating
In summary, when you see this Coleman Dunnock Cold Weather Adult Sleeping Bag and check its price, you realize why it is so popular and why it has been around for such a long time. This is a pleasant cotton and flannel construction, easy to maintain and to clean, though indeed the bag is bulky and heavy.
But disregard the Cold Weather words in the name, this is a very good 3-season sleeping bag, and perhaps a bit more than that, yet I would not describe it as a strictly cold weather bag. Fully recommended.
Below you can see how I rate it against my usual rating criteria. This will help if you compare it with other bags here in the site:
BEST PLACEs TO BUY regarding shipping and price:
For more options, please check in my list Coleman Sleeping Bags for Adults. See also this Browning Rambler Series Canvas Sleeping Bag that is built from a cotton canvas and flannel.
Bookmark this site and come again, this will keep you informed because I add texts here regularly. Let me know if you have questions or comments, there is a comment box below. Have a nice day.