---
Here you have the list with the best insulated hiking boots for men, all versatile and reliable waterproof and breathable winter footwear from renown brands.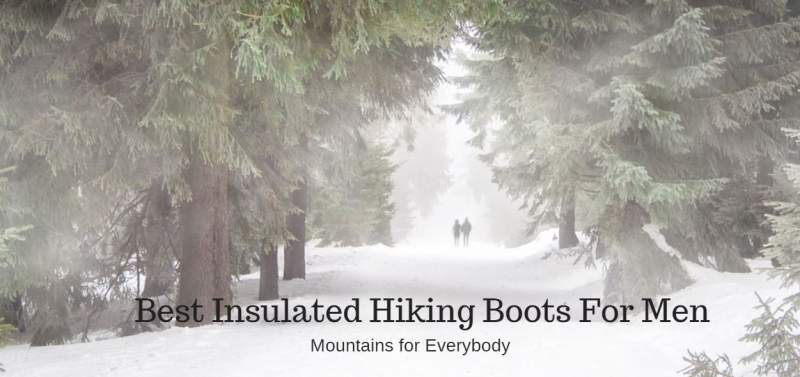 My list with insulated winter boots for men includes the following great models ordered alphabetically so the list is not a ranking:
Below you can see a bit more about each of the items in the list.
---
Adidas Outdoor Terrex Conrax CP Insulated Boots For Men
These boots are snowshoe compatible, and they combine Climaproof protection with PrimaLoft insulation for optimal warmth. Lugged Continental rubber on the outsole provides a surefooted grip over ice and snow.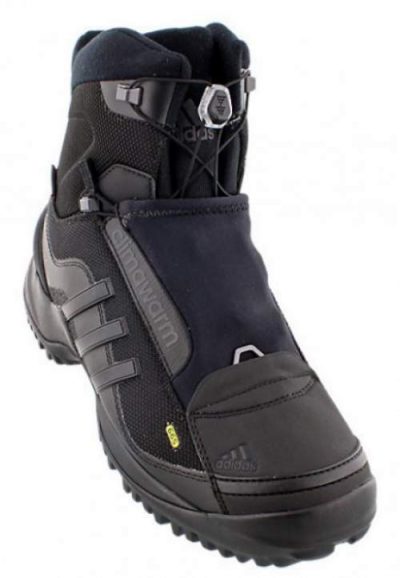 With 7.5 inches height, these boots are a bit lower than the previous models, and they come with 200 grams of insulation. The cuff of the boot is slim enough to wear under most pants, and this is what I like in particular.
The boots are with a quite unique design. One feature you cannot miss is the stretchy neoprene flap that covers the laces, see the pictures. When you pull the laces tight, you stuff the ends under this flap and hook it over a hook. There is a gaiter loop that can be hidden under the lace cover when not in use.
Climaheat is an integrated system of technologies working towards regulating the body temperature far better than any single fabric technology can.
Continental rubber is the leader in automobile and bike tires and it offers up to 30% more traction in dry conditions and 32% more traction in wet conditions versus the competition. This rubber is used for the outsole here.
About the PrimaLoft material you can read in my separate text. It is lightweight and breathable and it offers superior water repellency. The boots are made waterproof due to the membrane called ClimaProof.

Good and less good features
Here is my short summary:

Very reliable and waterproof.
Great design.
Quality materials.
Quick lacing system.

The average rate of these boots on Amazon is very high, 4.6/5, and fit as expected statistics is 75%. The boots run true to the size. These are great boots for any activity in cold weather. Being relatively low, make sure to use them with gaiters in deep snow. They have special D-ring to be used for that purpose.
Specifications
Weight (per one boot): 23.8 oz (675 g); 1350 g/pair.
200 g Primaloft insulation material for more warmth, even in wet conditions.
Shaft height: 7.5 inches (19 cm).
Upper: Climaheat system.
Climaproof membrane for waterproof protection in wet conditions.
Outsole: Continental rubber for extraordinary grip.
---
Columbia Bugaboot Plus III Omni-Heat Hiking Boots
These boots come with 200 g insulation, which does not look much, but you should know this is not all. They also include Columbia's thermal reflective liners, and these two elements together make the boots suitable for temperatures as low as -25 F (-32 C). So these are very warm boots for their weight.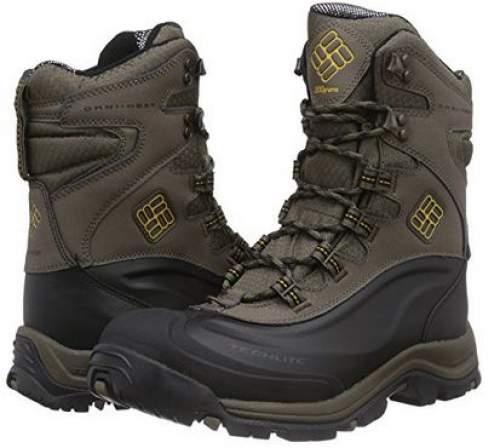 The best feature of these boots in my view is: they are totally waterproof and there are many reports confirming this. This is achieved with the treated leather and their Techlite waterproof membrane. So if you need boots to trudge through snow or shallow streams, this is the tool for you. Another thing to point out is they are so easy to use due to the speed lacing eyelets and hooks which allow for a quick and secure fit.

Good and less good features
Here is my short summary:

Very durable.
Completely waterproof and breathable.
Lightweight.
Great design.
Great price.
Easy to use.

Fit as expected statistics for these boots at Amazon is excellent, no less than 86%. The reviews they have received by Amazon customers are also very impressive, with 4.4/5 average rate based on more than 430 reviews.
Summary of specifications and features
Weight (size 9): 23.2 oz (660 g), per one boot, i.e., 1320 g/pair.
Insulation: 200 g.
Temperature rating: -25 F (-32 C).
Shaft height from the bottom to the top: 9 inches (22.9 cm).
Upper: leather, nylon, webbing, and metal hardware.
Techlite shell.
Waterproof seam-sealed construction.
Omni-Heat reflective lining.
Techlite lightweight midsole for long lasting comfort, superior cushioning, and high energy return.
Omni-Grip non-marking traction rubber outsole.
Here is a video by Columbia about their Omni-Heat reflective technology:
---
Kamik Men's NationPlus Boot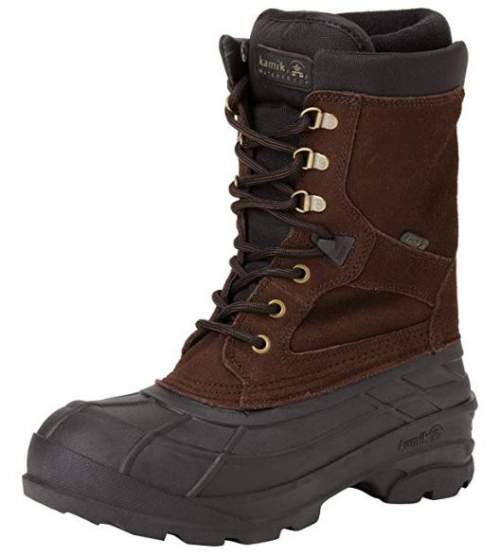 These Kamik NationPlus boots have some really remarkable features:
They are with a very high collar as you realize from the picture above, no less than 11.6 (29.5 cm). So these are the highest in the list here.
They come with a removable insulation liner. They claim that 200B 3M Thinsulate insulation is 1.5 times warmer than down. The declared temperature rating is -40 °F (-40 °C).
Compared with all other boots of this type, they are incredibly affordable. As of the moment of writing this text, the Amazon price for these boots is $85 for the number 8M.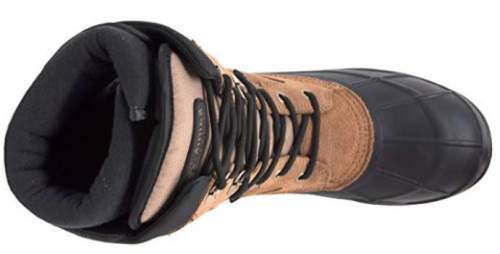 The word Kamik in the name of these boots comes from Inuit language and it describes their traditional boot made from the hide of a reindeer or seal skin.
The number 200 given above indicates 200 grams of insulation, so this is not much when you compare with some other boots here that have twice this weight of insulation. But they perform better simply because this insulation layer is less compressed, and as you know retaining the loft means more air and better insulation as compared to the standard insulated boots where the insulation is the sewn-in part of the boot's body.
The bottom is a thick rubber, and inside you have a reflective liner which blocks the heat and reflects it back to the foot. So in view of all this, the mentioned temperature rating is not a surprise.
The body is a rubber on the lower part and suede leather in the upper part. So the lower section will never leak unless you really make a hole in it, but this is not so in the upper sections with all the stitching and the gusseted tongue. So the maximum puddle depth is around 4.5 inches (11 cm) or so in spite of such a high shaft.
Clearly, these boots are best suited for dry snow conditions and not designed for a deep immersion, and this is why it is so good to have such a removable liner. You can always take it out and dry if it gets wet. It may be good to do some waterproofing treatment of the suede, at least yearly.
Regarding the fit, the boots are true to size, and it is best to use your regular shoe size. You have speed-lacing eyelets and lace locks to keep the lower lacing in place. The liner is pleasant and soft and you can use the boots even with short and thin socks. Note that you have a pull tab on the heel, it helps in pulling the boots on and off.
The traction is good because of deep lugs and this works really well in soft snow. But you still have enough sole surface for a flat and slippery ground, they have managed to find a proper balance here. The soft and sticky rubber additionally helps on such slippery surfaces.
All in all, these are very warm insulated boots, and here you have a great value for the money, in fact probably the best of all the models here in the list.

Good and less good features
Here is my short summary:

Very comfortable.
Waterproof.
Very warm.
Very affordable.
Good traction.
Great temperature rating.

A bit difficult to put on.
Being so deep, it needs a bit of work to put these boots on, but this is expected with such a high collar.
Specifications
Weight: 1640 g per pair.
Height: 11.6 (29.5 cm).
Temperature rating: -40 °F (-40 °C).
Waterproof suede upper.
Waterproof gusseted tongue.
Insulation: removable 200B 3M Thinsulate liner.
Outsole: waterproof & flexible rubber shell.
---
KEEN Men's Durand Polar Hiking Boot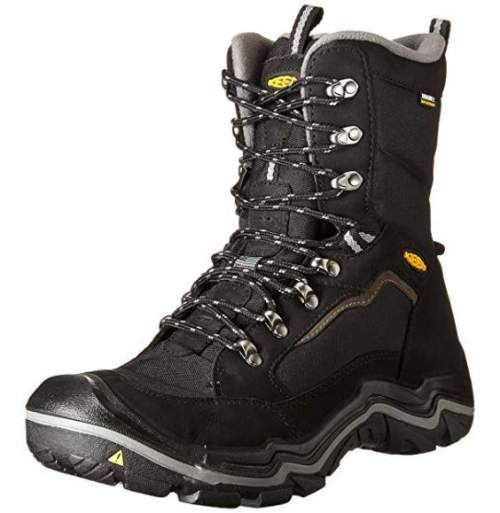 Here you have the boots that are assembled in Portland, Oregon. They come with the KEEN.Dry, a proprietary waterproof and breathable membrane from this brand. You also have a heavy-duty insulation, 400 grams of it, and a 7.5 inches (19 cm) high collar, so these are very warm and supportive but flexible boots.
The insulation is what they call the KEEN.Warm. You might want to know that this is made with a charcoal bamboo. This material is also known for its odor absorption and thermal radiation properties.
The warmth is also due to a thermal footbed where you have a soft wooly top plus a thermal foil barrier. So the heat is reflected back to the foot. You can be sure it will keep the cold out and the heat in.
The boots are completely waterproof and this means you can submerge them up to five inches of water for at least 10 minutes and the feet will remain dry. So these are truly impressive features.
These are very comfortable boots with a soft lining and a cushioned and contoured footbed with a great arch support, so the foot is cradled comfortably throughout the length.
The laces run through four metal ring pairs, followed by a pair of a fabric loop, and higher up on the collar you have three pairs of metal hooks. So dealing with laces is not complicated, tightening and loosening is really easy.
These boots run almost true to size, but you might want to order half-size bigger if possible. They have received a very high rating everywhere. On Amazon alone you have more than 150 customers' reports with 4.3/5 average rate.
All in all, these Durand Polar boots are truly versatile, warm, and comfortable, suitable for a range of conditions, including cold and dry as well as wet and sloppy snow.

Good and less good features
Here is my short summary:

Very comfortable.
Completely waterproof.
Lightweight.
Very versatile.
US-made.

Not particularly great traction.
Specifications
Weight: 25.6 oz (726 g).
Collar height: 7.5 in (19 cm).
Insulation: 400g KEEN.Warm insulation.
Material: leather and textile.
Integrated PU heel cushion.
TPU stability shank.
Removable thermal heat shield footbed.
American built.
---
Oboz Bridger 8 BDry Insulated Boots For Men
These boots are described in detail in my separate text, so please have a look there. Here, only to point out the following:
Average weight (per boot): 24.6 oz (697 g).
They come with 200 grams of insulation.
The shaft is 8 inches (20.3 cm), hence the number 8 in the name.
This is official hiking boot of National Ski Patrol.
For more please follow the link.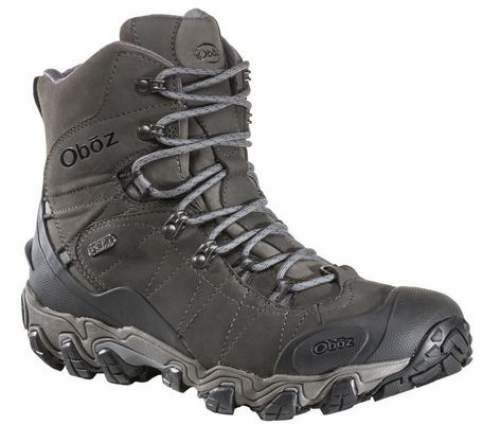 ---
Salomon X Ultra Winter CS WP
These boots do not look like typical bulky insulated snow boots, in fact, they are very lightweight and quite low, the lowest shaft of all models presented here. Yet, they do have 200 grams of insulation, more precisely you have Thinsulate synthetic insulation for warmth together with a ClimaShield (hence the letters CS in the name) waterproof and breathable liner. The boots will definitely keep your feet dry, but bear in mind their 7 inches shafts.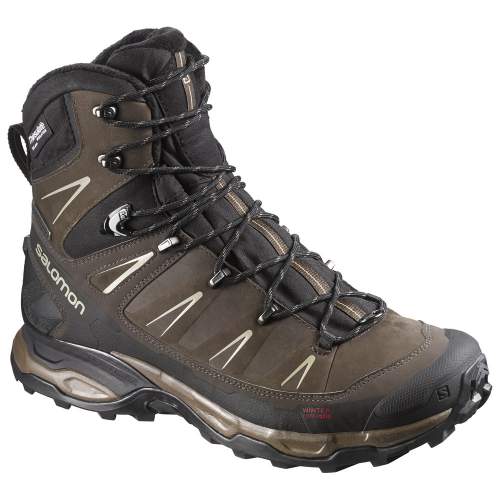 I love the style of these boots and find them perfect for winter hiking tours and for snowshoeing. In view of so low shafts, you will use some gaiters with these boots. There are several shoes and boots from the same brand described in this site, so the style you have here is very similar.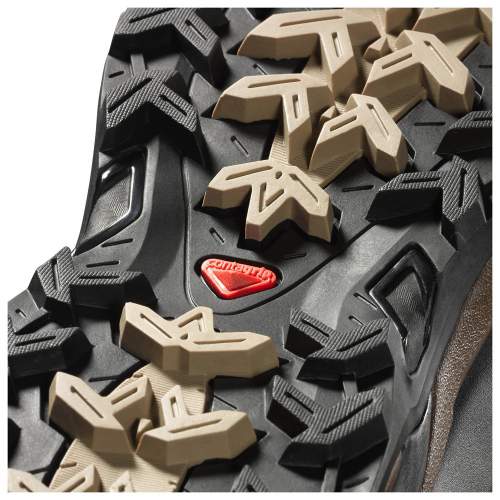 Salomon X Ultra Winter CS WP are perhaps more hiking boots than any other in the list, but perhaps not the most suitable for snow conditions. They come with Advanced Chassis integrated into the midsole, so you have a reliable and supportive underfoot.

Good and less good features
The average rate for these boots on Amazon is 4.4/5, based on more than 110 reviews. The fit statistics is lower than for the other boots, 65%. This is a bit surprising in view of their style, they look like trail running shoes. This is clearly because the boots run a bit narrow, bear this in mind when you order them. This holds in particular for people with wide or high volume feet. Here is my short summary:

Lightweight.
Great design.
Great price.
Warm.
Very comfortable.

Low, but this is not necessarily so bad.
Not so easy to use.
Specifications
Weight per pair: 2 lb 11.7 oz (1.24 kg).

200 g Thinsulate multi-loft insulation.

Shaft height: 7 inches (17.8 cm).
Low-cut profile for freedom of movement.
Abrasion resistant lining that allows for excellent breathability and quick drying.
Advanced Chassis, a lightweight element placed between the outsole and midsole, which maximizes motion control, energy management and push through protection.
---
Vasque Snowburban UltraDry Insulated Hiking Boots For Men
Vasque Snowburban UltraDry boots are a top quality product, perfect for snow hiking and for general use in cold conditions. They are very warm, which is no surprise in view of 400 grams of insulation material, and very durable, so these are the most important features of the boots.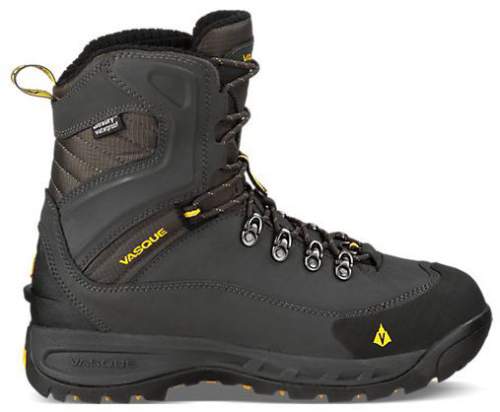 The Snowburban UltraDry feels like a lightweight mountaineering boot, they are equipped with a midfoot stabilizer made of TPU that adds stiffness and rigidity to the sole. The upper leather is waterproof due to polyurethane coating, and you also have Vasque's UltraDry membrane sewn-in as a waterproof-breathable bootie. They can withstand immersions of up to 7.25 inches (18.4 cm).
Note that the boots need some break-in time, and they run true to size. They are perhaps not so easy to use because of the eyelets instead of hooks used.

Good and less good features
Here is my short summary:

Very warm.
Very good support.
Very durable boots.
Great traction.
They simply look great.

A bit heavy.
Need break-in time.
Fit as expected statistics for these boots is very good, 80%. They have received excellent reviews by Amazon customers, with 4.4/5 average rate based on more than 150 reviews.
A few words about the traction, which is excellent with these boots. Such a great traction is due to a combination of the soft ColdHold rubber compound which you can see towards the center of the sole in the picture below, and much more stiff outer lugs. This allows for a great grip at various temperatures.
Specifications
Average weight (pair): 3 lb 3 oz (1452 g).
400 g 3M Thinsulate Ultra Insulation.
Shaft height from the bottom: 8.5 inches (21.6 cm).
Upper: 1.8 mm waterproof leather, waterproof textile.
Footbed: dual density EVA foam.
Midsole: molded EVA and TPU shank.
Outsole: Vasque Venture with ColdHold Compound.
UltraDry waterproofing system.
Molded rubber heel kick.
Rubber toe cap.
Gaiter D-ring.
Fleece collar lining.
Here is a video by Vasque about their insulated boots, please have a look:
---
Summary
To conclude this list of 7 best insulated hiking boots for men, I am sure you are having a hard time if you have to choose, those are really great models. So, perhaps a few more tips might help in choosing the right model for you.
Do you need insulated boots for women? If so, check my another text.
Thank you for reading. If you have any question or comments, please use the comment box below. Have a nice day.