---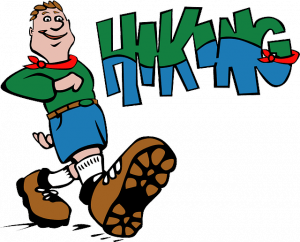 The tour from Almaciga to Igueste de San Andres is one of the most memorable I have done on Tenerife island (the reasons, very good ones, explained below). This is again a route across the island, from coast to coast, and not the first of that kind I have done.
So in my present case this was from the north, starting at sea level, and then walking up Anaga mountains, and descending to the sea level again in Igueste de San Andres on the south coast.
[ Domeniconi: Koyunbaba part I & IV ]
The highest point of the route was at 880 meters above the sea level, according to my watch with the altimeter. It has a pressure sensor and usually shows accurate altitude, but the weather in Anaga is very specific, with winds and rapid changes of pressure due to this. As usual on Tenerife, this phrase 'above the sea level' should be understood literally. The sea is most of the time in sight, except when you are in the rain forest (and in clouds, as usual).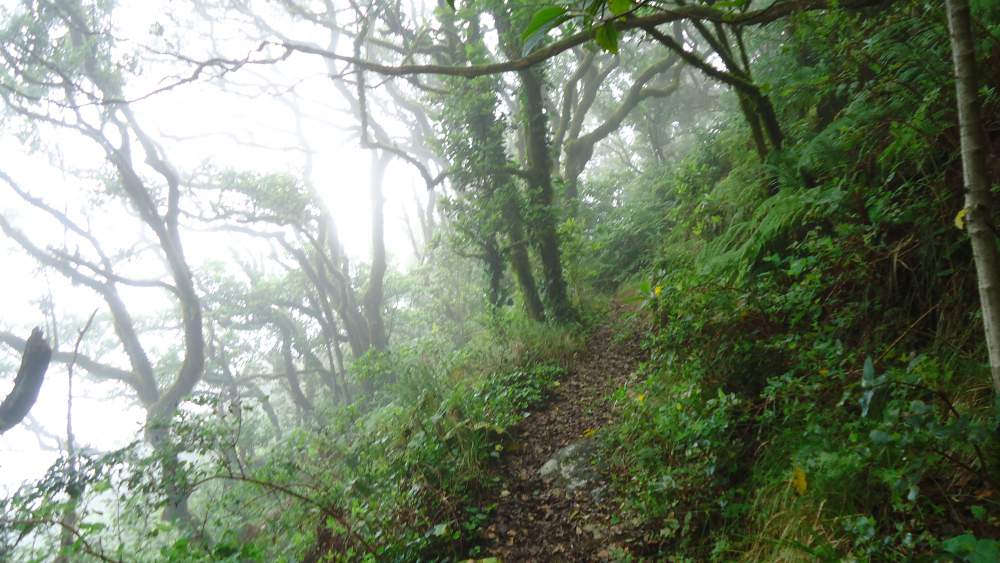 If by any chance my Spanish teacher reads this post, I hope I shall be forgiven for not using the accent in the name of Almáciga, as I am writing it here. This is only to be closer to what people usually do when they search the Internet for this place; I guess they would not bother with adding the accent above the a-letter here.
But I am going ahead of myself, so back to the beginning.  I took the bus 946 from Santa Cruz and I was on the north coast shortly after 10 am, and started walking immediately. The first part is just along the road to Benijo, you may see some more about this on my another page.
The road is only a few meters above the sea in this area with the beautiful Benijo beach, so as I said it was a start at the sea level. I was cheating for only about 5 meters or so. Frankly speaking, I cheated a bit more at the south side (perhaps 30 meters), you will see later why.
---
From Benijo through Pijaral
Now, this is the most important part of the route for me, and for good reasons. If you plan to walk the route, when you come to Benijo and pass the parking with the excellent view point, just continue up along the road toward houses. Benijo is a tiny place and this is the only road, not possible to miss.
At one point you will see a small family-run bar or restaurant on the right. Directly before the house, on the right, you will see a road. So take it, cross the gorge, and then continue along the road on the west side of the gorge, having the village on your left side and across the gorge.
I spend some time explaining this because, from my own bad experience, picking up the start of the route can be tricky. Once you are on the route you should have no problems. But this particular one is not marked, and I do not carry any electronic device, and if this is not enough, I do not have any maps for hiking on Tenerife.  I just rely on what I memorize from Google Earth which I study a bit before going to the route. This was not good enough this time.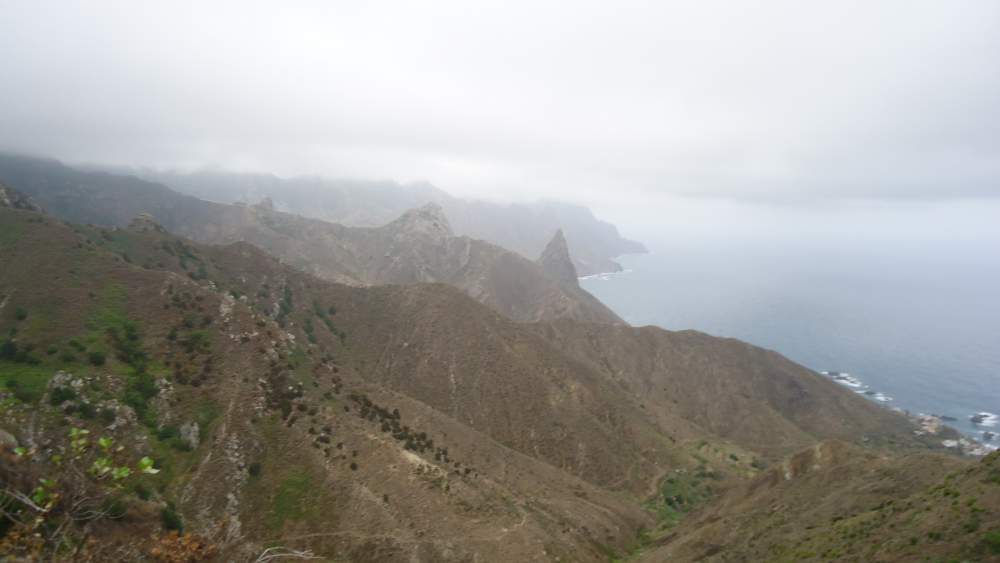 Thank you Ismael
I walked as I explained, came to the end of the road and then continued along what looked like my path (from memory). I climbed up to 400 meters, entered the forest, only to realize that I came to a small private piece of land and a barrack, surrounded by forest. There was no way farther. Therefore, I descended and tried to figure out if I missed something, no success. So OK, I admitted I could not continue, and this was supposed to be the end of my tour. But it was not, as you see, there is still a lot of text below.
I descended the same way and came to the goat farm which I passed on the way up. I saw two people in the distance on the other side of the property, busy with doing something. So I decided to try once more. I made a walk below the fence. Reason: there were two dogs protecting the large property full of goats. And they obviously understood their task very seriously. I made a long tour around to get to the other side where the people were working. I tried with my poor Spanish, and they soon understood: this was yet another lost fool.
So one of them came with me to show me the way (there was the way after all!). We walked a part of the route up, which I already walked before. I understood he was working for the other man on that farm, 65 goats, etc. At one point he shoved me practically invisible passage on the right, over some rocks and almost covered by bush. I made a photo for you new fool (sorry) if you decide to go there yourself without a map or other tools. Ismael had a machete and cut the branches to make the passage visible.
He continued to walk up with me, until we got to a ridge with great views along the northern coast, and not so great views in the direction of Anaga mountain (it was in clouds, as usual!). So I thanked him, wanted to give him 10 Euro to have a drink, I felt he deserved them, he saved my day. But he firmly rejected. I asked for the name. Ismael. [Did you know, the meaning of the name is 'God listens', I searched on the Internet for it]. We shook hands, I continued up, he went back to the farm.
Ismael saved my day, and he made my day in the same time. I was touched, and I am still now while writing this text. So what to say, thank you Ismael, you are one of the best ambassadors which Spain has ever had.
Through Pijaral
English is not my native, I cannot possibly describe the feeling of going through the forest. So in simple terms, the route was very steep, the path almost invisible at many places. I had to crawl under fallen trees at many places, and my legs are full of scratches of thorny brambleberry (blackberry) plants. And I was in clouds, literally. Everything was wet, so I became totally soaked very soon.
It was windy, clouds changing all the time and moving fast. So visibility was changing as well. From my personal perspective, it was impossible to know where I was, and which destination I was heading to. Keep going was the only option, with all difficulties in finding the path through the fern around.
But folks, do not understand me wrongly, I did not mind it; you would not as well if you were there. It was great! The temperature was still pleasant (around 24 centigrade according to my watch, above 30 at the south coast in the same time).
Pijaral area is a natural biosphere, and it is accepted as such by UNESCO. Great move people from UNESCO! This beauty of mountain deserves it all.
I made many photos, but no less than 70 turned out to be useless due to the wet camera. Yet some survived and you can see them here.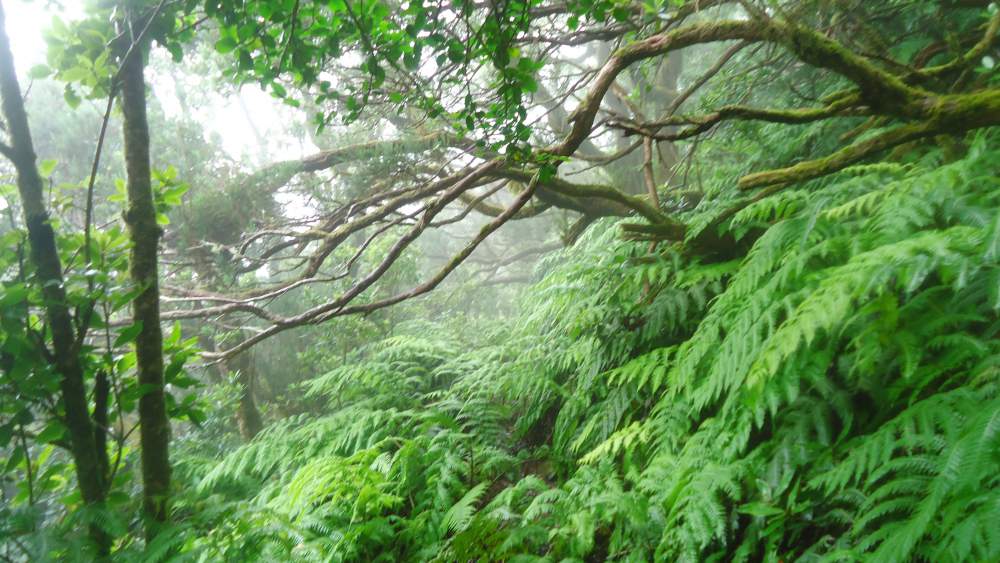 On the main Anaga mountain ridge and toward Igueste de San Andres
The rest of my story is not long. Some parts of the remaining area which I passed, I have described in some other texts (see this one and the one on Ijuana, yet another biosphere region on Tenerife), and some parts will be described in another texts that are coming.
When I reached the parking Ensillada on Chamorga road, I checked my timing and realized that I might catch the 3:30 pm bus from Igueste if I was fast.  The next bus was 2 hours after that one.  And I was fast, the remaining 8-10 kilometers were mainly descending, so I run most of the time and I think I passed them in some 75-80 minutes.
I managed to get on the bus, but hardly. I was in Igueste at the nearest bus stop exactly one minute before the bus came. Terribly exhausted but happy, I was on the cooled bus back to Santa Cruz. What a day, unforgettable.
But wait, there is more.
The man with papayas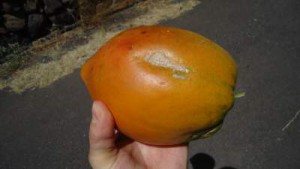 Before reaching Igueste, I was passing in a great speed by some small houses along the valley (some sort of running, if I may use this term for my physical conditions in that moment). There was a man, coming from a garden, with several papayas in hand. I have been buying them in supermarkets but I have never seen the papaya tree before.
So I stopped and asked him: "Is this papaya tree?" by pointing to the plants near the house. He confirmed, but not only this: he handed me one of the papayas! Here it is in the photo.
Equipment
You do not need any special equipment to do this route. Here is a short summary:
---
I am emotional while writing this text: touched by the beauty of nature and of human souls. Thank you Tinerfeños [this is Spanish for inhabitants of Tenerife].
If you plan to go there, just to know that you can do your accommodation reservation through Booking.com. I have used their services many times in the past and can fully recommend them. There is a comment box below, say something if you wish, I shall be happy to read.
Here is some more about Anaga area:
---
Here is a YouTube video on the walk through Pijaral:
---