---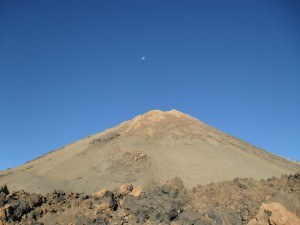 Teide mountain is a national park at Tenerife island, with more than 3 million visitors per year. The mountain (3718 m) is huge for such a relatively small island. It raises from Las Cañadas caldera which is around 2000-2200 meters high.
To climb the mountain you need to apply for a permit and this can be done directly through this link. It is free of charge.
With such a permit you are supposed to go through the checkpoint at La Rambleta (3555 m) within a 2-hours interval (9-11, 11-13, 13-15, 15-17). Therefore it is necessary to plan your climb properly.
[Atahualpa Yupanqui: La pobrecita (zamba)]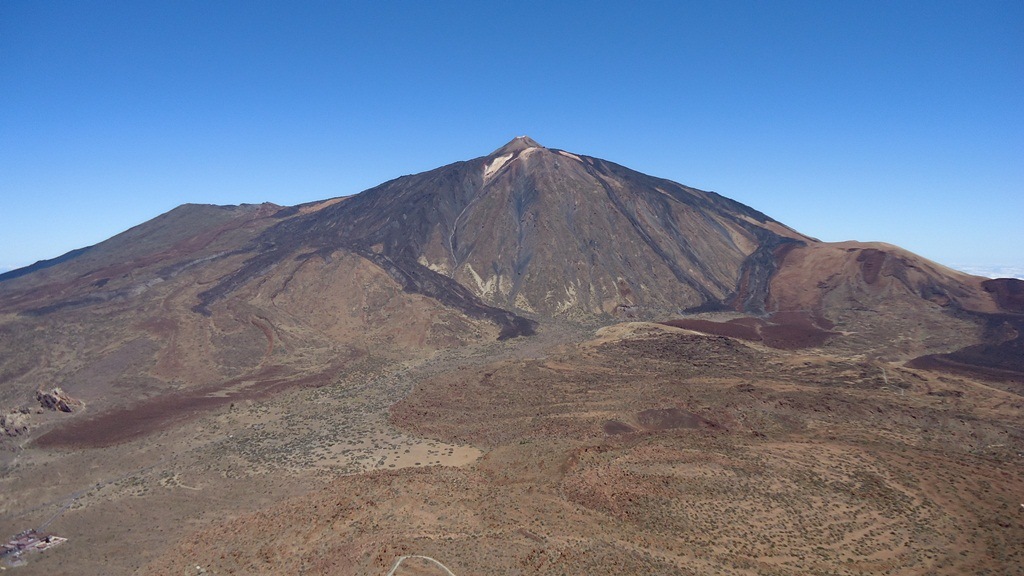 Just while writing this text (January 3, 2015), I checked about permits and realized that the mountain was officially closed due to icy conditions on the summit.
Below is Google map with access roads and geography of Teide:
There are several roads on the island which lead to Teide area. The shortest and most convenient is the north approach from Puerto de la Cruz. You will drive for about 40 kilometers, first through exceptionally beautiful pine forests, and then over a large flat plateau which is with very little vegetation.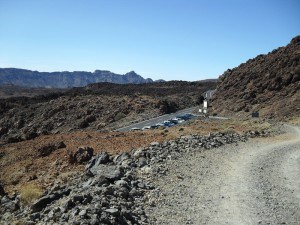 The climbing route starts from the car parking on the road, at around 2350 m. There is also a regular bus transportation from Puerto de la Cruz to the hotel Parador which is at the foot of Teide, in Las Cañadas caldera.
However, the bus line is convenient only if you plan to stay the night at the refuge Altavista and to climb the rest of the route next morning, or to get to Teide by the lift to La Rambleta and then to walk the remaining simple part to the summit.
Below are some of my photos from two earlier climbs:
If you plan to climb the mountain overnight and to enjoy the sunrise in the morning, there will be nobody there to check for your permit. I did it twice that way. Frankly speaking, I am not sure if this was completely legal.
In the beginning, the route is a pleasant wide road through a volcanic landscape. You will continue that way for about 90 minutes till the altitude of 2720 m. From that point, it becomes much steeper footpath zigzagging towards the refuge Altavista at 3260 m. The route above the refuge is through lava rocks; it is well maintained and you will only have to cope with the altitude effects.
At some point you will arrive at the place where permits are checked, this is where the route from the lift 'teleferico' joins your path. From there it is a very simple walk to the summit.
As for equipment, all you need for this mountain are comfortable walking shoes for very hard lava terrain and warm clothes if you do overnight climbing. I also warmly recommend having a pair of walking poles.
Regarding accommodation, there is a hotel Parador at around 2200 m with the car and bus access,  and the refuge Altavista (3260 m) on the climbing route described above. The information about the refuge you may read here. If you stay the night in Altavista you will not need any additional permit to climb Teide, it is included.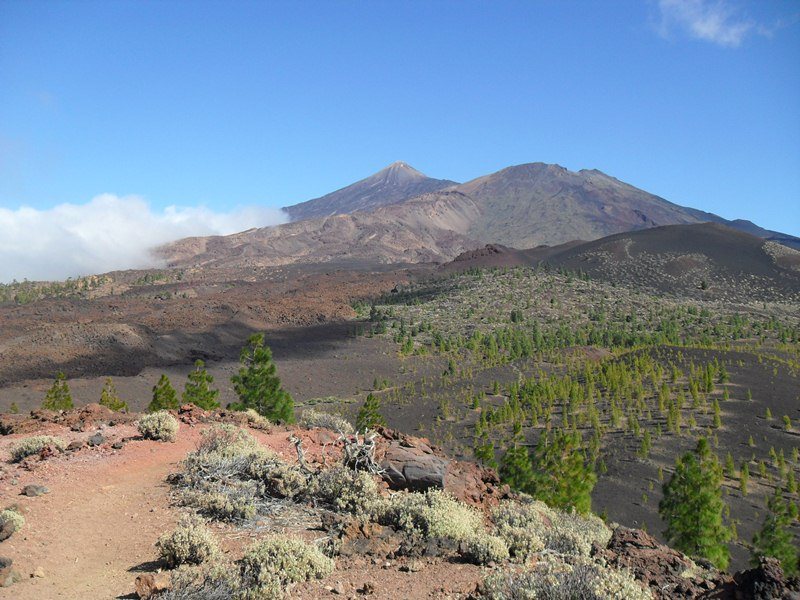 Some people climb Teide directly from the sea level. This is a challenge indeed, you will have to walk all 3718 m. The route is presented in the map below [courtesy of Wikiloc]. There is also video which I found on YouTube (at the end of the page) about this adventure.
My climbs to Teide

So far I climbed Teide five times;  4 times solo and once in a group of 6 people. My solo climbs were in November 2009, in June 2012, in July 2015 and October 2015. Currently, I am living on Tenerife and this last climb is described in this post.
The beginning of my first climb in 2009 and how I was stopped by police,  I briefly described within this site here. This was a solo, night climb. The idea was to be on the summit at sunrise to catch a shadow of Teide across Atlantic.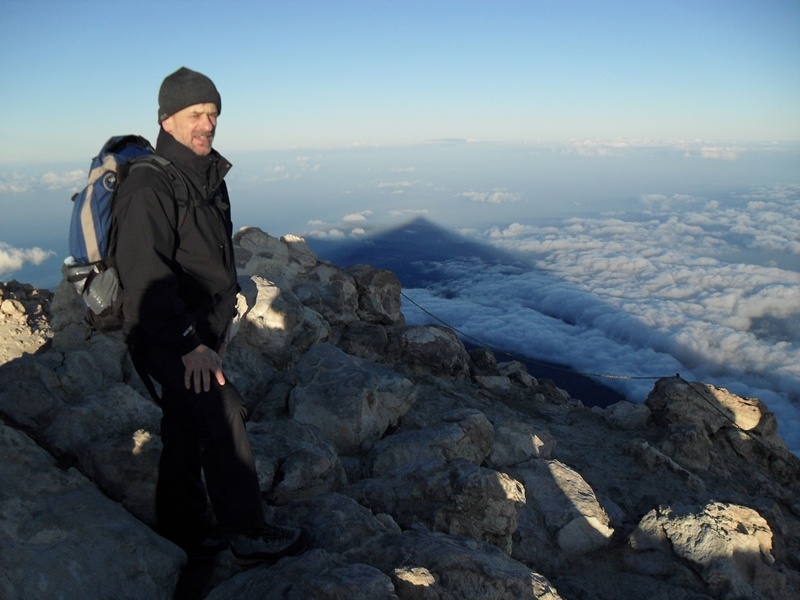 I started from Puerto de la Cruz by car after 1 am, with rain and through clouds above Orotava. It was very cold at the car parking, almost like freezing. However, I was already above the clouds and had a completely clear sky, with full Moon included. There was no need to use a torch.
I started at 2:45 am, there was nobody around all the way up to the refuge Altavista (3260 m). I was at the refuge at 6:15 am, and made a short break there as I was very tired and sleepy. A few guests were already up preparing to go to the summit.
I continued and arrived at the summit at 7:45 am. There was only a young couple from Austria there, they have spent the night at Altavista. I was late for the sunrise, for that day it was at 7:20 am. So, not much of a shadow of Teide to capture.
It was very windy, the young couple left after 10 minutes, and I myself did not stay much longer. I descended the same way, and only then I was able to see the landscape I was climbing all the night. I was at parking just before noon. My main impression after all was a truly fascinating sunrise, never seen on mountains so far. I was carrying 2 liters of water and spent it all.
My second climb was in 2012, just a few days before the summer solstice. This was a solo climb again, and the same way, from Puerto de la Cruz, night climb. I started from the car parking at 1:30 am. During the night I only met two people below Altavista refuge. They were descending in unusual time, at 4 am, because one of them became altitude-sick at Altavista and they descended right away.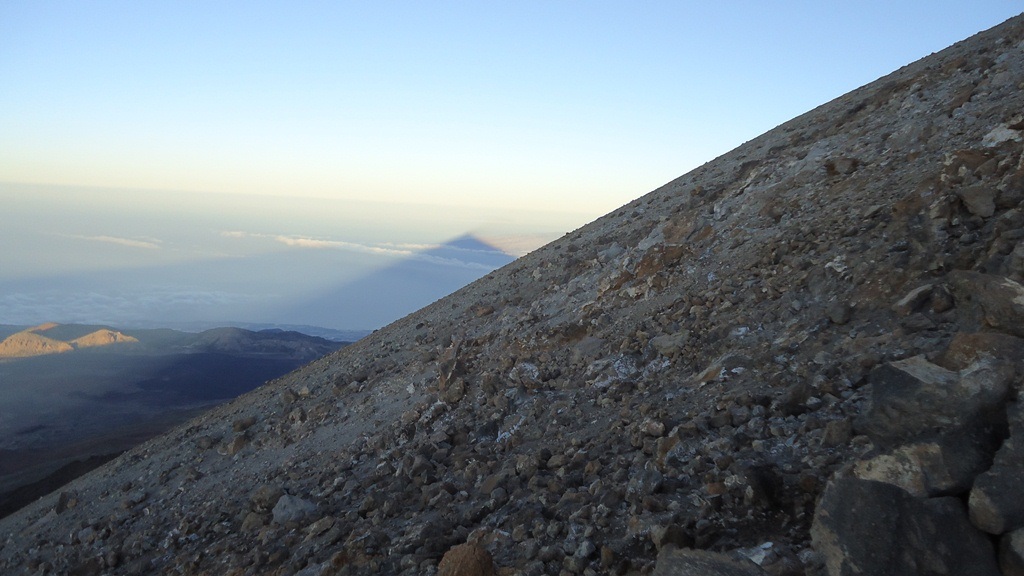 I passed Altavista hut at 5:30 am, but my further progress was slow, and I arrived totally exhausted to the summit again at 7:45 am. It was again late to catch the full length of the shadow of Teide. My disappointment was complete.
This time I could smell much more sulfur in the air, I guess because it was less windy. It was again very cold night, with temperature probably around zero. About my third climb, you may read in this text. And here is my fourth climb, again solo and overnight.
---
So Teide is a demanding mountain, although this is just a non-technical walk-up. It reminds me very much of Mt. Fuji which I climbed before. You may read about this experience within this site as well. Note that Teide it is only 58 meters lower.  I could warmly recommend it to everybody. But do prepare before going there, and please leave your comments below regardless if you have been there or not.
If you plan to go to Tenerife, just to know that you can do your accommodation reservation through Booking.com. I have used their services many times in the past and can fully recommend them. Did you know that they have their Genius Loyalty Program, so you can save a lot if you book through them several times.
I hope you like the text. If this is so please share it with others, and do leave me some comment below. I wish you a pleasant day.
---
Here is a video from YouTube about Tenerife and Teide, I am sure you will enjoy it:
In this video below you will see climbing Teide all the way up from Playa Socorro, from the sea level. You will walk all 3718 meters to the summit, and yes on the summit you will mix with tourists who came by cable car.
These two videos below are geological stories and they show how Tenerife island and Teide mountain are formed: