---
The Sierra Designs 2 Person Queen Camping Air Bed Mattress is inflatable, incredibly thick, exceptionally affordable, and with a battery-operated pump included.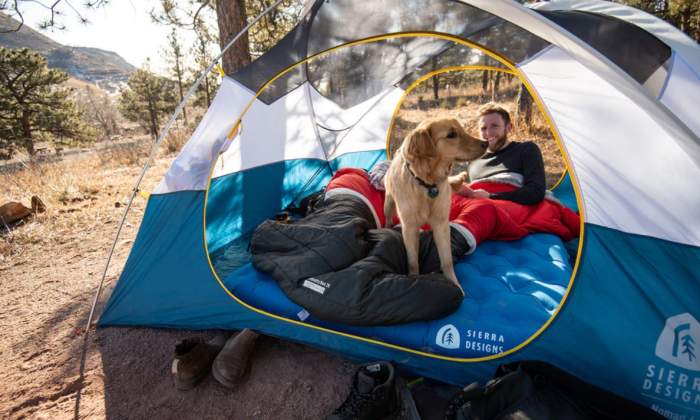 ---
Key features & benefits
Inflatable sleeping pad.
Battery operated pump included.
Queen size space for 2.
Enormously thick.
Incredible price.
---
What this is about
This is an inflatable double-size sleeping pad, or more precisely queen-size. I would start with its thickness because this is probably its most impressive feature.
You have 7 inches (17.8 cm) to separate you from the ground, and at the head side, there is an eleveated head incline which they call integrated pillow, see the picture below. The thickness here is 10.2 inches (26 cm). So I guess you do not need any comment here.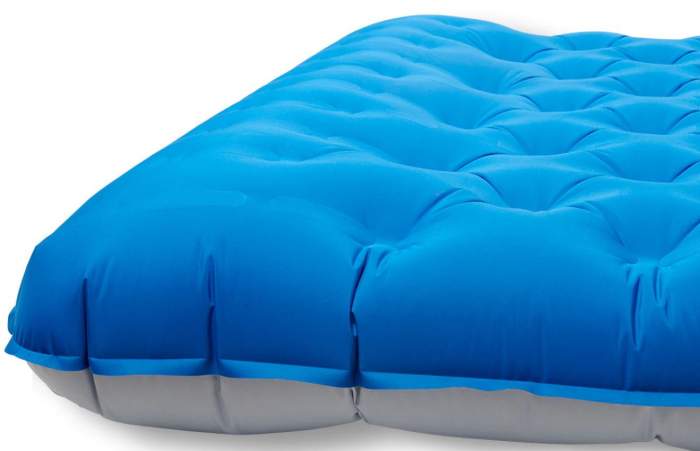 So this pad is even thicker than ALPS Mountaineering Oasis Air Pad. Obviously, I had a great reason to include it in my list of very thick sleeping pads for camping.
For such an inner volume you need lots of air, so they have included a battery-operated pump (4-D batteries not included) shown in the picture below. You can see also the pad packed in its carry bag.
The pad is equipped with one dual-use inflating/deflating valve shown in the picture below. It is not really a low-profile but it is on the narrow side of the pad so its shape is not so important.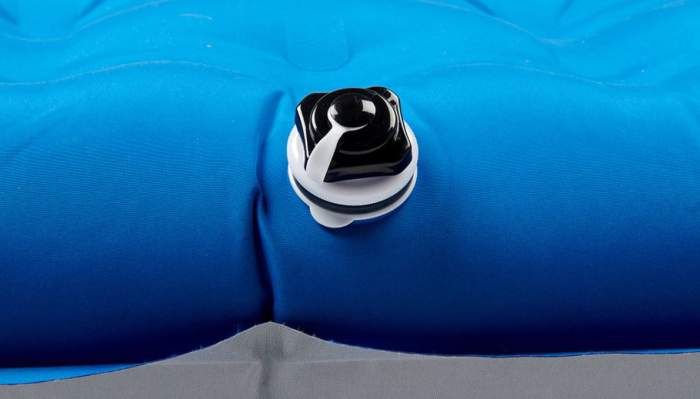 Materials
They claim this is PVC and Phthalate-free air mattress. So you have a TPU coated stretch-resistant, and abrasion and puncture-resistant material.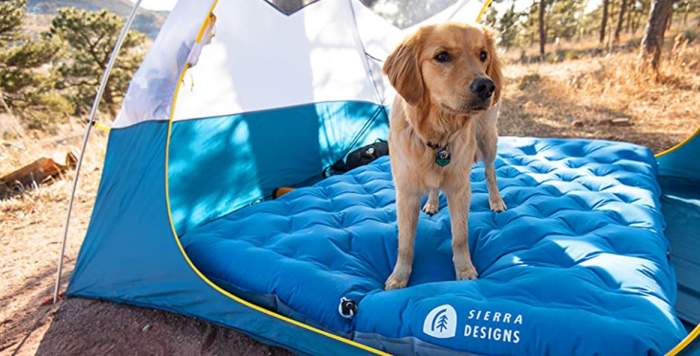 From the pictures, you realize that there is some coil structure inside that gives stability to the pad, but they did not provide details about this.
They do not provide info about potential R-value, but the mattress is not insulated. With so much air inside you can expect some insulation, my guess is it should be in the range 0.6-0.8 R-value, but do not take this as a fact.
By the way, the pictures show the pad used in their tents from the Nomad series, just to know if you are curious about this. 
---
Who is this Sierra Designs 2 Person Queen Camping Air Bed for
Regarding the size, I guess it is enough to see the picture below to realize what you have here. But if you love numbers, the bed is 77.9 x 55.9 inches (198 x 142 cm). You have already seen its thickness, so the numbers are impressive for a camping mattress.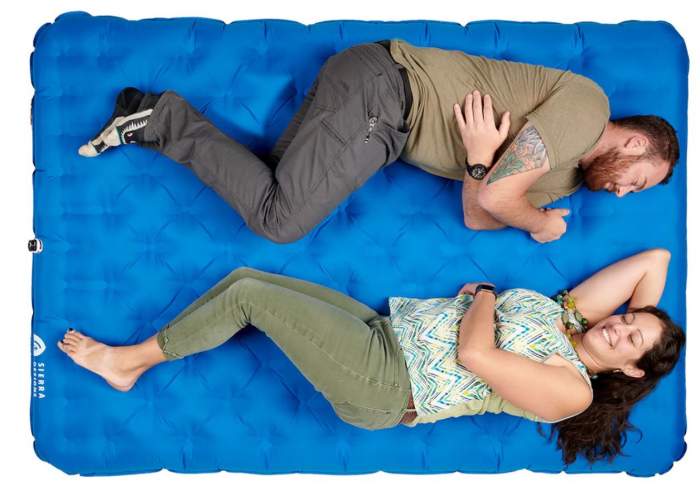 With such a size and thickness it is great for couples and for any sort of sleepers. The mentioned headrest may be good enough if you sleep on your back.
Regarding the weight, this is clearly a camping mattress. You would not want to carry a pad that weighs 6.07 lb (2.75 kg) but it can be described as reasonably lightweight. But if you need something for the trail, check some of these ultralight sleeping pads for backpacking.
Regarding seasons & insulation, this is a pad for the warmer part of the year, for up to two seasons maximum. 
Regarding the price, it is simply incredible to find a double-wide pad from such a globally-known brand with such a price tag.

---
Specifications
Weight: 6.07 lb (2.75 kg).
Dimensions: 77.9 x 55.9 in (198 x 142 cm).
Thickness: 7 in (17.8 cm).
Thickness at the head: 10.2 in (26 cm).
Warranty: 1-year warranty.
---
Final thoughts, rating, pros & cons
So this Sierra Designs 2 Person Queen Camping Air Bed Mattress is indeed a great value for the money. It is very large and incredibly thick, perfect for couples. The included battery-operated pump adds value.
You can use it for camping or as a spare bed at home for sudden guests and for any emergency situations. Fully recommended. I have included it in my list of best inflatable sleeping pads. 
Please see how I rate this sleeping pad against my usual rating criteria:
For more options, please check under the category Sleeping Pads, you will find the best what is available on the market. Let me know if you have questions, there is a comment box below. Subscribe to my weekly newsletter and stay informed, the subscription form is below. Thank you for reading and have a nice day.