---
Pizzini hut (Rifugio Pizzini, also known under the name Pizzini-Fratola hut)  is at the altitude of 2706 meters. It is nicely positioned in the large Cedec valley, with a comfortable access road for a walk from Rifugio Forni, and with numerous other walking paths that converge at the hut.
[Duduk-Menag Jamport Em-Yes Kez Tessa]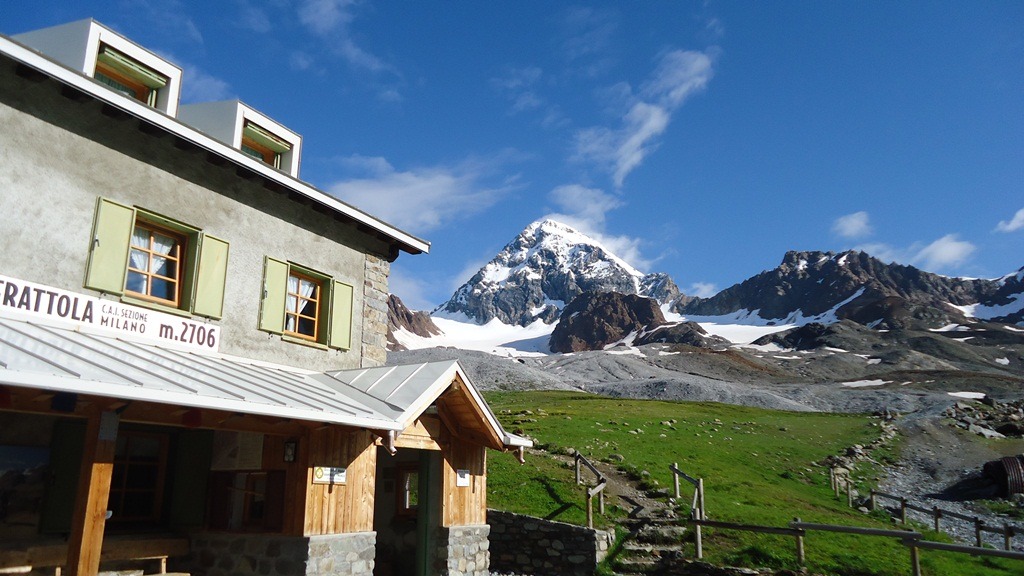 The car access from the direction of Bormio and Santa Caterina Valfurva is till the Forni hut (which is a kind of an alpine hotel rather than a hut, at around 2140 m),

While the only road to the hut is from the village S. Caterina, the village itself can be reached from Ponte di Legno, the south approach over Gavia pass, or from Bormio in the northwest direction.
The road from S. Caterina to the car parking at Forni hotel is rather narrow and it can be difficult in the case of some heavy traffic. It is a mountain road and perhaps not for the beginners.
Pizzini hut is a perfect hub for climbing and hiking. The hut is in the shadow of mighty Gran Zebru (Konigspitze) and it is the best starting point for climbing this gorgeous mountain.
We visited the hut in August 2014. There were three of us, my daughter Jelena, her boyfriend Tibor, and me. Our plan was to go all the way up to Rifugio Casati (3269 m), and to climb Suldenspitze. So this was supposed to be a rather long and demanding tour and we started rather early.
Probably due to this early start, there was nobody all the way up to the Pizzini hut. We followed the road, saw a few marmots enjoying the early sunshine, and at some places, we navigated between cows who were grazing around and walking on the road. Within two hours we were at the hut.
From Pizzini hut, we had a clear view of the steep mountain route toward the Casati hut. But the mountain was still under a lot of snow. The guardian at the hut told us (Tibor is fluent in Italian) that it was doable. So we continued in the same direction, at least to see the situation from a more close point, but soon we realized that the first impression we had from the hut was correct.
The plans had to be changed, we did not carry crampons, and Jelena's shoes were not waterproof. We were not prepared for this, so we started going back in the direction of the Pizzini hut.
The weather conditions were not optimal, there was a good chance for rain, but still Jelena suggested that we try getting up to the Zebru pass (3005 m), which raises in the northwest direction above the valley and above the Pizzini hut. We could see some groups of climbers moving in that direction.
The pass in fact contains two passes with routes connecting the Cedec valley with Zebru valley in the north, hence the name Passi di Zebru. Some maps show a hut on the pass but it is good to know that it is not there any more. So we decided to tackle Passi di Zebru and started our ascent without getting back to the hut. The route to the pass is nice but far from easy, the altitude takes its toll. Nevertheless  we managed it, and here are a few photos showing the atmosphere on the pass:
After staying for a while at the pass we descended to Pizzini hut and took a good rest. The place is pleasant, they offer good food and various sorts of drinks, there is a toilet with running water in the basement.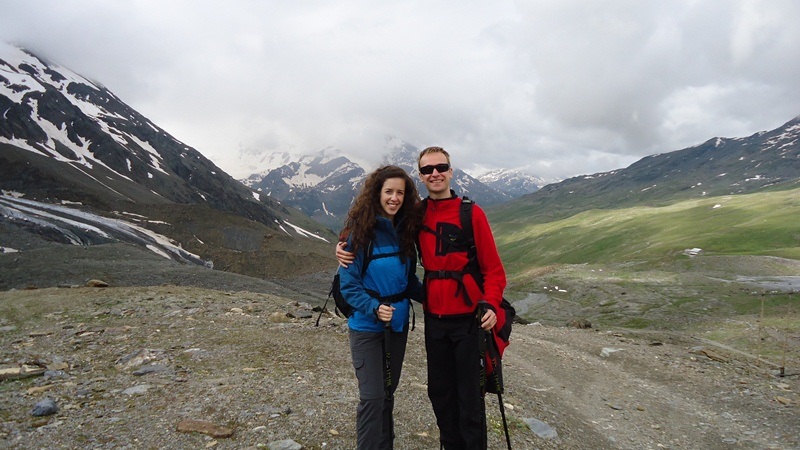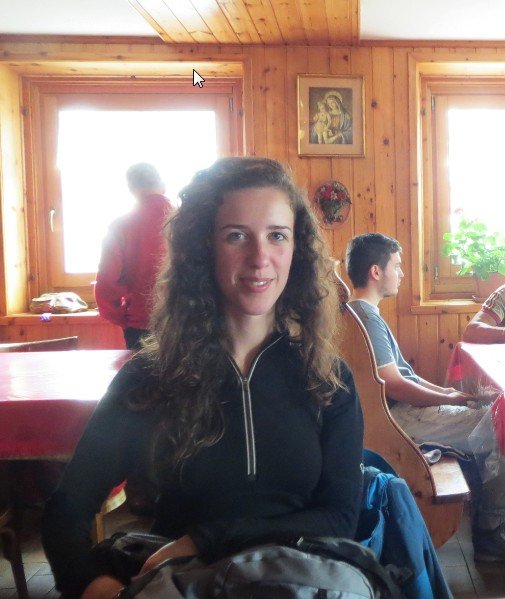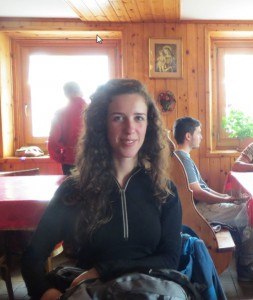 There was a good apple pie and here you see Jelena's happy face after trying it. Tibor was the cameraman,  and he made this photos while enjoying a full meal. Later, we descended by following a pleasant path which was much higher above the road we used in the morning.
We had rain on the way back, but we had some waterproof stuff and did not care too much. There were a lot of people around all the way down.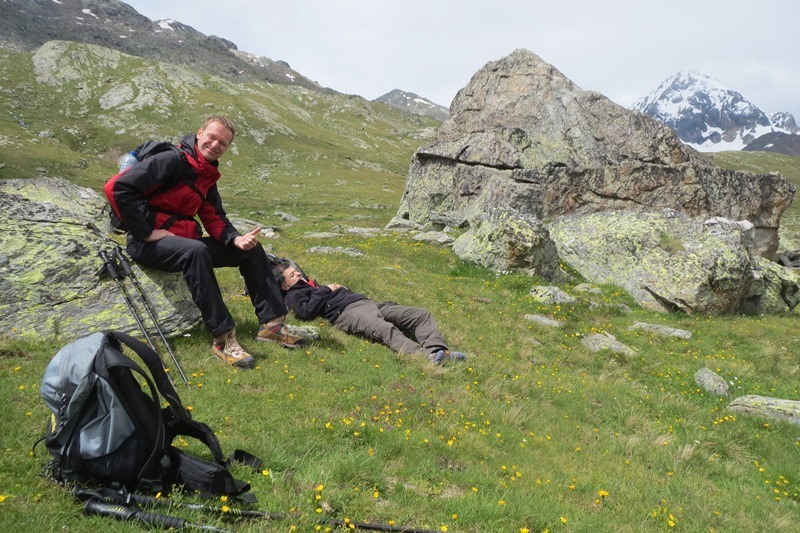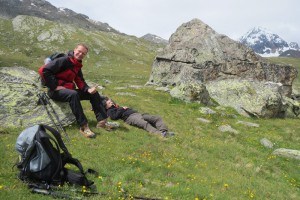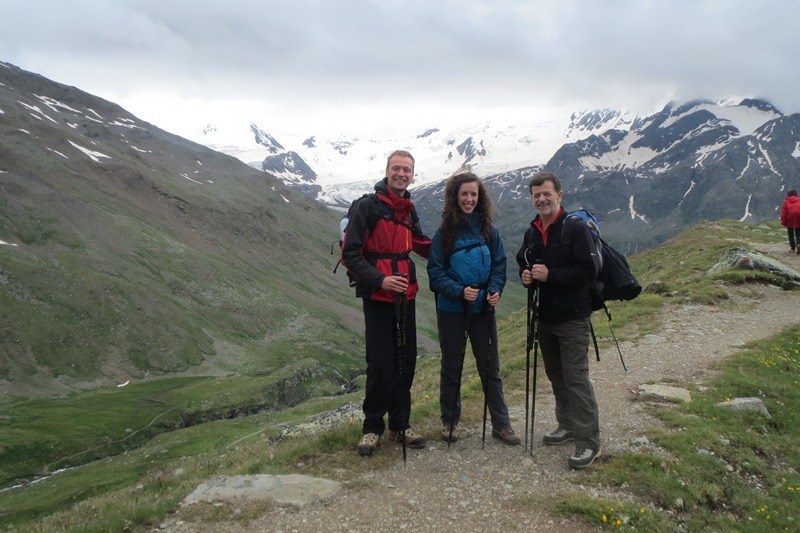 This was an all-day tour, demanding by all means, we reached over 3000 meters after climbing the height difference of more than 840 meters. But we enjoyed every moment of it. Happy faces on the photo above only confirm this.
---
I can recommend this tour to anybody. Even if you do not go any farther from the Pizzini hut, you will have a great day in nature and in an incredibly beautiful environment. In view of our own experience, if you plan to continue to Casati hut it is good to heavy any kind of crampons in the rucksack. We were in mid-summer and obviously we needed it.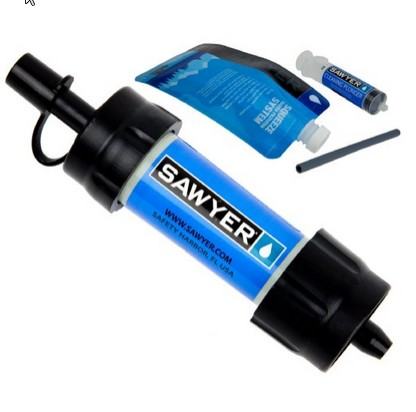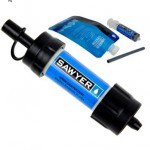 Crampons are usually a heavy peace in your rucksack so at least some kind of G4free%2012-Teeth Ice/Snow Boot Shoe Covers Spike Cleats Crampons Gripper Climbing Walking Outdoor
" target="_blank" rel="noopener noreferrer">crampons which can be used with any kind of mountain walking shoes.
Regarding water, at around half-way up to Pizzini hut, there is a water source with drinkable water. And you may get it at the hut as well. If you are choosy in drinking water outside, perhaps it is a good idea to have some See here how it was later in the same area when I visited it again.
Equipment
You do not need any special equipment to do this route. Here is a short summary:
---
Accommodation:
There are many possibilities for renting apartments in the nearby valleys. This is an area popular both in summer and in winter. We rented an apartment in Bormio through Booking. com. I have used their services many times in the past and can fully recommend them.
Please leave your comments below, we shall be happy to read them.