---
Piz Umbrail is a mountain which rises above Umbrail pass (2501 m) in the northwest direction. In spite of its 3033 meters of height, the car access to the Pass makes this peak one of rather easy 3000ers. Here I describe the route from the Umbrail pass.
[Marcello – Oboe concerto]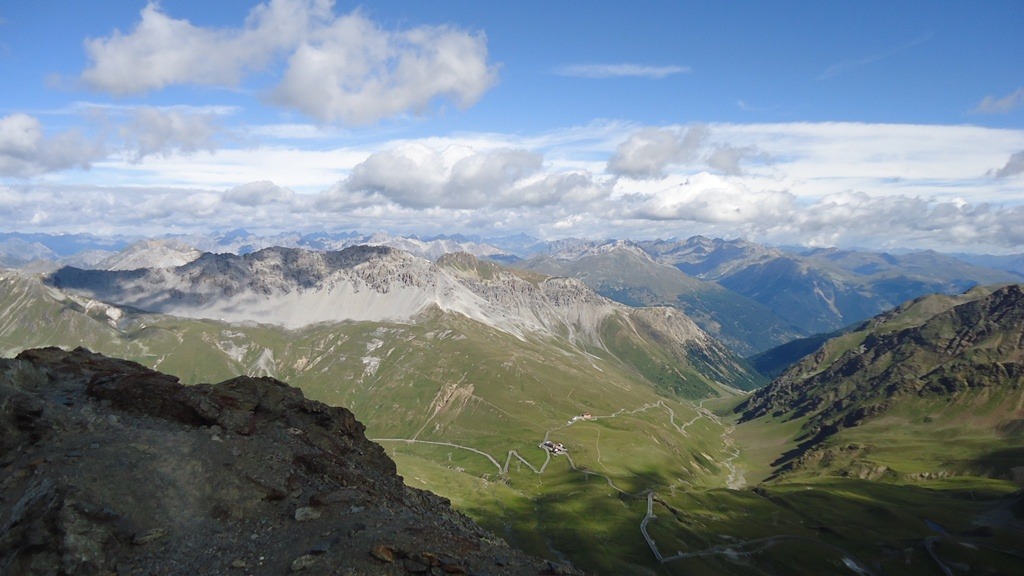 Piz Umbrail is at the border between Italy and Switzerland. The official border crossing checkpoints are at the Pass, and you will normally park the car in the zone between the two checkpoints. As far as I know the Swiss checkpoint is closed during the night, after 8 pm.
The coordinates of the mountain are:
Lattitude: 46.55101
Longitude: 10.4174
It is just a few kilometers from Stelvio pass (2757 m), and access roads are from three sides. Two are from the Italian side, over the Stelvio pass, and from Bormio, and the third one is from Val Mustair in Switzerland. I have passed all of them several times and they are truly the most attractive roads in Europe. The road over Stelvio pass is always on the Internet in the top 10 roads in the world, an attraction for itself.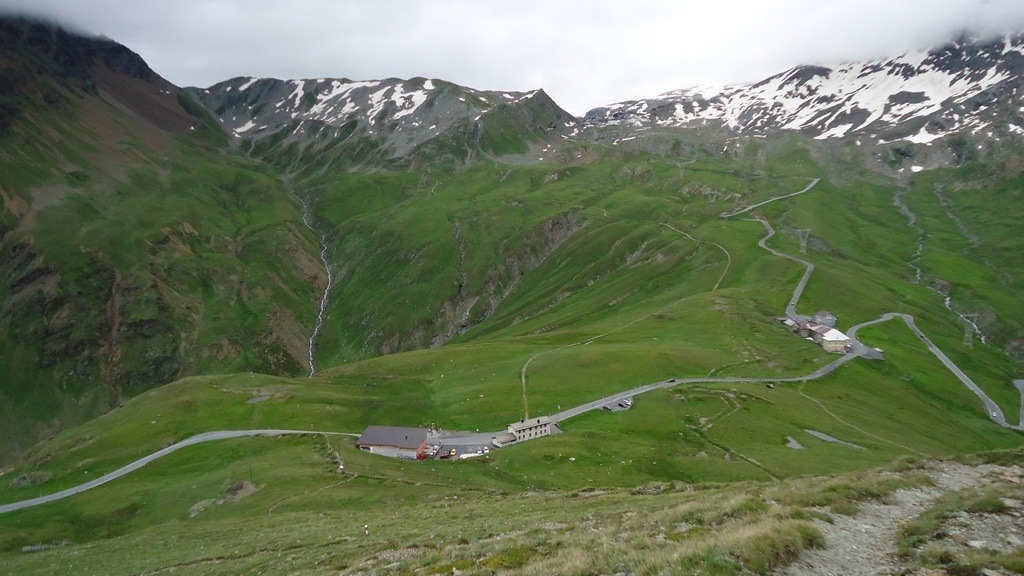 Equipment
You do not need any special equipment to climb this mountain. Any hiking shoes or boots will be good enough. I warmly recommend using a pair of trekking poles. Here is a short summary:
For the clothing in the Alps in general, please see my another text.
---
My climb
I climbed Piz Umbrail in 2014. My first attempt together with my daughter Jelena was unsuccessful because of rather bad weather conditions. It was a long drive from Belgium, and as we were passing over Stelvio we wanted to climb the mountain, but we had to give up.
One week later I was there again, and the weather was good one afternoon, so I climbed it from Umbrail pass. It was the same day after climbing Monte Scorluzo, described here within the site, with my other daughter Ivana, and Iani and Mitsuo.
I climbed Piz Umbrail alone, the others decided to enjoy attractions at the Stevio pass. The route is simple, just a walk-up, though at the summit I was completely in clouds, just a few meters visibility. It took me 1 hour and a quarter from the pass. At a few places, there are some fixed chains but those are really not necessary. In one section there is a possibility for falling stones in case of strong rain, so it is best not to stay there too long. This section is on one of the photos below.
So Piz Umbrail can be climbed by anybody, as you may see from the videos I found on the Internet. If you pass the area, do not miss the opportunity. The mountain is usually snow-free in the summer time, otherwise, you will need crampons and an ice axe. But if you want to read about equipment, you may have a look on my separate page within this site.
There are hotels around, and you can find many online. I have a very good experience with Booking. com. They also offer fully furnished apartments and houses. I have used their services many times in the past and can fully recommend them.
Please leave your comments below, I shall be happy to read them and to answer any question about this climb.
---
Here is a YouTube video about Piz Umbrail:
Here one more, the part about Piz Umbrail starts at 3:40:
---