---
This Exped MegaMat Max 15 Duo Sleeping Pad is one of the thickest and the most comfortable on the market, with an incredible insulation and a great warranty.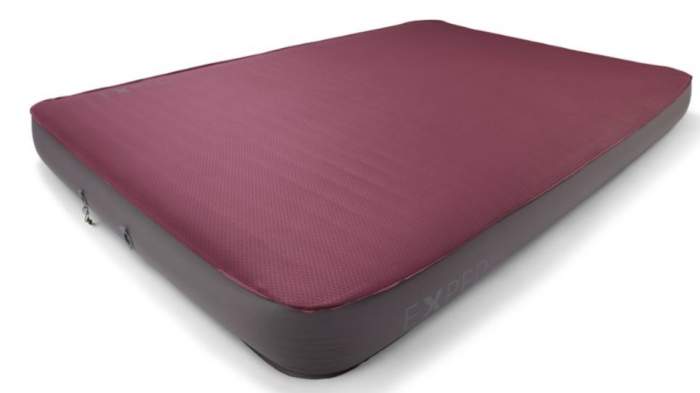 ---
Key features & benefits
Double-wide sleeping pad.
Huge R-value.
Incredibly thick.
Great warranty.
Mini pump included.
---
What this is about
If you are not new to this activity, then you surely know about the Exped MegaMat Duo Pad. So this pad is still on the market, but here you have a thicker version. The number 15 in the title is the thickness of this MegaMat Max Duo Sleeping Pad in centimeters, and this is almost 6 inches.
There are no many sleeping pads on the market with such a thickness. You will see in the video below the philosophy behind this; even if you keep the pad very soft, you will not drop to the bottom when you turn on the pad.
The word Duo implies that this is a large pad built for two users. Note that on Amazon they sell it at the same place with a solo sleeping pad the Megamat Max 15. The table below shows the parameters for both of them.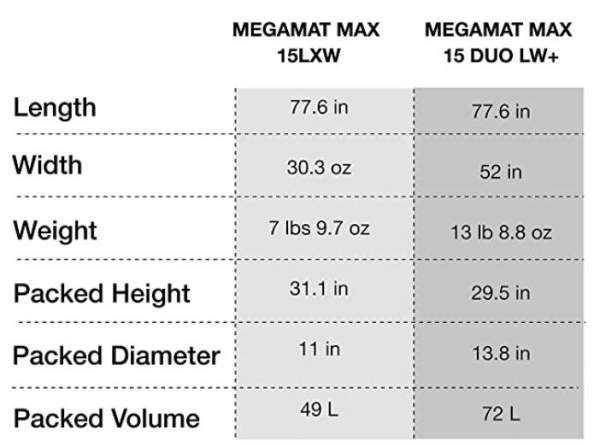 Materials & insulation
This is a self-inflating pad, and this means it is filled with an open-cell foam that traps the air inside. After you decompress the pad, the cells expand and suck the air in. So just open the valves and let the pad inflates by itself. If you need more pressure, you can use the included compact Mini Pump shown in the picture: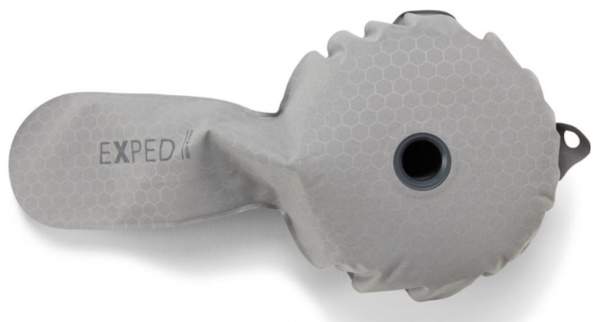 The top shell fabric is a stretch and brushed pleasant 50D Tricot nylon with a TPU polyether film laminate, hydrolysis resistant, honeycomb embossed. On the bottom, it is thicker so you have a 75D polyester with a TPU polyether film laminate, hydrolysis resistant, and Oeko-Tex 100 certified. This is about the certificate that confirms the human-ecological safety of textile products and leather articles from all stages of production. 
The insulation inside is a 16 kg/m² open-cell PU foam also Oeko-Tex 100 certified. You have transverse holes inside it that create a cradling effect. What I like here a lot is the fact that the side walls are so vertical, there is no tapering and the width is fully used.
Thermal properties
The official R-value for this pad is 10.6 and in terms of temperature rating, this is incredible -70.6 °F (-57 °C). So you will never need more. It is important to stress that this is based on ASTM F3340-18) rating, so it is as reliable as possible for sleeping pads.
Inflating & deflating tips
There are two wide but low-profile valves, one for deflation and one for inflation, see below how they look. The valve on the left is for inflation and here you can use the mentioned Mini Pump, the same valve has a pin for fine adjustment.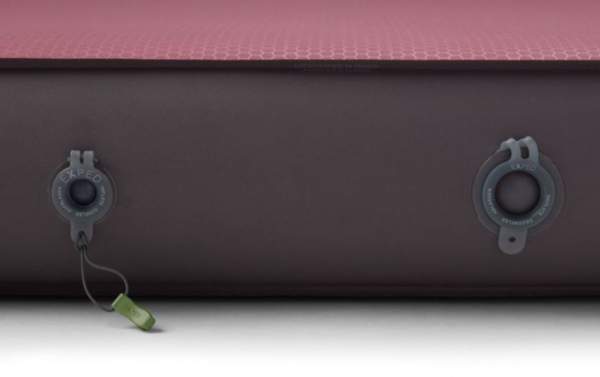 When the pad arrives, you should open the inflation valve and let it inflate. This may take more than one hour because the foam has been compressed for a long time. It is best to keep it open overnight so that the foam cells are fully restored.
To deflate, open the deflation valve and start rolling from the foot end. You can use your knees to add pressure and to force the air out. Note that the valve has built-in a one-way flap that will prevent air from flowing back into the mat.
Then unfold the mat and fold it to half its width and roll it again. Then close the deflation valve and put the pad into the carry bag. When storing the pad for an extended period of time, they suggest keeping it unrolled and with both valves open, in a dry and cool area.
---
Who is it for
Regarding the size, they describe it as LW+ and this would mean long and wide. Now, the dimensions are 77.6 x 52 inches (197 x 132 cm) so this is great, but there are both wider and longer 2-person pads on the market, see this ALPS Mountaineering Vertex Air Bed Queen Sleeping Pad as one example. Nevertheless, this is indeed a pad with enough space for two people.
You have already seen how thick this pad is, so this is suitable for anybody, if you are a side sleeper you cannot possibly need something better than this.
Regarding the insulation and best use, you have seen it already, this pad is for any weather conditions, literally. For the best use, see the weight.
Regarding the weight, well, this is a heavy thing, one of the heaviest that you will find. It weighs 216.8 oz (6.15 kg), and you will see below that my rating is very low. This is because I use the same criteria for all the pads so you can easily compare. But this is not a pad to carry anywhere, so you can simply ignore the weight.
Note also that the packed size is (L x D) 29.5 x 13.8 inches (75 x 35 cm), so you need a car for transportation, see the picture of how it looks in its top-loading roll-top SideWinder stuff sack. Note that it fits easily inside.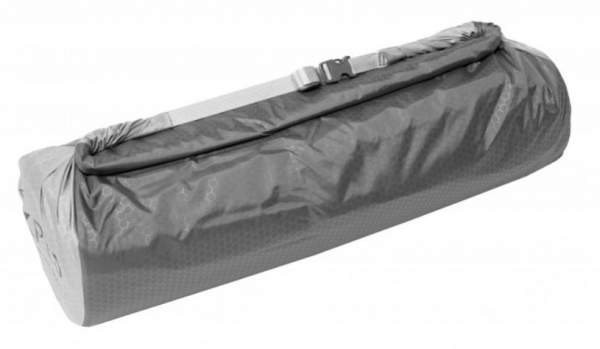 Regarding the price, this is not a pad for people on a budget, but if you can afford it you will have one of the best pads available on the market.

Please see more in this video:
---
Specifications
Weight: 216.8 oz (6.15 kg).
Temperature rating: -70.6 °F (-57 °C).
R-Value (ASTM F3340-18): 10.6.
Thickness: 5.9 in (15 cm).
Dimensions: 77.6 x 52 in (197 x 132 cm).
Packed dimensions (L x D): 29.5 x 13.8 in (75 x 35 cm).
Warranty: 5 years.
---
Final thoughts, rating, pros & cons
The manufacturer describes this Exped MegaMat Max 15 Duo Sleeping Pad as "shockingly comfortable" and they are not far from the truth. You have a very pleasant and soft stretch material, vertical sides, and air-core channels inside. With its overall size and weight, this is a pad that should be used at places with a car access or as a basecamp bed. But it is perfect also as an extra bed for sudden guests.
The valves are extra large and easy to use, the pad will self-inflate, but they have included a pump to add extra pressure inside when needed. This is an expensive product but definitely worth the investment, fully recommended. It is included in my lists of best self-inflating camping pads, best cold weather sleeping pads, and very thick sleeping pads for camping.
This pad does not score well in some rating criteria, but they may be unimportant to you, if so just ignore them:
Please check under the category Sleeping Pads if you need more options. You will find many double-wide options. Bookmark this site and visit it again, this will keep you informed because we add texts here on a regular basis. Thank you for reading and have a nice day.