---
The Deuter Aircontact X Backpack is an incredibly well-built and functional pack for heavy loads, and likely the best pack they have ever built. But it is itself very heavy and also very expensive.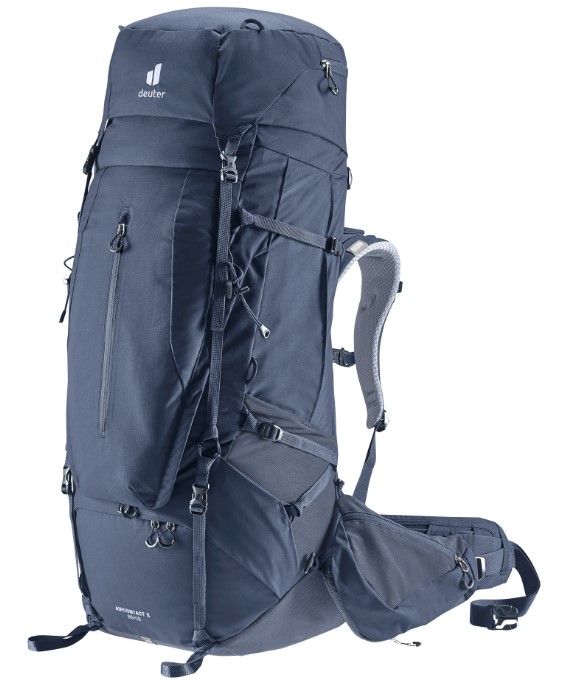 ---
Key features & benefits
Expandable collar for extra volume when needed.
Floating lid.
Three access points.
Adjustable torso length.
Pivoting hip belt.
Auto-rotating shoulder harness attachment design.
Many pockets.
Removable hip belt pockets.
One expandable hip belt pocket.
Day pack included.
Rain cover included.
---
What this is about
This text is about a new series of Deuter Aircontact X backpacks, there are 6 of them in total with the same features but with different volumes. You have Aircontact 60+15, 70+15, and 80+15 packs in this series.
But these also are gender-specific packs, so there are three separate packs for women, with the letters SL in the name. Their functionality is completely the same.
Deuter has always had Aircontact backpacks, and currently they have 5 different sub-groups under the common name Aircontact. So this new X group is one of them.
I have been using Deuter's packs for two decades already, and I am pretty sure that these Aircontact X packs are the best they have ever had under the name Aircontact. They could also be the best packs this brand has ever built in general.
Overview of features
I have described some of the features of these packs in my previous comparison texts. In one of them it is compared with Osprey UNLTD packs, and in one you have its comparison with Deuter Aircontact Core packs.
Three access points
So this is a pack with a classic top loading and you have an expandable collar that gives 15 liters of extra volume when needed. This explains the number +15 in its official name.
To use this feature, you have a floating lid shown in the picture. This means you can raise it to accommodate for extra load. It is also completely removable.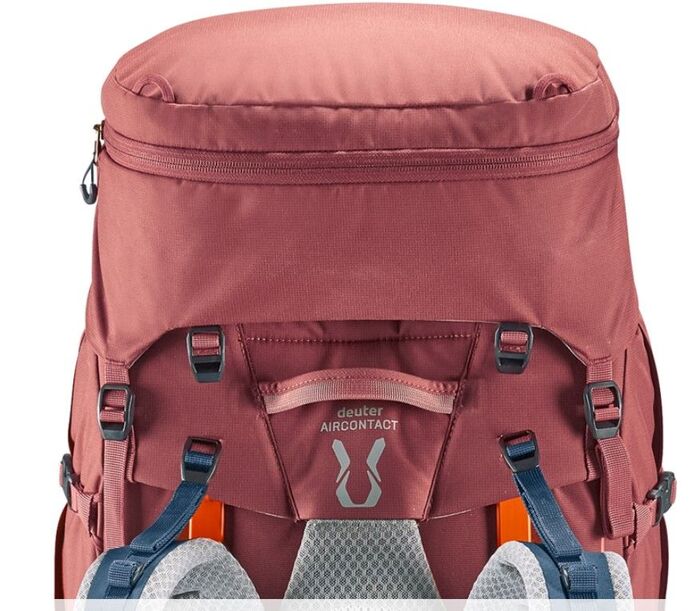 Observe that the pack has two positions for the load lifter straps, this you need when you expand its huge collar. The picture also shows its strong carry handle, lid attachment loops, and the lid top pocket.
You also have a bottom zippered compartment shown below. It is equipped with an inner divider. But note that this is just a shelf with toggles, so atypical for Deuter.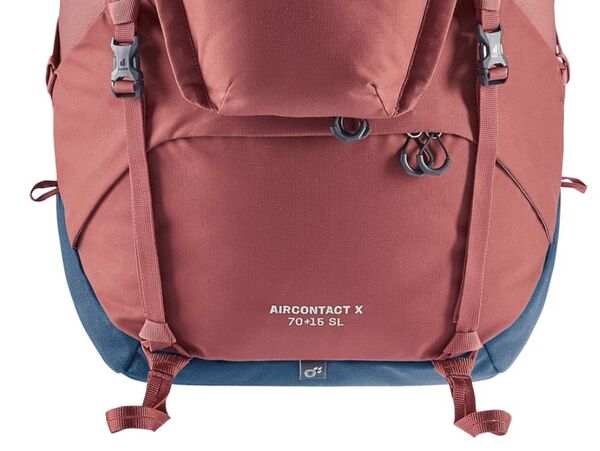 In addition, this pack is equipped with a large front zippered access with an U-shaped zipper. The picture shows how this looks when unzipped. Observe that this zipper is with a thick flap that protects it from the rain, so this adds weight.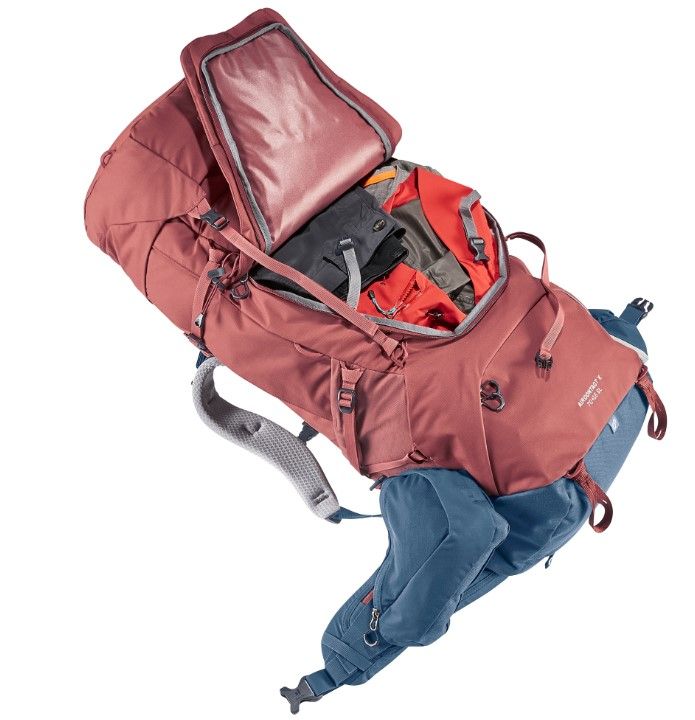 Suspension system
This is a pack with an inner steel frame with very wide and strong stays (you can see them in one of the pictures above, they are orange in that particular pack). Below you see how the harness looks, and the back panel with its completely unique design.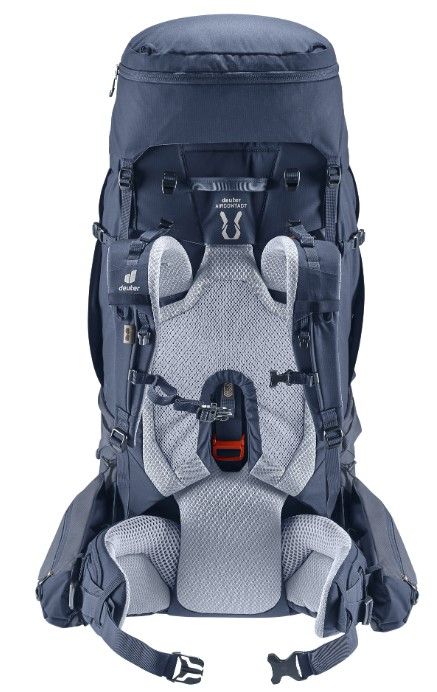 The shoulder straps are comfortable to wear because of their movable and ergonomically shaped Active Fit structure, and it is with soft-edge finishes. This means that the attachment of the harness is not rigid, so you have an auto-rotating system here and the pack works with the body and not against it.
The torso length is adjustable here, and this is what they call the VariSlide System. It is very easy to use, and below you see how it looks, it is in the opening in the center of the back panel. Observe also the adjustable sliding sternum strap.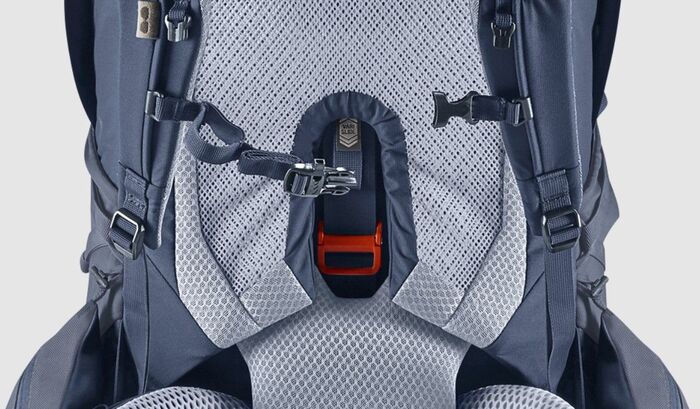 The lumbar padding and the hip belt padding are truly massive, you get the idea from this picture below. The front belt straps are pull-forward type. The hip belt is with what they describe as the VariFlex System, which means that it is not rigid, it is designed to move with the body. So this is a fully pivoting system.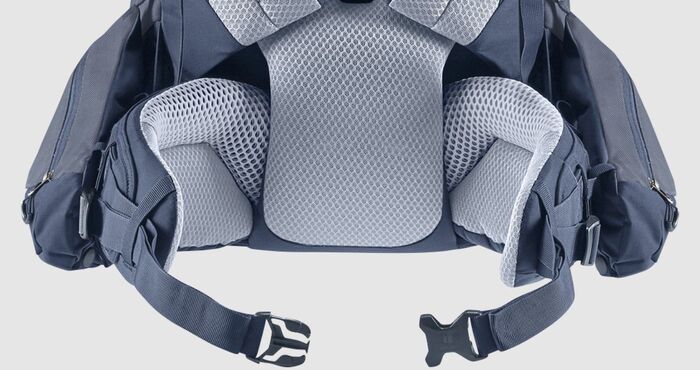 Pockets
If you visit Deuter site, you will realize that they write about 3 outer pockets. So something is truly wrong with this brand, and this is not the first time that I claim this. This is not the only inaccurate information there.
In fact, these packs have no less than 10 + 1 pockets, and they include the following:
You have two upper zippered side bellows pockets. These are rare nowadays, but they have it also in their Futura Air Trek series.
There are two removable hip belt pockets. The picture below shows them detached from the pack. These are the largest hip belt pockets I have ever seen. In fact, they might be too large.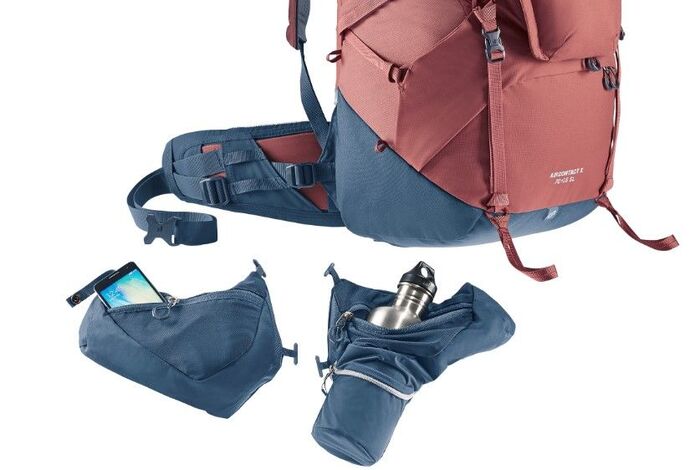 Note also that one of the hip belt pockets is expandable. It is shown in the pictures with a water bottle in it. This is a completely unique feature that you have only in these packs, and also in the largest packs from their Deuter Aircontact Core series.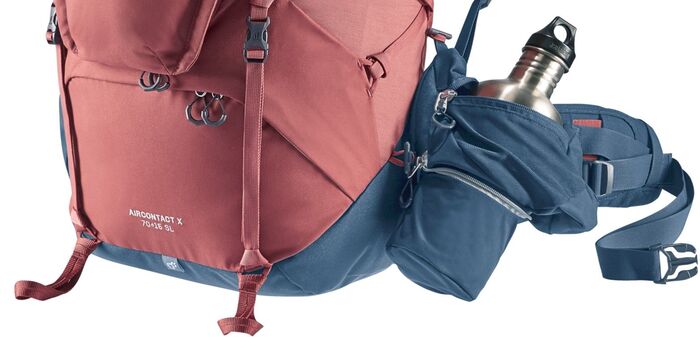 There are two pockets in the lid. But one of them has yet another inner zippered pocket.
One pocket is on the front of the pack, and it is with a vertical zipper, the picture below shows how it looks. Note that this zipper is most likely fully waterproof.

Front pocket and bungee cords.

Two usual side stretch pockets are also available.
Finally, you have a separate bottom pocket for the included rain cover, it is shown in the picture: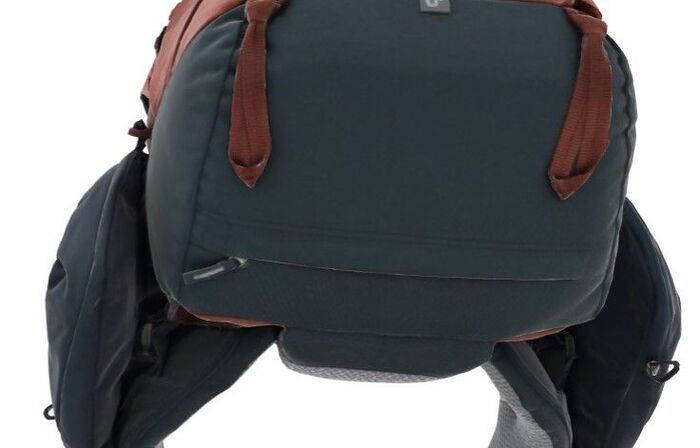 Straps and attachment options
This pack comes with plenty of attachment options.
You have already seen its lid loops, there are four of them, some are visible in the picture below.
The side view in the picture shows the upper and lower compression straps. Note that all these straps are removable, this is what they described as a modular design.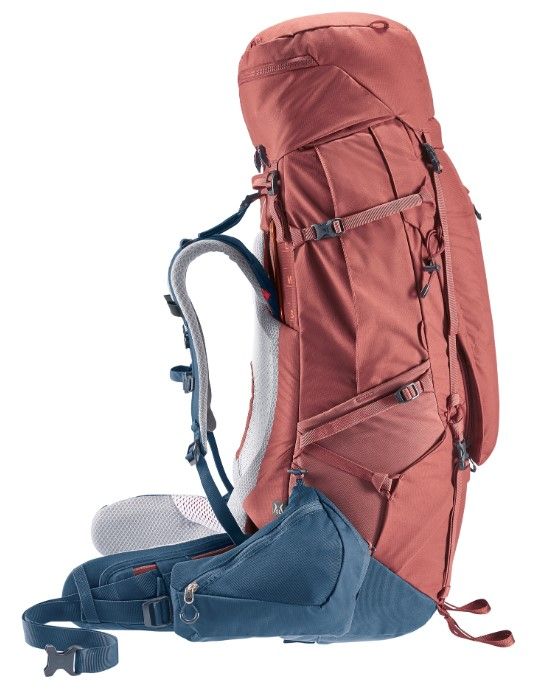 You have already seen dual bottom straps, also removable.
There are dual removable loops on the bottom, for trekking poles and ice axe. They are paired with bungies tie-offs on the front of the pack, you have them in the pictures shown in the text above.
There are plenty of webbing loops on the front of the pack for extra attachment with a piece of cord, or you can use any of the removable straps to attach some long items here.
Other features
The pack is with an inner hydration sleeve in the main compartment. It is compatible with a 3 liter drinking system/bag.
It also comes with an included day pack, see how it looks: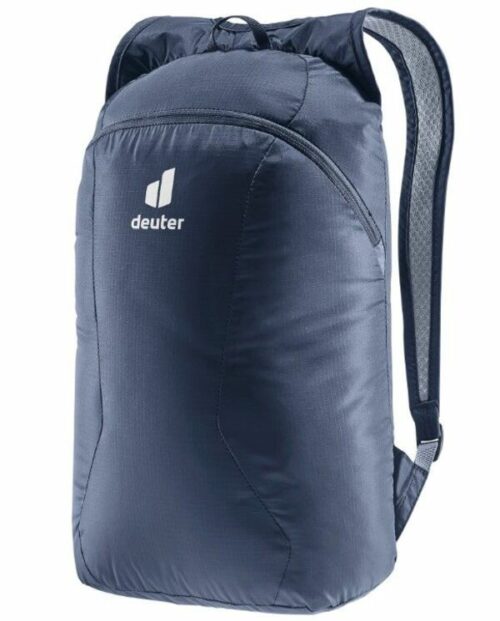 This day pack can be used on its own, or you can attach it on the front of the shoulder herness as in the picture: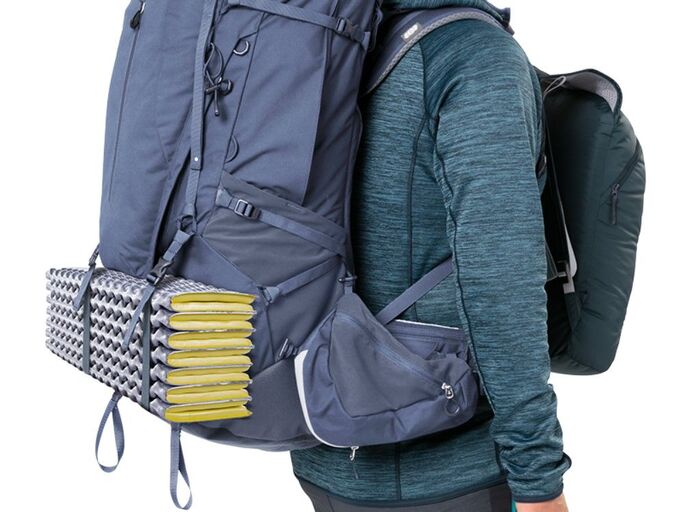 The attachment elements for the day pack are shown in the picture below, you see them on the shoulder straps. See also the attachment for glasses, and the loops for a water pipe.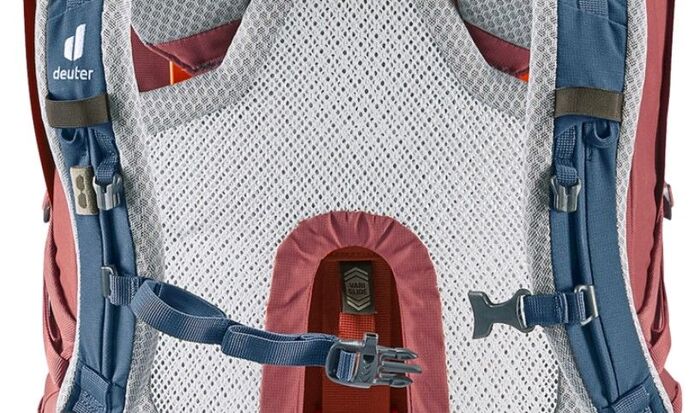 Here you can see a bit more of the back panel which is with a very breathable Air Spacer mesh that offers comfort, cushioning and ventilation.
Materials
They claim that this is all 100% recycled pre-consumer waste. The fabric is a very durable and strong combination of a 330D and a 1000D textured polyamide, a sort of nylon. These fibers are extremely durable and abrasion-resistant while also with a high elasticity and low weight.
Please see more in this video:
---
Who is it for
Regarding the volume and best use, all the packs in this series are very large, and their load hauling capacity is impressive. They also have so many options for attachment of gear externally.
So they are suited for extended tours and expeditions with heavy and bulky equipment. These are packs that will never fail.
Regarding the weight, this is definitely not their best feature, you will see the numbers below. But it is good to check their volume to weight ratio as well, as these are enormously large packs.
So for the smallest of them the volume to weight ratio is around 24 liters/lg. This is the same as in the Osprey UNLTD AirScape 68 pack. In my comparison text, you can see that this Deuter pack outranks that pack of Osprey which is the best they have.
Regarding the price, all these packs are very expensive, but I am sure they are worth the investment. Besides, they are still far more affordable than the mentioned Osprey UNLTD AirScape 68 pack.

---
Specifications
Volume:
– Deuter Aircontact X 60+15: 75 liters (4577 in³).
– Aircontact X 70+15: 85 liters (5187 in³).
– Aircontact X 80+15: 95 liters (5797 in³).
Weight:
– Aircontact X 60+15: 3.1 kg (6.8 lb); SL: 3.06 kg (6.75 lb).
– Aircontact X 70+15: 3.18 kg (7 lb); SL: 3.16 kg (6.97 lb).
– Aircontact X 80+15: 3.37 kg (7.4 lb); SL: 3.29 kg (7.25 lb).
Torso length:
– Aircontact X men's: 42-62 cm (16.5-24.4 in).
– Aircontact X SL: 35-56 cm (13.8-22 in).
Carry weight: 15-30 kg (33-66 lb).
---
Final thoughts & rating
In summary, these Deuter Aircontact X Backpacks come with an incredible set of very useful features, and I have presented them all in the text above.
They are strong and durable, designed for heavy and bulky loads, so they are heavy but their weight is justified. You have seen the question in the title, so in answer to this, I think these are the best packs this brand has built so far. But no doubt the weight will be a big issue for many potential users.
BEST PLACEs TO BUY
You might want to see in my separate text how this pack compares with Gregory Baltoro. If you want something lighter, it is best to check their Aircontact Core packs that share some features with these X packs.
Bookmark this site and come again, this will keep you informed because I add texts here regularly. Let me know if you have questions or comments, there is a comment box below. Have a nice day.