---
The Coleman Cloudland Self-Inflating Camping Pad is thick and comfortable, and its very high R-value makes it suitable for any climate and season.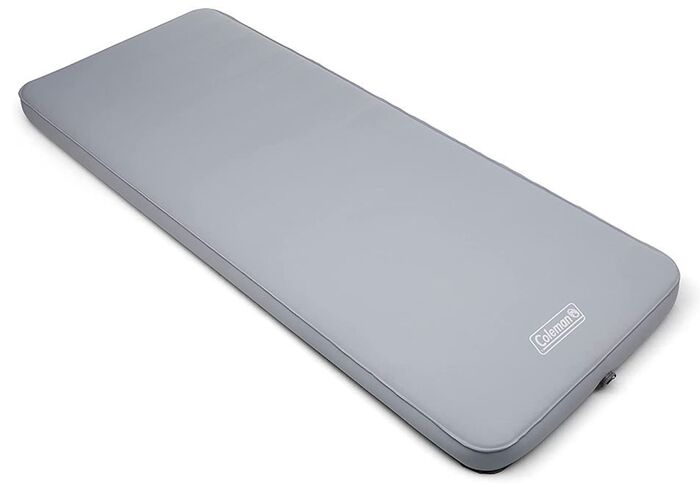 ---
Key features & benefits
Self-inflating.
Huge R-value.
Very good size.
Reasonable price.
---
What this pad is about
This Coleman Cloudland Self-Inflating Camping Pad is what its official name says, a pad filled with an open cell foam, and all this is wrapped into a air-tight shell.
So when you open the valve and unfold the pad, it will inflate itself. This happens because previously compressed foam will expand, and in the process it will suck the air in.
It is typical for such pads to self-inflate slowly for the first time. This is because the foam needs time to recover its elasticity after being compressed for a very long period of time. So just give it some time and do not panic if the process is slow.
You can speed this up by blowing some air by mouth, this may be necessary in principle every time if you want the pad to be firmly inflated. For this it is better to have some pump, to avoid moisture from your breath to accumulate in the foam inside.
The materials, valve, and R-value
They do not provide much information about the materials, very typical for Coleman. All I could find is that the shell is a 30D stretch fabric with a TPU coating. With the foam inside and air trapped in it, the pad is officially with 10+ R-value. So you will never need more.
There is one valve only, and this is a dual-use type, with a rotating core so it can be used for inflation and deflation. This is a very standard design which you will see in several pads of this type here in the site. It is the same what you cam see in the Zempire Monstamat Single Self Inflating Mat.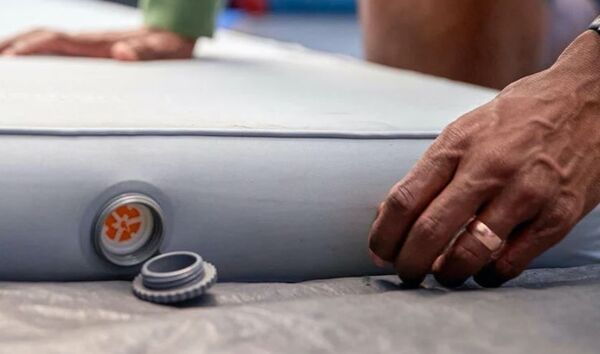 How to deflate this Coleman sleeping pad
I have seen a statement about its inflation and deflation in seconds, and I am sure this makes no sense. Such pads need time for both processes.
When you want to deflate it, rotate the valve in deflation position, and then roll the pad from the opposite side. Then unroll the pad, and roll it up again by keeping it compressed with your knees. This should be enough. After that close the valve, and put on the compressive straps that are included.
---
Who is it for
Regarding the best use & climate, you have already seen that this pad's official R-value is huge, so there is no doubt you can use it in any weather conditions, no matter how cold it can be.
Regarding the size, its dimensions are very good, its bed area is around 1.5 square meters. But if you still need more space to sprawl, check this DoD Soto pad.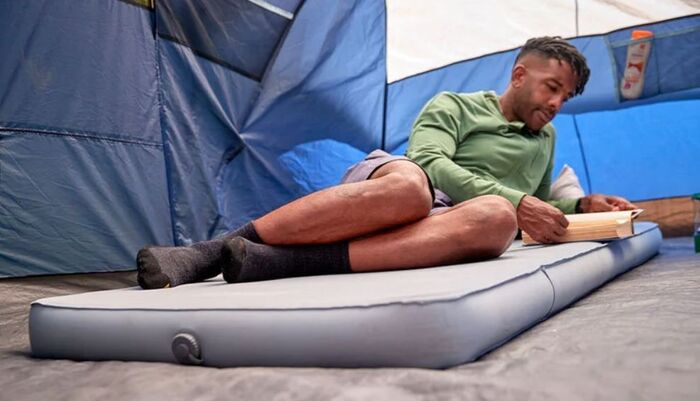 From the picture above you realize that this is a thick pad, you have 4 inches underneath you.
Regarding the packed size, it rolls as in the picture below, and the dimensions are (L x D) 32.7 x 8.7 inches (83 x 22 cm). So this looks bulky, but this is very normal for such self-inflating pads. You can compare it with the DoD Soto sleeping pad S version.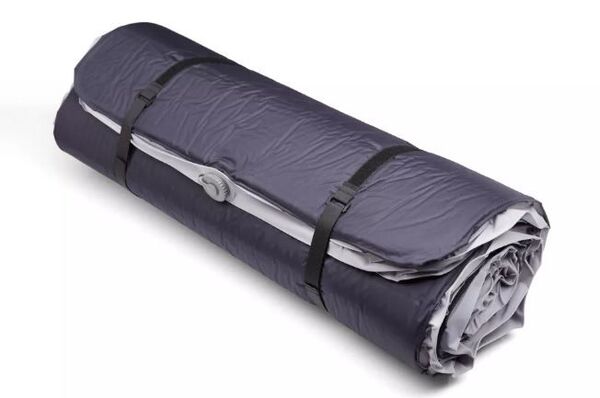 Regarding the weight, with its 7.2 lb (3.3 kg) this is a heavy item, but in view of its size and type, this is all quite good.
To understand this even better, here you have a volume of the inflated pad around 46 liters/kg. You can compare it with the Cabela's Outfitter XL Sleeping Pad where you have around 36 liters/kg.
Take one more example, the HEST Foamy Sleeping Pad. Its RW version has around 26 liters/kg.
Regarding the price, it is very reasonable for such a nicely built pad.

---
Specifications
Type: self-inflating pad.
Weight: 7.2 lb (3.3 kg).
Dimensions (L x W): 77 x 30 in (196 x 76 cm).
Thickness: 4 in (10.2 cm).
R-value: 10+.
Packed size (L x D): 32.7 x 8.7 in (83 x 22 cm).
---
Final thoughts & rating
In summary, this Coleman Cloudland Self-Inflating Camping Pad is thick and very comfortable. The dimensions are quite typical for such a type.
It may look a bit heavy and bulky, but when you compare it with its competitors you realize that its volume per kilogram parameter is quite good. I have included it in my list of best self-inflating camping pads and cold weather sleeping pads.
Below you can see how I rate it against my usual rating criteria so that you can easily compare it with other items of this type:
BEST PLACEs TO BUY
For more options, please check under the category Sleeping Pads. Bookmark this site and come again, this will keep you informed because I add texts here regularly. Let me know if you have questions or comments, there is a comment box below. Have a nice day.