---
The Zempire Monstamat Single Self Inflating Mat is very comfortable and thick, with a stretch fabric and excellent insulation that makes it suitable even for extreme weather conditions.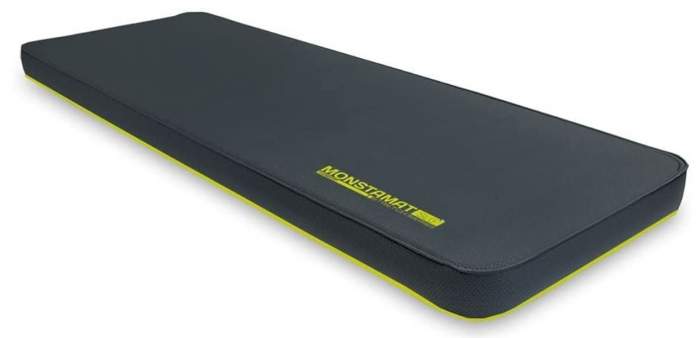 ---
Key features & benefits
Self-inflating.
Great insulation.
Very comfortable.
Long pad.
---
What is in the name
This is a self-inflating pad with a foam inside that expands when unfolded. In the process, it sucks the air in, and and this is how the pad gets its shape. The pictures below shows how it looks when rolled up and when packed in its included carry bag.
So this is an elongated tube with compression straps added to keep it compressed. The dimensions in that state are (L x D) 28.3 x 9.4 inches (72 x 24 cm). The carry bag is with a carry strap and a draw string, and its material is a 190T polyester pongee.
When compressed for a long time, like in the situation when it comes from the factory, it may take some more time to self-inflate. This is because the foam has to regain its usual elasticity. So do not be concerned if the process is slow when you try it first time.
How they built it
You have a truly pleasant and luxurious stretch fabric that can be described as very quiet. This may be very important to people sensitive to noise. With such a stretchy material it is less stiff and bouncing is reduced.
They describe it as a 3D design, in reality this means that the side walls are vertical (the picture below), so the actual useful width is its total width.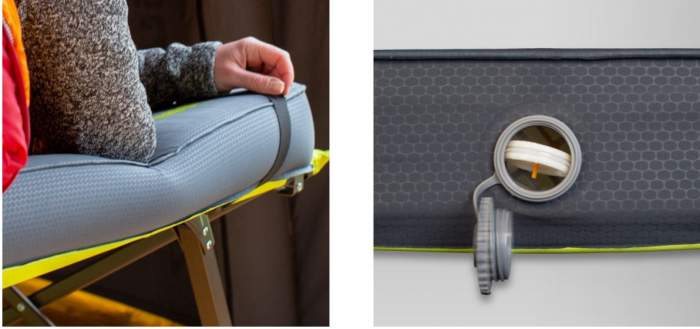 The valve: This is a very elegant single valve positioned on one of its narrow sides, see the pictures. They describe it as a 360° double-way valve, and the meaning is that you can rotate it into different positions for inflation and deflation.
The shell fabric is a combination of a 30D super stretch ripstop polyester surface and a 75D poly pongee base.
Inside you have an open-cell foam with a cross-cored construction that helps in self-inflating quickly. This is a clever addition because it also reduces the weight and bulk, and air can quickly spread through those large channels instead of moving from one open cell to another.
The official R-value is huge 10.5. Though at REI they write it is 9.5. The former number is from the brand itself. In any case, this is a very high value and you will never need more.
When it is time for pack-up, you set the valve to deflate position. Then roll the mat and expel the air. You can repeat the process if necessary. Please see more in this video:
---
Who is it for
Regarding the best use & climate, you have seen its R-value, and this corresponds to the lowest possible temperatures that you may expect. So this is a pad that will protect you from the cold ground no matter where you use it.
Regarding the size, the pad is quite long but its width is just ordinary, the dimensions are 78 x 26.8 inches (198 x 68 cm). But this is also a thick pad that provides 3.9 inches (10 cm) of cushion, and it is suitable for any type of sleepers.
Regarding the weight, it can be described as heavy in view of its 7.08 lb (3.21 kg). You have already seen its packed size, so this is a car camping pad and the weight is not really important.
---
Specifications
Type: self-inflating.
Weight: 7.08 lb (3.21 kg).
Dimensions (L x W): 78 x 26.8 in (198 x 68 cm).
Thickness: 3.9 in (10 cm).
R-value: 10.5.
Packed size (L x D): 28.3 x 9.4 in (72 x 24 cm).
Warranty: this pad comes with a 2-year manufacturer's warranty.
---
Final thoughts & rating
So this Zempire Monstamat Single Self Inflating Mat is truly well-built. With its supportive inner foam it provides incredible insulation, and its stretchy shell fabric makes it very comfortable. It is very long and suitable for tall users. Fully recommended. The pad is included in my list of best self-inflating camping pads and best cold weather sleeping pads.
Below you can see how I rate this pad against my standard rating criteria for easy comparison with other pads here in the site:
BEST PLACEs TO BUY
For more options, please check under the category Sleeping Pads. Note that they also have a double-wide version, the Zempire Monstamat Twin Sleeping Pad.
Bookmark this site and come again, this will keep you informed because I add texts here regularly. Let me know if you have questions or comments, there is a comment box below. Have a nice day.