---
The best way of climbing Monte Vago is from the Forcola pass. This mountain, also known as Al Vach (3058 m) is at the southern end of Livigno valley. It belongs to the western Rhaetian Alps group, whose most notable peaks are nearby Piz Bernina (4049 m) and Piz Palu (3901 m). Within this page, you will find information about the mountain and the normal climbing route.
Monte Vago is very close to Italian-Swiss border, with the following coordinates:
latitude 46.4404
longitude 10.0787.
The term Rhaetian is also used for one division of the Triassic geological epoch, around 205 million years ago, and the word comes from Rhaeti, which is the name of a native people in this part of the Alps. This is the reason why many peaks in the area have double names, Al Vach appears to be the Rhaeto-Roman version for the Italian name Monte Vago.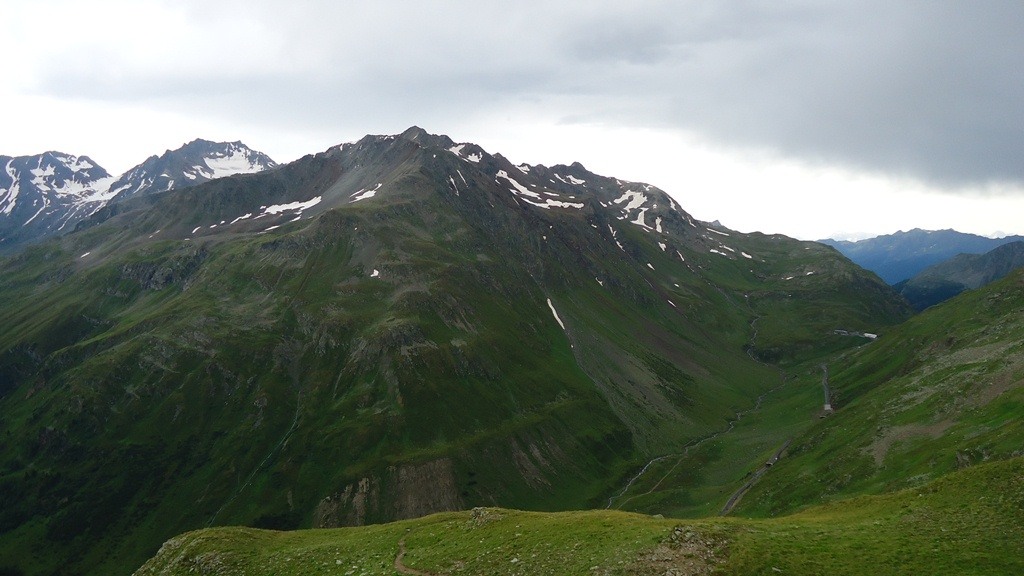 Monte Vago can be climbed from the Italian border checkpoint, at the Forcola pass (2315 m, Fuorcla in Rhaeto-Roman), which is around 12 km from Livigno, and nearly the same distance from the Bernina pass in Switzerland.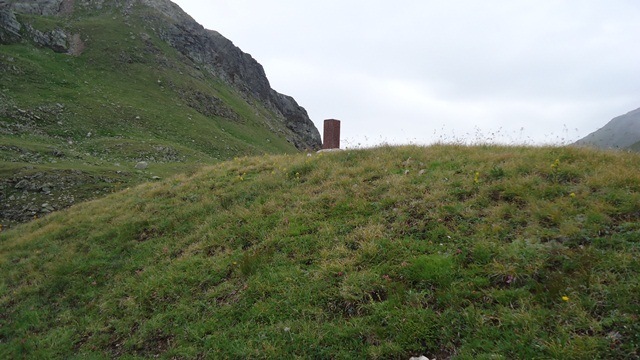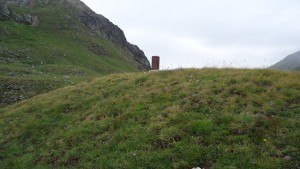 In both cases, access roads are very good. The Forcola pass is closed in the winter time. In winter, the remaining access is a) from Bormio over Passo Foscagno (Pass da Fus-chagn in Rhaeto-Roman, 2291 m.) which is always open, and b) from Switzerland through the "Munt La Schera" tunnel which is 3.5 kilometers long and one-lane.
---
Observe that there are restrictions for the tunnel. It is with payment, in summer time (from may 1st) it is 13 E (16 CHF) one way as of August 2014 for auto; 10 E (13 CHF) for a motorbike; 20 E (25 CHF) for a camper; minibus up to 19 places 27 E (34 CHF); max height: 3,60 m. The timetable for the traffic through the tunnel is as follows.
On Saturdays, from 5.00 am to 9.00 am – only from Livigno to Switzerland; from 9.00 am to 10.00 am – tunnel closed and change of direction; from 10.00 am to 4.00 pm – open only from Switzerland to Livigno; from 4.00 pm – tunnel is open at alternate traffic, and the same alternate regime is for all other days. Night fees (8 pm to 8 am) are higher.
Riding a bike through the tunnel is not allowed. More information about the tunnel access can be found here. It is good to remember that Livigno is a tax-free zone with the lowest price for fuel in Europe, 1.1 E for gasoline and 1.02 for oil in August 2014.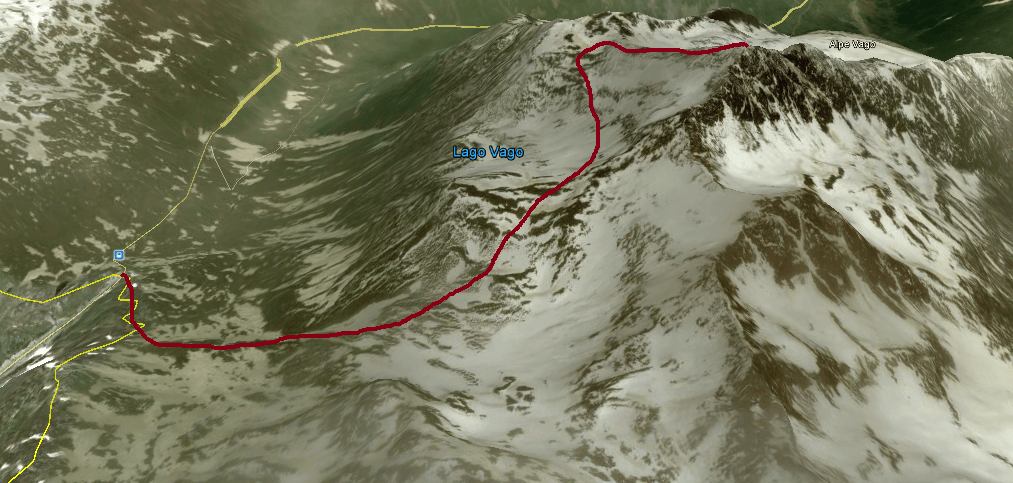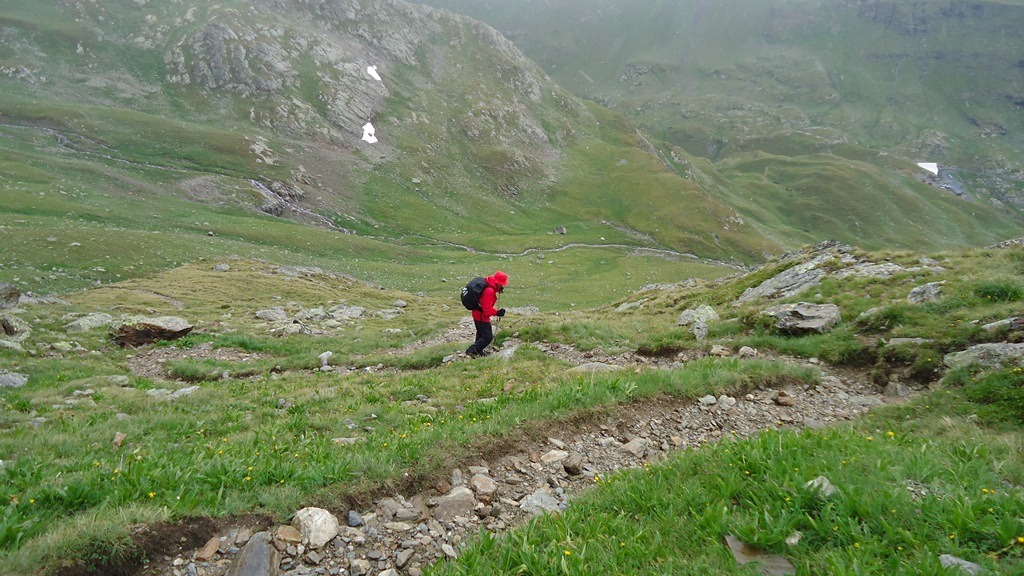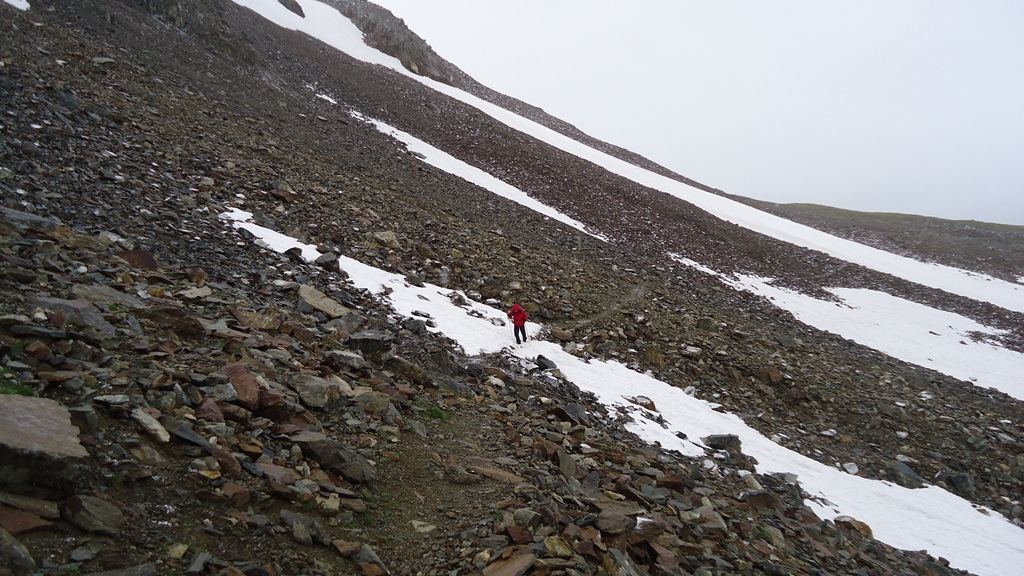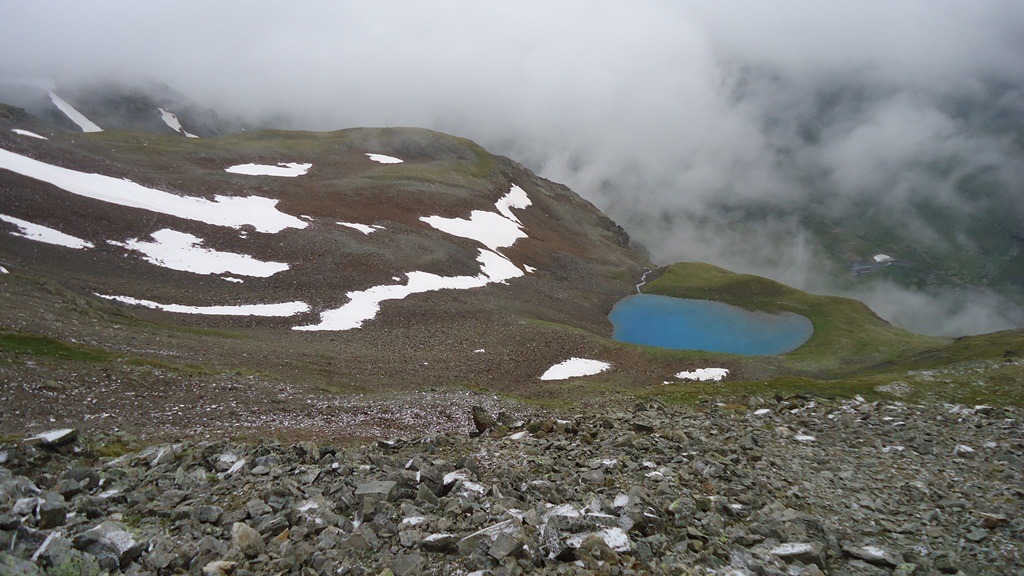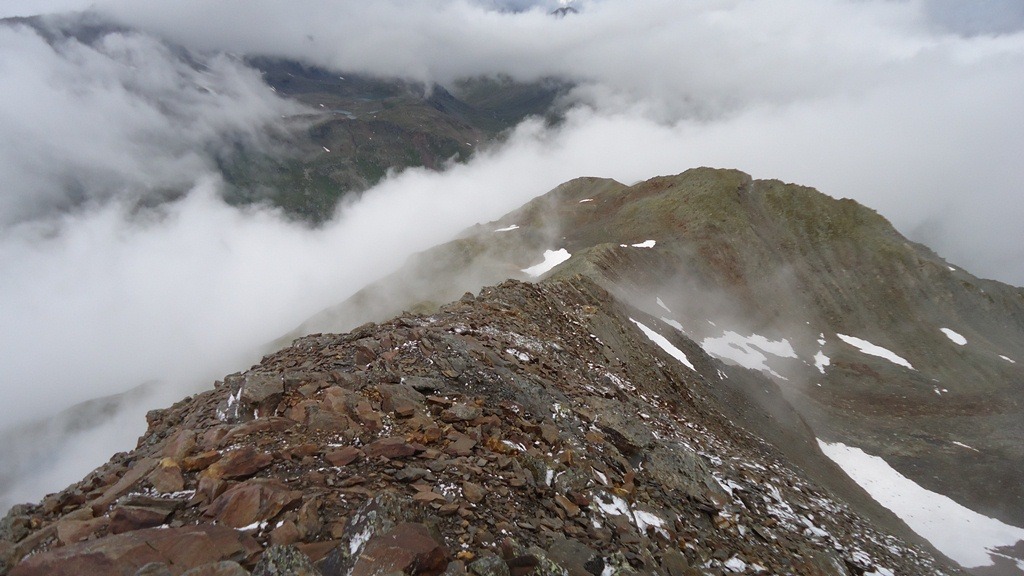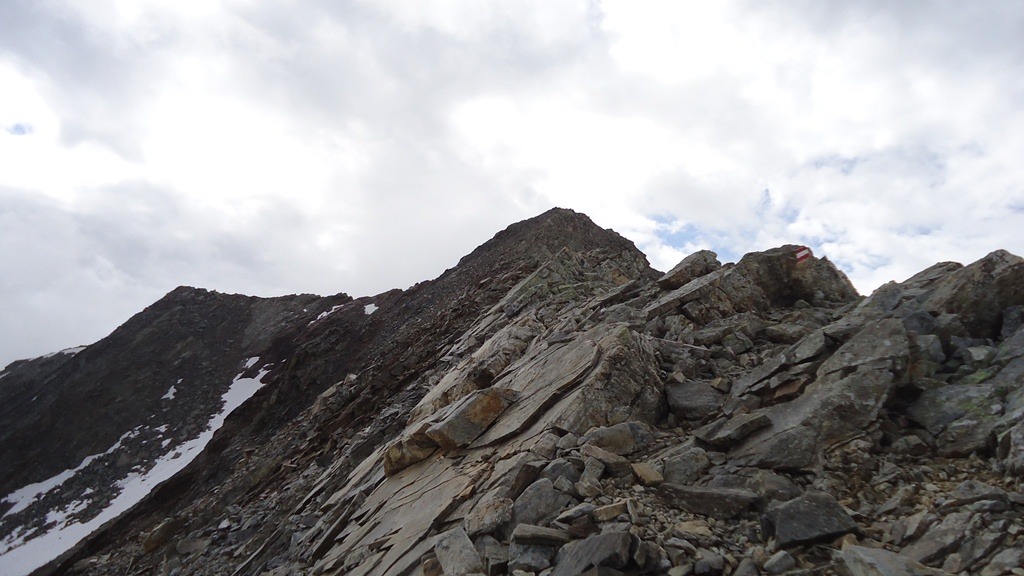 Climbing Monte Vago does not require technical equipment, and most of the route is a simple but demanding walk, with just a bit of scramble in the final a few meters, but observe the height difference of more than 700 meters within a relatively short distance.
The route starts from the pass and it goes first in the southeast direction over rather pleasant meadows. In this area just follow the signs for Al Vach and Lach dal Vach. In the lower part the route follows the Italian-Swiss border, border stones are always around, so sometimes you will literally be with one leg in Italy and with another in Switzerland.
After about one hour, while making a loop and changing direction toward the north, the lake Vach is in sight on left, some hundred meters below you. Such a beautiful emerald color of the lake's water is rarely seen in the Alps. The route continues above the lake in the north direction up to the beginning of the ridge section, which starts at about 2900 m.
The direction from this point is obvious if the weather is fine, in the southeast direction and always following the ridge, sometimes passing from one side of the ridge to another. This ridge is pure rock and with a few a bit exposed passages where some care is needed. There is a small iron cross on the summit.
All Livigno valley is completely visible including a part of the Livigno lake. From the Forcola pass to the summit plan about 2 hours and 30 minutes or more. There are a few places with snow even in summer but those are not problematic. At a few places, before the lake area, you will pass a water stream.
About equipment
My climb
I climbed it in mid-August 2014 together with my friend Mitsuo Kono, and in spite of summer time, it was snowing all the way up. I was carrying 1.5 liters of water; in warm conditions, you might need more.
Regarding the equipment, we had just the usual waterproof clothes, rucksacks, and poles. My Deuter rucksack had a waterproof cover which was needed indeed. Mitsuo suffered due to gloves that were not waterproof.
So this was just an ordinary climb but in rather bad weather conditions, and we did it because this was our last day before going home after a week spent in the Livigno area. We did not meet anybody during our climb.
---
Note, there are two restaurants at the start of the route at Forcola pass, good to have if you come from the snow in August or if you do not wish to carry food with you. The border ramp appears to be always up, after passing it a few times I did not have any passport check whatsoever.
---
Accommodation: Livigno is a popular destination, both in summer and in winter. There are many places to rent. From my own experience in many years so far, Booking.com has been the best option.
We were four people, and we rented a nice apartment in a house just a few hundred meters from the central Livigno area, all within walking distance and with a nice view of the place. The apartment was just as it was described on their site.
---
In summary, climbing Monte Vago is not complicated, orientation is no problem even in bad weather conditions, the Forcola pass or Livigno are in sight most of the time, and the route is marked. I climbed it together with my friend who is 70 years and who has never climbed a mountain before, the visibility was far from good, but it was doable.
Good luck out there, and please leave a comment in the box below. I shall be happy to answer any question. When you are there, do not miss to climb nearby Monte Breva (also known as Piz La Stretta). The starting point of the route is the same, at the Forcola pass. Check also my text about Cima Piazzi, the highest mountain in the Livigno area.