---
I wanted to climb Alpspitze mountain for quite some time now, in fact after I saw it for the first time in 2009 when I was climbing Zugspitze, which is next to it. In 2011, I was in Garmisch-Partenkirchen somewhere in the second half of May and wanted to climb the mountain.
So I walked all the way up to Osterfelderkopf only to realize that the route was too much under a fresh snow that fell those days.
[J. K. Mertz, Romanze]
Consequently, I had to give up. It was too dangerous to continue because of a possibility of avalanches, and this was also pointed out to me by a person at the Osterfelderkopf lift station which I passed. As you see the mountain was still there this time, and I climbed it.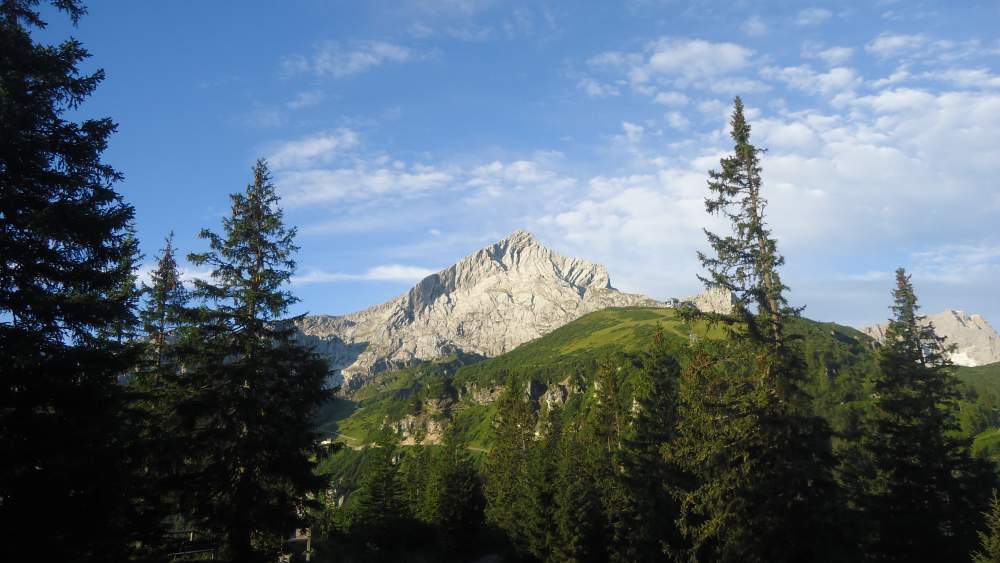 Basic data about Alpspitze:
Altitude: 2628 m (8,622 feet).
Latitude: 47.4333 or N 47° 25′ 48″.
Longitude: 11.05111  or E 11° 3'
---
Equipment
This is only for the route I followed, and for the summer time. For some other routes and the season of the year, you may need a different combination. Here is my short summary:
For the clothing in the Alps in general, please see my another text.
---
My climb of Alpspitze
I drove from Belgium overnight and arrived at Kreuzeckbahn parking at 3 am. I took a nap till 4:30 and then started my walk at 5. I was following the path toward Kreuzeck, it was through the woods so I used a torch. From Kreuzeck I continued toward Hochalm and then toward Schongange (Schongänge).
A few words about Schongange. This is a part of the north-east wall of the Alpspitze complex, and it represents the shortest possible approach with a ferrata installation. The length of the fixed cables is probably around 100-150 meters. The ferrata (eisenweg in German) is not hard and you can manage it without equipment (harness and Y-shaped lanyard).
Though, I did attach myself to the cables because I did not feel focused enough after the sleepless night.
You will easily notice Schongange: if you are somewhere in Hochalm area and you see the north-east wall of Alpspitze in front of you, Schongange is the pass which you see on the left.
Once you have passed Schongange, you are on the ridge which you will follow roughly in the west direction all the way to the summit. Somewhere in the middle of this ridge section you will have fixed ropes again, but here definitely you will not need to attach yourself to the cable. I met just a few people on my way up. They all were descending, they climbed the mountain from the north side following the ferrata route.
One particular couple made my day. They had full camping stuff and I asked about it. They replied that they spent the night camping on the summit itself! They said that they had a perfect sunset and a rather pleasant night except for a lot condensation from the air in one part of the night. I was delighted with their experience. They were in a great mood. I told them about my site and said I would add their photo.
You can see them in one of the photos above. I hope they shall visit my site. Later, when I descended, I saw them again at Osterfelderkopf. Here below are a few more photos which I took on the upper part of the route and on my descent.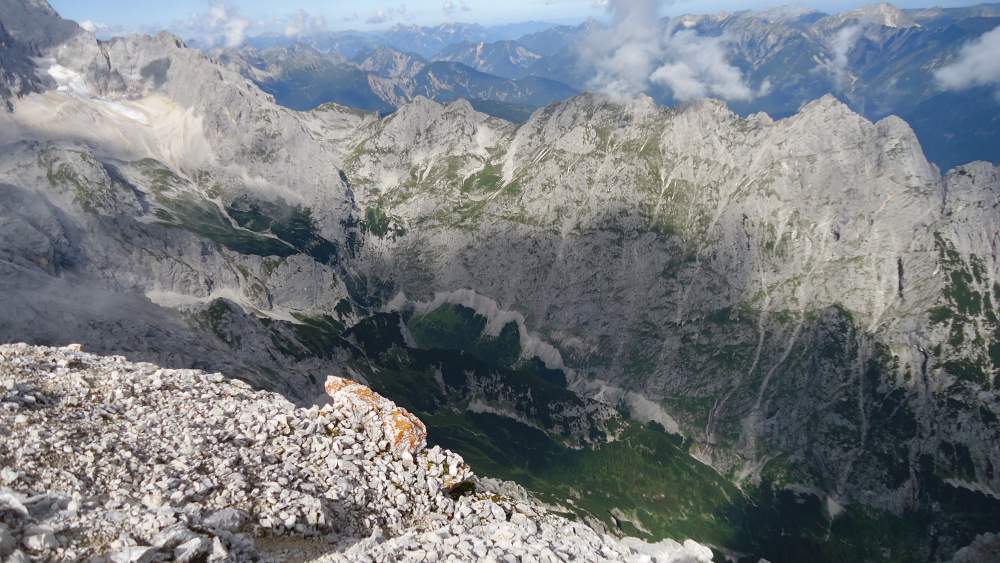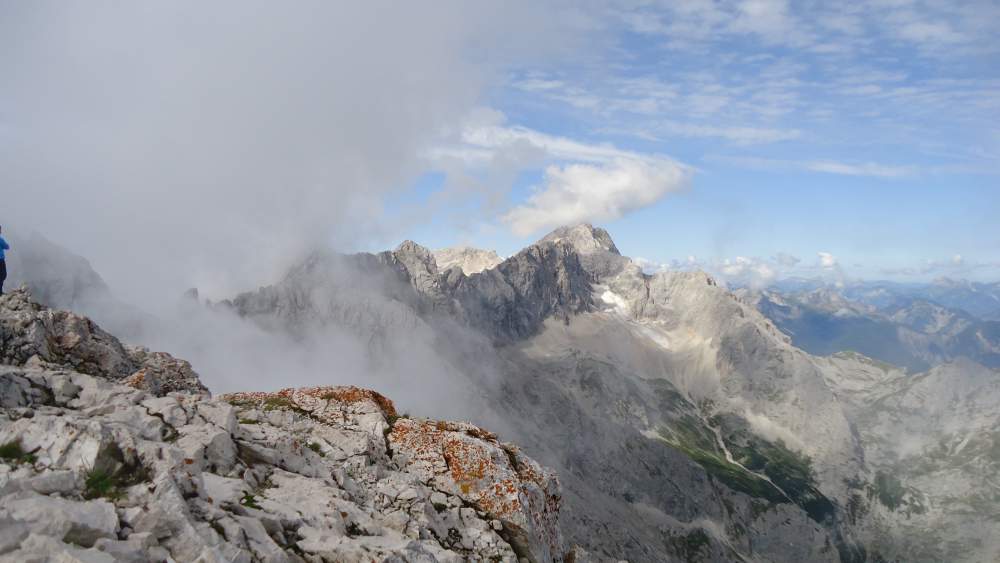 I was on the summit at 10:45 am, so I made the climb in 5 hours and a half. There were many people on the summit, obviously, all of them came from the ferrata route on the north side. I could see several groups in the rock below, they were coming up.
I descended partly following the same route and then continued toward Osterfelderkopf, through the man-made tunnels.
There are several short and simple sections with fixed cables in this part as well. There were tens, if not hundreds, of people in the rock on the north-east face.
---
In the end to say that this is indeed a popular mountain but there are hard sections where you must be careful. So do not climb Alpspitze if you have problems with vertigo, or if you are completely inexperienced in rock climbing.
Regarding accommodation, this is a very touristic region of the German Alps, so if you plan to stay, do make a reservation well in advance. I have used Booking.com many times in the past and can fully recommend their services.
Please leave some comments in the box below, I shall be happy to read them and to answer any question.
---
Related texts on German Alps: