---
This UST House Party 4 Person Car Camping Tent is a freestanding and tall tunnel-shaped structure with 2 large doors and great materials. Keep reading.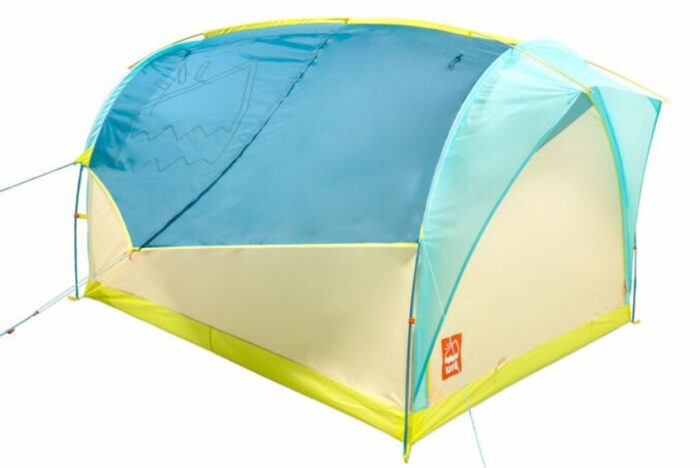 ---
Key features & benefits
Tunnel-type tent.
Freestanding.
Tall tent.
2 Large doors.
Aluminum poles.
---
What this is about
The letters UST mean Ultimate Survival Technologies and this is the brand behind this tent. They are known for their survival and outdoor stuff, you can see their UST TekFire Charge Fuel-Free Lighter presented here in the site. But this text is about their tent, so this is the smaller in the series that includes also a 6-person tent.
This is a tunnel-type tent, this should be obvious from the picture below. But it is also fully freestanding, and this is not so frequent to have with a tunnel tent. They have achieved this by adding two ridge poles that cross each other on the top and then they attach to the tent on its two narrow sides. The tension in the fabric helps in making the structure fully self-supporting.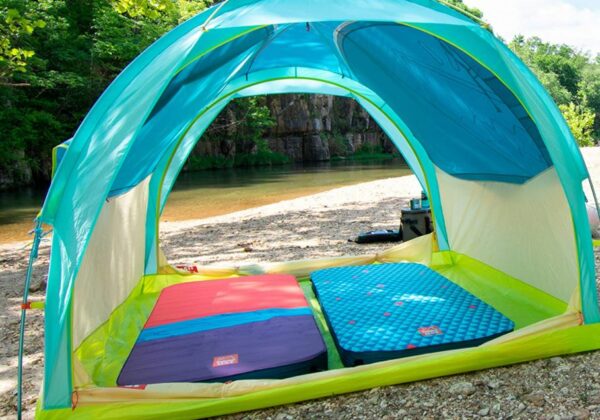 As you realize from the picture, this is a very simple construction with two large doors at its two ends. The tent is quite tall for its overall size, the peak height is 68 inches (173 cm).
The tent is also mostly single-layer, but the canopy has large mesh sections plus cover, they are partly visible above, and it looks like a hybrid single-double layer tent. The fly has vertical zippers on the sides, so when the sky is clear you can roll it to the sides and have views around. This is visible from the picture: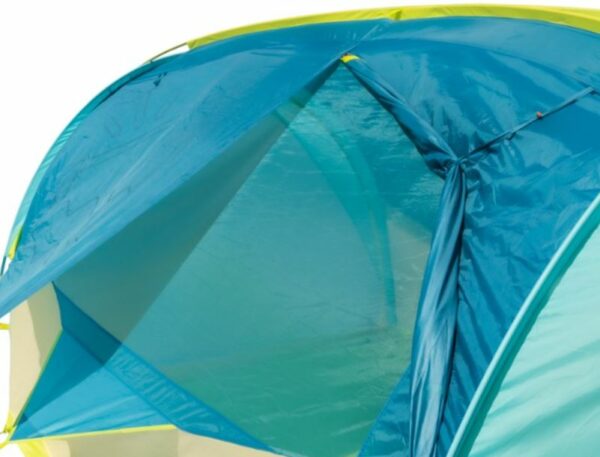 Ventilation
You have already seen large mesh sections on the canopy, they call them vents, and the doors also have mesh in the upper parts. But when it is raining you have to keep all this closed, and in such situations having floor vents would help against condensation. Pity they did not include them in this design.
Materials
The fabric is a moderately durable 66D 190T polyester with a PU 2000 mm coating. The floor is a much stronger reinforced 150D polyester Oxford. The mesh areas are a poly no-see-um type.
The poles are quite thick 7000 series aluminum, 11 mm and 9.5 mm diameter. Note that the poles are from outside, so this is a dry-setup, suitable when you have to pitch the tent in the rain, the inner of the tent will remain protected in the process. 
You also have 12 J-shaped hexagon extruded 7-inches long aluminum stakes. So there is not much one could object to all this.
---
Who is it for
Regarding the weight, with 9 lb 8 oz (4.3 kg) of weight this UST House Party 4 Person Car Camping Tent can be described as lightweight. This is partly due to the fact that it is mainly a single-wall structure. 
The packed size is 22.6 x 7.8 x 7.5 inches (57 x 20 x 19 cm) is also very good, so the tent can be carried on shorter tours. But this is a car camping tent as indicated in the title, you have much lighter options for the trail.
Regarding seasons & climate, I would describe this tent as a 3-season type, but it is better suited for the warmer part of the year. It is tall for its overall size, and with those small awnings above the doors it is not particularly aerodynamic, so it is best to avoid very windy places with such a design.
Regarding dimensions, the tent is officially for 4 people, and for this you have the floored area of 57.9 ft² (5.4 m²). This would mean 14.47 ft² (1.34 m²) per person. It is big enough to put 4 sleeping pads on the floor, see the dimensions below, but note that there are no vestibules for gear. So I would say the official capacity makes no much sense for real camping.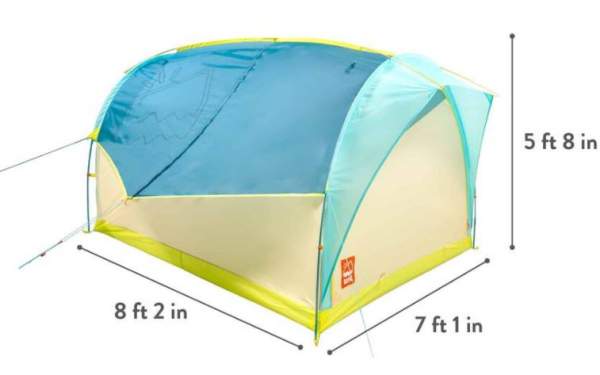 You will see the statement about expandable walls, and as they explain, this allows for guying out each side of the tent for "extra interior space and increased roominess" and "this also makes for vertical side-walls which means that the first several feet of the tent wall go straight up". 
In my view this all makes no much sense, the poles are not elastic, if you pull them out and increase the width of the tent, you will decrease the height. On the other hand, the poles are loops, so pulling them out will not make them straight, so better forget this feature.
Regarding the price, it is steep, but if you can afford it, the tent is worth the investment. You can check in the group of 4-person tents here in the site if this tent is over your budget.

---
Specifications
Official capacity: 4 people.
Weight: 9 lb 8 oz (4.3 kg).
Dimensions: 98 x 85 in (249 x 216 cm).
Area: 57.9 ft² (5.4 m²).
Area per person: 14.47 ft² (1.34 m²).
Peak height: 68 in (173 cm).
Packed size: 22.6 x 7.8 x 7.5 in (57 x 20 x 19 cm).
---
Final thoughts, rating, pros & cons
In summary, I hope you have enjoyed reading this UST House Party 4 Person Car Camping Tent review and that you find it useful. The tent's large door and freestanding design set it apart from competitors. With such doors, you can easily bring in even the largest cots and sleeping pads. Just ignore its official capacity, it is too small for 4 users. The materials are of high quality and durable, but this comes at a price. In any case, fully recommended.
Here is the summary of my rating and pros & cons, it scores nicely in almost all criteria:
Check this NTK Proxy 4 Instant Dome Family Camping Tent if you want a tent with a vestibule to store your gear. Thank you for reading. Note that we have a subscription form below, so subscribe to our weekly newsletter and stay informed. Have a nice day.