---
This Sierra Designs Full Moon 3 Person Tent is a very light and easy to use tent with aluminum poles, 2 vestibules, and a great price tag.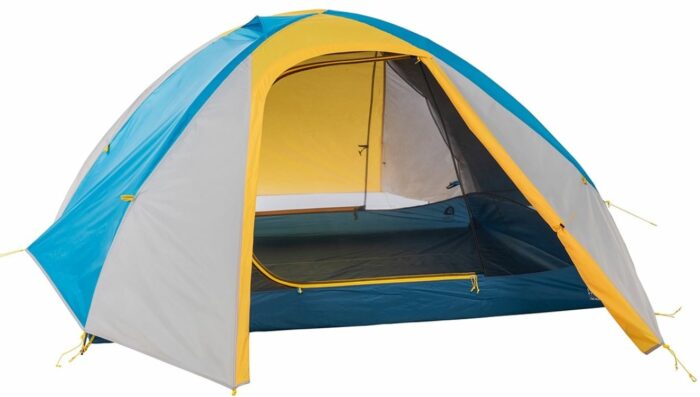 ---
Key features & benefits
Aluminum poles.
2 Vestibules & 2 doors.
Very light.
Great price.
---
What this Sierra Designs Full Moon 3 Tent is about 
So here you have a new tent from Sierra Designs which they launched for the season 2020. This is a very simple and easy to use rectangular structure with 2 doors and 2 vestibules, and a full-coverage fly. They have also a 2-person version with the same features.
Without the fly, the tent is fully freestanding and self-supporting and you realize this from the picture below. But the fly comes with two large vestibules, so, as usual, to have them functional they must be staked properly. The vestibules are nicely designed with a zipper that opens the vestibule wide and you attach the flap on the side, you can see this configuration in the top picture above.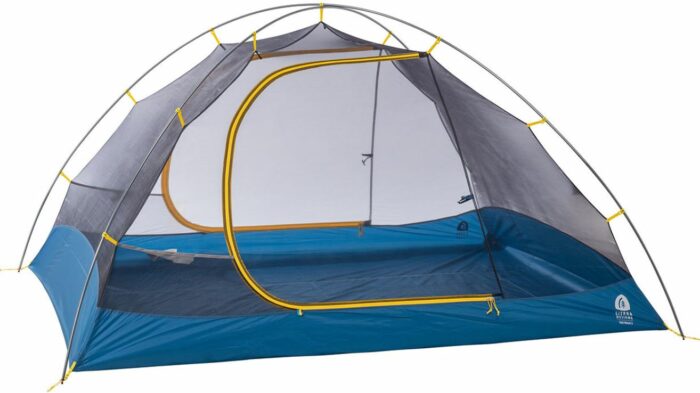 The inner doors are D-shaped and large as much as the tent's height allows, but note that the tent is quite low with its 43 inches (109 cm) peak height.

---
The materials
The poles
You have a pair of 9-mm Yunan Press Fit aluminum with color-coding construction so erecting the tent is simple. The steps are presented in the manual. Hex peg-stakes are included and they are in a separate pocket within the pole bag. The pictures below show some details about poles and their attachment to the tent.
The fabric
The fabric is surprisingly durable for such a lightweight tent. So you have a full mesh canopy 15D nylon No-See-Um for excellent airflow, and the full-size fly is 68D polyester taffeta with PU coating. The same material is used on the floor. All seams are fully taped. The carry bag shown below is a "burrito" style which they use for many of their recent tents.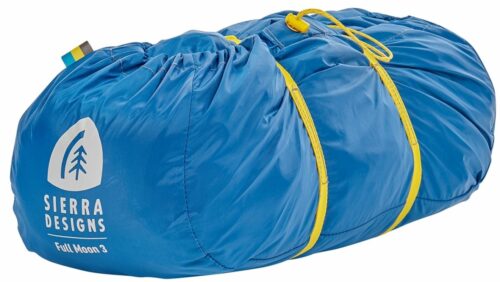 ---
Who is it for
Regarding space, the tent's inner area is 40.8 ft² (3.79 m²), so in the case of three users, this is 13.6 m² (1.27 m²). But there are two vestibules that add 30.6 ft² (2.8 m²), so the total protected area per person is 23.8 ft² (2.2 m²).
So you have quite enough exterior storage space for boots and gear. The top picture below shows how the inner area looks with 3 pads on the floor: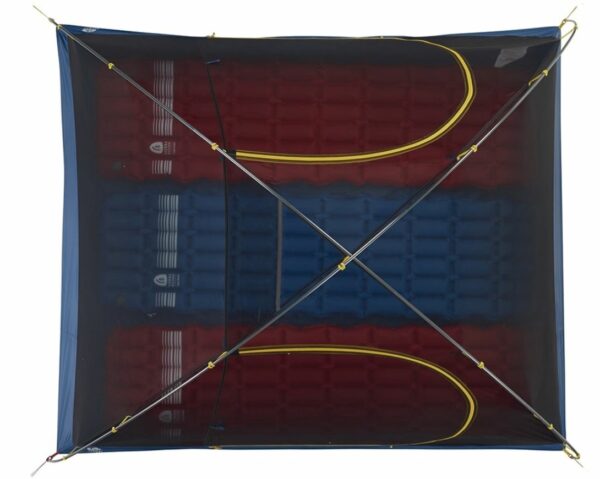 Wight-wise, this tent is quite impressive. The weight is 4 lb 9 oz (2.07 kg), and if you are not familiar with this industry, you might want to compare it with some of the lightest backpacking 3-person tents on the market, where this tent is also included.
So I would not describe it as ultralight, but it is definitely in the group of very light tents. But let's see this more closely. Take this ultralight Big Agnes Tiger Wall UL3 Backpacking Tent with its weight of 2.69 (1.19 kg) and the total protected area of 4.9 m², and also the MSR Carbon Reflex 3 Tent with 2 lb 10 oz (1.19 kg) and the total protected area of 4.88 m².
Now, see the area per person, you have 2.2 m² in the Sierra Designs Full Moon 3 tent, while the Big Agnes and the MSR tents offer only 1.6 m² per person.
Or see the area/weight ratio, and you have 3.19 m²/kg in the Foll Moon 3 tent, while the other two give 4.1 m²/kg. The difference may look significant, but those two are indeed in the category of ultralight tents.
But then again, note that the fabric of the MSR tent is 7D and 15D nylon for the fly and floor, and compare this with 68D polyester in the Sierra Designs tent. This is a huge difference in the denier value.
Seasons-wise & climate-wise, you could describe it as a 3-season tent, the poles are strong and the fly goes all the way to the ground so you can use it in any season, but you will not feel great in a cold environment. You have seen the inner tent with its mesh, so this is a tent for warm-weather camping.
The tent has a low aerodynamic profile and it will behave great in windy conditions. Surprisingly, they do not give any information about its waterproof rating. This is strange for a brand with such a great reputation. Quite disappointing.
---
Specifications
Declared capacity: 3 people.
Minimum weight: 4 lb 9 oz (2.07 kg).
Packaged weight: 4 lb 14.5 oz (2.23 kg).
Dimensions (L x W): 84 x 70 in (213 x 178 cm).
Floor area: 40.8 ft² (3.8 m²).
Inner area per peson: 13.6 m² (1.27 m²).
Total vestibules area: 30.6 ft² (2.8 m²).
Total protected area: 71.4 ft² (6.6 m²).
Total protected area per person: 23.8 ft² (2.2 m²).
Peak height: 43 in (109 cm).
Poles: aluminum.
Fabric: 68D polyester.
---
Final thoughts, rating, pros & cons
So you have seen it, this Sierra Designs Full Moon 3 Person Tent is really nicely built and it is light enough to be carried on the trail. The materials are durable and the poles are aluminum, who would say in view of such a great price. All in all, this is a great value at a budget-friendly price. Fully recommended.
Please see how I rate this tent against my standard set of criteria, so you can easily compare with the other tents:
If you need more tents in this size range, check under the category tents for 3 people. So for example, if you need more space for gear, check this Coleman Waterproof Tasman Unisex Outdoor Tunnel Tent 3 Person Plus and also the Coleman Tent The Blackout with dark-rest design.
Note that we add texts here regularly, so bookmark this site and visit occasionally. Thank you for reading and have a nice day.