---
The REI Co-op AirRail Plus Sleeping Pad is an insulated 3-season self-inflating but with a unique baffle around to keep you centered and to keep the pillow in place.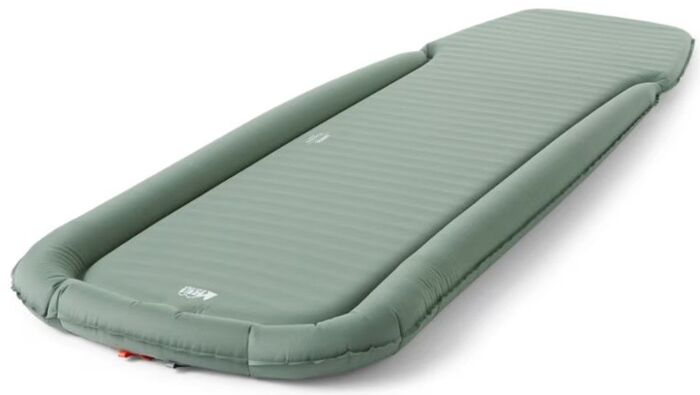 ---
Key features & benefits
Self-inflating.
Three different sizes.
Unique design.
Unisex.
Compact.
Insulated.
---
What is in the name
If you follow REI, then you know that they have already had a pad on the market under the same name. In fact you can still see it on their site.
However, the pad presented here in the text is a new and very different version. This is a completely unique construction and you can realize this from the pictures.
As for the word Plus in the name, I have no idea why they use it. There is nothing "plus" here, but see the next sub-section.
Hybrid design
So what is so exciting here? Well, if you are restless when you sleep, and turn around a lot, you realize this is a pad for you. Namely, they have added a "rail" around the pad, you have it on the sides and on the top. So this is an inflated baffle, just to know.
With this they have solved two important problems for people like me.
The baffle in the head area will keep your pillow in place. This is important for me as I tend to push the pillow up. It rarely stays on the pad unless I sleep close to the wall so the pillow has nowhere to go.
The side baffles will also keep you cradled and centered on the pad.
So I really like this design and it is truly functional. These contoured side rails provide support and comfort, and they are ergonomically shaped to fit your body and maximize sleeping comfort.
They describe it as a hybrid design. The reason is that the main part is a self-inflating pad with an open-cell foam, but the mention "rail" is just an inflated baffle.
Insulation
This is about the mentioned foam that insulates you from the ground. Note that this is tested according to the ASTM F3340 standard, and the R-value is 3.3.
So this is similar to the Coleman PEAK1 Sleeping Pad, you might want to compare them.
Valves
You have them two, and they are shown below, both low profile. They describe them as quick-closing, high-flow valves. I would describe them as quite ordinary.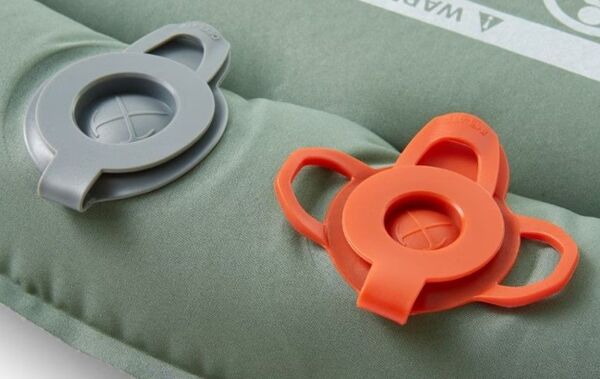 Below you can see some details in one of the valves, with fine tuning features: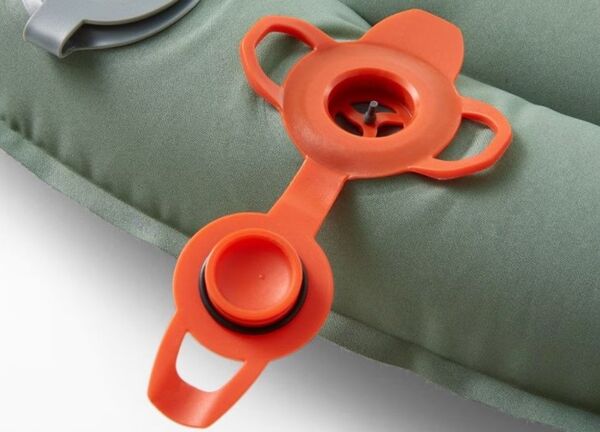 Materials
They use a durable 75-denier polyester on the top with an embossed nonslip surface. The same denier value is on the bottom. All seams are welded.
---
Who is this REI Co-op AirRail Plus Sleeping Pad for
Regarding climate and seasons, you have seen its R-value, so this is a true 3-season sleeping pad. It will protect you no matter where you use it.
Regarding the size, they build it in three different lengths, so this is good to choose what suits you best and to avoid unnecessary weight and bulk. You will see the numbers below.
But its thickness of 1.5 inches (3.8 cm) is surely not its best feature. In fact, this is quite disappointing and definitely not suitable for all users, in particular for side sleepers.
Regarding the weight, I would describe it as a light sleeping pad. They describe it as a backpacking pad, and I would agree with this. But it is fair to say that there are many lighter options for the trail.
The packed size may not look so great, but bear in mind this is a self-inflating pad. So from this perspective it is quite compact. The picture below shows how it looks when packed.
You might want to compare it with the Sea to Summit Ultralight SI Sleeping Pad which is also self-inflating.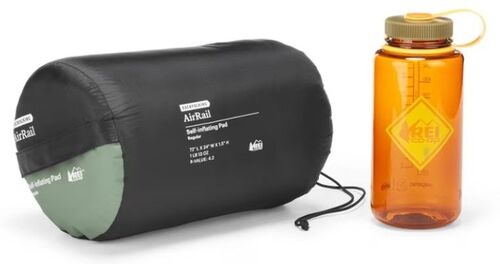 Regarding the price, it is fair for what you have here, a great value for the money.
---
Specifications
Type: self-inflating pad.
Weight:
– Short: 1 lb 9.5 oz (0.72 kg).
– Regular: 1 lb 12.6 oz (0.81).
– Long: 1 lb 14.2 oz (0.86 kg).
Dimensions (L x W):
– Short: 66 x 25 in (168 x 64 cm).
– Regular: 72 x 25 in (183 x 64 cm).
– Long: 78 x 25 in (198 x 64 cm).
Thickness: 1.5 in (3.8 cm).
R-value: 3.3
Packed size (L x D): 12.9 x 7.4 in (33 x 19 cm).
---
Final thoughts & rating
In summary, this REI Co-op AirRail Plus Sleeping Pad has some unique features that add to its comfort and functionality. The R-value is such that you can use it in 3 seasons and you will surely be protected from the cold ground.
The pad is compact and light enough even to be carried on the trail. But you can use it for any outdoor activity. Fully recommended. I have included it in my list of best backpacking self-inflating pads.
Below you can see how I rate it against my usual rating criteria so that you can easily compare it with other items of this type. Note that I rate the Regular size:
BEST PLACEs TO BUY
For more options, please check under the category Sleeping Pads.
Bookmark this site and come again, this will keep you informed because I add texts here regularly. Let me know if you have questions or comments, there is a comment box below. Have a nice day.