---
The Coleman PEAK1 Sleeping Pad is inflatable, very light and compact, with insulation that makes it a true 3-season pad, and with a stuff sack that doubles as a pump.

---
Key features & benefits
Inflatable sleeping pad.
Insulated.
Two sizes.
Light.
Compact.
Very long.
True 3-season plus pad.
Stuff sack doubles as a pump.
---
What this is about
Coleman has launched a series of products under the name PEAK1. This includes several tents, several sleeping bags, a lantern, this pad, etc.
The pad itself is available in two different lengths regular (R) and long (L) with the same features. It is designed so that it fits their PEAK1 sleeping bag that has sleeves on the bottom. You can see this in the video:
But you can use it in any way that suits you, no need to buy the sleeping bag from the series if you already have a sleeping bag. The pad is an
inflatable type
, and this implies that it is
very compact and light
.
It is built with classic longitudinal baffles and with a low profile valve.
Insulation
They claim that the pad is also insulated, but I could not find any information about the insulating inner material. They only give a statement that the R-value is 3.5.
Other details
They do not provide any information about the fabric, so this is quite disappointing. There is only a statement about durable and water-resistant shell.
Note that the carry bag can be used to inflate pad with its integrated built-in valve, you can see this in the picture below on the right.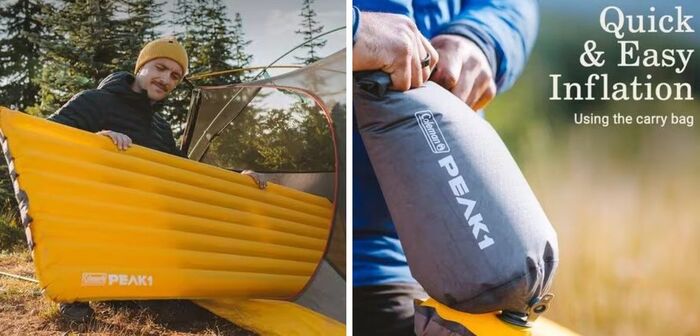 Warranty
I was pleasantly surprised with the warranty they give. You have a limited 5 years warranty, quite unusual to see for products of this type.
---
Who is it for
Regarding the best use & climate, they describe it as a 3-season pad, and with such an R-value this should indeed be so. But as usual, it is best to test such an item in controlled conditions so that you know what to expect.
Note that it is also very thick with its 3.5 inches (8.9 cm), so you will not feel the ground even if you are a side sleeper.
Regarding the size, they build it in two versions as regular and long. In fact, both of them are very long, see the numbers for the regular version below.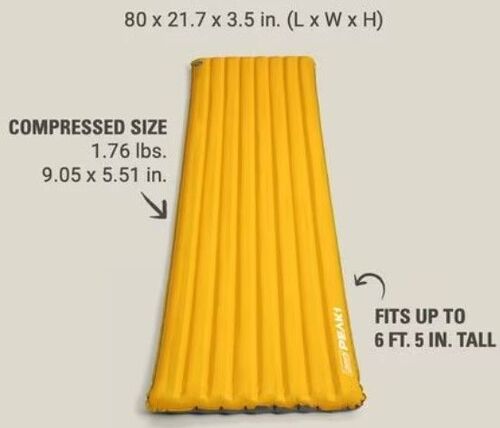 You realize this when you compare it with the Cabela's Instinct Sleeping Pad that is considerably shorter. The same is when you compare it with the Sea to Summit Comfort Plus XT Insulated Sleeping Pad.
But both versions of this pad are with the same 21.7 inches (55 cm) width which is not so impressive to me. See the long version data below. The two mentioned pads are both wider.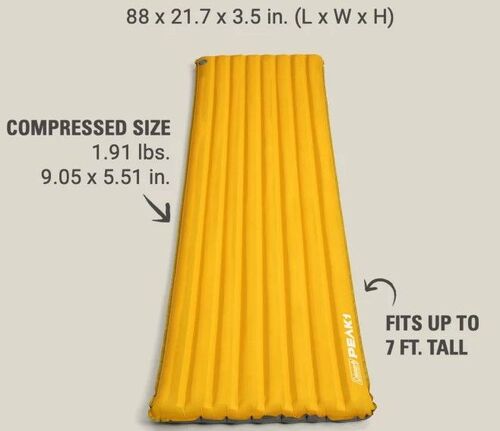 Regarding the weight, in view of the mentioned R-value, the length of these pads, and their thickness, both versions can be described as very light, see the numbers in specifications below.
Regarding the packed size, here too the pad is very impressive, it is very compact. You can easily realize this when you compare it with the mentioned two sleeping pads.
Regarding the price, it is fair for a pad with such features, a great value for the money.
---
Specifications
Type: inflatable.
Weight:
– R: 1.76 lb (0.8 kg).
– L: 1.91 lb (0.87 kg)
Dimensions (L x W):
– R: 80 x 21.7 in (203 x 55 cm).
– L: 88 x 21.7 in (224 x 55 cm).
Thickness: 3.5 in (8.9 cm).
R-value: 3.5.
Packed size (L x D): 9.05 x 5.51 in (23 x 14 cm).
---
Final thoughts & rating
In summary, this Coleman PEAK1 Sleeping Pad is built in two versions, and both of them are surprisingly long. So if you are a tall person, this is a pad to consider. But the width is the same in both, and this is not its best features.
However, this is a pad that has an integrated insulation, and yet it is very compact when packed, and also very light. It offers 3.5 inches (8.9 cm) of cushion that separates you from the ground.
With such features it is indeed suitable for any outdoor activity, and it will protect you in any conditions in a 3-season use. It is definitely suitable for the trail as well. I have included it in my list of best inflatable sleeping pads.
Below you can see how I rate it against my usual rating criteria so that you can easily compare it with other items of this type:
BEST PLACEs TO BUY
For more options, please check under the category Sleeping Pads.
Bookmark this site and come again, this will keep you informed because I add texts here regularly. Let me know if you have questions or comments, there is a comment box below. Have a nice day.