---
This Kelty Upslope Tarp review is about yet another great tool from Kelty. This is an ultra-lightweight backpacking shelter, 1 lb 12 oz (0.8 kg), which provides enough space for two people.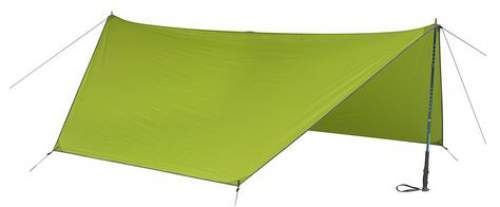 ---
Key benefits
Easy setup.
Ultra-lightweight.
Very packable.
Very versatile.
---
The Upslope Tarp – description
The Upslope Tarp is a classic versatile shelter, very much suitable for backpackers and hikers, ideal for one person, but it can provide enough space for two people as well. It is normally set up with two trekking poles, there are two grommets for this purpose, one on the front and one on the back, where you put tips of the poles.

The use of this tarp is limited only by your imagination. It can be pitched in several formations on its own, or in combination with a tent as an additional vestibule, in particular with the Kelty TN 2 and TN 3 tents. These tents are equipped with a buckle on the fly, which matches a buckle on the tarp. The rest of the tarp is then supported by poles and fixed with its own guylines. You can see some configurations in the pictures.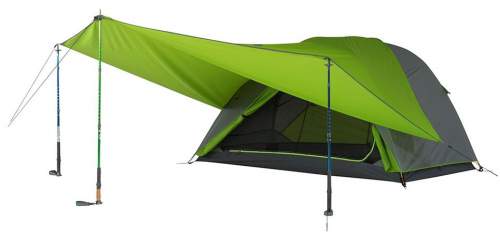 If you use a hammock, this tarp is a tool you will need above you. You can use it also to cover your equipment, to cover your car or your motorbike.
With the fly which has an 1800 mm waterproofness rate, this tarp is a reliable shelter from the rain, and it also provides a shade for several people. You can set it up easily on practically any terrain because it comes with its own guylines and stakes.
What is in the package
Upslope Tarp fly.
Guy lines.
8 stakes.
Pitching steps
Lay out the tarp on the ground and set the trekking pole length to the desired height. It is recommended to start with 125 cm.
Take guy lines from storage pockets on the underside of the tarp at the center grommet.
Set the trekking pole tip into the grommet on one side and stake out each of the two guy lines.
Repeat the process with the trekking pole on the other side.
Stake out the four remaining tarp corners.
When all is done and all guy out points setup, you can go around and tighten or loosen all 8 guylines.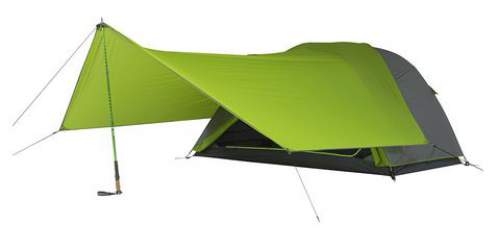 ---
Pros & cons
Here is my short summary:
Pros:
Simple design.
Easy setup.
Great combination with Kelty TN tents.
Cons:
Not so large as a standalone tool.
The Upslope Tarp has received great reviews from Amazon customers, with an incredibly high average rate.
---
Specifications & summary of features
Seasons: 3.
Minimum weight: 1 lb 6 oz (0.62 kg)*.
Packaged weight: 1 lb 12 oz (0.8 kg)*.
Capacity: 2 people.
Length: 78 in (198 cm).
Width: 68 in (173 cm).
Peak Height: 46 in (117 cm).
Floor area: 37 ft² (3.44 m²).
Packaged size (L x D): 8 x 4.5 in (20 x 11 cm).
Trekking pole pitch.
Guyline storage pockets.
Adjustable stake loops.
Multiple pitch options.
Fly: 40D Sil Nylon, 1800 mm.
*The meaning of these terms is described in my separate text.
---
Summary
In conclusion of this Kelty Upslope Tarp review, if you need a very lightweight and versatile tool and do not wish to spend too much, then this is it. This tarp will surely save you from elements in your adventures. If you already have any of the Kelty's TN tents, you realize how well this tarp works with them. If you use a hammock, this tarp will nicely combine with it.

You might want to compare this tarp with the latest one from Big Agnes with some great materials used, the Big Agnes Onyx Tarp Carbon with Dyneema fabric.
Thank you for reading. I love to hear from you, so please use the comment box below. Have a nice day.