---
Browning Camping Hawthorne 4 Person Tent is a very affordable and reliable freestanding car camping tent with two doors, a fly with two small awnings, and a very easy setup.
---
Key features & benefits
Very easy setup.
Fiberglass poles.
2 doors with 2 windows.
Fly with small awnings.
Fully freestanding.
Very affordable tent.
---
What kind of tent is this
The Browning Hawthorne is a new 2018 series that currently includes this 4 person and yet another 6 person tent. Both are very simple 3-pole structures with an easy setup. The 4 person tent described here is with two doors and with a fly which they describe as a 'full length' but it is without vestibules as you realize from the picture. It clips to the frame in the corners and this makes it fully freestanding so you can pitch it anywhere regardless of the ground.
---
Who is it for
Capacity-wise, it is declared as a 4-person tent, the dimensions are 8.5 x 7.5 ft (259 x 229 cm) and indeed you can put 4 sleeping pads on the ground, see the floor dimensions and what they suggest for using it: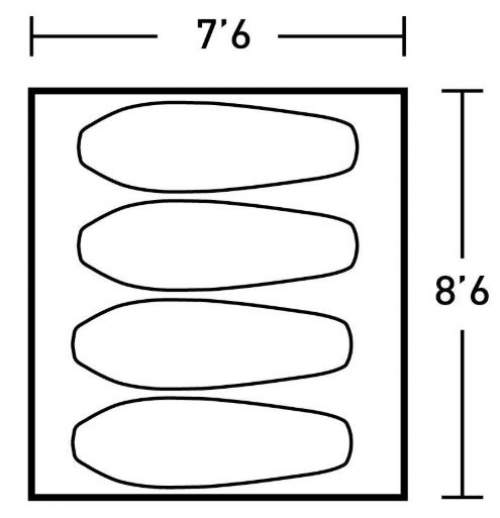 But I mentioned that the fly is without vestibules or any similar storage area. So realistically, this is a tent for couples only.
Weight-wise, this is a bit heavy tent for its dimensions, it weighs 11 lb 4 oz (5.1 kg). So although it might be backpack-portable, I see it primarily as a car-camping tent, and you can keep your stuff in the car. If you really need something of that size for backpackers, please check this list with best 4-person backpacking tents.
But note also that its packed size is not bad at all, the dimensions are 24 x 7 inches (61 x 18 cm). So it can be transported even on a bicycle or on a motorbike.
Seasons-wise & climate-wise, this is a warm-weather camping tent. So I would say this is a tent for 2-seasons, say summer, late spring, and early autumn. As you see from the picture below, there are mesh sections on the sides and on the top, so you have vertical airflow. The doors have mesh sections as well for a crossflow. So you will have a good ventilation in the case of a hot and muggy weather.
But these same mesh areas mean that it does not preserve the warmth so I would not use it in a cold environment. If you need something for such conditions, better check some of these best winter camping tents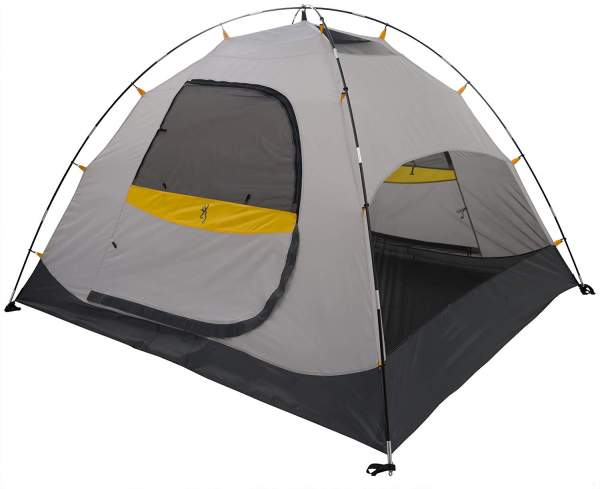 Since the fly does not go completely to the ground, the doors are not fully protected in the case of a side wind coming to the door. I asked the manufacturer about this and they were completely honest about this. One can only appreciate this.

---
Materials & construction
The poles 
You have them 2 + 1, all fiberglass with 11 mm diameter and they are shock-corded and with aluminum ferrules. So they are rather thick but this also means heavy, and fiberglass is certainly not a match for aluminum poles. But this is why the tent is so affordable. The third pole is a short piece which is on the top and it creates small awnings above the doors.
The fabric
They use a 75D 185T polyester fly with 1500 mm coating which is designed to resist UV damage and to stay taut. The same material is used for the floor. All seams are factory-sealed.
This is a typical waterproof rating for such tents and you do not need more, there are even winter tents with such a fly rating. The two doors are with panels and mesh in the upper section, so you effectively have windows here and you can keep them that way even if it is raining, the brims above offer enough protection.
Other features
The zippers are #8.
Mesh storage pockets.
Gear loft is included.
8 inches (20 cm) steel stakes.
Guy ropes are included.
---
Specifications
Type: dome-style freestanding tent.
Capacity: 4 people.
Weight: 11 lb 4 oz (5.1 kg).
Dimensions: 8.5 x 7.5 ft (259 x 229 cm).
Area: 63.8 ft² (5.9 m²).
Area per person: 16 ft² (1.48 m²).
Peak height: 60 in (152 cm).
Packed size: 24 x 7 in (61 x 18 cm).
---
Browning Camping Hawthorne 4 tent vs Competitors
This Hawthorne 4 tent is very similar to the Alps Mountaineering Meramac 4 ZF so I put them here side by side. I also add the MS Genesee 4 tent which is with vestibules yet much lighter, and yes it is with aluminum poles. All of them are very affordable, so please follow the links to check the price updates.
Browning Camping
Hawthorne 4
Alps Mountainieering
Meramac ZF 4
---
Final thoughts, rating, pros & cons
So the Browning Camping Hawthorne 4 Person Tent is a very simple yet functional design. With such doors and the small awnings, it is easier to get in and out than when you have to wrestle with vestibules, but the downside is there is no storage area here and the doors are not fully protected. This is why it is very suitable for car camping so that you can keep your stuff in the car.
You have seen the price, totally fair, and the tent is worth the money. Just disregard the declared capacity.
As of the moment of writing this text, there are no many reports around, this is a new tent on the market; but the ratings are incredibly high. See how I rate it by using the same criteria as for other tents in the site:
If you need more options to consider, please visit my page with tents, you will find them in all shapes. You might want to check also this MSR Habitude 4-Person Camping Tent which has a vestibule.
Note that I am not paid by the brand or related in any sense, so this is not a sponsored text. I give my unbiased view of the tent.
Do you have any experience with this tent? If so, please share your thoughts, there is a comment box below. I wish you a nice day.