---
Here you have the list of the best portable shower tents for camping that are currently available on the market. All of them are suitable also to be used as a toilet and change rooms.
---
What Kind Of Camp Privacy Shelters Are Included Here
Regarding the purpose, here you have the portable privacy shelters which can be used as
shower tents,
changing and dressing rooms,
toilet tents,
storage tents.
Note that there are many privacy shelters available on the market and you can see them here. But most of them are the pop-up type or just not strong enough to support a camping shower. The items presented here are all suitable for such a purpose and these are truly multi-purpose tools. If you plan to use them as toilet tents, please check my text with the best portable camping toilets.
These shelters can be used in the camp, at beaches, at some open-air parties and gatherings, etc. So these are very versatile and multi-functional tools.
Regarding the size, you have single and double structures. Obviously, both have good and less good sides. Double are bulkier when packed and heavier as well, but they offer a spare room to put your clothes before you take a shower. Single shelters are less bulky and usually lighter, but they offer less comfort.
Regarding the setup, some are the instant type and this is really convenient both for deploying and for taking them down.
Regarding the floor design, they usually have a removable floor with some panel and the mesh for draining the water on the perimeter.
Privacy in a camp is always a bit complicated, starting from the tent if you share it with other people. The same is with taking baths and going to the toilets. So such portable privacy shelters are really convenient, they usually pack well, they are affordable, and they are easy to use.
I mentioned the possibility of using them as a storage area, so bear this in mind if you have a cabin-style tent without storage elements. Note that they all provide full protection from elements.
---
My list of portable shower tents
So here is my list of the two groups, and the shelters are ordered alphabetically in each of the groups. Obviously, the numbers are not for ranking, they are just for easier navigation:
2-Room Camping Shower Tents
Single Room Shower Tents For Camping
Please see more about them in the text below.
---
1. CORE Instant Camping Utility Shower Tent with Changing Room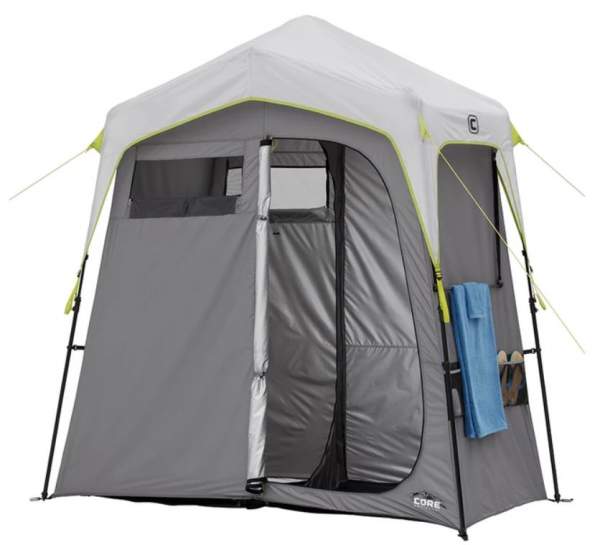 So here you have a beautifully designed shower tent which includes two separate sections each 3.5 x 3.5 ft (107 x 107 cm) size. The inner door between the rooms is with a zipper for full privacy.
This is an instant setup design and this means the steel frame preattached to the tent so you simply unfold it and open like an umbrella. The official setup time is 1 minute.
The complete structure is with a mesh roof but you also have a fly which attaches to the frame. So this is a fully freestanding construction, but you have steel stakes and guylines included.
Yet another bonus here is a five-gallon solar heated shower bag, two towel bars, storage pockets, and a zipper-lock for privacy. The center height is 84 inches (213 cm).

---
2. Northwest Outdoor Portable Two Room Shower Tent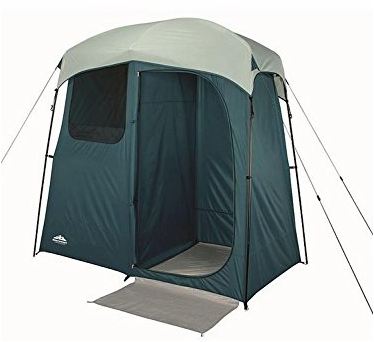 Here you have a multi-purpose 2-room structure with 7 x 4 ft (2.13 x 1.22 m) floor dimensions, which provides you 28 ft² (2.6 m²). So this is more than the Ozark Trail model below. They describe it as a great option for camping and hiking, or any other outdoor adventure. But I would add as a basecamp tool only, as it weighs 13 pounds (5.9 kg).
The height is 7 ft (213 cm) and this is quite typical for the tools presented here in the text. The frame is a combination of steel and fiberglass; the 3 roof poles are fiberglass and the vertical poles are steel.

---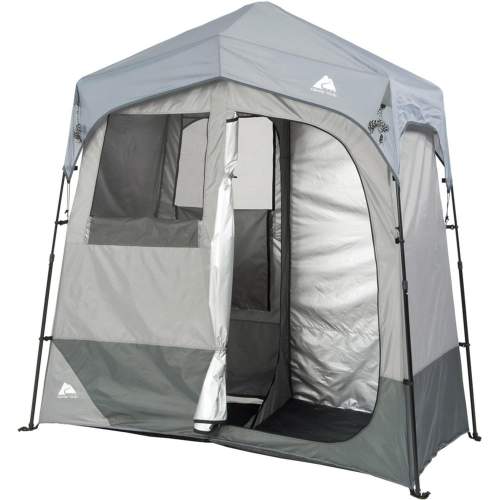 This is a very popular privacy shelter and it has been on the market for several years already. So all is known about it and you cannot have any unpleasant surprise if you order this particular item. The reviews by users are very positive, and on Amazon alone, there are more than 100 reports with an incredibly high average rating 4.6/5.
When you realize how easy it is to set this shelter up, you will know why it is so popular, so please see this video, you will see it ready in under 60 seconds:
So you have an instant setup system with the frame (poles) pre-attached to the tent's fabric. You have a 3-in-1 system here, a changing room, a shower room together, and enough space for a porta-potty. By the way, if you are undecided about a portable toilet, see my list here.
The dimensions here are 7 x 3.5 ft (2.13 x 1.07 m), so the total floor area is 24.5 ft² (2.3 m²). The walls are coated with a silver aluminum for privacy. The structure is 7 ft (213 cm) high.
You have 2 windows, a towel rack, a toiletries holder, a removable rain fly. The shower room is with a mesh drain, and the package also includes 10 steel stakes. The tent fabric is polyester and the frame (poles) are steel.
Bonus: You have a five-gallon (19 liters) solar shower included. This makes it a complete shower system in the camp. So just set the shelter up and attach the shower reservoir to stay in the sun for a while.

Note that they also have a non-instant version of this privacy shelter, with almost the same other features.
---
4. Quictent 2-Room Pop Up Automatic Rod Bracket Shower Tent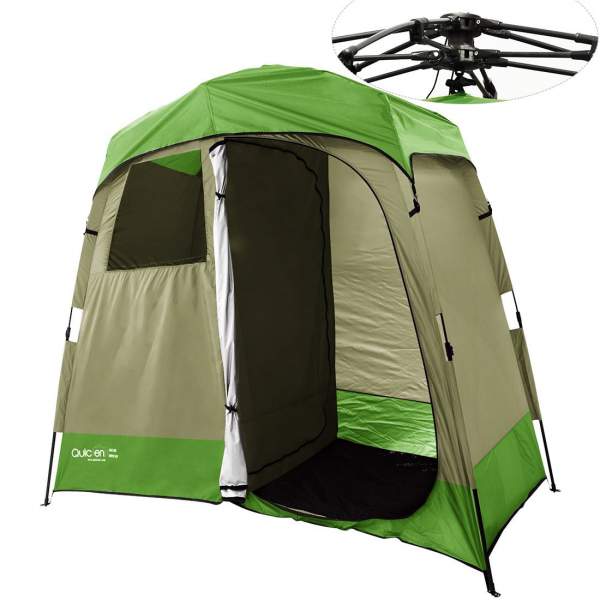 This shower tent is available in two colors, and what you have here is a model with a pre-attached frame, so the name may be confusing. But they also have yet another version which is a pop-up type and you can see them all in the link below.
So you have a change room with the entrance door and the shower room with windows on the front and on the back. There is a mesh on the ceiling as well, and this all is protected with a waterproof hood.
The wall poles are aluminum and the roof poles are 9.5 mm fiberglass, and the structure opens like an umbrella. The floor dimensions are 94 x 47 inches (2.4 x 1.2 m). So you have 2.9 m² floor area here, and this is more than in the Ozark Trail model above. The height is less impressive, only 81 inches (206 cm). The floor is designed with mesh on the perimeter to drain the water.
Bonuses: You have the following included in the package:
5-gallon (19 L) solar shower,
a water bag.

To see how to set this shelter up, please watch this video:
---
5. Bigfoot Outdoor BaseCamp Oversized Privacy/Shower Camp Tent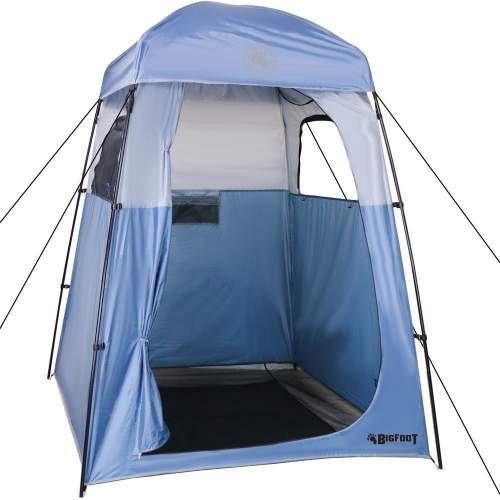 The Bigfoot Shower tent is a nicely proportioned and stable structure with a large 5'4″ x 5'4″ (163 x 163 cm) base and 7'2″ (218 cm) height. This is an item from a 100% US company based in Nevada, and backed by their limited lifetime warranty. They claim that all their products are rigorously tested and tried.
This item can be used at campsites as a personal or communal shower tent, WC, or changing room. You have a great head clearance and multiple storage compartments and the hooks on the ceiling fit most solar showers. The weight is 8 lb (3.63 kg). The shell is 190T polyester taffeta and the poles are a combination of fiberglass on the roof and aluminum as upright poles. This is a fully waterproof shelter with 2000 mm rating.

---
6. Browning Camping Privacy Shelter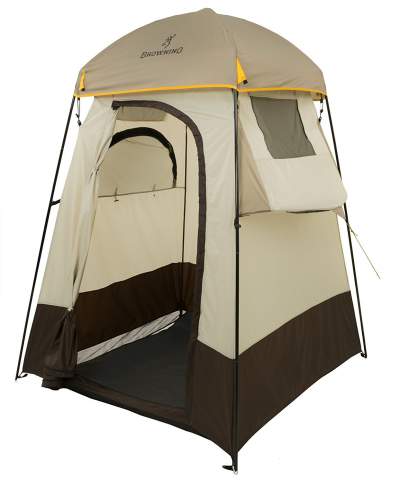 Although the name contains the words privacy shelter, this tent is completely built in the style of a shower shelter. This means that you have several mesh storage pockets located very high so that the stuff kept in them is less exposed to the water from the shower. The part of this design is also the external mesh pocket which you can reach through one of the two mesh zippered windows.
But the coolest feature, which you will not see in any other model here in the list, and probably nowhere else, is the integrated shelf which you see in the picture above. This is the structure under the window on the right.
The base dimensions are 5.5 x 5.5 ft (1.7 x 1.7 m) so you have 2.9 m² of the floor area, which is more than some of the 2-room shelters above. The center height is also impressive 86 inches (218 cm).

Please see more in this nice video:
---
7. GigaTent Stinky Pete 1 Person Deluxe Shower/Toilet/Changing Room Tent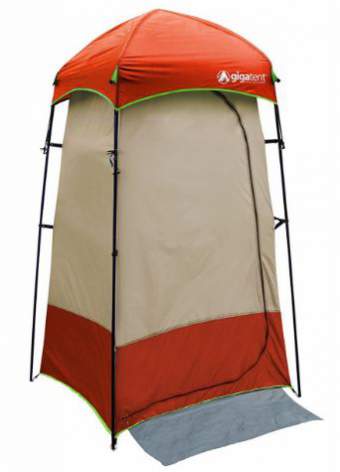 This shower cabin has 4 x 4 ft (1.22 x 1.22 m) floor dimensions which is a bit smaller than the other single room showers below. But it is the tallest with its 90 inches (229 cm) peak height.
The poles are 19 mm steel, the floor is polyethylene and the wall and the fly are polyester with 450 mm waterproof rating; this is just like an ordinary umbrella, but completely enough for such a tool.

Please see a bit more in this short video:
---
8. Lightspeed Outdoors Xtra Wide Quick Set Up Privacy Tent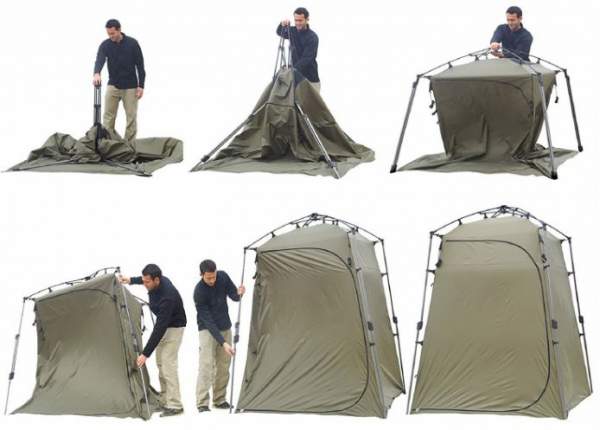 This is an instant setup privacy tent that has been on the market for several years already. The easy setup and take down is completely presented in the pictures above, more you can see in this short video so please have a look:
As the name suggests, this privacy tent is quite wide and you have 5 x 5 ft (1.5 x 1.5 m) floor size which makes 25 ft² (2.25 m²) the floor area. The tent is 6.75 ft (206 cm) tall.
You can use this structure as a changing room, camp shower, toilet room, or just as an extra storage next to your tent. Note that the fabric is 190T polyester and it has 800 mm waterproof rating due to its PU coating. So whatever you put there, it will be protected from elements.
You have a towel strap, pockets for small items, and a shelf for a solar shower or your clothes, and 2 zippered mesh rooftop windows.

---
9. KingCamp Oversize Outdoor Easy Up Portable Dressing Changing Room Shower Privacy Shelter Tent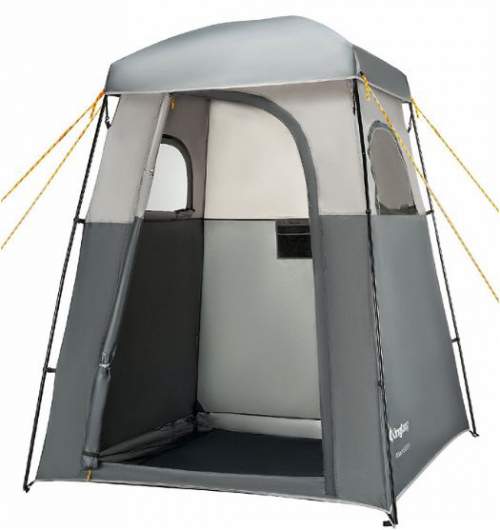 This nicely proportioned privacy shelter has the floor size 66 x 66 inches (1.67 x 1.67 m), so regardless what you are using it for, this is an extra 2.8 m² of a fully protected area. This is almost the same as the 2-room Quictent model above. The height is 85 inches (216 cm). It packs to its carry bag which is (L x D) 24 x 6 inches (61 x 15 cm).
The floor is a durable polyester, and the perimeter is a mesh which drains the water. Inside you have 4 mesh pockets on the wall, and one towel strap, and outside you have a pair of mesh pockets to put your dry clothes which you can access through the window.
The roof poles are fiberglass and the 4 corner poles are steel. This can easily support 20 kg (5 gallons) solar shower (not included). You also have 4 guy ropes and 8 pegs in the package.
For ventilation, you have 2 side mesh windows. Note that the windows are also with panels for a full privacy. This model is available in 3 different colors, you can see them in the link.

---
10. NEMO Heliopolis Portable Shower Tent and Privacy Shelter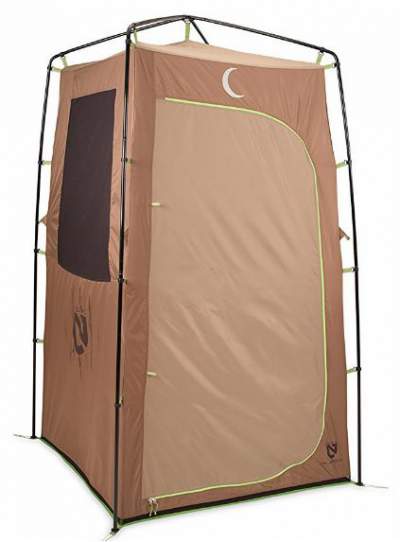 This is a 7 ft (213 cm) tall freestanding structure and the weight is 12.6 lb (5.7 kg), and it is designed to be used as a shower tent, dressing room, or a privacy tent where you can put your portable toilet.
You have hooks for the shower hose, pockets for towels and other stuff that you need in such a place. On the floor you have a full-perimeter mesh drain and the high-density polyethylene which is mildew-resistant, and on the side you have a huge screen window visible in the picture above. The walls and the roof are 75D PeU polyester with 1500 mm waterproof rating.
The frame is made of steel so you have 16 mm poles, and you have a welded hub on the top. The stakes are included and this all packs nicely in the drawstring stuff sack, so you can have privacy anywhere, on your camping trips, at music festivals, during your field work, or just during your days at the beach.
The base is 48.1 x 48.1 inches (122 x 122 cm) so the floor area is 16 square feet (1.5 m²) and you have places in the corners to stake it down. You have loops in the middle of the tent to secure it additionally and to fix it to the ground. The packed size is (L x D) 10.2 x 3.2 inches (26 x 8 cm).

Note that Nemo has its Helio LX Portable Pressure Shower with Foot Pump which you can use in combination with this shower tent.
Please see more about the tent in this detailed review, the whole process of setting this shower tent up is presented:
---
11. Texsport Instant Portable Outdoor Camping Shower Privacy Shelter Changing Room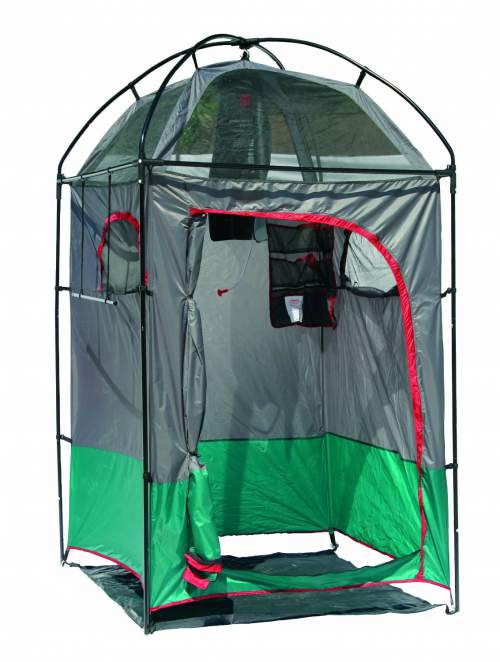 The picture above shows this Texport Shower Tent without fly only to make the roof structure visible. But you have the top fly and you can see it at the link below.
The structure is with vertical walls so space is the same on the floor and at the head height. You have 4.6 x 4.6 ft (1.4 x 1.4 m) here, which implies almost 2 square meters. The height is 87 inches (221 cm) so it is taller than most of the models shown above.
The floor is a removable durable ripstop polyethylene. The walls and the fly are heavy-duty PU coated taffeta. The vertical poles are 3/4 inch (1.9 cm) shock-corded steel tubes. You have four mesh windows on the ceiling for an excellent ventilation. An interesting detail is two see-through skylights on the rain fly.
Inside you have a solar shower bag holder and the shower is included, and you have mesh pockets for accessories. Pegs are included in the package so stake this tall structure to the ground. This tool packs to 32 x 10 x 8 inches (81 x 25 x 20 cm).

---
How to choose
Design
You have noticed the difference in height, so this may be important if you are a particularly tall person, or very short as well. Some models have different color options, so please check the links above.
All have at least basic features needed for showers. No doubt, 2-room tents are more convenient than single room tents.
Wind resistance
These outdoor privacy tents are narrow and tall structures, and typically lightweight. As you can imagine this does not make them very stable in a windy place. Therefore, it is important to have a model that can be staked to the ground. Those given here are all with such features.
Weight & packed size
When I think about such privacy shelters, I have in mind a camping place with a car access. In view of this, I would not consider weight as an important factor.
Almost the same is with the packed size, if you go for a 2-room privacy shelter it will be a larger bundle but you have a luxurious tool.
The point is, I would not consider carrying these tools in my backpack; these are camping tools. If you have ever been on an overnight or multi-day hiking tour, you know well that you have lots of other stuff that is more important, and the backpack is always heavy.
Pole materials
The poles are steel, aluminum, and fiberglass, sometimes combined. Fiberglass poles are more fragile, so I would always go for metal.
---
Conclusion
This was my list of the best portable shower tents for camping, if you search further you will realize that the number of options on the market is quite limited, although there are so many pop-up shelters available. But for showers, you need stronger structures, and these are presented here.
I shall be updating this list, so bookmark this text and keep an eye on it in the future. Please check my page with much more useful camp stuff.
Thank you for reading, and please use the comment box below if you have any comment or question. Have a nice day.
---