---
Waterproof rating for tents is one of the most important factors when you decide to buy a tent. Here are a few thoughts about criteria which you should rely on.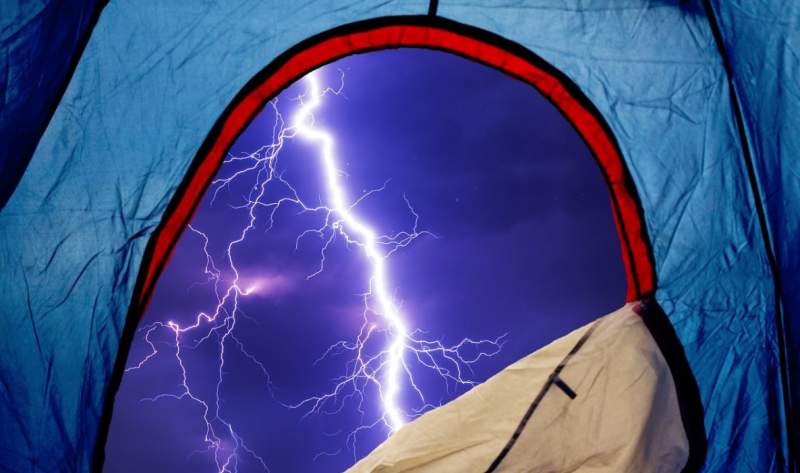 This text is inspired by a comment I received recently in one of my posts. One reader suggested that I should take as granted the statement of a manufacturer that the tent is fully waterproof. I have problems with this and here are a few of my thoughts on this issue.
Typically, you have the following situations when you search for information about the tent's waterproof rating:
There may be a statement about waterproof rating expressed in terms of millimeters of the water column, or in PSI. These are equivalent, PSI means 'pounds per square inch, while in the first case this is the height of a water column per square millimeter. But in practically all situations such a statement is based on the testing performed by the manufacturer. You will hardly ever find a piece of information about independent testing. So if you trust the brand you can decide to believe in the statement.
But once (in my first attempt to climb Weissmies 4023 m) I was in a new and untested (stupid, I know) tent at 3000 meters altitude and there was a storm. My tent was leaking everywhere, so around midnight I had to leave the camp. This ruined my tour. The tent had the usual rating in millimeters.
Yet another possibility is to have a statement by the manufacturer that the tent is "100% percent waterproof". I am normally disappointed when I see such a statement because I am convinced that there is no such a thing as a completely waterproof tent. If this would be possible, then the option presented in the item 1 would not make much sense. The truth is that a tent can be waterproof only up to a point, or better to say up to a number of millimeters of the water column.
In some cases there is no information at all about waterproof rating. This you will see even with tents from some established brands. In such a situation you can only rely on users' reports.
Obviously, the most reliable is the first option, but even in such a case you cannot be completely sure. My own mentioned experience is enough for me. So, you might want to read reports by users. One must be careful here. There may be situations that people buy a tent, store it at home, and then start using it for the first time long after that. Such a tent may have tapes that do not seal the seams any longer, this happens even if you do not use the tent.
Yet another possibility is that the coating of such an unused tent delaminates from the fabric. This also happens when the tent stays stored for a long time. So you have the tent which will leak everywhere and the user will make a report somewhere that it is unreliable, etc. The user is surely right, the report is based on personal experience, but the information he/she gives is not completely reliable. This same tent may be waterproof if it is used correctly.
Both these effects related to degraded tapes and coating are nicely described in this video by the MSR brand, please have a look:
The question is – what to do? There is no simple answer but here are a few possible options:
Go for a reliable and trusted brand.
Check warranty conditions to send it back if it leaks.
Check the tent when you receive it.
Be ready to pay more for a quality tent.
Read reports by users, but bear in mind the natural degrading mentioned above.
Think about buying a canvas tent, if properly done such a tent will not leak, and it is without coating and tapes. Those tents are expensive but more importantly, they are heavy, so this is for camping only.
Check one of MSR tents with the new Xtreme Shield technology with 3-times more durable coating and without tapes, but with seams that are made waterproof due to canvas thread used. One great example is this MSR Mutha Hubba NX 3 tent.
I am just packing my stuff and going to mountains, it will be Slovenian and Austrian Alps again, have some peaks that have been waiting too long. I am taking a solo tent and a 4-person, the latter for ordinary camping places near the car. So stay tuned, I shall add some mountaineering reports here in the site soon.
What do you think about this waterproof rating of tents issue? Please let us know, perhaps I have missed mentioning something important, there is a comment box below.
---