---
The North Face Dolomite One Duo Sleeping Bag is incredibly versatile with its separate layers and multiple temperature ratings, suitable for users who change elevations and climates.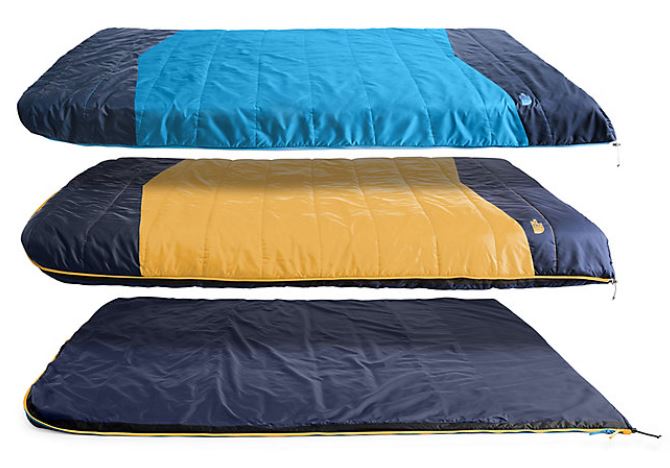 ---
Key features & benefits
3-in-1 Sleeping bag.
3 Temperature ratings.
Can be fully unzipped.
Incredibly versatile.
Synthetic insulation.
Machine washable.
---
What is in the name
The North Face Dolomite One Duo Sleeping Bag can be described as a rectangular hoodless sleeping system. You have two separate upper layers. So you can use any of them, or both together as in the picture below left. This explains the phrase 3-in-1 mentioned above.
This is an incredibly versatile system suitable for people who change elevations or climate frequently. When you unzip any of the two layers, you can use it as a blanket.
Also, each of its three elements can be folded in half the width and zipped to itself, and used as a solo sleeping bag. Clearly, this is far more than a 3-in-1 set. So you can have 3 solo bags, 3 versions of a double bag, and 3 solo blankets. This would make it 9-in-1, quite amazing. It is surprising that the manufacturer did not bother to point out all this.
Temperature rating
You have the following temperature ratings when you use the upper layers separately and together:
30 degrees F (-1 C).
50 degrees F (10 C).
15 degrees F (-9 C).
Note that this is not EN or ISO rating, but even if it would be so, such ratings are mainly general guidelines based on some 'average' user, 'average' age, etc. The bag is without a hood and this is something to bear in mind. So it is always best to test it in controlled conditions and only then you will know.
Other details
The insulation here is their Heatseeker Eco synthetic material, it is made of 30% post-consumer recycled fibers.
Zippers open from the bottom so you can have extra ventilation. They can also be unzipped from any side.
The shell is a 50D Ciré polyester taffeta with a non-PFC durable water-repellent finish. The lining is a very comfortable polyester.
The bag is machine washable.
It has an inner pocket for smaller items: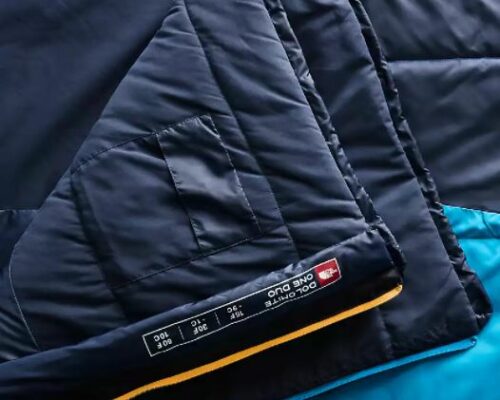 The principle of this set is presented in this short video, it shows the solo version of this bag but the design is the same:
---
Who is it for
Regarding the best use & climate, you have seen already about its official temperature ratings, so this would make it a 3-season sleeping bag. I have seen a number of users reporting that they were cold during the night, and this was mainly from the ground.
Some even claim that there is no insulation in the bottom part, but this is not so. This is a sleeping bag that is insulated from all the sides, but when insulation is pressed with the body, it will not insulate you. This is simply due to the fact that the air is forced out. It is essential to have an appropriate sleeping pad. 
Regarding the size, this is a double-wide sleeping set, and they build it in two sizes R and L. You have 83 x 60 inches (211 x 152 cm) for the R size. So this is plenty of space for two adults. 
Regarding the weight, it is quite heavy with its 8 lb 13 oz (4007 g). The packed size is (L x D) 24 x 13 inches (61 x 33 cm), so this is not something to carry long distances. But you can transport it even on a bicycle. The parts of the set can be separated so users can share the weight.
Regarding the price, it is a bit steep, but this is a quality product and you have one of the best known brands behind it. You will have below links to several sellers so you can compare.

---
Specifications
Type: rectangular.
Sizes: R & L.
Weight:
– R: 8 lb 13 oz (4007 g).
– L: 9 lb 7 oz (4273 g).
Dimensions for R version (L x W): 82 x 60 in (208 x 152 cm).
Packed size (L x D): 24 x 13 in (61 x 33 cm).
---
Final thoughts & rating
So I would say that versatility is the best features of this The North Face Dolomite One Duo Sleeping Bag. If you follow this industry then you know that there are no many of such multi-layer bags on the market. This is even more so if you check among the double-wide bags for two people.
This is a very functional and easy to use layering system that provides optimal comfort in a variety of conditions. If you and your partner experience a wide range of elevations and climates, this is a sleeping set to consider. Fully recommended. I have included it in my list of best double sleeping bags for adults.
Below you can see how I rate this product against my usual rating criteria, so you can easily compare it with other items of this type:
BEST PLACEs TO BUY
It is not surprising that you have this sleeping system from such a globally known outdoor brand at so many top sellers. It makes sense checking prices, so have a look.  
For more options, please check under the category Sleeping Bags. You might want to compare this system with the Coleman All-Weather Multi-Layer Sleeping Bag that is also incredibly versatile.
Bookmark this site and come again, this will keep you informed because I add texts here regularly. Let me know if you have questions or comments, there is a comment box below. Have a nice day.