Rosablanche is not so prominent mountain in Swiss Alps, with its 3336 meters it is, in fact, a rather moderate in comparison with its neighbors on the south side like La Sale (3646), Le Pleureur (3704), La Luette (3548), and Mont Blanc de Cheilon (3870). However, it is a rather unique mountain in view of its normal north glacier routes.
[Chopin Nocturne in C sharp Minor (No.20)]
Both normal routes, from Barage de la Grande Dixence (Dix lake) in Val d' Heremence, and from Siviez in Val de Nendaz are relatively long glacier walks. There are crevasses on the routes, in particular from the Siviez direction.
Within this page, you will find all necessary information about these glacier routes to the summit and many useful photos. I passed these routes myself so I give here first-hand details about the climb.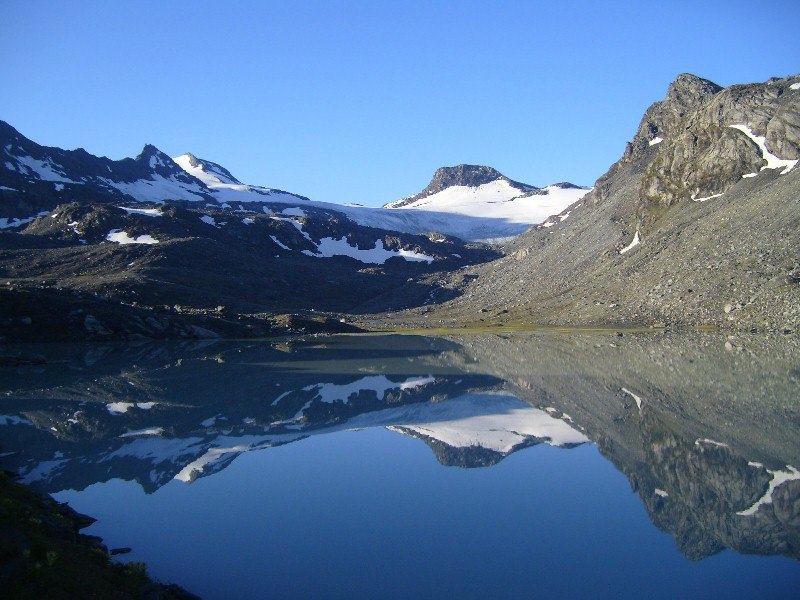 It may be interesting to compare Rosablanche with Barrhorn in the same region, which is far higher but in summertime it is without any snow whatsoever.
Below is a map describing access roads to the Rosablanche region.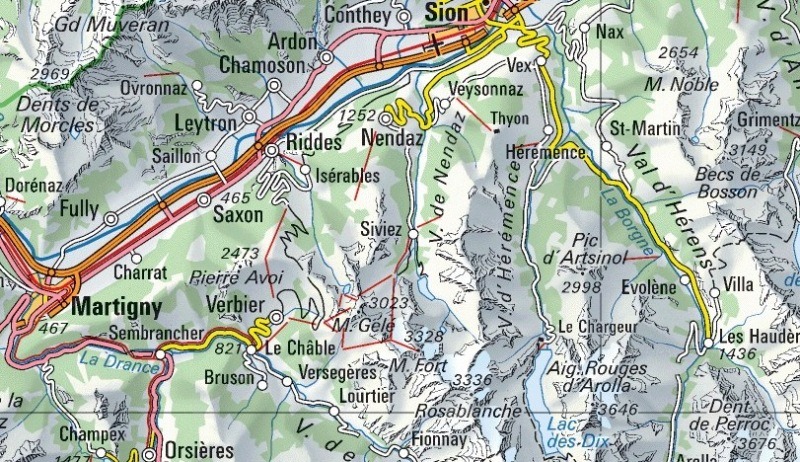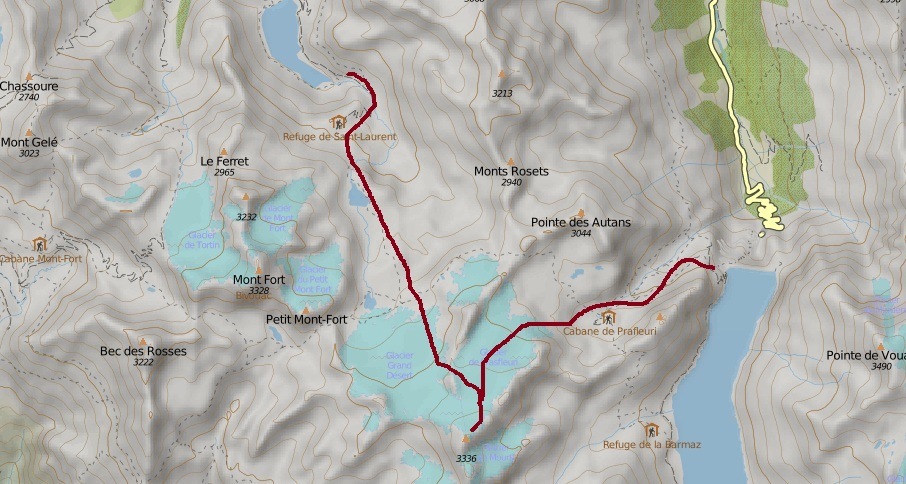 Roads
The maps above show access roads from Sion in the Wallis region of Switzerland. By car, the nearest destinations are the Dix lake in Val d' Heremence, and Siviez in Val de Nendaz. The former is at around 1900 m altitude and later at 1730 m. Those are good mountain roads in both cases. There are some simple hotels just below the Dix Dam.
Huts
There are many huts around, at all sides of the mountains. The closest from Val d' Heremence side are: Cabane de Prafleuri (2624 m), Cab. de Ecoulaies (2575 m), Ref. de la Barmaz (2458 m). From Siviez side, this is Ref. de St. Laurent (2485 m) above Lac de Cleuson.
There is also Cab. de Louvie in Val de Bagnes (Fionnay). This is not the complete list, a bit farther are Igloo des Pantalons Blancs (3280 m), Cab. des Dix (2928 m), and Cab. Mont-Fort (2457 m).
Routes to Rosablanche
The north-east route is over Glacier du Prafleuri, and the route from the northwest over Glacier Grand Desert. Those are simple glacier walks but there are crevasses in lower parts.
All precautions and equipment for glacier walks are required. This includes at least 12-points hybrid Petzl), and a rope and harness if you go in a group.
If you start from Siviez (1730 m) you may reach the summit in about 5 hours. You will first walk either along the road towards the lake Cleuson, the east side of the river, or you may follow a pleasant hiking trail along the west side through the woods. From the Cleuson dam, you will continue along either side of the lake following the signs to Ref. de St. Laurent.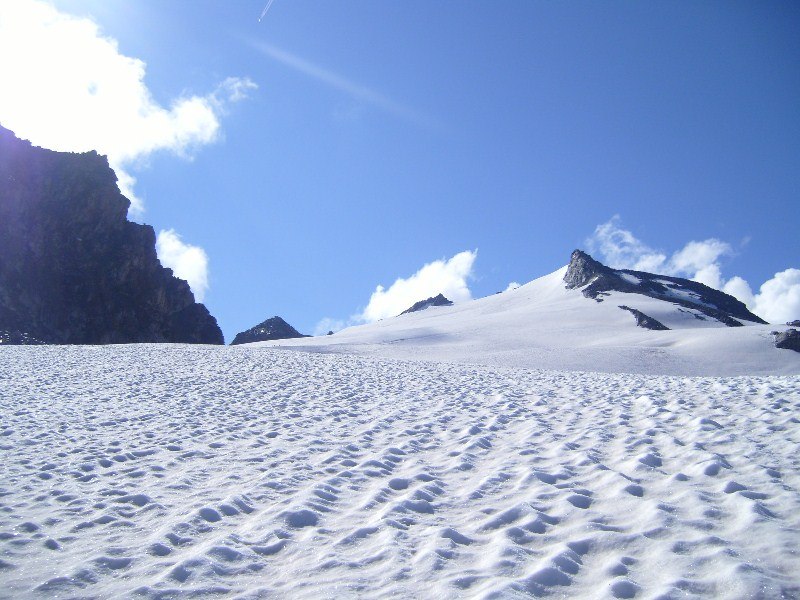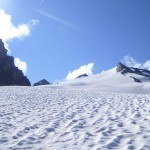 After the hut, you are on your own, no signs of civilization any longer and you should continue toward the lake Grand Desert which is at around 2650 m of altitude. I dream to go there again for camping and to walk around.
The glacier Grand Desert is visible from there, and you will continue to the southeast and at one point you will cross the route which goes to Col de Louvie in the southwest direction and to Col de Prafleuri in the north-east direction. Early in the season, the crevasses on the glacier may not be visible but there are many, I have seen some pictures when it is without the snow.
For this reason, I would recommend keeping left as much as possible close to the rock of Mt. Calme. This is because there is far more snow in this area and crevasses are effectively closed all the time.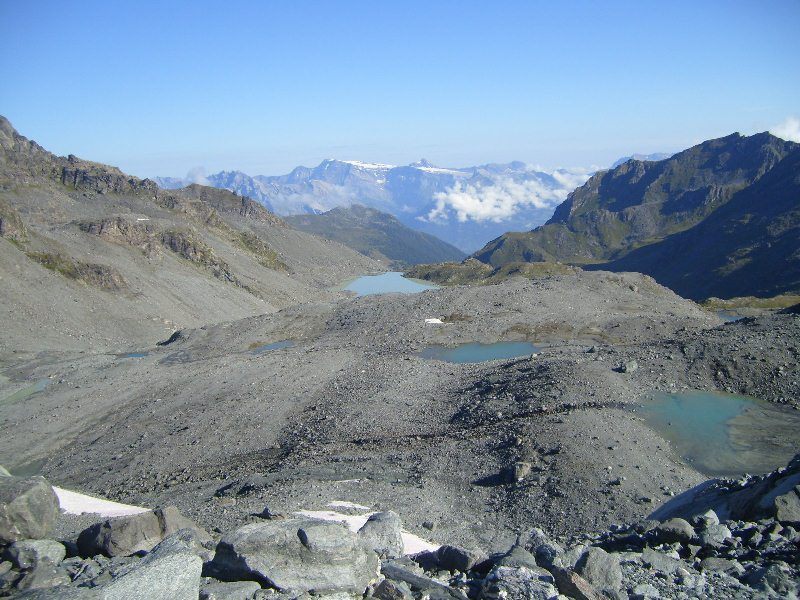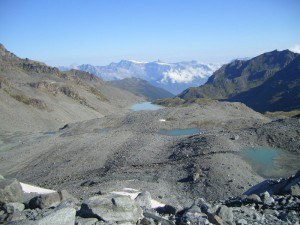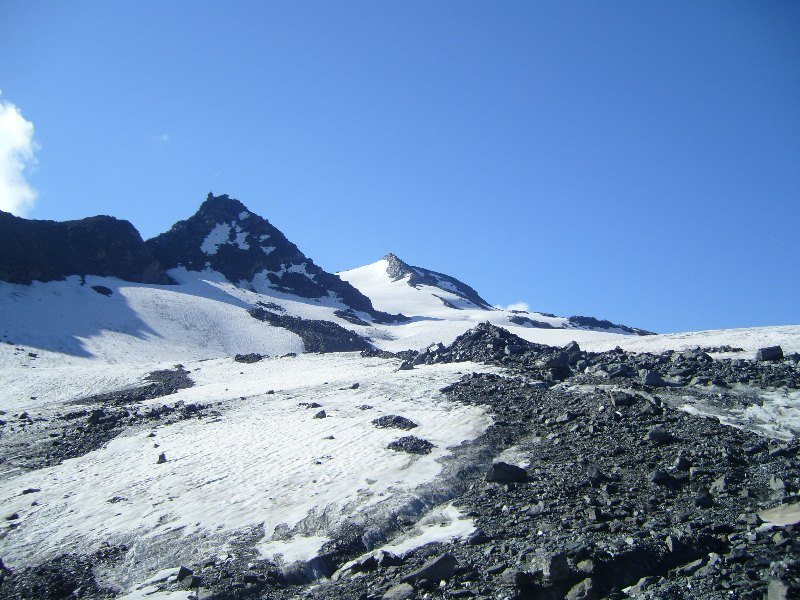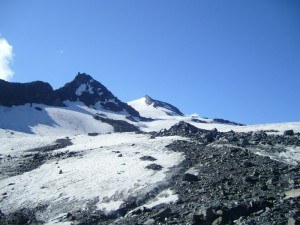 ---
From Dix lake, you should follow the signs toward Cab. de Prafleuri. You can get to this hut also from the south, i.e., from the La Barma hut on the west side of the lake Dix. This implies passing Col des Roux (2804). From Cab. de Prafleuri you should continue toward an area where the material was excavated for the building of the barrage on the Dix lake.
The summit of Rosablanche will soon be in sight and it will remain so for the rest of the climb. You will walk along the Prafleuri Glacier toward the summit. Cannot give timing for the ascent because I only descended partly this way, but you will see from the map that this part is shorter than the route from lake Cleuson.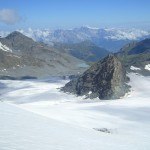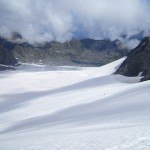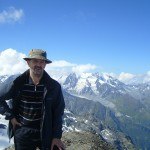 ---
About necessary equipment
This is a glacier climb, so here is the list with some items you need:
Note, the type of boots depends on the type of crampons, read more in my separate text.
---
My climb
For me, this was a solo climb from Siviez, in July 2009. I started at 4:30 am, I passed Lac de Cleuson and Ref. de St. Laurent, and I was at Lac du Grand Desert at 7:15. At 8:35 I crossed the point where the path splits towards Col de Prafleuri and Col de Louvie. There were no obvious signs for Rosablanche but I could guess the direction.
I saw just a few clearly visible crevasses in the lower part but I must say I was terribly concerned about them. The snow on the glacier was not hard. I used crampons. Later at the summit, I have seen a group of three roped girls without crampons. I arrived at the summit at 10:30 am.
I spent about 40 minutes on the summit, the weather was simply perfect. I descended along the Glacier Du Prafleuri, this was scary again of course although a beautiful walk, and then I continued up to Col de Prafleuri. I was at the Col at 1 pm. From there, I descended in the Siviez direction, passing a few small and beautiful glacier lakes.
Far below, just after I passed Ref. de St.Laurent, the rain started. I had all waterproof stuff but I still took a shelter at a small shepherd hut above Lac de Cleuson. There was a shepherd there, he even offered me tea from mountain herbs as he said. I thanked but said no need. Tired, sitting on the porch, and with a nice noise of rain on the roof, I even took a nap for a few minutes.
Later, I continued and arrived in Siviez at 18 h. What to say more, it was a beautiful full-day walk. I met just a few people all the day long. I would highly recommend it for everybody, but please remember crevasses; they are there even if you do not see them. Better not to go solo if possible.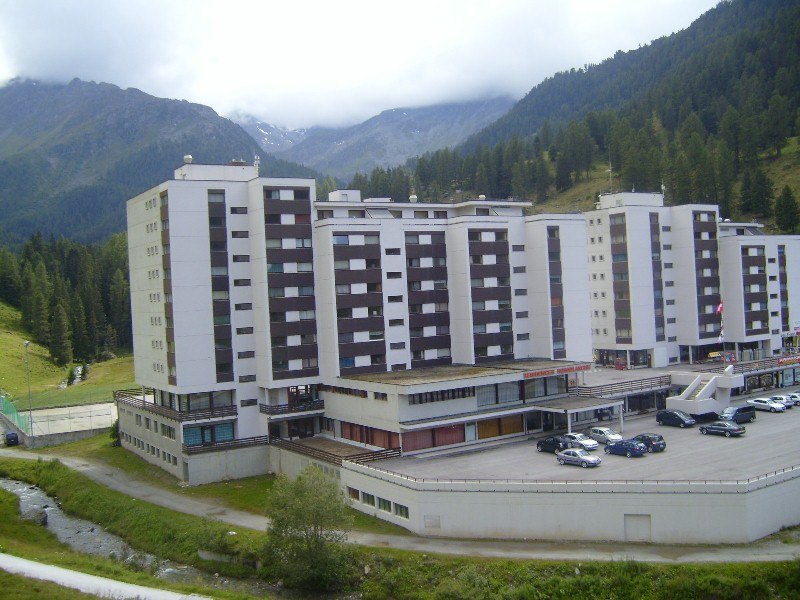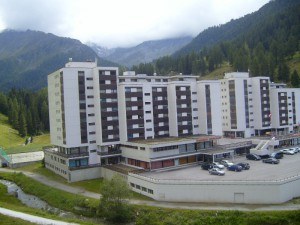 In this particular case, I was renting a flat in the building on the photo which you can see here left. The hiking routes start immediately from the building. There are flats of various size in the building and I am sure you will find something suitable. You may find a flat for less than 200 E per week for two people.
---
So to summarize, routes to Rosablanche from the north require glacier equipment, crampons, ice axe, rope. There are crevasses, therefore it is better not to go solo.
Regarding accommodation, I myself have been renting apartments through Booking.com. They have plenty of options with fully equipped apartments, houses, and hotels. Did you know that they have a loyalty program? You can save a lot when you make reservations through them several times.
If you are in the area and want to play it safe and hire a guide, please follow this link, they will find you somebody from the local area who will take you safely to any of the summits around.
Please leave some comments below, share your thoughts if you have been there or if you plan to go someday.
---
In the following YouTube video you will see the approach from the south: