---
The REI Co-op Wonderland 4 Tent is a freestanding 3-season tunnel-shaped tent with excellent ventilation, 2 doors, and aluminum poles.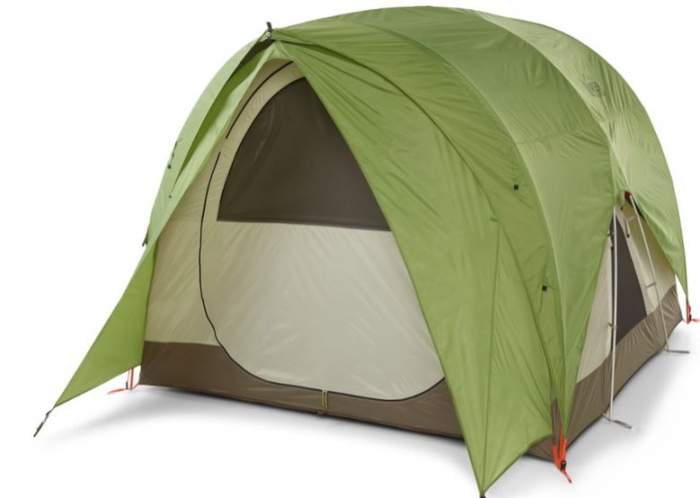 ---
Key features & benefits
Tunnel-type tent.
Freestanding.
2 Doors.
Aluminum poles.
Excellent ventilation.
---
What this REI Co-op Wonderland 4 Tent is about
Here you have a new tent from REI's series of two, there is also a larger 6-person version available. So this is a tunnel-shaped tent of a particular type. Namely, the tent is freestanding, and this is not so frequent feature of tunnel tents.
To realize what makes it freestanding it is best to see the picture below that shows the tent without the fly. Crucial here is the ridge pole that crosses the three loop poles. It attaches on the two sides of the tent, so there is tension in the fabric and this makes the structure fully freestanding.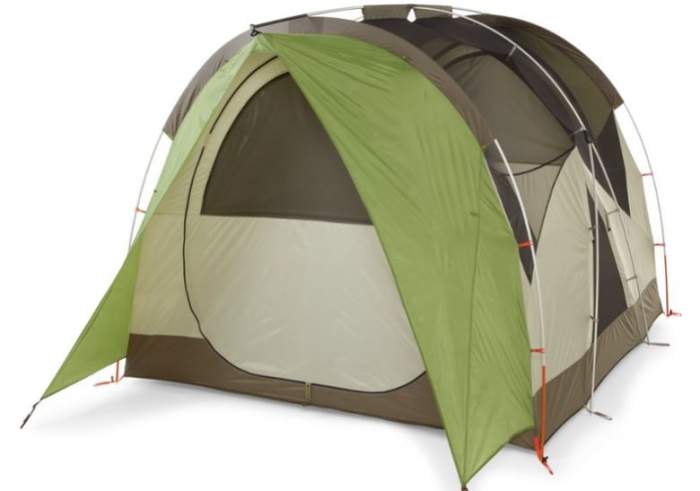 But they have added a bit more here to make it even more stable. The central loop splits at both ends where it has a Y-shape. The picture below shows one side of it, as you see there is a hub element where the poles join.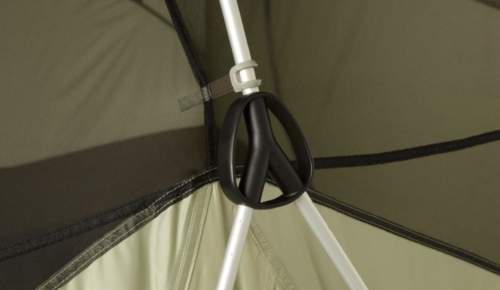 So if you want to have a freestanding tent, this is an excellent example. This implies that you can pitch it anywhere, but make no mistake and stake it or secure it in any other way.
Note also that the tent is very tall for its overall size, the peak height is 75 inches (191 cm), so this is a stand-up height for me and for many other users.
The doors & windows
There are two large doors here, and you can see them in the picture that shows a view through the tent. Both are very large and they have a mesh window in the upper part. This is closable, each of the doors has a zippered panel.
Note also that the tent has awnings on both sides, so this is a really useful dry-entry design, and you also have a bit of wind protection form the sides. These awnings are not a part of the fly.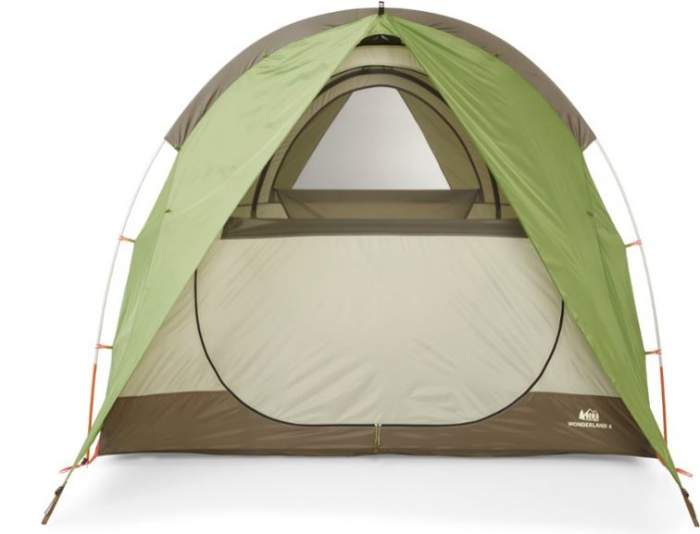 Inside, you have mesh storage pockets in the corners, and a lantern hanging loop, these features are shown below:
Materials
The poles & stakes: You have already seen the poles, so this is aluminum. Everything is color coded for an easy setup, see the picture below. It comes also with 18 stakes, 8 pre-attached reflective guylines with cleat-lock tighteners, and a pole repair segment. The poles attach to the base through grommets, and higher you have clips and sleeves.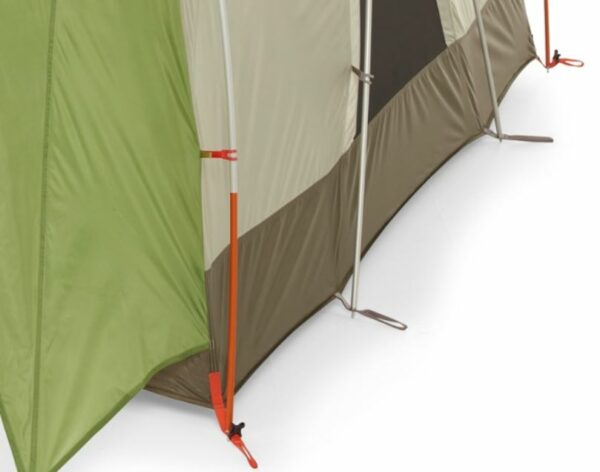 The fabric: The fly is a durable 75D coated polyester, and the same material is used on canopy. They do not provide information about waterproof rating, this is a bit surprising. But seams are sealed. Note that the fly is not full-coverage type. The same materials are in their famous REI Co-op Kingdom 4 Tent.
There are large mesh sections on the canopy, this is probably nylon, they do not provide information, but they write it is solution-dyed to reduce the environmental impact of the tent. So what is solution dyeing? In short, this process involves adding pigment directly to the molten plastic solution, after that the fiber is made.
The floor is also a coated polyester, but it is much more durable 150D, and it is bathtub type so the tent is safe from splashes.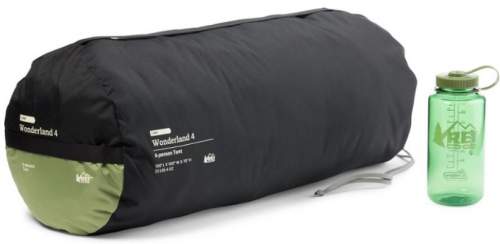 The tent comes with a stuff sack equipped with shoulder strap and handle, plus separate organizer stuff sacks for poles and stakes, see it in the picture. 
Ventilation
You have already seen the mesh windows on both sides. The canopy is also mostly mesh. But there are also two triangular openings close to the floor, they are between those Y-section of the middle loop. One is shown below. So I would say ventilation is the best feature of this tent.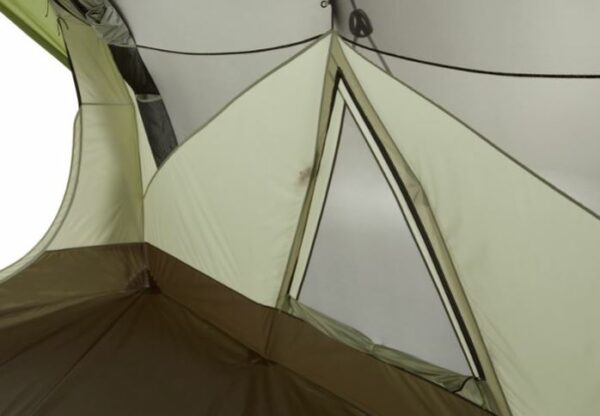 ---
Who is it for
Regarding the best use & climate, they describe it as a 3-season tent, but note that you have lots of mesh on the canopy, and this cannot be closed. So I would not use it in a cold environment. In my view this is a very good 2-season shelter. Its ventilation is excellent and this is useful if you use it for summer camping.
The poles are quality aluminum, but the tent is tall and those awnings are not really aerodynamic. So I would avoid windy places with this tent.
Regarding the size, you have 69.4 ft² (6.4 m²) and the area per person is 17.4 ft² (1.6 m²). So it is possible to have 4 pads on the floor, but it may be too tight.
Regarding the weight, the tent is heavy with its 21 lb 11 oz (9.8 kg). The packed size is (L x D) 32 x 12 inches (81 x 30 cm), so it is also bulky. They describe it as a camping tent and this is so, you are not supposed to carry it anywhere far from the car.
Regarding the price, it is steep, but this is a quality tent. There is a link below to check from your side.
---
Specifications
Type: tunnel shape, freestanding.
Weight: 21 lb 11 oz (9.8 kg).
Dimensions (L x W): 100 x 100 in (254 x 254 cm).
Floor area: 69.4 ft² (6.4 m²).
Floor area per person: 17.4 ft² (1.6 m²).
Peak height: 75 in (191 cm).
Packed size (L x D): 32 x 12 in (81 x 30 cm).
---
Accessories
1. REI Co-op Wonderland 4 Footprint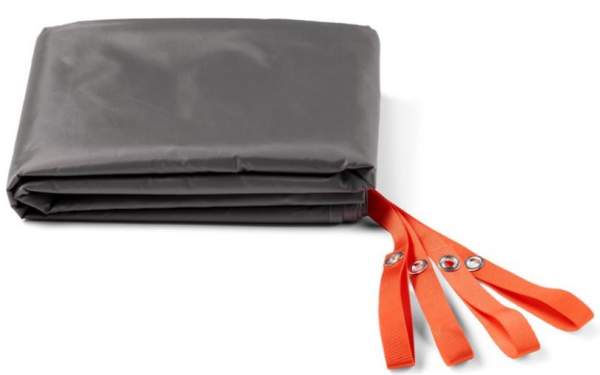 The size of the footprint is 7 ft 10 in x 7 ft 10 in (239 x 239 cm), so it is slightly smaller than the tent's base as it should be. This is a durable 150D polyester and it weighs 1 lb 8 oz (0.68 kg). Please see more here.
2. REI Co-op Wonderland Mud Room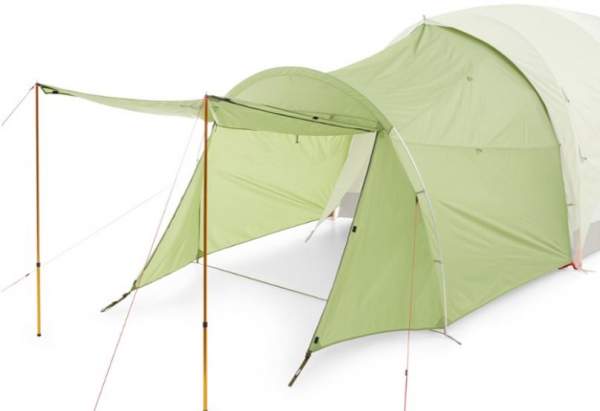 So this is a removable vestibule, and it fits REI Co-op Wonderland 4 and 6 tents. The area is 56 square feet (5.2 m²), with zippered doors on both sides. There are inner gear loops to hang gear or to set up a clothesline. More here. 
---
Final thoughts & rating
So this REI Co-op Wonderland 4 Tent is quite unique with its design, it is functional with two huge doors on the opposite sides, and its ventilation is great.
The poles are quality aluminum, and you have 360° views around. Fully recommended. I have included it in my list of best 4 person tent for car camping.
Below you can see how I rate it against my usual rating criteria so that you can easily compare it with other items of this type:
BEST PLACEs TO BUY
REI
For more options, please check under the category Tents for 4 People. Bookmark this site and come again, this will keep you informed because I add texts here regularly. Let me know if you have questions or comments, there is a comment box below. Have a nice day.