---
This Pacific Pass 4 Person Family Dome Tent is an incredibly affordable easy to use simple dome type tent with one door and two windows, nicely ventilated, and lightweight.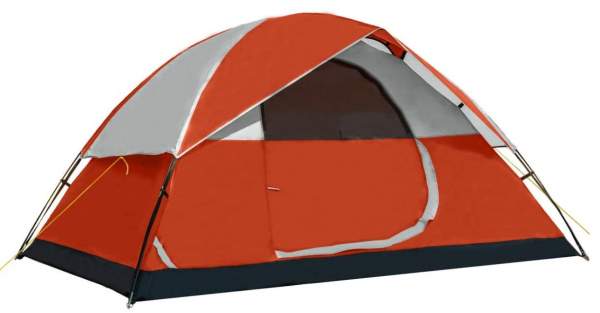 ---
Key features & benefits
Simple dome tent.
Easy setup.
2 Windows.
1 Door.
Floor vent.
Incredible price.
---
What this is about
This Pacific Pass 4 Person Family Dome Tent is the middle-size tent from their dome series of three tents, they also have a 2 person and a 6 person tent. All of them share the same features but the size is different.
So this is a very simple and easy to use dome-style tent with a partial coverage fly. This is both good and bad.
The good is that it allows for windows, so you have them two, one on the front and one on the back, see the picture below.
Yet another good side of this is that the tent is fully freestanding, so you can move it and rotate even when the fly is on. But stakes are included so always use them to secure the tent.
Finally, because of the added brim pole that pulls the fly up, you have an easy access. This would not be so if you would have a vestibule.
But the bad is that such a minimal fly implies that there is no storage vestibule, so all the available space is inside the tent.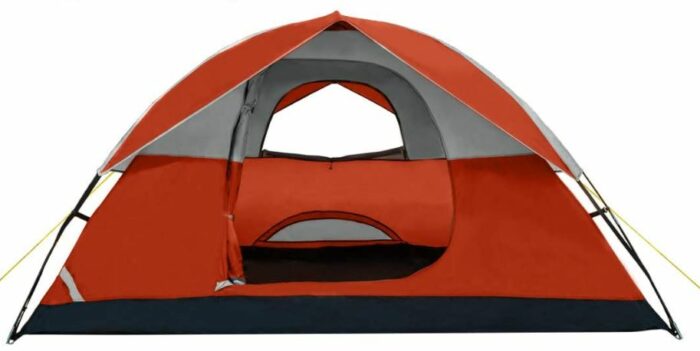 Note also that for a dome tent, this is a rather tall structure with its 60 inches (152 cm) peak height.
Ventilation
One more thing should be added to the good sides of the minimal fly: With such a brim pole the fly is pulled up so air can easily escape and there is no need for fly vents. This is very good to fight condensation. But they did not stop there, they have added a floor vent, and you can see it in the picture above.
All this together with the mesh that you have on the ceiling is a guarantee for a great ventilation so there is nothing one could object to this design.

---
Who is it for
Space-wise, the declared capacity is 4 people and for this you have the area of 63 ft² (5.8 m²). This means per person 15.7 ft² (1.4 m²). The dimensions are shown below, so it is clear that the tent can accommodate 4 people sleeping on the floor by placing the pads in the direction of the windows. But if you want comfort, this tent is perfect for a couple, or for parents with one small kid.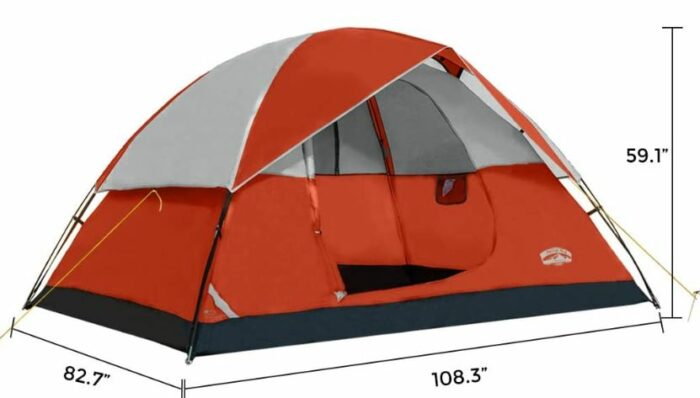 Seasons-wise & climate-wise, I see this tent best suited for summer camping, or eventually for two seasons. It is nicely ventilated, aerodynamic, and stable. But with such a fly it would not last long in strong winds. So plan to use it in quiet areas without winds. Also, test it for leaks in controlled conditions at home.
Weight-wise, the tent is very light with its 8 lb (3.6 kg). This is partly because of its minimal fly, but in any case, it is light enough to be carried on the trail if the weight is shared among users.
The packed size is also great, it measures (L x D) 24.4 x 6.9 inches (62 x 18 cm) in its carry bag shown below. So you can transport it as you wish.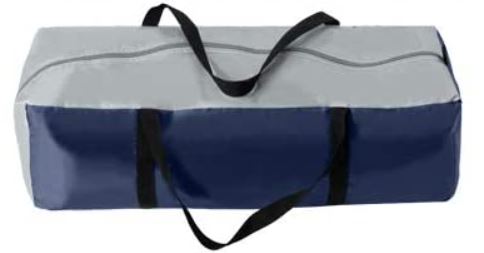 ---
Materials
The poles: So for such a budget-friendly tent it is not surprising to have fiberglass poles, 3 of them in total. The attachment to the tent is the usual pin and ring system at the base, and clips, see the pictures:

The fabric: The tents body and fly is 190T polyester 63D, and its waterproof rating is respectable 1500 mm. So this is a durable material for this purpose, but the same is used for the floor, so make sure to avoid sharp objects.
But in view of its price, it is best to test it properly at home. In case of leaks use some spray, it is worth the effort, the tent is really a bargain.
Other features:
Two mesh storage pouches on the wall.
A gear loft is also included.
There are 7 stakes in the package and 2 guylines.
The official setup time is 5 minutes.
---
Specifications
Declared capacity: 4 people.
Weight: 8 lb (3.6 kg).
Dimensions: 9 x 7 ft (274 x 213 cm).
Area: 63 ft² (5.8 m²).
Area per person: 15.7 ft² (1.4 m²).
Peak height: 60 in (152 cm).
Packed size (L x D): 24.4 x 6.9 in (62 x 18 cm).
Colors: 2.
---
Pacific Pass 2 Person Family Dome Tent
So this is the smaller cousin built in the same style with the dimensions 82.7 x 82.7 inches (210 x 210 cm), and it weighs 5.72 lb (2.6 kg). My understanding is that the floor in this tent is different, a polyethylene, and the fly is thinner and with an 800 mm rating.
---
Final thoughts, rating, pros & cons
I find the price of this Pacific Pass 4 Person Family Dome Tent simply incredible. But there are similar tents by Coleman that are in the same price range so indeed if you need a tent for occasional outdoor trips there is no need to spend much.
It is surprisingly light and so nicely packable. You can realize this if you compare it with this Kelty Tallboy 4 Person Tent built in the same style that is much heavier and 4 times more expensive. So I have included it in my list of best 4 person car camping tents and also in the list of best 4 person backpacking tents.
Please see how I rate this tent, the same criteria are used for all the tents here in the site so you can easily compare:
If you need more options just check under the category Tents for 4 people. Stay informed and bookmark this site and visit from time to time, we add texts here regularly. Thank you for reading and have a nice day.