---
The Osprey Eja 48 Pack for Women is ultralight, incredibly well-ventilated, with an adjustable torso length, and completely built from recycled materials.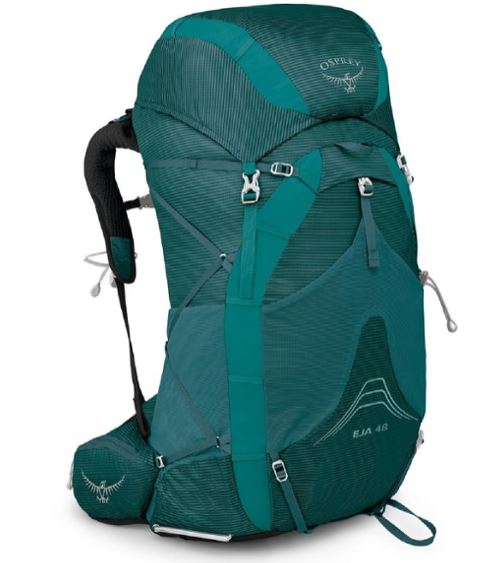 ---
Key features & benefits
Women's pack.
Two sizes.
Adjustable torso length.
Ultralight.
Ventilated.
Made with 100% recycled materials.
---
What is in the name
If you follow this industry and in particular Osprey as a brand, then you know that they build gender specific backpacks. This Eja 48 pack is from their Exos & Eja series for men and women, respectively.
This is one of their lightest series and the features-weight combination which you have here is hard to match. What I want to say is that there are many ultralight packs on the market, but this usually implies lack of features. This may not be so here, but keep reading and judge yourself because we all may have different preferences.
Osprey Eja 48 pack for women has been on the market for several years already. Note that this sub-group for women did not appear together with its Exos counterpart for men, it came a bit later.
But what you have here is the latest version they launched for the coming seasons. Here just to stress that the new pack is slightly lighter.
Note that both versions are on the market, and there is no doubt this will be so for a while, so it may be easy to get confused. The color is different and you can also recognize the new version with its different front pattern with logo.
However, this is also a chance to buy the previous version if you can find it at a discount price, this is still an incredible pack, you can see it on Amazon.
The new Osprey Eja 48 backpack – overview
They build this pack in two sub-sizes (numbers below). This is a top loading pack with the usual removable and floating lid, and a collar underneath it. Note that the pack comes with an integrated FlapJacket which you use to close the pack when the lid is removed. The picture below shows it.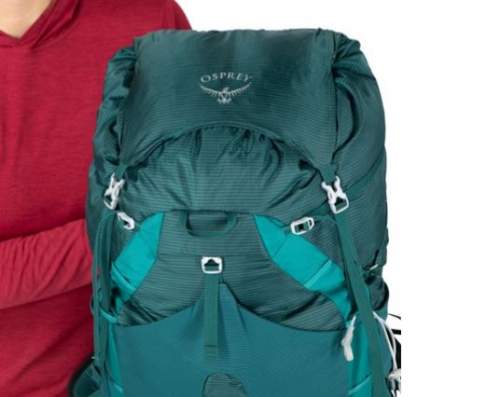 FlapJacket.This is useful to have when you want to trim some extra weight and do not need the lid. As you see from the picture above, the pack still looks great and it is fully closed.
The pack is hydration compatible, there is an internal hydration sleeve with center back hose port, see how this looks: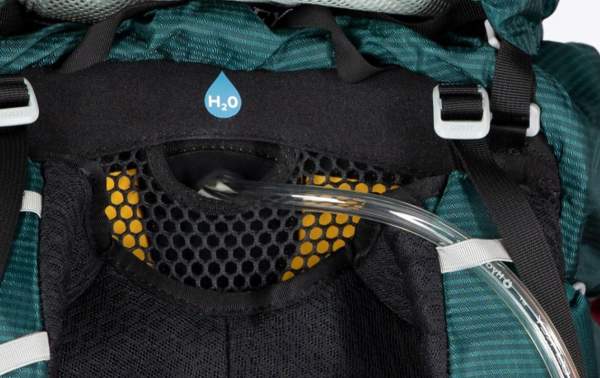 Note that the top access is the only one here, this is done on purpose to shed the weight, such extra zippers make a pack heavier.
Suspension
The pack is based on a peripheral aluminum loop frame. You have a delicate and incredibly ventilated tensioned trampoline-style mesh instead of a classic panel. The picture below shows how this all looks: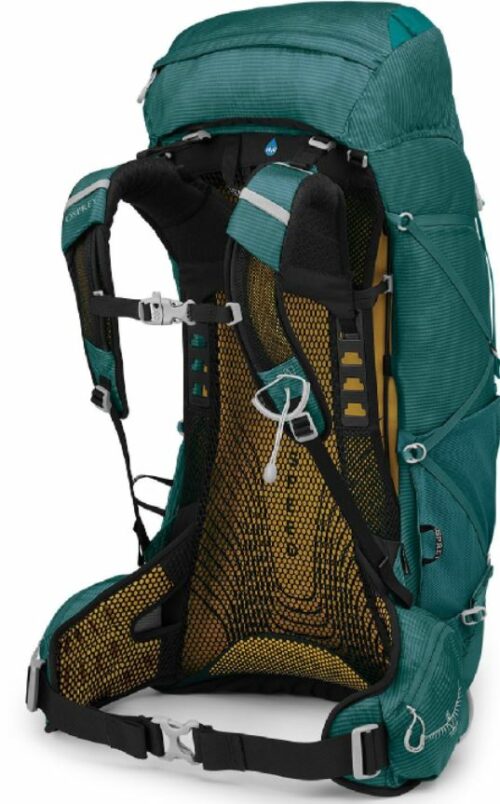 Below you can see a bit more details, the frame loop is visible, and you can also see the torso adjustability feature. As you realize, this is a completely unique ladder-type system with several different harness attachment positions. From what I know, this is the first time that they use such a design: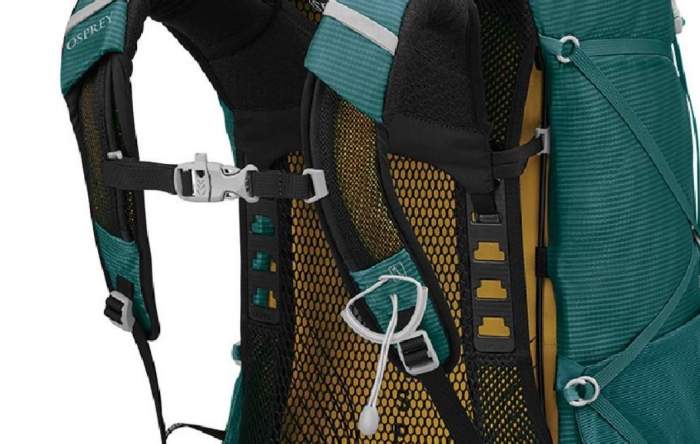 The hip belt padding is not particularly massive, but the hip fins are wide, see how they look:
The pockets & other details
There are two great hip belt pockets visible in the picture above.
The lid is with top- and under-lid zippered pockets.
Dual access side pockets for bottles or anything else are available, one is shown above.
There is a large front stretch pocket on the front, it is equipped with a strap and buckle, the picture above.
The side compression straps are incredibly functional, they zig-zag all the way to the top, so you can put gear on the sides and fix them in place, see one below. You can cinch them on both ends.
There is also a pair of removable bottom straps, here you can attach a pad as the picture below shows, or anything similar.
There are attachment loops on the lid, see the picture above.
You also have dual axe attachment loops, the picture above right shows how an axe can be attached. They are paired with bungees on the front of the pack.
But this pack comes also with Osprey's Stow-on-the-Go trekking pole attachment. It includes a loop on the left side and a bungee loop on the left shoulder strap, both are visible in the pictures.
There is also a sternum strap with an integrated safety whistle.
Materials
You have already seen about the aluminum frame. The fabric is a 100D high-tenacity recycled ripstop nylon combined with a 400D high-tenacity recycled nylon.
This is a bluesign approved 100% recycled material. They also claim it is PFC/PFAS-free and with a durable water repellent (DWR) finish.
Please see more in this video:
---
Who is it for
So as mentioned previously, this is a gender specific pack built for women. You have two sub-sizes, and they imply different volumes but also different torso ranges. The numbers are in specifications below.
Regarding the volume, it can be described as a mid-size pack with its 45 and 48 liters volume. But it has some really useful attachment features so you can add lots of stuff from outside.
As for the weight, you will see the numbers below, so this pack is in the group of ultralight packs. The volume-to-weight ratio is simply excellent, it is around 38 liters per kilogram. This pack can be used for hiking, backpacking, and for travel.
You may get a bit better idea about its features if you compare it with this excellent Gregory Facet 45 Pack for Women which is also ultralight but without torso adjustment.
---
Specifications
Type: mid-size women's pack.
Two sizes: XS/S, M/L.
Weight:
– XS/S: 2 lb 11 oz (1.22 kg).
– M/L: 2 lb 11 oz (1.25 kg).
Volume:
– XS/S: 2746 in³ (46 l).
– M/L: 2929 in³ (48 l).
Dimensions:
– XS/S: 28 x 14 x 12 in (71 x 36 x 30 cm).
– M/L: 30 x 14 x 12 in (76 x 36 x 30 cm).
Torso fit:
– XS/S: 13.5-17 in (34-43 cm).
– M/L: 16-19.5 in (41-50 cm).
Hips fit:
– XS/S: 26-50 in (66-127 cm).
– M/L: 28-50 in (71-127 cm).
---
What is actually new in this new Osprey Eja 48 pack?
I am not going to make a very detailed comparison with the previous version. Here I will add just a few important details that in my view are improvements:
The new packs have hip belt pockets. They were missing in the previous version, but they were available in the version before the previous one. So they realized that their experiment without them was not such a smart idea.
The torso length is adjustable. This is also a big improvement. In the previous version it was fixed but they had packs in three different sub-sizes. Now they have two sub-sizes plus the adjustable torso length.
The previous pack's volume-to-weight ratio is slightly better. If you want some numbers, the previous 45 liters version weighs 2.45 lb (1.11 kg). So you have 40.5 liters/kg. The new 46 liters version has 37.7 liters/kg. Not a big deal, the new pack has more features that are necessary.
---
Final thoughts & rating
In summary, this new Osprey Eja 48 Pack for Women is indeed an improved version. It is still ultralight, but you have some added features that make it more versatile and pleasant.
So the torso length is adjustable and this means several family members with a different body size and shape can use it. The hip belts add functionality. Fully recommended. I have included it in my list of Best Women's Backpacking Packs but it may be a bit small for this.
Below you can see how I rate it against my usual rating criteria so that you can easily compare it with other items of this type:
BEST PLACEs TO BUY
For more options, please check under the category Mid-Size packs. Note that they also have the Pro version under the name Osprey Exos & Eja Pro packs.
Bookmark this site and come again, this will keep you informed because I add texts here regularly. Let me know if you have questions or comments, there is a comment box below. Have a nice day.