---
This Mountainsmith Tour Lumbar Pack Review is about an incredibly versatile tool that can be used in several ways and for various activities. Built from very durable materials, this pack is built to last many years.
---
Key features & benefits
Incredibly durable.
Very versatile.
Reliable.
Great organization.
3 ways of carrying it.
---
Who is it for
This is a great tool for very light day hikes, for travel, for city tours, as a carry-on bag on the plane. This is also a tool for trail runners, cyclists, for Nordic skiing.
---
Overview 
This is an incredibly strong tool built from ultra-durable CORDURA fabric. Of the same material is my bag for crampons, just to know what I am talking about. So this is a structure that will hold it over a long haul. Remember the statement of the Mountainsmith company "Forged For Life".
The pack can be used in several different ways:
You have dual handles on the top and you can carry it as a handbag. Of course, in this case the hip belt would be annoying, so they have designed it cleverly; you can tuck it away behind the lumbar padding.
There is a removable shoulder strap. So similar to the first case, you tuck away the hip belt and carry the bag hanging on the shoulder, this is shown below. The strap is with the movable padding on the part where it touches the shoulder.
The main way is carrying it as a lumbar pack of course. But even here you have two ways:

With the shoulder strap going diagonally over your shoulder and taking part of the weight, see the picture below.
Without the shoulder strap (remember, it is removable).

There is yet another variant, with Mountainsmith Strapettes, see more below.
So as you see, this is indeed a clever design, and here is yet another element: you have a port for headphones on the top of the pack, behind the lumbar pad.
The pack is with YKK Zippers, so again, you have the best material used, and all zipper pulls are quite big and easy to use even with gloves.

Suspension
The hip belt is the main part of this system. So it is quite substantial and wide, and it hugs your waist. It is with padding and with a very breathable mesh. But it is still light and flexible enough to be tucked away behind the lumbar pad.
The lumbar pad is rigged and padded, quite massive and comfortable, some 7 x 5 inches (18 x 13 cm) in size, see the picture below. The part of the suspension is the mentioned removable shoulder strap which helps to carry the load. The hip belt strap is 1.5 inches (3.8 cm) wide, with a strong and durable buckle; well everything is durable here.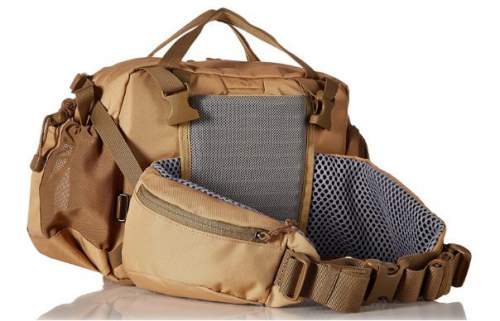 Attachment elements and straps
It is surprising to see how many elements of this type you have here. First, you will notice very long dual daisy chains running horizontally on the front. Here you can attach many things.
Second, you have dual compression straps on the bottom, see the picture below, just like in any standard pack, this is incredibly useful to have here. So you can use them as normal compression straps, or to store gear like a tent, a pad, tent poles, a collapsible tripod, a tarp, or anything that is not too long.
Third, there are dual compression straps on the sides, you can easily use them on the fly to stabilize the load, one is visible in the previous picture.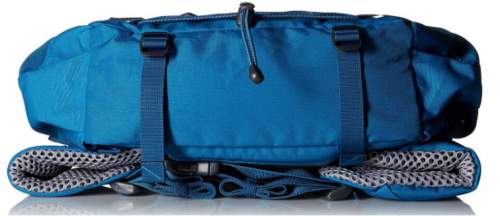 Fourth, you have a nice front bungee cord (see the first image above) where you can attach your windbreaker or waterproof jacket, or even some collapsible trekking poles which have short sections.
Fifth, you have buckles for the shoulder string, and they are used also for the strapettes (more below), and this is in combination with dual rings on the sides.
---
Pockets
There are 8 external and internal pockets in total. The hip belt is with one zippered pocket (why only one?). One a bit hidden pocket is directly behind the lumbar padding, so this is a very useful space if you use the pack as a carry-on bag; here you can store your boarding pass, passport, or anything else that requires quick access.
On the sides, you have dual water bottle pockets, big enough for 32 oz (0.95 l) bottles. One zippered pocket is on the front, with a key clip inside, and its zipper is under a storm flap.
Inside the main pocket, you have a padded sleeve big enough for any tablet, plus one zippered pocket for valuables. The internal color is yellow, made on purpose so that you can easily spot your small items inside; clever indeed, you know how it is when you have the usual black material inside such a bag. The main zipper is also with a wide storm flap for rain protection.
Note that many water bladders will fit inside of that padded sleeve, and in view of the port which you have there as well, you can route the water hose through it. I have seen people using it that way and it works.
Please see this short video by Mountainsmith, with most of the features of this lumbar pack presented:
---
Mountainsmith Strapettes compatibility
The strapettes are an accessory tool that can be ordered separately, and it can be used with many lumbar packs of this brand. Its price at the moment of writing this text is $25, you can see it here.
This tool makes the lumbar pack almost like a backpack. From the images below it should be obvious how it works.
So with these strapettes, you can carry more load and you will do it more comfortably. The strapettes are like real shoulder straps, with padding and with the sternum strap, contoured and ergonomic, completely adjustable. As you see from the image above, they make a cross structure on the back, so you will have the load very stable and secure. This is a nice addition for trail runners, and whenever you carry a bigger load in this pack.
To use the strapettes, you remove the sling strap mentioned above. You have buckles above the lumbar pad that correspond to those on the strapettes (they are shown in one of the pictures above).  So here you attach the strapettes. Next, find small rings on the side of the lumbar pack and attach the other ends of the strapettes there. Please see more in this video by the company:
---
Specifications & summary of features
Best use: day hiking, trail running, biking, travel, downtown use, etc.
Weight: 1 lb 9 oz (0.73 kg).
Volume: 550 cubic inches (9 L).
Capacity: 12 lb (5.4 kg).
Dimensions (L x H x D): 11.5 x 10 x 5 (29 x 25 x 13 cm).
Waist belt circumference: 28  – 48 in (71 – 122 cm).
Waistbelt width: 1.5 in (3.8 cm).
Materials:
– 610D Cordura HP.
– 210D Nylon Embossed Liner.
– YKK Zippers.
Headphone port.
Back panel stash pocket for securing a passport, boarding pass, etc.
Patented Delta Compression System load adjustment.
Side reinforcement bottle pockets, fit up to 32 oz (0.9 L).
Inner Sanctum interior zippered compartment for small valuables.
Front panel bungee attachment system.
Zippered front panel pocket with key clip.
Bottom panel compression straps.
Bright yellow lining promotes interior visibility.
Colors: 8.
Lifetime warranty.
---
Summary, rating, pros & cons
In the conclusion of this Mountainsmith Tour Lumbar Pack Review, I can only stress that I am impressed with all the features and the quality of this tiny pack. It is so versatile, and the compatibility with the Strapettes only adds to this versatility.
It may look a bit expensive, but it is absolutely worth the investment, this is a very durable tool that will last for many years. I can fully recommend it.
I cannot figure out why they missed adding yet another hip belt on the left side, or just some attachment element. As it is now, it is a useless empty space. Perhaps the hip belt with such two pockets would not fit nicely behind the lumbar pad when you want to tuck it away.
This versatile pack has received very good reviews by users. See how I rate it:
Mountainsmith Tour 9L Lumbar Pack
Note that they also have a new Mountainsmith Dry Tour Waterproof Lumbar Pack, so follow the link and have a look.
Thank you for reading. If you still think that you need a true small backpack, please check in my page with backpacks below 35 liters, there are many great models from top brands presented there. Check the Talon 6 and Tempest 6 packs from Osprey.
In the case of questions or comments, please use the comment box below. I wish you a nice day.