---
Mountainsmith Dry Tour Waterproof Lumbar Pack is a new item on the market with numerous attachment elements and several ways of carrying it.
---
Key features
Numerous attachment elements.
Waterproof.
Detachable water bottle holster.
Very durable fabric.
Generous padding.
Compatible with their strapettes.
---
Where to buy
This Dry Tour lumbar pack is available on Amazon. So follow the link and benefit from their efficient global shipping service.
---
What this is about
Perhaps you do not know but Mountainsmith is famous for their lumbar packs, you can see yet another from them here in the site, the Mountainsmith Tour Lumbar Pack. So they have launched this brand new model Dry Tour for the season 2019.
This is an incredibly well built lumbar pack as you would expect from this brand. Did you know that this Mountainsmith brand introduced such lumbar packs in the early 1980s? They claim that this Dry Tour is their the most technical lumbar pack to date.
So you have a tough 500D TPU coated nylon, RF welded seams, and waterproof zippers; now you know why they use the word Dry in the name, but see more below.
Yet another thing you should know about products from this brand that all Mountainsmith products come with the Forged for Life Guarantee, the official Mountainsmith lifetime warranty. 
---
Overview of features
This is a relatively small volume item with 7 liters total capacity, but it has many pockets and attachment elements. See what it offers.
Suspension
As you would expect from Mountainsmith, the hip belt is with a generous padding and a huge lumbar support pad, see the picture below. On the front, you have a forward-pull waist belt webbing. Here you have what they call Delta Compression System load adjustment.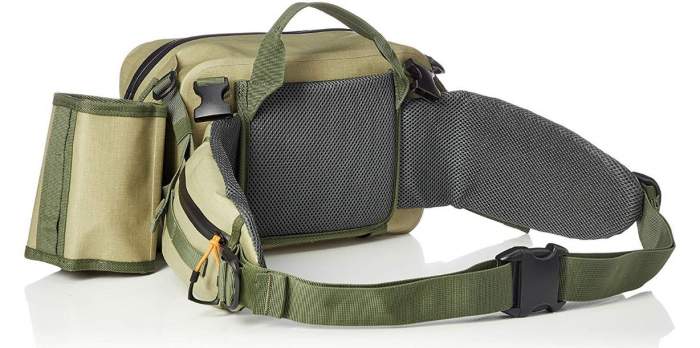 Pockets
There is one zippered pocket on the hip belt, visible in the picture above, it is with a splash-proof zipper.
One zippered pocket is on the front, and it is equipped with an IPX7 waterproof zipper.
There are two mesh zippered pockets inside of the main compartment which is also with the waterproof zipper.
You have one bottle pocket on the side, see the picture above. It is big enough for a 32 oz (1 L) bottle. Note that it is detachable and you can also move it to any side of the pack. I think this is a great and useful feature.
Attachment elements
This is where this item shines, see how many attachment options you have here:
I mentioned the water bottle pocket, so you will notice that it is equipped with a daisy chain for attachments of small items.
You also have a long daisy chain on the front.
There are daisy chains on the sides.
Two daisy chains are also on the hip belt, one on the zippered hip belt pocket and one on the other side which is without the pocket.
There is one D-ring on the front, see the picture below.
You also have dual straps on the bottom, they are very durable and you can use them to attach some bulkier gear.
It is compatible with their strapettes. This means that you have attachment points on the back side of the bag. If you are not familiar with them, you can see them in my other post. The idea behind these strapettes is to use them in the case of heavier load. Those are shoulder straps with padding and with the sternum strap.
Other features
You have a padded shoulder strap, see the picture below, so you can carry this lumbar pack also attached to the shoulder as a cross-body sling.
There is a carry handle on the top to carry it in the hand, visible in the pictures around.
RF welded seams.
Air mesh padded back panel with a pass-thru sleeve for some elongated objects. See the picture: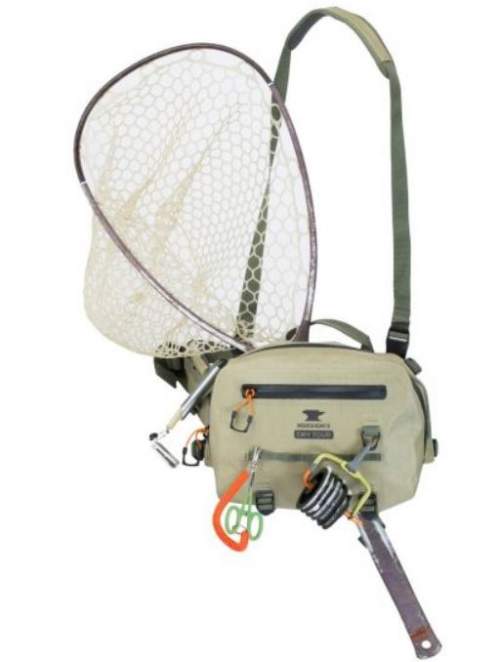 Please see a bit more in this video:
---
Good and less good features & rating
Here is my short summary:

Waterproof.
Very strong and durable.
Versatile.
Numerous attachment elements.
Several ways of carrying the pack.

The price & rating
The current price on Amazon is around $144, and it is considerably more expensive on the site of the brand. So this is not an item for people on a budget, but this is a high-end and waterproof product. Please see how I rate it against standard criteria used here in the site:
My rating of the Mountainsmith Dry Tour lumbar pack:
Volume/Weight ratio -

7/10

Features & bonuses -

9.5/10

Comfort -

9.8/10

Price -

6/10
---
Specifications
Weight: 1 lb 8 oz (0.68 kg).
Volume: 420 in³ (7 L).
Weight capacity: up to 15 lb (6.8 kg).
Dimensions (W x H x D): 8.5 x 11 x 4.5 in (21.6 x 28 x 11.4 cm).
Waist belt fit: 24 – 48 in (61 – 122 cm).
Fabric: 500D TPU Coated Nylon.
---
Mountainsmith Dry Tour vs Competitors
So I have decided to show you how this lumbar pack compares with two celebrated packs of the same type from Osprey, the Talon 6 and Tempest 6. As you probably know, Osprey builds separate models for men and women so these are two gender-specific lumbar packs but they have the same basic features.
They are not a match to the Dry Tour pack regarding the durability and attachment elements (I guess this is difficult to find in general), but those are very nicely designed models so follow the links to see more.
---
Final thoughts
So this Mountainsmith Dry Tour Waterproof Lumbar Pack is built in the best tradition of this brand, and they even claim it is the best they have built so far, so imagine. The price is to match, so if you can afford it, many will envy you.

I already gave some alternatives in the comparison table above. If you would want to see more small packs for day tours, please check my separate page.
Note that this is not a sponsored text and I have no relation with the brand. Please use the comment box below in the case of questions or comments. 

---